Whether Iowa kept the same license plate or changed to something different next year made no difference to us, frankly.
However, change is coming, so we will offer our five cents' worth to the discussion.
Iowa Department of Transportation employee Christina Andersen, a graphic designer, created three options for a new license plate. The options were unveiled by Gov. Kim Reynolds and DOT Director Mark Lowe at the State Fair last week.
The three designs are available for a public vote, either in person at the DOT's booth at the State Fair or online at the DOT's website. Votes will be collected through Sunday; the winner will be announced in late August or early September.
Our choice? A drumroll, please.
We like "City and Country Reboot."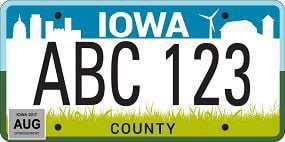 It captures the essence of our state by incorporating urban, rural and green-energy components, but remains uncluttered and easy for law enforcement to read.
We encourage all Iowans to have some fun with this contest and cast their own vote (as we wrote this, more than 246,000 votes had been tallied on the DOT's website). To vote online, go to: https://iowadot.gov/StateFair/PickAPlate.aspx
Andersen, who designed the three choices, was pilloried for them by some Iowans.
"In the past 48 hours, I've been indirectly told by close to 5K people that I suck, have the talent of a third-grader and should be fired from my job," Andersen posted on Facebook, according to a Saturday Des Moines Register story.
First, Andersen produced her designs within specific guidelines.
Second, lighten up, folks; it's just a license plate.