Handy Man Home Remodeling Center
3460 Gordon Dr
Sioux City
,
IA
51105
Last Updated: October 30, 2017
| | |
| --- | --- |
| Sunday | |
| Monday | |
| Tuesday | |
| Wednesday | |
| Thursday | |
| Friday | |
| Saturday | |
About Handy Man Home Remodeling Center
To provide our customers quality plumbing products at a fair price with excellent service.
Accepts:

American Express

Cash

Discover

MasterCard

Visa
More About Handy Man Home Remodeling Center
This company was founded in 1946 to provide household plumbing and bathroom products to baby-booming families. Whole house plumbing systems…from the well to the indoor bath were sold…on just a handshake!

It has been a family owned business for six decades.

We are proud to carry on the integrity that our grandfather established in the company over 65 years ago. We hope that we will be serving your grandchildren 65 years from now.

Our mission is to assist our customers in selecting the products that will best fit their individual needs in a prompt, courteous, and professional manner. We strive to stock only high quality, dependable products and offer them at competitive prices.

Our educated team increases the value of service by providing helpful and beneficial information to ensure our customers are completely satisfied.
Is this your business?
Promote your business through our innovative Marketplace system! It's free to sign up!
Tired of your old, leaky, water guzzling toilet? If you're in the market for a new one, there are a lot of options to consider.
Bowl Height:
The distance from the floor to the top of the toilet bowl rim makes a big difference. The trend is to buy taller 16-18" ADA compliant or "comfort height" toilets. Other options include the standard 14-15" height and a low 10-14" child height.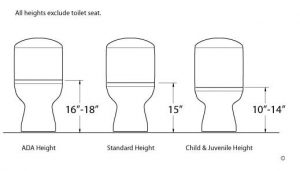 One or Two-Pieces:
Two-piece toilets have a separate tank pieces and bowl pieces. Although they are most common and less expensive, they are more difficult to clean. One-Piece toilets are smooth and easy to clean, but come with a higher price and are quite heavy. While we're talking about easy-to-clean toilets, think about purchasing a "skirted" one which has an easy-to-clean smooth base instead of the usual visible squiggly pipe which can collect dust and grime. Below is an image of a one-piece skirted toilet.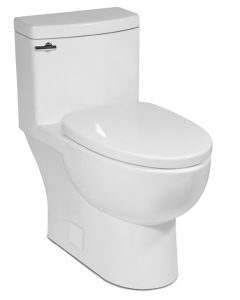 Color:
We suggest sticking to a white or off-white toilet so you can find replacement parts easily, and your toilet will stay in style for years to come.
Flush Handle:
Most toilets place the flush-handle on the left side of the tank. If your toilet will be up against a wall, make sure there is enough room to reach the flush handle. If this could be an issue, purchase a toilet with the handle on the opposite side or on the top of the tank.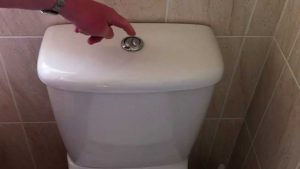 Rough-In:
Make sure to measure the distance from the wall to the flange bolts on the base. Commonly, toilets are twelve inches, but they can vary. If you purchase a toilet with a larger rough-in distance than your previous toilet, you will have problems.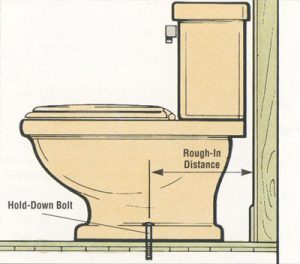 Bowl Shape:
Elongated bowls are replacing round bowls in most homes. They are much more comfortable and hygienic for adult use. Yet, elongated bowls can be problematic in small bathrooms. The extra length can get in the way of cabinet drawers and doors. If you are considering replacing your round toilet, make sure you have at least two inches of extra room at the front of the bowl to spare.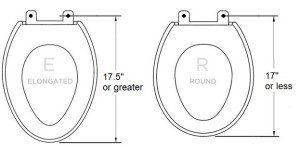 Toilet Seat:
Most toilets do not come with a toilet seat because there are too many options available! The most important feature to focus on is whether you need an elongated or round seat depending on the bowl shape. After that, the options are endless. Choose a traditional seat, slow close, night lighted, heated, potty seat, or washlet! Each option comes with benefits depending on your preferences.
Efficiency:
Most new toilets come with an energy-efficient rating. Your old toilet you are replacing can flush up to 5 gallons with each use. Modern, efficient toilets use as little as 1.6 gallons, saving you hundreds of gallons of water and saving on your water bill each year.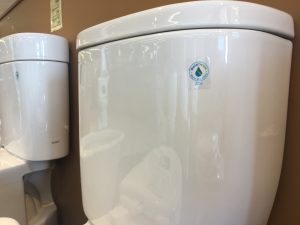 While you're at the store…
You will also need a few items for installation. A new wax seal, new water supply line, and some tools to put it together – an open-ended wrench, screwdriver, rag, gloves, and garbage bag.
Learn more at handymanhome.com