CASTANA, Iowa | The Archway from the old bank serving Castana still stands, a focal point in Archway Park at the center of this tiny Monona County community. Built in 1879, the Savings Bank building through the years contained a barber shop, U.S. Post Office, hardware store, cafe, cream station, lodge, telephone office and pool hall.
According to a plaque gracing one of the brick sides of the old arch, the building was demolished 41 years ago and given back to Castana in 1986.
That's the type of historical direction you get when stopping for coffee in Castana, a community whose "coffee shop" for the past 15 years or so hasn't been a shop at all. On this day, the coffee shop forms in the kitchen of Nancy Hanson on South Third Street. She's part of a four-woman rotation unit charged with brewing coffee and serving up cookies, rolls, brownies and such.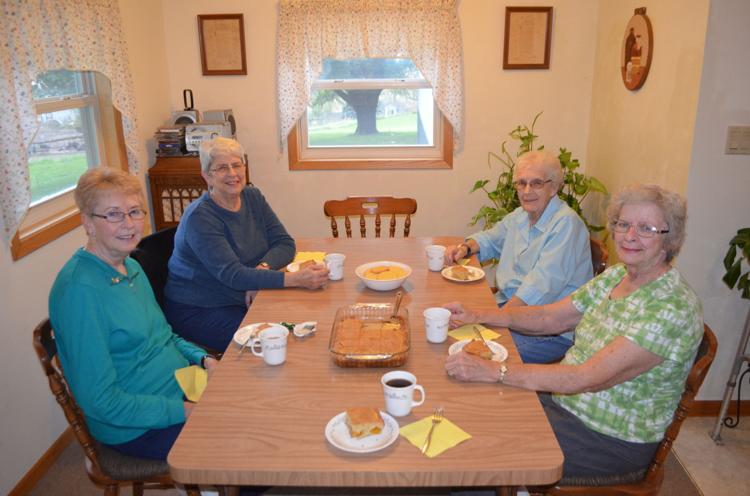 The group isn't "charged" by anyone in particular. The challenge is a self-made one, a tradition of sorts in this community that traces its roots to a dear late friend, Thelma Miller.
"Thelma hosted coffee in her house for about 15 years," Cathy Hanson surmises.
It's what Thelma did to keep talk and friendship brewing in her community, long after the cafes and grocery store closed shop. Thelma, an Iowa Caucus host in the Democratic side for years, saw no trouble in opening her kitchen for guests each morning. When her baking skills eroded a bit with age, women like the Hansons, Phyllis Dobrovolny and Dorothy Reed stepped up, offering to bring the cookies and the bars as long as Thelma had the coffee pot on.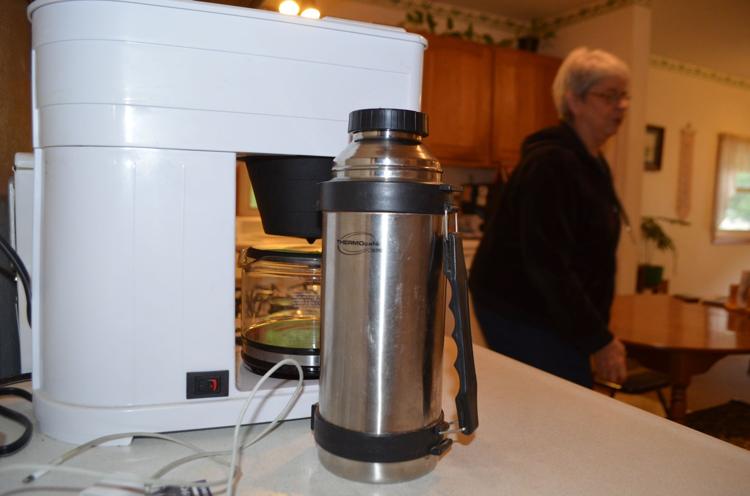 Miller was 103 when she died in September. A coffee pot serving as a vase held flowers not far from her casket at the head of Castana Community Chuch, which was full for her funeral. The Hansons sang that day for their lifelong friend and guide.
"Thelma did this morning coffee gathering in her home for 10 to 15 years," Cathy Hanson said. "And at the start, she didn't host every day."
Eventually, though, it grew into that, a round-table discussion about current events and family developments. Thelma, an excellent baker known for her sour cream raisin pies and pecan rolls, was happy to see people still connecting.
When she transitioned late in life to a nursing home facility nearby, Hazel Hanson, the mother-in-law to Nancy and Cathy Hanson, took over. Hazel hosted Castana's coffee klatch each day for four months until she went into a nursing home.
"Her door was always open," Nancy Hanson said of her mother-in-law. "And she always was known for saying 'Thank-you, thank-you.'"
With Hazel leaving her home, the Hansons (they are sisters who married brothers) decided to offer coffee in their home. They were joined by Reed and Dobrovolny. Each woman hosts coffee in her home, one day Monday through Thursday. Then, on Friday, the site rotates to one of their homes, meaning that one woman hosts twice per week each month.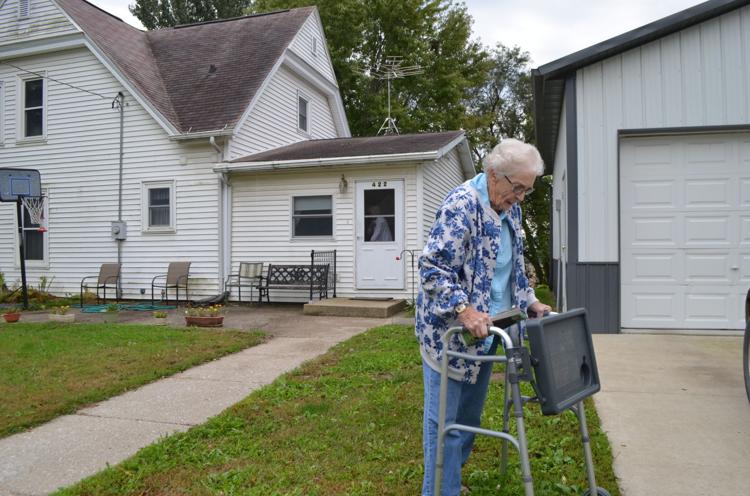 On this morning in Nancy Hanson's home, the foursome talks about harvest schedules, Castana history and the giant turkey dinner feed at Castana Community Church.
"We got the turkeys ordered today," Cathy Hanson said. "We'll do 200 pounds of turkey and feed right around 300 people."
It's quite an undertaken for Castana's lone church, one that serves a community that once boasted having three churches.
"There are lots of 'used tos' in Castana," Nancy Hanson said as she poured another cup of coffee.
"We went 125 years with no stop sign in town," Cathy Hanson interjected. "We had celebrated our 125th and then a two-way stop sign was put up."
That was seven years ago.
Decades ago, Edalene's Sweet Shop, owned by Edalene McNutt, kept Castana residents well-fed with daily lunches, candies and coffee. McNutt was known for a banana cream pie that didn't have bananas.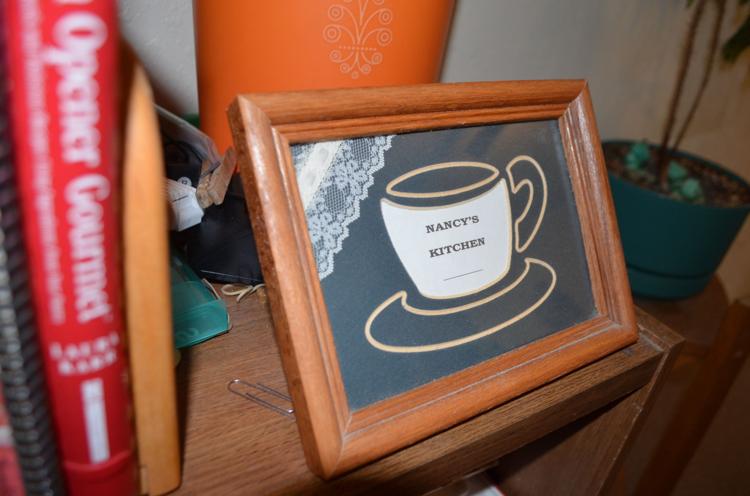 "We still have a bar, Lilly Jack's Saloon," Nancy Hanson said.
Reed talked about the men serving the local American Legion Post and how they offer a fish fry once per month from September through March, on the third Thursday of the month. The event generally attracts 130 diners who top off the meal with a dessert contributed by a woman with the local American Legion Auxiliary.
"Money raised by the Legion goes to kids in Monona County for scholarships," Cathy Hanson said.
Those children might be from Castana, Mapleton, Onawa, Turin, Blencoe, Whiting, Ute, Soldier, Moorhead, Rodney, anywhere in Monona County, really.
It's but one example of how folks in one of Siouxland's smallest towns continue to work for -- and to make a difference for -- their larger community, one cup of coffee, or one fish fry at a time.