SIOUX CITY | What kind of recipe could be better for Christmas than one of grandma's? Written on a yellowed note card, and stained with grease -- that's how you know the recipe's good. It's been used a lot. 
Robert Dowd, executive chef at Centerplate, said old recipes are about as good as it gets for the holidays. There are several zillion recipes available online, but new-age, avocado-and-cilantro dishes don't have the nostalgic zest of grandma's Crisco-and-brown sugar fare. 
"It's family time. It's good to go back to some of grandma's recipes, make something like that for the family," he said. "Old family recipes are always good."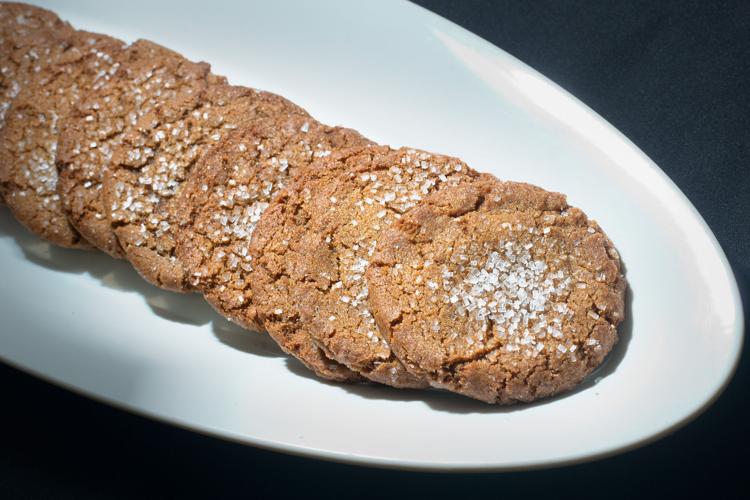 This year it might be fun to try a few of grandma's recipes along with a few of Dowd's -- his cooking has, after all, been named People's Choice at the March of Dimes Signature Chefs Auction three years in a row. 
Pork Loin Roast with Apple Cranberry and Walnut Stuffing
This recipe can be done with pork loin, pork tenderloin or beef tenderloin -- but Dowd said that pork loin is probably best for a large family, because it's cheaper and easier to prepare. 
The loin stuffing (in this recipe, the loin is stuffed with apples, walnuts, cranberries and bread crumbs) can be whatever you want it to be. Want some spinach-and-garlic stuffing? Go for it!
One boneless pork loin roast, about 3 or 3 1/2 pounds
Three apples -- peeled, cored and diced 
1/2 cup of chopped walnuts
Two teaspoons fresh minced thyme
To stuff a pork loin, it first must be transformed into something more like a jelly roll. To do this, use a sharp knife and cut along the long side of the loin, about 1/3 of the way from the base of the loin.
Cutting evenly into the loin, stop about 1/2 an inch from the other side and open up the loin. One of the divided parts should be about twice as thick as the other. 
Carefully cut along the middle, into the thicker portion of the loin. Open it up -- the loin should now be cut into a spiral shape along its length, with the meat cut more-or-less evenly. Just like a very thick, rolled-up piece of paper, made of pork. 
Use a meat mallet to flatten the sliced pork loin into a shape like a sheet. 
"Laying it out, it's like a blank canvas -- you can put whatever flavors you want in there," Dowd said. 
In a large bowl, make the loin stuffing by stirring together the diced apples, chopped walnuts, cranberries, bread crumbs, melted butter and thyme. This can be done prior to butterflying the loin. 
Spread the stuffing across the butterflied pork loin, leaving a 1/2 inch edge on all sides. Roll up the loin and tie it using kitchen string. 
Place in the refrigerator until ready to cook. 
Preheat the oven to 350 degrees, and place the stuffed loin on a roasting pan or baking sheet with a rack. Sprinkle salt and fresh ground pepper on the loin. 
Put the loin in the oven for an hour and 15 minutes. The temperature inside the loin needs to be 145-150 degrees to be safe to eat. 
Remove the loin from the oven and let it rest for 10 or 15 minutes. 
Slice and serve the loin. 
Roasted new potatoes make a good side for this dish, Dowd said. He's a fan of grilled vegetables, but since December isn't prime-time for grilling, oven-roasted cauliflower or broccoli (cheese sauce-optional) makes a nice vegetable dish. 
"Roasted cauliflower is really good, taste is totally different from when it's cooked any other way," he said. 
And don't forget the squash. 
"Especially this time of year, some squash would be really good," Dowd said. "Acorn squash... whether it be cubed, or you can bake them in the shell and then scrape it out, and mix it with a little bit of maple syrup or some pumpkin pie spice, a little brown sugar."
All that pork loin, potatoes, cauliflower and squash should be washed down with some cookies. Dowd's ginger crinkle cookies are a taste bud-symphony of butter, sugar, molasses, ginger and cinnamon. 
This recipe makes a large quantity of cookies -- about nine dozen. You may want to halve the recipe, or use another, smaller fraction. Or your family may want all 108 of these cookies. 
Two tablespoons of baking soda
Two tablespoons of ginger
Two tablespoons of cinnamon
In separate bowls, blend the butter and sugar together, whip the eggs, and mix all dry ingredients. 
Mix all this together, and allow to chill for an hour. 
Spoon out the batter onto baking sheet and press down the batter lumps a little. The finished cookies' texture could vary somewhat based on how thick or thin the cookies are pressed -- a thick cookie may be chewier, while a thin cookie might be more crisp. 
Top with coarse sugar crystals. 
Bake at 325 degrees for 10 to 12 minutes.