SIOUX CITY | Jacquie Rygh fondly recalls visiting the Little Yellow Dog in his fenced-in doghouse in the lobby of the Martin Hotel, where her father worked.
The year was 1939; and the pup to be auctioned off to raise money for the Journal's Mr. Goodfellow Charity was a black Scottish Terrier named "Zero."
"I sat on the floor and played with that dog," said Rygh, who was 9 years old at the time and crazy about the pooch.
In fact, Rygh's father, Worth Waltermire had founded the Ancient and Effervescent Order of the Little Yellow Dog Auction Club three years earlier in 1936. Proceeds from the auction benefit the Mr. Goodfellow Charity, which provides gifts and books to underprivileged Siouxland children at Christmastime. The first pup, Skippy, was sold for $25.
The origins of the Mr. Goodfellow Charity, however, go back even further to 1914 when a reporter bought a needy boy and his sister a pair of mittens. That act of generosity sparked a desire to help others and the newspaper started a drive to help those in need. Over the years, the charity has grown into a community event spearheaded by the Ancient and Effervescent Order of the Little Yellow Dog Auction Club.
Oscar Hoberg, a Sioux City jeweler, took notice of Rygh's affection for Zero and told her father that he would place a single bid on the dog. If he ended up winning the auction, Hoberg said he would give the dog to Rygh.
"My dad told me all this and I was beyond belief being excited," Rygh said.
On auction day, one week before Christmas, the Martin Hotel lobby was packed with onlookers, many were farmers who had brought their own small farm animals to be put on the auction block, according to Rygh, who remembers the floor being covered with straw. She stood with her mother on a balcony scouring the crowd down below for Hoberg.
"I'm searching and searching for Mr. Hoberg, and I kept saying to my mother, 'I don't see Mr. Hoberg at all in this crowd,'" Rygh said. "I was beside myself. 'He's not down there. He's not down there in that crowd.'"
Five minutes before the close of the hour-long auction, Rygh said she heard a man shout, "$300," from the back of the lobby. The crowd grew silent. That bid was quite the chunk of change during the Great Depression.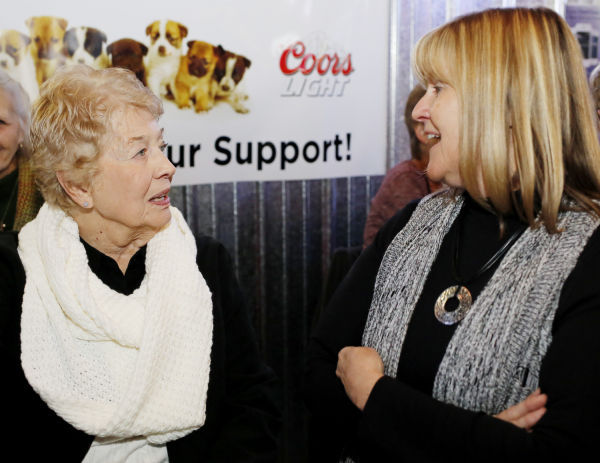 "It knocked everybody for a loop," Rygh said of Hoberg's bid. "He walked forward and the action stopped at that point. ... I was presented the dog. He was playful and he never lost his beautiful black, glossy fur."
Decades later, the Mr. Goodfellow Charity remains close to Rygh's heart. Rygh, a longtime volunteer, has collected donations year after year for the charity to purchase Christmas gifts for children. Finally, in 2014, she became one of the first female members of the Auction Club.
"I was just absolutely thrilled by it. I'd been so involved over so many years," she said.
Gregg Lucken, a member of the Auction Club who has been involved with the Mr. Goodfellow Charity for more than 30 years, was among a group of five anonymous donors who bid $14,500 on Truffles, the 2012 Little Yellow Dog.
Lucken, who said he got involved with Mr. Goodfellow because he has a soft spot for children, unexpectedly became the chocolate-colored American water spaniel's owner.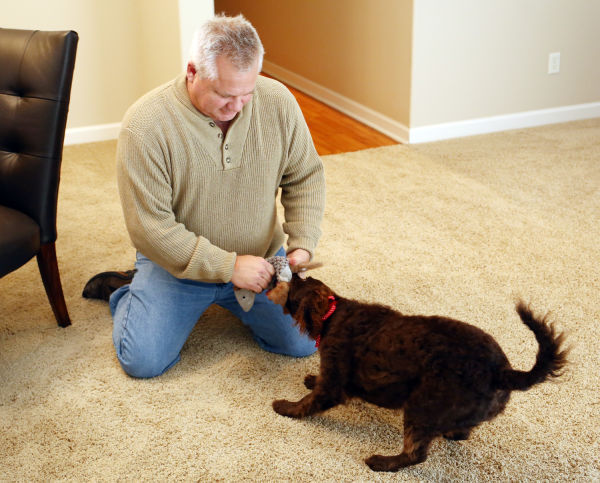 "It kind of happened on the spur of the moment. She came home to live with us and has been a wonderful dog," he said of Truffles, who is a constant reminder of the Mr. Goodfellow Charity. "She likes to run and retrieve. She likes to swim. Other than that, she's just a very loving, cuddly dog that has been just a wonderful companion for us."
Lucken said he thinks the Mr. Goodfellow Charity has endured more than 100 years because it hasn't strayed from its mission and the need for it persists.
"The mission of Mr. Goodfellow is very simple and it's been this way for 100 years -- we feel that every child, no matter what their circumstances, deserves a gift at Christmastime. We don't deviate from that," he said.
Little Yellow Dogs: 1936 to present
| Year | Name | Breed | Buyer | Price |
| --- | --- | --- | --- | --- |
| 1936 | Skippy | Mongrel | Herman Miller | $25.00 |
| 1937 | Midget "Mike" | Mongrel | Wax Nelson & John Kampmeyer | $200.00 |
| 1938 | Bruce | | Oscar Hoberg for S.C. Scottish Rite Consistory | $250.00 |
| 1939 | Zero | | Oscar Hoberg for S.C. Scottish Rite Consistory | $300.00 |
| 1940 | Happy | | Abu Bekr Shrine Temple | $275.00 |
| 1941 | Kit | | K.A. Murray | $250.00 |
| 1942 | Victory | | Hugh Twohig | $310.00 |
| 1943 | Palermo | | Frank Pilley | $337.00 |
| 1944 | Peter | | G.F. Peceny | $375.00 |
| 1945 | Cinderella | | Charles McKenna | $390.00 |
| 1946 | Dancer | | Tetonia Club | $450.00 |
| 1947 | Mistletoe | | H.R. Scroggs | $500.00 |
| 1948 | Blondie | | Elks Club | $510.00 |
| 1949 | Meme | | Wally Wilson & Harold Jacobsen | $525.00 |
| 1950 | Sir Tippet | | Schaff's Hardware, Remsen, Iowa | $565.00 |
| 1951 | Soo Wing Wu | | E.S. Gaynor | $575.00 |
| 1952 | V-Eight | | Jess Getz | $577.50 |
| 1953 | Blue Boy | | Fred K. Harbeck | $615.00 |
| 1954 | Siouxland Coquette | Sealyham Terrier | Miles Patton | $650.00 |
| 1955 | Donnabelle | | C.H. Brechlin | $700.00 |
| 1956 | Lorrie | Dachsund | Russell Deever | $710.00 |
| 1957 | Little Joe | | R.P. Boulay | $725.00 |
| 1958 | Peggy | | Bob Johnson | $765.00 |
| 1959 | Nick | | Sodrac Park | $800.00 |
| 1960 | Happy | | Carter Dennis | $900.00 |
| 1961 | Little Bill | | Jerry Kozney | $950.00 |
| 1962 | Missy | | Mrs. L.J. Kaplan | $1,000.00 |
| 1963 | Little Ike | | J.J. Arkin | $1,075.00 |
| 1964 | Georgie | | Dave Levitt | $1,130.00 |
| 1965 | Maxie | Miniature Poodle | Board of Directors LYD for Mrs. Winifred Perasso | $800.00 |
| 1966 | Joey | Poodle | Vernon Boyers | $810.00 |
| 1967 | Wacuwa St. Nick | Brown and white English Springer | Sioux City Grain Exchange | $830.00 |
| 1968 | Paddy | Vizsla Pointer | United Order Buyers Dixon Co. Feedlots | $850.00 |
| 1969 | Little Maxie | Wire haired Dachsund | Mr. & Mrs. Irving Levich | $640.00 |
| 1970 | Little Yeller | Fawn Colored Chihuahua | Julian Torgeson | $2,310.00 |
| 1971 | Scottie | Black Scottish Terrier | James Gribble | $1,650.00 |
| 1972 | Kandy | Cairn Terrier | Northwestern National Bank, Stan Evans | $1,410.00 |
| 1973 | Polly | Shetland Sheepdog | David, Norman & Peter Waitt | $1,530.00 |
| 1974 | Goldie | Yellow Labrador | Ray E. Friedman | $2,520.00 |
| 1975 | Georgy | Boston Terrier | Vernon Boyers | $3,000.00 |
| 1976 | Buckwheat | Boston Terrier | Jim Yanney | $3,550.00 |
| 1977 | Sandy | Cocker Spaniel | Ray Grandle (Bill Grabau) | $3,500.00 |
| 1978 | Sir Nick | English Springer Spaniel | Jim Yanney | $5,000.00 |
| 1979 | Jingles | Miniature Schnauzer | Alan Booge & Jim Cuthbert | $7,500.00 |
| 1980 | Sir Tannenbaum | Wire haired Dachsund | Alan Booge, Jim Cuthbert & David Sitzmann | $8,000.00 |
| 1981 | Kringles | Sheltie | Ray & Todi Switzer | $5,200.00 |
| 1982 | Jingles | Black & White Cocker | Alan Booge | $4,400.00 |
| 1983 | Sir Nicholas | Samoyed | Larry Doeschot | $5,000.00 |
| 1984 | Sir Lord Stone | English Bulldog | Ken Opstein | $5,100.00 |
| 1985 | Golden Girl | Golden Retriever | Bob Hoefer | $7,500.00 |
| 1986 | Golden Boy | Golden Retriever | Walt E. Beggs | $6,700.00 |
| 1987 | Sir Vern | Buff colored Cocker | Chuck Avery | $6,000.00 |
| 1988 | Sir Frank | Golden Retriever | Fred Wells | $5,300.00 |
| 1989 | Elmer's Girl | Black and white Cocker | Paul Meloy | $8,100.00 |
| 1990 | Mink's Magic | Tri-colored Cocker | Ted & Norm, Jr. Waitt | $8,500.00 |
| 1991 | Miss Kringels | Yellow Chinese Shar-pei | Jerry and Kathy Weiner | $6,700.00 |
| 1992 | Noel | Bichon Frise | harold A. Bomgaars | $7,100.00 |
| 1993 | Lady Gracie | Bull Terrier | Norm and Andria Waitt | $8,600.00 |
| 1994 | Princess Vi | Miniature Schnauzer | Fred Wells | $6,500.00 |
| 1995 | Miss Amber | Golden Retriever | Tom Kurdy | $8,700.00 |
| 1996 | Doc Holiday | Golden Retriever | Kevin Vaughn of Fimco | $12,750.00 |
| 1997 | Yukon Cornelius | Golden Retriever | Ted Waitt | $15,500.00 |
| 1998 | Mr. Golden | Golden Retriever | Roger Miller | $15,600.00 |
| 1999 | Fargo | Golden Retriever | Hirsch/Wooldridge family | $9,000.00 |
| 2000 | Chad | Yellow Labrador | Brad Gunderson | $10,200.00 |
| 2001 | Miss Noel | Maltese | Mike Wells | $18,300.00 |
| 2002 | T-Bone | Maltese | Jim and Jameley Levich | $18,500.00 |
| 2003 | Seaman | Great Newfoundland | Todd and Cathy Ellison | $11,500.00 |
| 2004 | Colonel Harold | Boston Terrier | Bob Scott and Duane Davis | $20,000.00 |
| 2005 | Little Nicholas | Poodle | Tim Brown and D.A. Davis | $21,100.00 |
| 2006 | Belle | Westie | Dr. Ralph and Julie Reeder | $30,000.00 |
| 2007 | Brubeck | Golden Retriever | D.A. Davis, Roger Miller, Leonard Gill, Paul Braunger and Bill Barkley | $20,000.00 |
| 2008 | Boji | Cairn Terrier | Dave Marx and John Goldsmith | $20,000.00 |
| 2009 | Holly Berry | Yorkshire terrier | Dan Wells | $20,000.00 |
| 2010 | Hope | Miniature Schnauzer | Charese Yanney | $10,000.00 |
| 2011 | Stoney | Yellow labrador retriever | Sioux City Explorers | $45,000.00 |
| 2012 | Truffles | American water spaniel | Rhonda Capron | $14,500.00 |
| 2013 | Snickers | Liver and white springer spaniel | Patty and Eric Lohry | $15,000.00 |
| 2014 | Finnegan | Scottish terrier | Brad Smith | $15,000.00 |
| 2015 | Dasher | Beagle | Don and Linda Boyer | $10,200.00 |
| 2016 | Aspen | Maltese | Anonymous | $16,000.00 |
| 2017 | Samantha | Maltese | Darlene Erickson | $15,000 |