SIOUX CITY | Of the almost 1,200 artworks in the permanent collection of the Sioux City Art Center, only about 60 to 110 are actually on display at a given time. 
The rest are housed in a storage room that few visitors ever see. 
Todd Behrens, the curator of the Sioux City Art Center, said that the number of paintings, prints, sculptures and photos on display is, by necessity, the small minority. 
"Far and away, most are in storage," he said. 
Having the bulk of treasures tucked away isn't unique to the Sioux City Art Center, Behrens said. No matter what museum you go to, there's only so much floor (and wall) space. 
A larger museum, he added, will typically only have 5 to 10 percent of its total collection on display at a given time. 
"It's one of those unfortunate problems that virtually every -- not just art museums -- but most museums, experience," Behrens said. 
Another reason a lot of museums keep so much of their collection in storage is to preserve the pieces -- an aging watercolor or lithograph might only tolerate a certain amount of display. So they're kept in dark, temperature-controlled storage as much as possible. 
"The collection is a two-fold thing. One is preservation, you know -- this is a cultural object that we want to keep here for as long as we can. While the other part is exhibiting and education," he said. "So it's a balance." 
A chunk of the museum's space is dedicated to its permanent collection, in which pieces are exhibited for about five years before going back into storage. 
"With that space, people who are our regular visitors will have artworks that they can rely on seeing," he said. 
For artworks that aren't part of the permanent collection, periods of display can be a bit more sporadic. If a certain piece does get chosen as part of an exhibit, it would likely be up for three months or so. 
That means there are some artworks that just don't get out very often. 
"The exhibition that we did this past summer, I pulled some things out, and people who've been here for 20 years say, 'Geez, I don't think I've ever seen that piece!'" he said. 
Upper-Midwest art
Roughly 40 percent of the collection consists of prints, Behrens said -- lithographs, screen prints, etchings. Another 32 percent are oil, acrylic and watercolor paintings. About 12 percent of the collection is photographs, and the rest of the collection is sculptures, drawings and mixed-media works. 
Almost all of the pieces in the center's collection are from the 20th and 21st centuries. Only 23 are from the 19th century, and only six date to before 1800.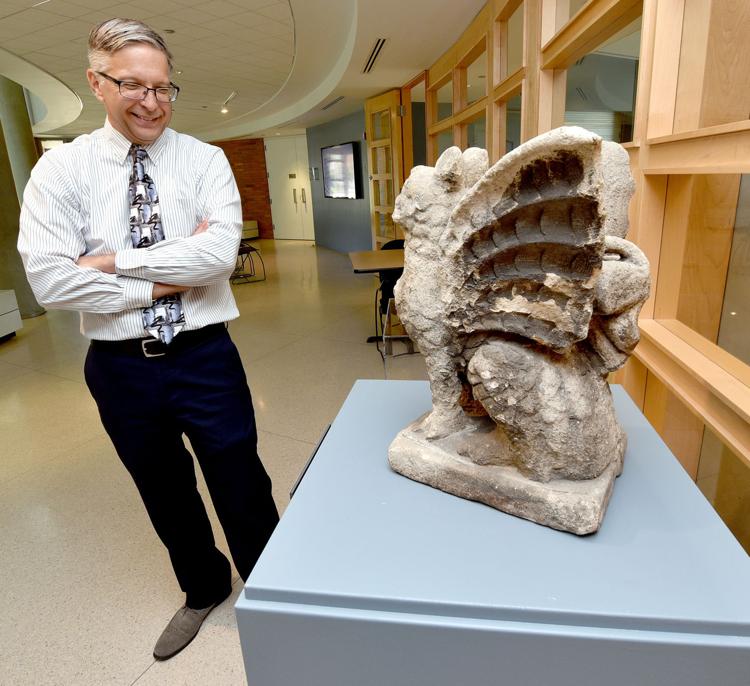 And all the works are united (more or less) by a common theme. 
"The overall collecting mission that we say is, that we collect art by artists with connections to the Upper Midwest," Behrens said. "Sometimes that's a little loose, but for the most part, it means Iowa artists, the surrounding states, sometimes we throw in Kansas and North Dakota." 
But there are a few deviations from this rule, some of which have been owned by the center (or its predecessor, the Sioux City Society of Fine Arts) for a century. 
In the early 20th century, members and supporters of the Society of Fine Arts began to amass artworks, but the society's goal was a bit more vague -- if a piece was sufficiently attractive, it may well have made it into the early collection.
"Even though they didn't really have a facility, they began operating as if they were going to become a museum," Behrens said. "Definitely by 1916, they had started to collect." 
The center still has a handful of these artworks, which are older and originate mostly from Europe or New England rather than the Midwest.
One of these is actually the museum's oldest piece, an architectural sculpture believed to be from 13th century France. 
"This is the outlier of outliers in the collection," Behrens said. "Both that it's French, an architectural fragment more or less." 
Donated in an earlier era when research was less precise, Behrens said the center knows neither the building the sculpture came from nor what part of France. 
"We know virtually nothing about it," he said. 
Corn Room
Perhaps the most significant piece in the center's possession is a set of murals done by the Iowa-born artist Grant Wood, famous for his 1930 "American Gothic painting.
Now faded and very yellow, Wood's "Corn Room" murals were painted in 1926 and hung for years in the downtown Martin Hotel. Woods was commissioned by Eugene Eppley, an Omaha hotelier, to paint a series of murals in Eppley's hotels in Sioux City, Cedar Rapids, Council Bluffs and Waterloo.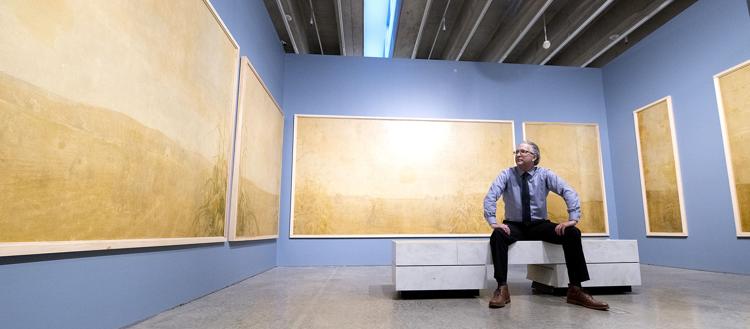 The murals depict a vast, somewhat empty rural landscape. The most prominent feature is -- what else -- corn stalks. 
For decades, the murals were covered in wallpaper and paint, until they were rediscovered in 1979. Restoration work was undertaken to bring the mural back to its former glory (or as close as possible). 
Behrens suspects that, in the murals' glory days in the 1920s, they probably looked a bit more bright and colorful than they do now. When Sheraton bought the old Martin Hotel some decades after Wood painted the scenes, they decided the murals were too old-fashioned and wallpapered over them. 
"Its neglect in that way is why it's so discolored now," he said. 
The Corn Room murals had a bumpy ride on their way to the Art Center. In 1986 they were donated to the center by the company that owned the Martin building, until the company declared bankruptcy and a judge ordered the donation invalid, and the murals to be sold. 
At the auction block in 1995, Sioux City attorney Alan Fredregill paid $80,000 for the murals. He later donated them to the Art Center, where they are on long-term display.