SIOUX FALLS – It was no surprise that Jay Wolfe was moving around rather slowly with an ice pack on his knee following a first-round NAIA Division II Men's National Basketball Championship here Wednesday.
After all, the Briar Cliff senior played all 40 minutes of his team's 80-70 victory over Oregon Tech at the Sanford Pentagon. Not only that, but Wolfe exerted plenty of energy while doing so.
"It was a grind, but I had to push through it and play hard for my teammates," Wolfe said. The 6-foot-4 guard scored a game-high 23 points and pulled down a team-leading seven rebounds as the Chargers (25-7) advanced to a second-round game against St. Thomas (Fla.) Friday at 10:15 a.m.
Briar Cliff outscored Oregon Tech (22-11) 13-3 after the Hustlin' Owls had tied the game 67-67 on a free throw with 2:39 remaining. The Chargers made 10 straight free throws in the final 1:32 after Jackson Lamb snapped the deadlock with a 3-pointer.
BCU rallied from a 31-28 halftime deficit when it shot just 21 percent from the floor. The Chargers were 32-for-37 from the free throw line compared to 10-for-14 for Oregon Tech.
"We thought we did a really good job defending them in the first half," Briar Cliff Coach Mark Svagera said. "They're a real good offensive team and (Mitchell) Fink is as good of a guard as we've played against this year. We took some tough shots in the first half and they came out and went on a little run to extend the lead. Our guys really fought and battled to win possessions from about 14 minutes on.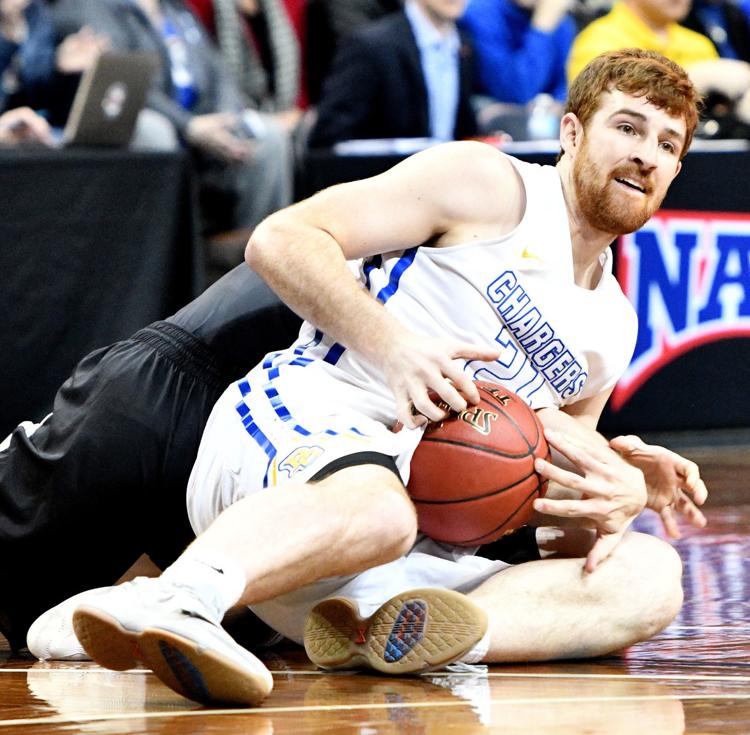 "Offensively we started moving the ball and knocking in some open 3s. Then we closed it out at the line."
The Chargers had four players reach double figures. Erich Erdman tossed in 16 points, while Lamb had 14 and senior post Blake Wiltgen 11 points and six rebounds.
Oregon Tech stretched its lead to 40-32 in the first two minutes of the second half before Erdman sandwiched a couple of baskets around a Wolfe hoop, pulling the Chargers within two. After Wiltgen tied it on a layup, the lead changed hands numerous times until the final couple of minutes.
There were a total of 14 lead changes in the game and it was tied seven times. Erdman, a first-team All-Great Plains Athletic Conference performer, scored 14 of his points in the second half.
"We have four seniors on our team and we don't want their season to be done," said Erdman, a junior. "We're playing for them. We're a good offensive team and when we play solid defense we can make a run.
"Sometimes this stage can be a little intimidating at first. It's different than Branson, too, the lights, the NBA court. We told the young guys to stick with it, their shots will fall. We got some open looks in the second half and knocked them down."
Wolfe, another first team all-leaguer, basically kept his team afloat in the first half with 12 points. He wound up making all 11 of his free throws, dished out two assists and had two steals.
"I was just trying to be aggressive (in the first half)," Wolfe said. "I got to the paint a couple times early and that really helped my confidence. I just tried to take it to the hoop, finish strong or get fouled.
"We just stayed the course and got a couple of big stops at the end when we needed to. The guys played with confidence. We got a couple stops and knocked down our free throws to clinch it."
Sophomore guards Mitchell Fink (17) and Tyler Hieb (14) combined for 31 points for Oregon Tech, which competes in the Cascade Athletic Conference. The Owls have a rich history in this tournament, having won national championships in 2004, 2008 and 2012.
After Lamb's 3-pointer with 2:24 left put the Chargers in front, 70-67, BCU made four consecutive defensive stops. By the time Oregon Tech scored again, the Chargers had a 76-67 lead, thanks to four straight free throws by Erdman and two more by Wolfe.
St. Thomas (23-7) pulled out a 79-77 overtime win over Michigan Dearborn in the opening game of the tournament.