SIOUX CITY | Three key running backs, all with potential to score any time they have the football, will be on display this afternoon as Briar Cliff hosts 19th-ranked Northwestern in Great Plains Athletic Conference action at Memorial Field.
Jacob Kalogonis is averaging 129.7 yards for Northwestern (3-0, 1-0 GPAC), despite being limited to 30 yards in last Saturday's 35-21 win over Concordia. Briar Cliff (0-4, 0-1) had a pair of 100-yard backs in a 56-28 loss at Midland, as Kwame Johnson carried for a career-high 163 while Noah Ylagan topped the century mark for the third time this season, gaining 127.
The last time Briar Cliff has had two backs with more than 100 yards in the same game came in 2015 when Mitch Heikes and Ylagan had 195 and 125 yards, respectively, in a 38-28 win over Dordt. Ylagan, who has rushed for 448 yards and four touchdowns, has six career 100-plus games while Johnson has 305 yards and five scores.
"Kwame and Noah are a good one-two punch and I feel good any time one of them is in the backfield," said Briar Cliff Coach Dennis Wagner. "They're both similar slashing types. You have to make a good tackle to tackle either one of them. They have good speed, not great speed, but you get them to the open field, they'll take it to the house."
Wagner wants to see percentages such as last Saturday's 5 of 15 third-down conversion rate improve. He feels the longer that Ylagan, Johnson and their teammates maintain possession, the less time a defense that allows an average of 562 yards spends on the field.
Ylagan and Johnson certainly have caught the attention of Northwestern Coach Matt McCarty. The Red Raiders' defense has allowed only one 100-yard rusher so far and has improved in terms of yards per rush allowed, going from 5.0 against Ottawa to 4.5 versus Dickinson State and 3.5 against Concordia.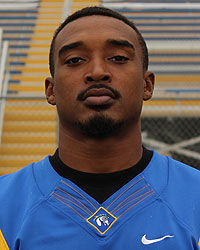 "Watching on film, we need to slow both of them because they run extremely hard and they're tough to tackle," said McCarty. "One thing I've noticed, their running backs rarely go down on first contact. They break a lot of tackles. Both have very good vision. They definitely stretch a defense."
Kalogonis has rushed for 389 yards and four touchdowns. He rushed for a career-best 254 in a season-opening 41-16 win over Ottawa, then added his fifth career 100-yard plus game a week later, 105 in a 37-3 win over Dickinson State.
"Concordia did a nice job focusing on Jacob, which allowed Tyson (Kooima) to break open," said McCarty, referring to a freshman quarterback who passed for a season-high 316 yards and two touchdowns while adding 69 yards on the ground.
"Jacob is also a threat to catch the ball. We're always looking for different ways for him to get the ball. He's a threat any time to score. He was explosive in the first game against Ottawa. He's a physical back and he has great speed as well."
Kooima, who led Western Christian to last year's Class 1A state championship, has passed for 844 yards and nine touchdowns for the Red Raiders. He has hit four receivers with at least one touchdown pass and has also rushed for 203 yards and three touchdowns.
Northwestern's defense ranks fifth in the GPAC (408.7 ypg), but leads in scoring (13.3). Wagner's defensive goal is to create turnovers that will return the ball to quarterback Chance Barlow (200 yards passing, 2 TDs), who will start for the second straight week.
"I don't always put stock in stats, but we're 90 percent when we get in the red zone, and they're 90 percent on defense," said Wagner. "We've had success running the ball, but they'll try to load up the box forcing us to throw. For us to throw, we'll have to use play action to get the safeties and the linebackers to bite on the run. Then we'll have to throw to the top over them to get to our receivers."