SIOUX CITY | Twelve first-team All-GPAC selections highlight the postseason awards for the Morningside College football team, winners of seven consecutive conference championships.
The Mustangs saw senior linebacker Caden McDonald named the GPAC Defensive Player of the Year and head coach Steve Ryan received Coach of the Year recognition.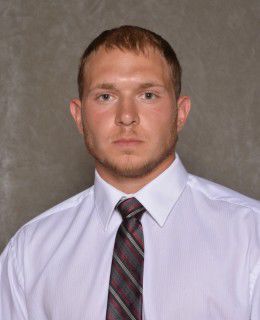 McDonald, a repeat first-teamer, is the defensive standout for a Morningside team that is third in the nation in scoring defense with an average of 16.6 points per game. He received the GPAC Defensive Player of the Week award four times during the regular season and leads the Mustangs in almost every statistical category.
McDonald leads the Mustangs with 56 solos and 39 assists for 95 tackles and tops the team with 12.5 tackles for losses of 52 yards, 4.5 quarterback sacks, seven quarterback hurries, four interceptions, two blocked kicks and a fumble recovery.
McDonald is the Mustangs' third straight GPAC Defensive Player of the Year award winner, joining Zac Schleuger in 2015 and Luke Gibbs in 2016.
Ryan received the GPAC Coach of the Year award after he guided the Mustangs to a perfect 11-0 regular season record and a No. 3 NAIA national ranking. The Mustangs will make their 14th consecutive appearance in the NAIA Football Championship Series for the nation's longest active streak this Saturday when they host Sterling College in an opening round matchup slated for noon at Elwood Olsen Stadium.
Ryan received the GPAC Coach of the Year award for the sixth time in his career after he previously won the award in 2004, 2005, 2011, 2012 and 2015.
Morningside's first-team offensive selections include Bubba Jenkins, Connor Niles, Tanner Ver Steeg, Trae Bradburn and Garrett Temme.
Jenkins, a senior has rushed for 1,751 yards and 24 touchdowns in 272 attempts for an average of 6.4 yards per carry. He leads the nation in rushing with an average of 159.2 yards per game.
Niles, a junior wide receiver from Sioux City, has 74 pass receptions for 1,142 yards and 14 touchdowns for an average of 15.4 yards per catch. Niles is Morningside's all-time leader with 3,393 career pass reception yards. Niles also made the All-GPAC first-team as a punt return specialist. He has six returns for 175 yards.
Ver Steeg, a senior wide receiver from Little Rock, Iowa, has 35 pass receptions for 617 yards and nine touchdowns for an average of 17.6 yards per catch.
Bradburn, a senior, and Temme, a sophomore, are offensive line standouts for a Morningside offense that leads the nation in total offense.
Jason Lupkes, Chad Reis, Alex Paulson, Joel Katzer and Xavier Spann joined McDonald on the first-team defense.
Lupkes, a senior defensive lineman from Dakota Dunes, has 16 solos and 26 assists to lead the Mustangs' defensive linemen with 42 tackles.
Reis, a junior, has 23 tackles, including five tackles for losses of 19 yards, 3.5 quarterback sacks, two quarterback hurries and a pass breakup.
Paulson, a sophomore, has 28 tackles, three tackles for losses of eight yards, one quarterback sack and two quarterback hurries.
Katzer, a sophomore is the Mustangs' second leading tackler with 38 solos and 17 assists for 55 tackles, seven tackles for losses of 32 yards, two quarterback sacks, two interceptions, a pass breakup and a quarterback hurry.
Spann, a junior defensive back who was on the first-team a year ago, leads the Mustangs with four interceptions to go along with 32 tackle and six pass breakups.
Spencer Wyant, a junior from Sergeant Bluff, is the first-team punter. Wyant has an average of 42.2 yards per punt with a long of 60 yards.
The Mustangs placed kicker Jared Amundson, offensive lineman Andrew Metzger and quarterback Trent Solsma on the second team.
No. 10 Northwestern, the GPAC runner-up, who will face No.7 Langston (Okla.) in the first round of the playoffs Saturday had five first-team All-GPAC selections.
The 9-1 Red Raiders were led on offense by sophomore Jacob Kalogonis paced the Red Raiders with 1,426 yards rushing and 12 touchdowns. He averaged 142.6 yards a game.
Senior tight end J.C. Koerselman led the Red Raider receivers with 42 receptions and was second with 518 yards receiving. He had three touchdowns.
Defensively, Northwestern was represented on the top team by senior lineman Cody Bauman of Inwood, sophomore linebacker Tanner Machacek and defensive back Bryce Van Beek were named to the first-team defense.
Machacek led the Red Raiders with 73 tackles while adding 2.5 sacks and Van Beek had a team-best seven interceptions to go along with 58 stops. Bauman had 26 tackles and 6.5 tackles for loss including five sacks.
Senior wide receiver Levi TeBrink, junior offensive lineman Brad Mould, junior defensive lineman Nate Bennett and sophomore linebacker Sean Powell were named to the second team for the Red Raiders.
Dordt, which finished the season 5-5, had a pair of first-team offensive selections in freshman receiver Levi Jungling and senior offensive lineman Jacob Cook.
Jungling led the Defenders with 1,137 yards and 11 touchdowns on 57 receptions. Cook helped lead the way for a Defender team that ran for almost 3,000 yards.
Defender junior running back Keithen Drury and senior offensive lineman Griffin Pelot were second-team selections on offense while sophomore Tyson Dahlgrin and junior linebacker Josiah Kotte were picked on defense.
Briar Cliff junior running back Noah Ylagan was a second-team selection after becoming the Chargers' first 1,000-yard rusher in a season.
Dakota Wesleyan senior quarterback Dillon Turner was named the Offensive Player of the Year for the second straight season. It is the first time in GPAC history a player has won the award outright in consecutive seasons.