SERGEANT BLUFF – Playing South Sioux City at full strength is hard enough, but Sergeant Bluff-Luton had to contend with Nebraska's defending Class B girls state champions without two of its starters here Thursday night.
The result was a 67-55 victory for the Cardinals over Sergeant Bluff-Luton, which is minus regulars Kylee Christensen and Kenzie Foley for the rest of the season. Ironically, each suffered broken left hands, dealing the Warriors a devastating blow heading toward the post-season.
South Sioux City, ranked No. 5 in Class B after capturing the school's 12th state title last season, got a balanced performance while improving its overall record to 17-4.
Four of five Cardinal starters reached double figures and another just missed. McKenna Sims led the way with 19 points while Tiffany Tinker added 15, nine of those in the fourth quarter. Taryn Christensen contributed 12 points and Marybeth Rasmussen 11 points.
"It definitely wasn't our best game, we played a little sloppy, but I told the girls you can't play perfect every game," South Sioux City Coach Molly Hornbeck said. "What I liked is that they were gritty enough to find a way to win without hitting shots and making some mistakes."
South Sioux City forced 26 turnovers in the sloppily played contest, turning a number of those into transition baskets. The Cardinals, though, had 21 miscues of their own.
Sergeant Bluff-Luton's Anna Lucas tossed in a game-high 20 points – hitting four 3-pointers – while Abby Wisecup tacked on 18 points. Wisecup, however, took a hard fall on her head early in the third quarter and had three points after scoring 15 before intermission.
The way things started, it looked like it would be a high-scoring affair.
Sergeant Bluff-Luton had a 25-23 lead after one quarter, but managed just 10 points each in the ensuing three quarters. The game was tied 35-35 at halftime before the Cardinals opened things up by outscoring SB-L 19-10 in the third quarter.
Taking sophomore standout Foley and senior Kylee Christensen out of the lineup for Sergeant Bluff-Luton strips the Warriors of a combined 25 points per game.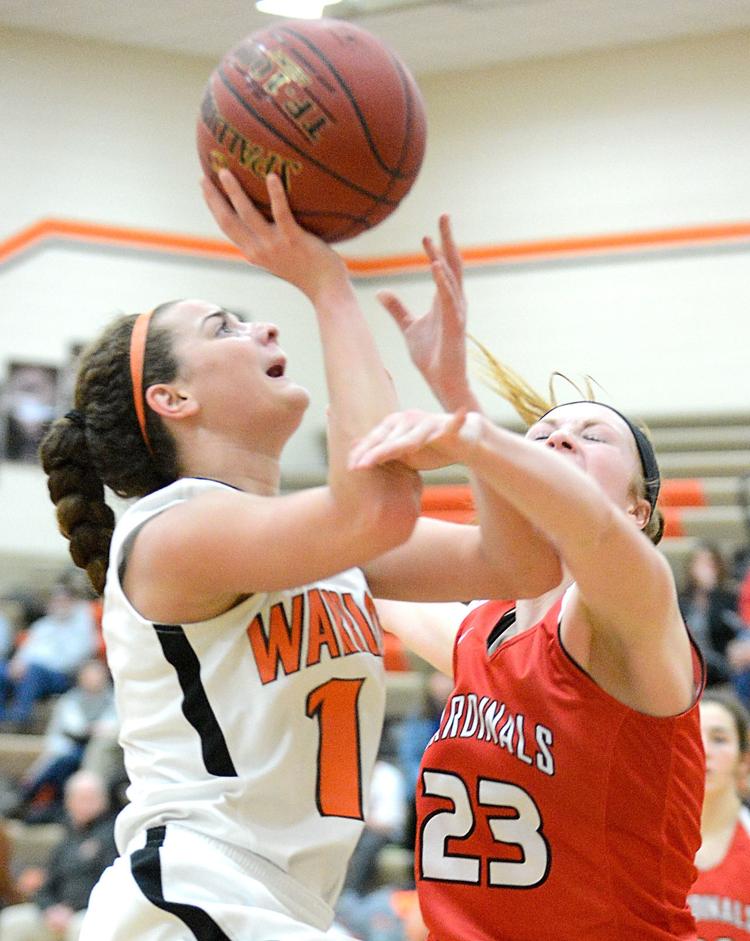 "Missing two starters was tough for them," Hornbeck said. "I really wish we could have had them at full strength but Abby Wisecup is a heck of a player and so is Anna Lucas and they made it tough for us tonight."
Sims, a junior, broke the 35-35 deadlock with a basket, then Taryn Christensen scored off a steal and South Sioux City led the rest of the contest.
Sergeant Bluff-Luton, ranked No. 10 in Iowa Class 4A, is now 12-8 on the season.