SIOUX CITY | Bishop Heelan's Sam McCabe had such a dominating performance Tuesday night that Coach Mary Miller said it may have been the best she's seen her senior standout play in four seasons.
McCabe hammered 25 kills alone in a three-set Missouri River Conference volleyball sweep of Council Bluffs Abraham Lincoln in a steamy Heelan Gym. She finished with 33 for the night as the Crusaders, ranked No. 5 in Class 4A, swept their opening conference matches of the season.
Heelan got a strong challenge from Abraham Lincoln, winning 25-21, 25-22 and 25-20. The Crusaders defeated Council Bluffs Thomas Jefferson 25-13, 25-14, 25-11.
East, meanwhile, split a pair of matches, beating Thomas Jefferson 25-13, 25-14, 27-25 and falling to Abraham Lincoln 25-14, 25-15, 25-18.
"Abraham Lincoln has improved a lot since last year so we haven't heard a lot about them and we didn't come in expecting anything," McCabe said. "We knew that we had to play at our top level no matter how good they were. They've improved a lot so it was almost a surprise. They battled and we battled and we were able to come out with a win."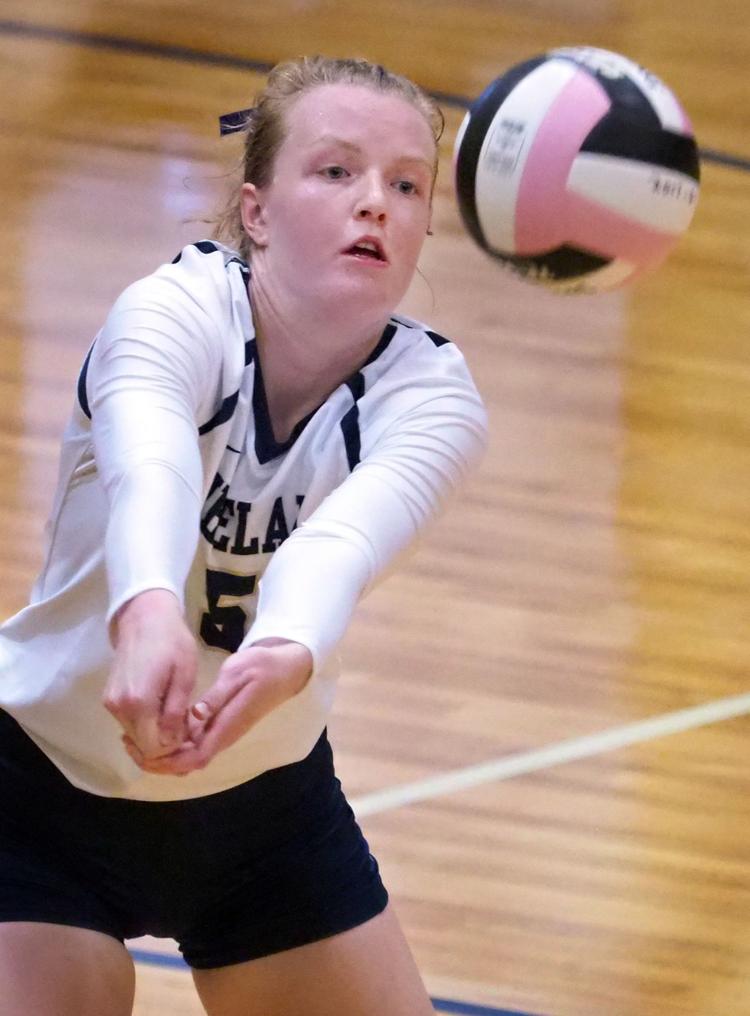 McCabe was wiping away sweat during the post-match interview and admitted it was a bit stuffy in The Pit.
"Yes, it's really hot but you get used to it because we practice in here. It's not really any different but with the long sleeves it can get really hot. It was a good way to start the conference and hopefully we can keep improving on our skills and keep winning and be able to come away with another conference championship."
Abraham Lincoln rallied from a 23-15 deficit with six straight points in the opening set before the Crusaders closed it out. The Lynx were down 24-19 in the second game and reeled off three points in a row before serving long for the game point.
Then, in the third set, Heelan led most of the way but the Lynx pulled within 21-20 before a three-point flurry, capped by McCabe's final kill. The Crusaders hustled to make a nifty return on match point, chasing down what looked like an ace serve and Abraham Lincoln knocked the return shot into the net.
"You want to be tested and AL has really improved, but McCabe just lit it up tonight," Heelan Coach Miller said. "She's a kid that has invested a lot of time and deserves all the success she's having this year. I think that's the best I've seen Sam play in four years."
Heelan improved its overall record to 7-5, which is deceiving considering all of the losses are to state-ranked teams from either Iowa or Nebraska.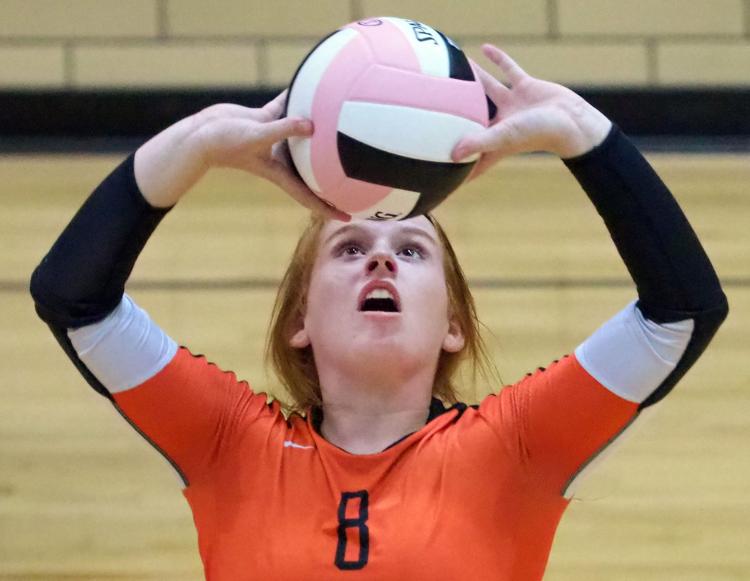 "We've got some experience but we're also young so there's room for improvement for some of those kids," Miller said. "I think we're using our personnel the way we have to and they've bought into the system so you have to give credit to the girls."
Along with her 33 kills, McCabe also nailed seven ace serves and had 20 digs. Nicole Jacobson finished with 22 kills and 23 digs, while Alex Hope also posted double digit kills with 10.
Emma LaFleur collected 37 set assists and Jordyn Knapp 23. Allison Bermel contributed 18 digs, Katelyn Stanley seven blocks and Katelyn Lawler six blocks.
East's Kirstin Sykes had a combined 24 kills, five digs and three aces and Emma Harmelink 16 kills, six blocks and six ace serves. Chloe Kramer totaled 51 assists and four aces, Josie Blake 20 digs, Riley Donahue five digs and Kaitlyn Stoos four digs.
The Black Raiders are now 6-8 on the season.