HULL, Iowa | Jessi De Jager has this tendency to look through the net.
She's analyzing her options on the volleyball court. When the 6-foot-1 Western Christian senior middle hitter receives the set from either 5-7 sophomore Olivia Granstra (531 assists) or 5-9 sophomore Tori Wynja (348 assists), she knows where to attack.
"I'm seeing what's open, so I can cut around the block," said the Sioux City Journal's Siouxland Athlete of the Week, a two-year starter with a new role which has made her more effective in the 6-2 offense.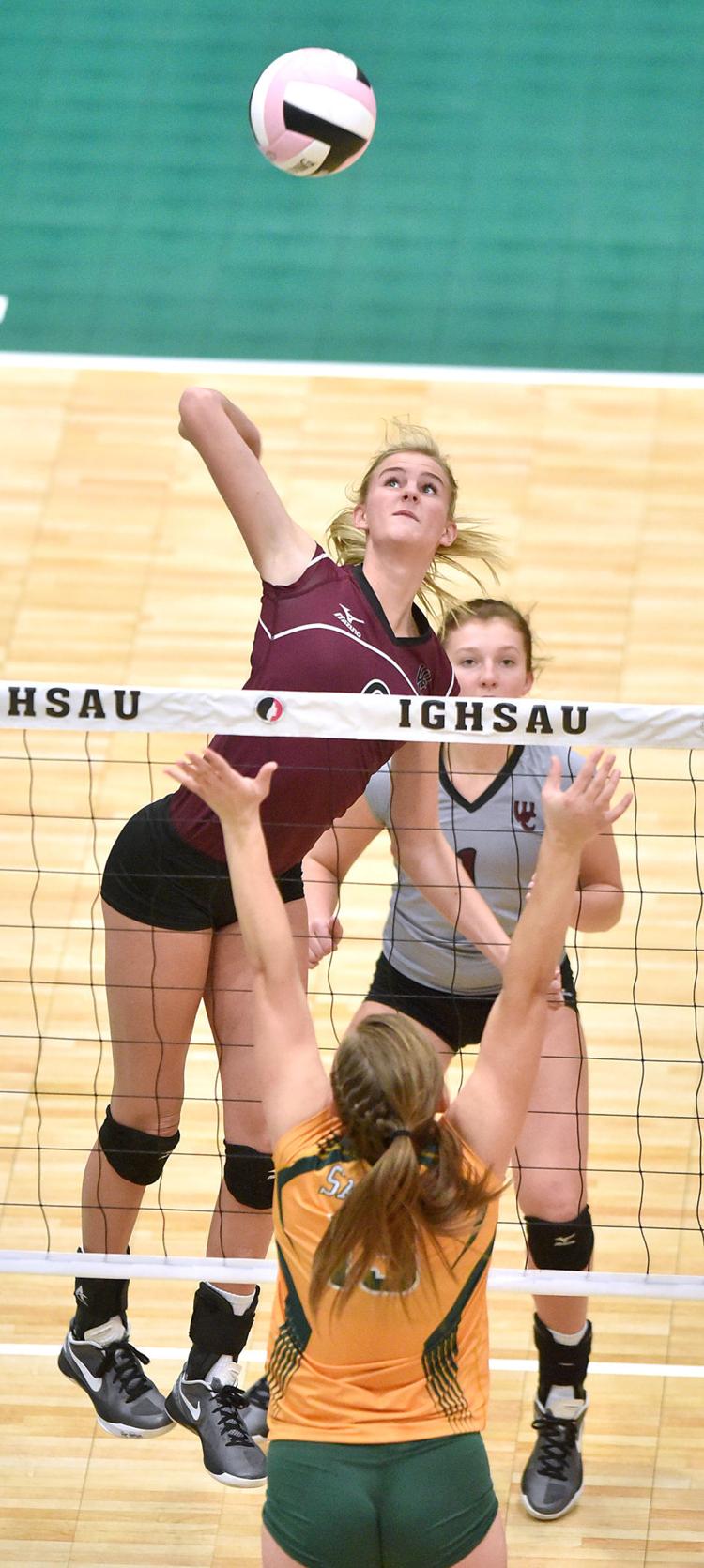 "I'm able to hit over the block because of my height. It's not just hitting. It's tipping and seeing open spots on the court. I want to make it more difficult for the defense. I want to be a key player, someone in tight matches who the setter can trust that I'll get the kill."
The 17-year-old daughter of Brent and Amy De Jager of Hull is one of two trusted middle hitters for the 34-6 and No. 2-ranked two-time defending Class 2A state champions. She has .303 kill efficiency while recording 247 kills.
The Dordt volleyball recruit posted 134 kills as one of three middles for last season's 41-6 squad along with Erika Feenstra and Ashtyn Veerbeek. Each of the middles stood six feet or taller.
Now, De Jager shares the middle with head coach Tammi Veerbeek's 6-foot-2 daughter, a University of Nebraska basketball commit who's hitting .381 with 461 kills along with 112 blocks.
Both middles aren't all-around players. When Veerbeek goes out, De Jager comes in along with 5-6 junior defensive specialist Emma Bousema (335 digs). When De Jager and Bousema complete their rotation, Veerbeek goes in along with 5-5 senior defensive specialist Avery Van Kley (215 digs).
"We need both of them to carry the load," said Coach Veerbeek. "Jessi has done a good job with that. She has responded. She glides along the net. She's long, lean and very explosive. She has stepped up her level of play, definitely.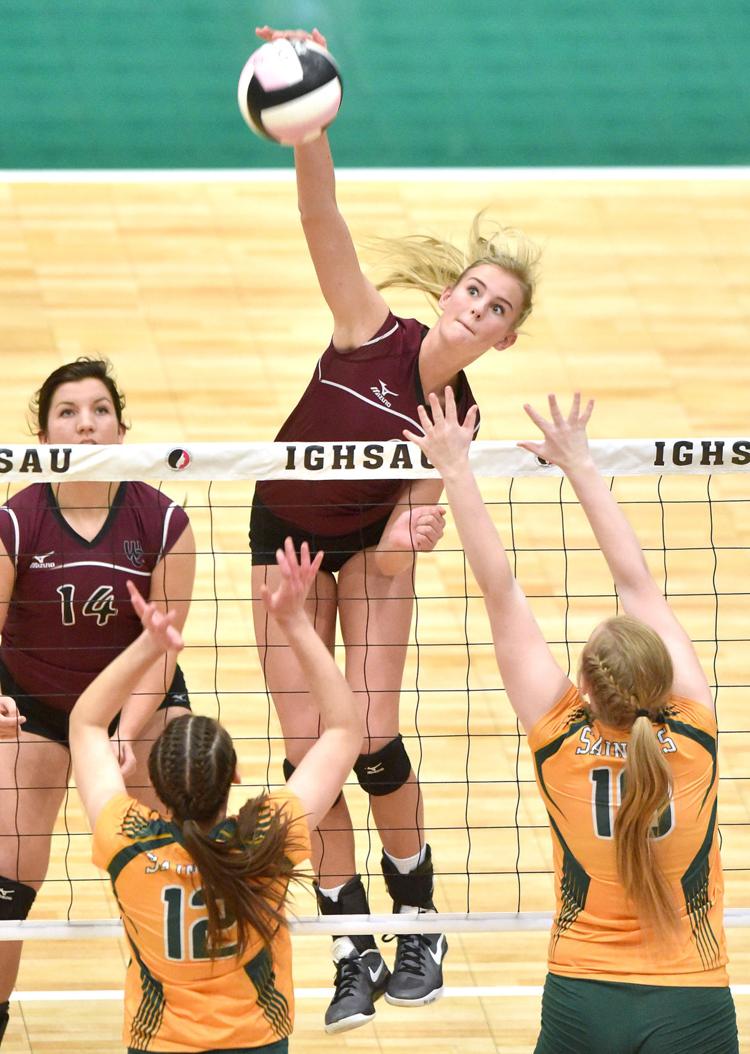 "I like her quickness and her jumping ability. She's a great jumper who moves well along the net. She has a great frame for volleyball. She's a great blocker. When she gets on top of it, she can really crank it."
She reminds the veteran coach of her older sister, Shae (De Jager) Pollema, who combined for 348 kills and 154 blocks as a 6-foot middle hitter for the 2011 and 2012 teams that combined for a 92-6 record and fell to Dike-New Hartford in the 2A title matches.
The younger De Jager and the coach's daughter were seventh graders in 2012, both serving as Western Christian's student managers.
"That was a super-fun experience," said De Jager. "We got to go to state, we got to be in the locker rooms, we got to be part of the team. That's where my love for volleyball began. We went to all of the tournaments. We figured out the game. Learning from them and watching them was the best way to learn. I had a dream to get to the state tournament in high school and play like they did."
De Jager's dream came true. In her limited role of a year ago, she combined for nine kills and six blocks in three sweeps at Cedar Rapids' U.S. Cellular Center, where Western Christian won its 15th state title in the sport.
The dream, needless to say continues, for De Jager, who likes her sets high so it's easier for her to jump and hit around the block. She also has 54 blocks in another key role on a rotation that also includes 6-foot senior outside hitter Cori De Jong (116 kills), 5-8 junior outside hitter Madison Hofman (116 kills) and 5-8 junior defensive specialist Chandler Schemper (273 digs).
"When I see Jessi get a big kill, I see a smile on her face and a twinkle in her eye that gets the whole team going," said Coach Veerbeek. "She's a captain on this team who provides senior leadership through these tough games. I want her to provide emotional stability and be a voice of confidence for younger players to look up to.
"When the game gets tight, I want someone who wants that volleyball. We look to our seniors. Every year, it's a different group. Jessi has been through this run all the way to state and knows what it takes."
Chase Devitt, OA-BCIG…. The senior running back rushed for a career-high 337 yards and scored eight touchdowns as the Falcons defeated Treynor 63-13. Devitt finished the season carrying for 1,614 yards and 22 touchdowns.
Jake Mitchell, Ridge View…. The senior running back rushed 35 times for 195 yards and two touchdowns in a 45-7 win over South O'Brien. He also had touchdown catches of 26 and 19 yards along with 48 return yards and eight tackles.
Siouxland Athletes of the Week
| School year | Date | Athlete | School | Sport |
| --- | --- | --- | --- | --- |
| 1999-2000 | 9/8/1999 | Trevor Hightree | Homer | Football |
| | 9/15/1999 | Matt Lloyd | Woodbury Central | Football |
| | 9/22/1999 | Zac Henrich | Kinglsey-Pierson | Football |
| | 9/29/1999 | Dan Van Engen | Unity Christian | X-Country |
| | 10/6/1999 | Luke VanderSanden | West Lyon | Football |
| | 10/13/1999 | Dan Fuxa | Dakota Valley | Football |
| | 10/20/1999 | Jennifer Kunkel | Woodbury Central | X-Country |
| | 10/27/1999 | David Jacobs | River Valley | Football |
| | 11/3/1999 | Nick Postma | Hartley HMS | Football |
| | 12/8/1999 | Jeff Collins | River Valley | Basketball |
| | 12/15/1999 | Kate Lokken | Denison-Schleswig | Basketball |
| | 12/22/1999 | J.D. Roberts | Ponca | Basketball |
| | 1/12/2000 | John Beitelspacher | Le Mars | Basketball |
| | 1/19/2000 | Greg Cook | Dakota Valley | Wrestling |
| | 1/26/2000 | Chad Dreckman | Storm Lake | Basketball |
| | 2/2/2000 | Jeremiah Pottebaum | Lawton-Bronson | Wrestling |
| | 2/9/2000 | Colin Tague | Sergeant Bluff-Luton | Basketball |
| | 2/16/2000 | Shaun Reiff | Dakota Valley | Basketball |
| | 2/23/2000 | Jesse Eichleberger | Pender | Wrestling |
| | 3/1/2000 | Kris Thayer | Odebolt-Arthur | Wrestling |
| | 4/12/2000 | Stephanie Limoges | Elk Point-Jefferson | Golf |
| | 4/19/2000 | Karlton Hector | Le Mars | Track |
| | 4/26/2000 | Tasha Harvey | Storm Lake | Track |
| | 5/3/2000 | Emily Ehrig | Marcus MMC | Track |
| | 5/10/2000 | Mike Fiech | West Lyon | Track |
| | 5/17/2000 | Meredith Austin | Central Lyon | Track |
| | 6/14/2000 | Chad Kerr | Sergeant Bluff-Luton | Baseball |
| | 6/21/2000 | Tae Barto | Kinglsey-Pierson | Baseball |
| | 6/28/2000 | Deb Roseberry | George-LR/CL | Softball |
| | 7/5/2000 | David Katzer | Denison-Schleswig | Baseball |
| | 7/12/2000 | Nick Newhard | Lawton-Bronson | Baseball |
| 2000-2001 | | | | |
| | 9/6/2000 | Nick Rens | Boyden-Hull/RV | football |
| | 9/13/2000 | Nate Renes | Sioux Central | football |
| | 9/20/2000 | Kellen Ludvigson | River Valley | football |
| | 9/27/2000 | Matt Kneebone | Dakota Valley | football |
| | 10/4/2000 | Matt Hatting | Le Mars Gehlen | football |
| | 10/11/2000 | Daniel McCarty | West Lyon | football |
| | 10/18/2000 | Jason Seehusen | Sheldon | football |
| | 10/25/2000 | Chris Wernimont | Marcus MMC | football |
| | 11/1/2000 | Kristen Hansen | Okoboji | X-country |
| | 12/6/2000 | Andrew Steckelberg | West Sioux | basketball |
| | 12/13/2000 | Jeremy Van Roekel | MOC-FV | basketball |
| | 12/20/2000 | Scott Gillespie | Harris-LP | basketball |
| | 1/10/2001 | Eric Wiebers | Denison-Schleswig | basketball |
| | 1/17/2001 | Neil Wortmann | Hartington CC | basketball |
| | 1/24/2001 | Tom Meester | Central Lyon | wrestling |
| | 1/31/2001 | Pete Bass | Winnebago | basketball |
| | 2/7/2001 | Mikkell Korver | MOC-FV | basketball |
| | 2/14/2001 | Lindsay Overman | Boyden-Hull | basketball |
| | 2/21/2001 | Jared Homan | Remsen St. Mary's | basketball |
| | 2/28/2001 | Mike Engelmann | Spencer | wrestling |
| | 4/25/2001 | Isi Oamen | Le Mars Gehlen | track |
| | 5/2/2001 | Sean Shatava | Kingsley-Pierson | track |
| | 5/9/2001 | Tyler Brady | Harris-LP | golf |
| | 5/16/2001 | Adam Hartung | Laurel-Concord | track |
| | 6/6/2001 | Shawn Parker | Remsen-Union | baseball |
| | 6/13/2001 | David Westergaard | Westwood | baseball |
| | 6/20/2001 | Ashley Matthey | Sergeant Bluff-L | softball |
| | 6/27/2001 | Matt Goliber | Spalding | baseball |
| | 7/4/2001 | Richard Sindt | Sergeant Bluff-L | baseball |
| | 7/11/2001 | Jason Heidesch | Rem St. Mary's | baseball |
| 2001-2002 | | | | |
| | 9/5/2001 | Bryan Diediker | Hinton | football |
| | 9/12/2001 | Keith Sietstra | BH/RV | football |
| | 9/19/2001 | A.J. Schable | BCIG | football |
| | 9/26/2001 | Dusty Hovorka | Dakota Valley | football |
| | 10/3/2001 | Scott Breyfogle | Galva-H | football |
| | 10/10/2001 | Tara DeBoer | Hull Western | volleyball |
| | 10/17/2001 | Brandon Jurrens | GLR/CL | football |
| | 10/24/2001 | Derek Bockelman | West Sioux | X-C |
| | 10/31/2001 | Dusty Snyders | West Lyon | football |
| | 12/5/2001 | Jessica Vander Kooi | Hinton | basketball |
| | 12/12/2001 | Tom Rodman | Sergeant B-L | wrestling |
| | 12/19/2001 | Blake Reinke | Boyden-Hull | basketball |
| | 1/9/2002 | Justin Bohlke | Kingsley-P | wrestling |
| | 1/16/2002 | Deb Remmerde | Rock Valley | basketball |
| | 1/23/2002 | Kassidee Hightree | Homer | basketball |
| | 1/30/2002 | Amanda Moser | MVAO | basketball |
| | 2/6/2002 | Scott Linden | Woodbury Cen | wrestling |
| | 2/13/2002 | Jon Engbers | Western Christian | basketball |
| | 2/20/2002 | Alicia Baier | Sergeant Bluff-L | basketball |
| | 2/27/2002 | Betsy Beach | Le Mars | basketball |
| | 4/17/2002 | Katy Grady | Le Mars | track |
| | 4/24/2002 | Lucas Schossow | Galva-Holstein | track |
| | 5/1/2002 | Derek Casey | Cherokee | track |
| | 5/8/2002 | Justin Koeppe | Storm Lake | track |
| | 5/15/2002 | James Olson | Sergeant Bluff-L | golf |
| | 6/5/2002 | Steph Bacan | Remsen SM | softball |
| | 6/12/2002 | Nikki Zeimen | Denison-S | softball |
| | 6/19/2002 | LeAnn Ostendorf | Sergeant B-L | softball |
| | 6/26/2002 | Jenna Jurrens | GLR/CL | softball |
| | 7/3/2002 | Jason Ripke | Newell-Fonda | baseball |
| | 7/10/2002 | Matt Reichle | Spalding | baseball |
| 2002-2003 | | | | |
| | 9/11/2002 | Mike Klinkenborg | Central Lyon | football |
| | 9/18/2002 | Josh Ahrenstorff | Hartley HMS | football |
| | 9/25/2002 | Mark Sohn | South O'Brien | football |
| | 10/2/2002 | John Ireland | Aurelia | football |
| | 10/9/2002 | Erica Schlotfeldt | Rock Valley | volleyball |
| | 10/16/2002 | Damian Hoffman | Pierce | football |
| | 10/23/2002 | Des Campbell | Le Mars Gehlen | X-country |
| | 10/30/2002 | Austin Janssen | MOC-FV | football |
| | 11/6/2002 | Cal Bobier | Akron-Westfield | football |
| | 12/11/2002 | Miranda Boekhout | Marcus MMC | basketball |
| | 12/18/2002 | Melissa Slaughter | Bancroft-R | basketball |
| | 1/15/2003 | Alysa Klein | Okoboji | basketball |
| | 1/22/2003 | Brian Borchers | Aurelia | wrestling |
| | 1/29/2003 | Dusty Meyn | Boyden-Hull | basketball |
| | 2/5/2003 | Mark Currie | Odebolt-Arthur | basketball |
| | 2/12/2003 | Derek Pirner | Elk Point-Jefferson | wrestling |
| | 2/19/2003 | Tedi Andrews | Kingsley-Pierson | basketball |
| | 2/26/2003 | Andrew Hoogeveen | Sioux Center | b-ball |
| | 3/5/2003 | Blake Gillis | Spencer | wrestling |
| | 4/16/2003 | Shane Maier | Storm Lake | track |
| | 4/23/2003 | Rachel Jansen | MOC-FV | track |
| | 4/30/2003 | Lisa Thiesse | Sibley-Ocheyedan | track |
| | 5/7/2003 | Allison Stewart | Vermillion | golf |
| | 5/14/2003 | Paul Brown | Le Mars | track |
| | 5/21/2003 | Paige Havens | Storm Lake | track |
| | 6/11/2003 | Tyler Sander | Okoboji | baseball |
| | 6/18/2003 | Levi Montange | Woodbury Central | baseball |
| | 6/25/2003 | Jon Nelson | Sergeant B-L | baseball |
| | 7/2/2003 | Kevin Moberg | Westwood | baseball |
| | 7/9/2003 | Justin List | Spalding Catholic | baseball |
| | 7/16/2003 | Molly Lundell | Cherokee | softball |
| 2003-2004 | | | | |
| | 9/10/2003 | Brock Campbell | Cherokee | football |
| | 9/17/2003 | Amanda Eekhoff | Hull WC | volleyball |
| | 9/24/2003 | Brock Jensen | River Valley | football |
| | 10/1/2003 | Tyler Meusburger | Schaller-C | football |
| | 10/8/2003 | Mark Huygens | Sergeant B-L | football |
| | 10/15/2003 | Darren Hein | Okoboji | X-country |
| | 10/22/2003 | Jen Kempers | Unity Christian | VB X-C |
| | 10/29/2003 | Keith Hustedt | Galva-Holstein | football |
| | 11/5/2003 | Brett Kroeze | Hull WC | X-Country |
| | 12/10/2003 | Matt Klingenberg | Marcus MMC | wrestling |
| | 12/17/2003 | Amy Lawson | Spencer | basketball |
| | 12/24/2003 | Lindsey Chettinger | Sergeant B-L | basketball |
| | 1/14/2004 | Amy Larson | Denison-Sch | basketball |
| | 1/21/2004 | Jason Goslinga | MOC-FV | basketball |
| | 1/28/2004 | Kenny Hartzell | Sibley-O | basketball |
| | 2/4/2004 | Adam Friedrichsen | South O'B | basketball |
| | 2/11/2004 | Kristi Tighe | Homer | basketball |
| | 2/18/2004 | Chris Utesch | Akron-Westfield | wrestling |
| | 2/25/2004 | Matt Nelson | Wayne | wrestling |
| | 3/3/2004 | Nick Smith | Yankton | wrestling |
| | 4/14/2004 | Ben Chozen | Okoboji | track |
| | 4/21/2004 | Tyler Mulder | Unity Christian | track |
| | 4/28/2004 | Jenni Elbert | Laurens-M | track |
| | 5/5/2004 | Savanah Krull | MOC-FV | golf |
| | 5/12/2004 | Nick Sorbe | Storm Lake | track |
| | 5/19/2004 | Mike Wiederholt | Remsen SM | track |
| | 6/9/2004 | Whitney McElrath | Woodbury C | softball |
| | 6/16/2004 | Jeremy Kippley | Denison-S | baseball |
| | 6/23/2004 | Brandi Sykora | Westwood | softball |
| | 6/30/2004 | Tarah Colt | Akron-Westfield | softball |
| | 7/7/2004 | Lindy Bohlmann | Denison-S | softball |
| | 7/14/2004 | Shannon Baker | Estherville-LC | baseball |
| 2004-2005 | | | | |
| | 9/8/2004 | Nathan Jansen | MOC-FV | football |
| | 9/15/2004 | Josh Steinhoff | Westwood | football |
| | 9/22/2004 | Brock Norton | Hartley HMS | football |
| | 9/29/2004 | Korey Stephens | Cherokee | football |
| | 10/6/2004 | Ramsey Kavan | Yankton | X-Country |
| | 10/13/2004 | Molly Hill | Wayne | softball |
| | 10/20/2004 | Tim Seils | Charter Oak-Ute | football |
| | 10/27/2004 | Austin Steichen | Remsen SM | football |
| | 11/3/2004 | Brittany Van Beek | HWC | volleyball |
| | 12/8/2004 | Drew Moore | Sergeant Bluff-L | basketball |
| | 12/15/2004 | Clint Harriman | BC-IG | basketball |
| | 12/22/2004 | Kelsey Keizer | Okoboji | basketball |
| | 1/12/2005 | Joey Verschoor | K-P | wrestling |
| | 1/19/2005 | Autumn Bartel | Cherokee | basketball |
| | 1/26/2005 | Bridget Yoerger | Hinton | basketball |
| | 2/2/2005 | Josh Van Es | MOC-FV | basketball |
| | 2/9/2005 | Jason Donnelly | EPJ | basketball |
| | 2/16/2005 | Alec Bonnander | West Lyon | wrestling |
| | 2/23/2005 | Bo Brummels | Winside | wrestling |
| | 3/2/2005 | Nicole Clausen | Denison-S | basketball |
| | 4/13/2005 | Leah Fehr | Dakota Valley | track |
| | 4/20/2005 | Martin Ciuzelis | Emerson-H | track |
| | 4/27/2005 | Dan Rolling | Okoboji | track |
| | 5/4/2005 | Lindsay Wiebers | Denison-S | track |
| | 5/11/2005 | Brock Simonsen | Lyons-Decatur | track |
| | 5/18/2005 | Kurtis Hoefling | Hinton | track |
| | 6/8/2005 | Jason Mooney | WLVA | baseball |
| | 6/15/2005 | Mel Fisher | Storm Lake | softball |
| | 6/22/2005 | Kyle Britton | Le Mars Gehlen | baseball |
| | 6/29/2005 | Alex Rehnstrom | Sioux Central | baseball |
| | 7/6/2005 | Andrea Parkinson | Akron-W | softball |
| | 7/13/2005 | John Mach | Storm Lake | baseball |
| 2005-2006 | | | | |
| | 9/7/2005 | Nick Kuchel | Kingsley-Pierson | football |
| | 9/14/2005 | James Brouillette | Maple V-A-O | football |
| | 9/21/2005 | Jason Rohe | Le Mars Gehlen | football |
| | 9/28/2005 | Anna Kraayenbrink | Sioux Center | X-C |
| | 10/5/2005 | Chris Newman | Le Mars | football |
| | 10/12/2005 | Betsy Van't Hul | Hull Western | volleyball |
| | 10/19/2005 | Brian Fischer | Sheldon | football |
| | 10/26/2005 | Chris Chase | Newcastle | football |
| | 11/2/2005 | Calvin Christopherson | Whiting | football |
| | 12/7/2005 | Shayla Lange | Rock Valley | basketball |
| | 12/14/2005 | Mike Eekhoff | Hull Western | basketball |
| | 12/21/2005 | Brandon Bohlke | K-P | wrestling |
| | 1/11/2006 | Nick Eckert | Homer | basketball |
| | 1/18/2006 | Kala Kuhlmann | Charter O-U | basketball |
| | 1/25/2006 | Bret Rose | Woodbury Central | wrestling |
| | 2/1/2006 | Seth Fischer | Le Mars | wrestling |
| | 2/8/2006 | Dale DeJong | MOC-FV | basketball |
| | 2/15/2006 | Brad Gustafson | Aurelia/G-H | wrestling |
| | 2/22/2006 | Heather Hinz | Newcastle | basketball |
| | 3/1/2006 | Justin Kyte | Elk Point-Jefferson | wrestling |
| | 4/12/2006 | Ehi Oamen | Hinton | track |
| | 4/19/2006 | Logan Masters | Storm Lake | track |
| | 4/26/2006 | Morgan Achterhoff | MOC-Floyd Valley | track |
| | 5/3/2006 | Lindsey Swanson | Denison-S | track/soccer |
| | 5/10/2006 | Amber Hegge | Crofton | track |
| | 5/17/2006 | Sam McInerney | Elk Point-Jefferson | track |
| | 6/7/2006 | Cory Ege | Cherokee | baseball |
| | 6/14/2006 | April Houston | Charter Oak-Ute | softball |
| | 6/21/2006 | Brad Payne | Alta | baseball |
| | 6/28/2006 | Andy Steichen | Remsen SM | baseball |
| | 7/5/2006 | Katie Brown | Spirit Lake | softball |
| | 7/12/2006 | Ty Zimmerman | Storm Lake | softball |
| 2006-2007 | | | | |
| | 9/6/2006 | Justin Phelan | Le Mars | football |
| | 9/13/2006 | Pete Kneifl | Newcastle | football |
| | 9/20/2006 | Brian Gesink | Sioux Center | X-Country |
| | 9/27/2006 | Seth Lloyd | Woodbury Central | football |
| | 10/4/2006 | Justin Shideler | Sioux Central | football |
| | 10/11/2006 | Nate Barbee | Dakota Valley | golf |
| | 10/18/2006 | Kaitlin Beaver | Sioux Center | volleyball |
| | 10/25/2006 | Curt Truhe | Elk Point-Jefferson | football |
| | 11/1/2006 | Adam Broders | Bloomfield | football |
| | 12/6/2006 | Brandon Oldenkamp | Hull WC | basketball |
| | 12/13/2006 | Stephen Kirschbaum | Sheldon | basketball |
| | 12/20/2006 | No selection due to Jerry Giese illness | | |
| | 12/27/2006 | Ben Knight | SB-Luton | wrestling |
| | 1/10/2007 | Kelsey Bolte | BC-IG | basketball |
| | 1/17/2007 | Jared Clement | Le Mars | basketball |
| | 1/24/2007 | Tyler Halverson | Cherokee | wrestling |
| | 1/31/2007 | Chase Vander Feen | West Sioux | basketball |
| | 2/7/2007 | Steph Goslinga | Unity Christian | basketball |
| | 2/14/2007 | Abby Richardson | St. Lake St. Mary's | Bkb |
| | 2/21/2007 | Derek Moore | SB-Luton | basketball |
| | 2/28/2007 | Mike Finch | Hartley HMS | wrestling |
| | 4/11/2007 | Betsy Bies | Yankton | track |
| | 4/18/2007 | Steven Willey | West Monona | track |
| | 4/25/2007 | Brian Saunders | Laurel-Concord | track |
| | 5/2/2007 | Justin Wissler | East Sac County | track |
| | 5/9/2007 | Crystal Schiernbeck | BCIG | track |
| | 5/16/2007 | Dee Hinkeldey | Alta | track |
| | 5/23/2007 | Paige Pollard | Newcastle | track |
| | 6/6/2007 | Steven Aschinger | WLVA | baseball |
| | 6/12/2007 | Sam Earleywine | SB-Luton | softball |
| | 6/20/2007 | Lucas North | West Monona | baseball |
| | 6/27/2007 | Alex Loutsch | Gehlen Catholic | baseball |
| | 7/4/2007 | Tana Colt | Akron-Westfield | softball |
| | 7/11/2007 | Ricca Soper | Estherville-LC | softball |
| 2007-2008 | | | | |
| | 9/5/2007 | Jeremy Rogers | Woodbury Central | football |
| | 9/12/2007 | Kate Buyert | Hull Western | volleyball |
| | 9/19/2007 | Nate DeJong | Central Lyon/GLR | football |
| | 9/26/2007 | Chris Tracy | West Lyon | football |
| | 10/3/2007 | Pete Hofmann | BCIG | cross country |
| | 10/10/2007 | Joel Nixon | Wakefield | football |
| | 10/17/2007 | Cole Albright | Lawton-Bronson | football |
| | 10/24/2007 | Leah Nielsen | Sergeant Bluff-Luton | volleyball |
| | 10/31/2007 | Cody Nesbitt | Alta | football |
| | 12/5/2007 | Marni Jacobsen | Spencer | basketball |
| | 12/12/2007 | Josh Ihnen | Sheldon | wrestling |
| | 12/19/2007 | Jordan Boots | Vermillion | basketball |
| | 12/27/2007 | Nate Herda | Central Lyon | wrestling |
| | 1/9/2008 | Brittany Alfredson | Woodbury Central | basketball |
| | 1/16/2008 | Nick Loughlin | Cherokee | wrestling |
| | 1/23/2008 | Rylee Hulstein | Sioux Center | basketball |
| | 1/30/2008 | Eric Hanson | BCIG | basketball |
| | 2/6/2008 | Wade McDonough | East Sac | basketball |
| | 2/13/2008 | Marcus Edgington | Hinton | wrestling |
| | 2/20/2008 | Jeremy Zeutenhorst | Hull Western | basketball |
| | 4/9/2008 | Michaela Brungardt | Storm Lake | track |
| | 4/16/2008 | Kyle Groon | Akron-Westfield | track |
| | 4/23/2008 | Tyler Westphal | Le Mars | track |
| | 4/30/2008 | Alicia Brown | Vermillion | track |
| | 5/7/2008 | Jared Bruce | Aurelia | track |
| | 5/14/2008 | Kinsey Bak | Hinton | track |
| | 5/21/2008 | Nick Pulscher | Sheldon | track |
| | 6/4/2008 | Kristen Martinson | Sergeant Bluff-Luton | softball |
| | 6/11/2008 | Kayla Smith | Akron-Westfield | softball |
| | 6/18/2008 | Tim Jones | Cherokee | baseball |
| | 6/25/2008 | Korey McDonald | Central Lyon | baseball |
| | 7/2/2008 | Katelyn Jones | Okoboji | softball |
| | 7/9/2008 | Jake Bibler | Alta | baseball |
| 2008-2009 | | | | |
| | 9/3/2008 | Aaron Floen | Unity Christian | football |
| | 9/10/2008 | Dakota Miller | Lawton-Bronson | football |
| | 9/17/2008 | Tyler Jones | Cherokee | football |
| | 9/24/2008 | Steph Wibben | GLR/CL | cross country |
| | 10/1/2008 | Brittany Landegent | Hull Western | volleyball |
| | 10/8/2008 | Jack Mills | Alta | football |
| | 10/15/2008 | Paul Saxen | Sergeant Bluff-Luton | football |
| | 10/22/2008 | Tyler Hefner | Coleridge | football |
| | 10/29/2008 | Sarah Tjaden | East Sac | volleyball |
| | 12/10/2008 | Trevor Wolterstorff | Hull Western | basketball |
| | 12/17/2008 | Britni Freed | Hinton | basketball |
| | 1/14/2009 | Brittany Peterson | Spencer | basketball |
| | 1/21/2009 | Shawn Keizer | Hull Western | basketball |
| | 1/28/2009 | Brian Block | Sibley-Ocheyedan | wrestling |
| | 2/4/2009 | Shelby Beaudette | Bancroft-Rosalie | basketball |
| | 2/11/2009 | Scott Eben | Central Lyon | wrestling |
| | 2/18/2009 | Hannah Redenius | BCIG | basketball |
| | 2/25/2009 | Joe Sievert | Akron-Westfield | wrestling |
| | 4/15/2009 | Kendra DeJong | Unity Christian | track |
| | 4/22/2009 | Bethany DeLong | Laurel-Concord | track |
| | 4/29/2009 | Trevor Tiefenthaler | Sioux Central | track |
| | 5/6/2009 | Alex Toay | Spencer | soccer |
| | 5/13/2009 | Kody Gillaspie | Westwood | track |
| | 5/20/2009 | Megan Glisar | Sergeant Bluff-Luton | track |
| | 5/27/2009 | Kayla Hatting | Le Mars Gehlen | track |
| | 6/10/2009 | Greg Scott | Westwood | baseball |
| | 6/17/2009 | Matt Koch | Cherokee | baseball |
| | 6/24/2009 | Randi Ebert | Woodbury Central | softball |
| | 7/1/2009 | Jordan Huffman | Sergeant Bluff-Luton | baseball |
| | 7/8/2009 | Jacob Lehnhoff | Marcus MMC | baseball |
| | 7/15/2009 | Stuart Goslinga | Sioux Central | baseball |
| 2009-2010 | | | | |
| | 9/2/2009 | Tyler Thrift | West Monona | football |
| | 9/9/2009 | Josh Vander Maten | BH/RV | football |
| | 9/16/2009 | Chad Koch | Hartington CC | football |
| | 9/23/2009 | Paul Yak | Storm Lake | cross country |
| | 9/30/2009 | Jesse Selgeby | West Lyon | football |
| | 10/7/2009 | Lindsey Moerman | Unity | volleyball |
| | 10/14/2009 | Jared Curry | Ponca | football |
| | 10/21/2009 | Cole Heissel | Gehlen Catholic | football |
| | 10/28/2009 | Theo Bartman | Western Christian | football |
| | 12/9/2009 | Jordan Dykstra | Rock Valley | basketball |
| | 12/16/2009 | Slone Masters | Storm Lake | basketball |
| | 12/23/2009 | Taylor Pollard | Newcastle | basketball |
| | 1/13/2010 | Mackenzie Small | Hinton | basketball |
| | 1/20/2010 | Darius Dutcher | OA-BCIG | wrestling |
| | 1/27/2010 | Davis Bloemendaal | MOC-FV | basketball |
| | 2/3/2010 | Marcus Heemstra | Rock Valley | basketball |
| | 2/10/2010 | Austin Katje | Unity Chirstian | basketball |
| | 2/17/2010 | Russ Godberson | Marcus MMC | wrestling |
| | 2/24/2010 | Josh Watchorn | Ponca | wrestling |
| | 4/7/2010 | Brandon Scherff | Denison | track |
| | 4/14/2010 | Bethany DeLong | Laurel-Concord | track |
| | 4/21/2010 | Will Hanson | Marcus MMC | track |
| | 4/28/2010 | Brandi DeMuth | Okoboji | track |
| | 5/5/2010 | Ezra Schantz | Laurel-Concord | track |
| | 5/12/2010 | Neil Malenke | Unity Christian | golf |
| | 5/19/2010 | Tyler Bodlak | Wakefield | track |
| | 5/26/2010 | Mary Schleusner | Central Lyon | track |
| | 6/9/2010 | Heath Grevengoed | B-H/RV | baseball |
| | 6/16/2010 | Ryan Brasser | South O'Brien | baseball |
| | 6/23/2010 | Tyler Down | OA-BCIG | baseball |
| | 6/30/2010 | Jordan Kerns | Westwood | softball |
| | 7/7/2010 | Taylor Zeutenhorst | Sheldon | baseball |
| | 7/14/2010 | Sam Engleman | West Sioux | softball |
| 2010-2011 | | | | |
| | 9/1/2010 | Josh Treybal | Hartley HMS | football |
| | 9/8/2010 | Brian Hengeveld | Western Christian | football |
| | 9/15/2010 | Grady Gallagher | Woodbury Central | football |
| | 9/22/2010 | Kelly Reed | Elk Point-Jefferson | volleyball |
| | 9/29/2010 | Matt Stansberry | Bancroft-Rosalie | football |
| | 10/6/2010 | Alec Baldwin | Spirit Lake | cross country |
| | 10/13/2010 | Abby Horstman | Western Christian | volleyball |
| | 10/20/2010 | Taylor Wurth | Gehlen Catholic | football |
| | 10/27/2010 | Nick Hofmann | OA-BCIG | cross country |
| | 12/8/2010 | Katie Kallin | OA-BCIG | basketball |
| | 12/15/2010 | Jacob Fiedler | Remsen-Union | basketball |
| | 12/22/2010 | Jesse Baldwin | Lawton-Bronson | basketball |
| | 1/12/2011 | Greg Sibenaller | Westwood | basketball |
| | 1/19/2011 | Tyler Wolterstorff | Western Christian | basketball |
| | 1/26/2011 | Josh Schaefer | OA-BCIG | wrestling |
| | 2/2/2011 | Becca DeHaan | MOC-Floyd Valley | basketball |
| | 2/9/2011 | Trent Baker | Westwood | wrestling |
| | 2/16/2011 | Brendan TerWee | West Lyon | wrestling |
| | 2/23/2011 | Dominic Miller | Crofton | wrestling |
| | 4/13/2011 | Katie Jacobsen | Laurel-Concord | track |
| | 4/20/2011 | Kayla Gesink | Western Christian | track |
| | 4/27/2011 | Jay Monahan | Spencer | golf |
| | 5/4/2011 | Carsen Anderson | Storm Lake | tennis |
| | 5/11/2011 | Justin Wohlert | Hartley-Melvin-Sanborn | track |
| | 5/18/2011 | Caleb Malenke | Unity Christian golf | |
| | 5/25/2011 | Eric Koithan | Maple Valley-Anthon-Oto | track |
| | 6/8/2011 | Jordan Henningsen | Alta-Aurelia | golf |
| | 6/15/2011 | Sarah Parkinson | Akron-Westfield | softball |
| | 6/22/2011 | Sam Claussen | Denison-Schleswig | softball |
| | 6/30/2011 | Michael McCabe | Storm Lake | baseball |
| | 7/6/2011 | | | |
| | 7/13/2011 | Alex Jensen | Lawton-Bronson | baseball |
| 2011-2012 | | | | |
| | 9/7/2011 | Trevor Bouma | LeMars Gehlen | football |
| | 9/14/2011 | Micah Lassen | Sioux Center | football |
| | 9/21/2011 | Steph Rohe | Le Mars Gehlen | volleyball |
| | 9/28/2011 | Kellie Goedken | Sheldon | volleyball |
| | 10/5/2011 | Tom Peitz | Crofton | football |
| | 10/12/2011 | Keith Byers | Spirit Lake | cross country |
| | 10/19/2011 | Dylon Lower | Lawton-Bronson | football |
| | 10/26/2011 | Austin Hamm | Bloomfield | cross country |
| | 12/7/2011 | Keegan Mulder | MOC-Floyd Valley | basketball |
| | 12/14/2011 | Erica Dreckman | Marcus MMC | basketball |
| | 12/21/2011 | Jessie Pauley | OA-BCIG | basketball |
| | 1/10/2012 | Jordan Bremer | Woodbury Central | wrestling |
| | 1/16/2012 | Cara Olerich | Homer | basketball |
| | 1/23/2012 | Whitney VanderMaten | Boyden-Hull/RV | basketball |
| | 1/30/2012 | Daniel Jansen | MOC-Floyd Valley | basketball |
| | 2/6/2012 | Adam Paulsen | South O'Brien | basketball |
| | 2/13/2012 | Chet Utesch | Akron-Westfield | wrestling |
| | 2/20/2012 | Cory Sebade | Pender | wrestling |
| | 4/10/2012 | Evan Colfack | Kingsley-Pierson | track |
| | 4/17/2012 | Jake Floen | Unity Christian | track |
| | 4/24/2012 | DeAndra Mahrt | Kingsley-Pierson | track |
| | 5/1/2012 | Jared Schoelerman | Clay Central-Everly | track |
| | 5/8/2012 | Zach Jones | Okoboji | track |
| | 5/15/2012 | Jessica Hilbrands | George-Little Rock/CL | track |
| | 5/22/2012 | Grant Greenfield | Sibley-Ocheyedan | track |
| | 6/5/2012 | Zubeen Azari | Spirit Lake | soccer |
| | 6/12/2012 | Brandi Davis | Akron-Westfield | softball |
| | 6/19/2012 | Nicole Dobernecker | Charter Oak-Ute | softball |
| | 6/26/2012 | Kris Alesch | Ridge View | baseball |
| | 7/3/2012 | Beau Pick | Remsen St. Mary's | baseball |
| | 7/10/2012 | Lindsey Brown | Maple Valley-Anthon-Oto | softball |
| 2012-2013 | | | | |
| | 9/4/2012 | Brandt Van Roekel | Boyden-Hull/RV | football |
| | 9/11/2012 | Taylor James | Akron-Westfield | football |
| | 9/18/2012 | Matthew Wright | Woodbury Central | football |
| | 9/25/2012 | Chris Balster | Sheldon | football |
| | 10/2/2012 | Brooke Wolterstorff | Western Christian | volleyball |
| | 10/9/2012 | Josh Hunt | Central Lyon/GLR | football |
| | 10/16/2012 | Will Norris | Spirit Lake | cross country |
| | 10/23/2012 | Amber Bakker | Sioux Center | volleyball |
| | 12/4/2012 | Luke Lenhart | Storm Lake St. Mary's | basketball |
| | 12/11/2012 | Josie Kopal | Lawton-Bronson | basketball |
| | 12/18/2012 | Jade Lynn Vlotho | West Sioux | basketball |
| | 1/8/2013 | Tyler Dolieslager | Boyden-Hull/RV | wrestling |
| | 1/15/2013 | Austin Lefler | Lawton-Bronson | basketball |
| | 1/22/2013 | Lexi Ackerman | Central Lyon | basketball |
| | 1/29/2013 | Doug Miner | Spirit Lake | wrestling |
| | 2/5/2013 | Kennedy Drey | Storm Lake St. Mary's | basketball |
| | 2/12/2013 | John Christensen | Spencer | wrestling |
| | 2/19/2013 | Ben Burmester | Pender | wrestling |
| | 4/16/2013 | William Dougherty | Woodbury Central | track |
| | 4/23/2013 | Trever Ryen | OA-BCIG | track |
| | 4/30/2013 | Ali Meister | Spencer | track |
| | 5/7/2013 | Grant Anderson | Wayne | track |
| | 5/14/2013 | Kim Kroeze | Western Christian | track |
| | 5/21/2013 | Adam Hochstein | Hartington | track |
| | 6/4/2013 | Molly Renken | Le Mars | softball |
| | 6/11/2013 | Breana Bollmeyer | Hinton | softball |
| | 6/18/2013 | Jonathan Van Beek | West Lyon | baseball |
| | 6/25/2013 | Kelsey Sands | Woodbury Central | softball |
| | 7/2/2013 | Miranda Staab | Remsen St. Mary's | softball |
| | 7/9/2013 | Ethan Kenkel | Storm Lake | baseball |
| 2013-2014 | | | | |
| | 9/3/2013 | Zach Nieman | South O'Brien | football |
| | 9/10/2013 | Brennan Riedemann | River Valley | football |
| | 9/17/2013 | Kasey Reuter | Hinton | volleyball |
| | 9/24/2013 | Ryan Garthoff | Ridge View | football |
| | 10/1/2013 | Alexis Conaway | MOC-Floyd Valley | volleyball |
| | 10/8/2013 | Andrew Van Ginkel | Boyden-Hull/RV | football |
| | 10/15/2013 | Kaleb Heyer | West Lyon | football |
| | 10/22/2013 | Leah Seivert | Sibley-Ocheyedan | cross country |
| | 10/29/2013 | Jessica Van Beek | Sheldon | volleyball |
| | 12/10/2013 | Lauren Hedlund | Hinton | basketball |
| | 12/17/2013 | Zach Skopec | Spirit Lake Park | wrestling |
| | 1/7/2014 | Brandon Snyder | West Lyon | basketball |
| | 1/14/2014 | Ellen Gallagher | Woodbury Central | basketball |
| | 1/21/2014 | Reed Tellinghuisen | East Sac County | basketball |
| | 1/28/2014 | Logan Moore | West Monona | wrestling |
| | 2/4/2014 | Ashley Williams | Lawton-Bronson | basketball |
| | 2/11/2014 | Keely Bertram | Elk Point-Jefferson | basketball |
| | 2/18/2014 | Nick Sjuts | Bancroft-Rosalie | basketball |
| | 2/25/2014 | Brandan Tighe | Homer | basketball |
| | 4/15/2014 | Ethan Fenchel | Western Christian | track |
| | 4/22/2014 | Dylon Van't Hof | Sioux Center | track |
| | 4/29/2014 | Connor Loehr | Spencer | soccer |
| | 5/6/2014 | Preston Peters | Bancroft-Rosalie | golf |
| | 5/13/2014 | Levi TeBrink | Le Mars | track |
| | 5/20/2014 | Kyle Groeneweg | West Lyon | track |
| | 5/27/2014 | Katie Landhuis | MOC-FV | track |
| | 6/10/2014 | Colan Borchers | Le Mars | baseball |
| | 6/17/2014 | Matt Wesselmann | Remsen St. Mary's | baseball |
| | 6/24/2014 | Jerod Hansen | Boyden-Hull/Rock Valley | baseball |
| | 7/1/2014 | Abby Dobernecker | Charter Oak-Ute | softball |
| | 7/8/2014 | Renee Maneman | Newell-Fonda | softball |
| | 7/15/2014 | Rylan Stewart | Sioux Center | baseball |
| 2014-2015 | | | | |
| | 9/2/2014 | Christian Rozeboom | Sioux Center | football |
| | 9/9/2014 | Jack Brown | Vermillion | football |
| | 9/16/2014 | Austin Folsom | Spirit Lake | football |
| | 9/23/2014 | Jamie Gesink | Western Christian | volleyball |
| | 9/30/2014 | Hunter East | Westwood | football |
| | 10/7/2014 | Kassidy De Jong | Unity Christian | cross country |
| | 10/14/2014 | Devin Tripp | Sioux Central | football |
| | 10/21/2014 | Morgan Whitehead | Le Mars Gehlen | volleyball |
| | 10/28/2014 | Hunter Paulsen | Elk Point Jefferson | cross country |
| | 12/9/2014 | Landan Paulsen | Woodbury Central | wrestling |
| | 12/16/2014 | Emma Dau | Spirit Lake | basketball |
| | 12/23/2014 | Tyler Borchers | Le Mars | basketball |
| | 1/6/2015 | Allison Arens | Crofton | basketball |
| | 1/13/2015 | Dakota Drenth | Hartley HMS | wrestling |
| | 1/20/2015 | Kenny Appleton, Jr. | Bancroft-Rosalie | basektball |
| | 1/27/2015 | Cash Wilcke | OA-BCIG | wrestling |
| | 2/3/2015 | Lane Nichols | Woodbury Central | wrestling |
| | 2/10/2015 | Wade Martian | West Monona | basketball |
| | 2/17/2015 | Dallas Jalas | South O'Brien | basketball |
| | 2/24/2015 | Levi Paulsen | Woodbury Central | wrestling |
| | 4/21/2015 | Nic Scheelhaase | Woodbury Central | track |
| | 4/28/2015 | Alex Mankle | Okoboji | golf |
| | 5/5/2015 | Stefan Kinsinger | MOC-Floyd Valley | soccer |
| | 5/12/2015 | Blake Mossberg | Hinton | track |
| | 5/19/2015 | Jenna McCoy | Spirit Lake Park | track |
| | 5/26/2015 | Mitchell Fritz | Alta/Aurelia | track |
| | 6/9/2015 | Jenna Snyder | Alta/Aurelia | golf/softball |
| | 6/16/2015 | Beth Sibenaller | Westwood | softball |
| | 6/23/2015 | Elliott Conover | Remsen St. Mary's | baseball |
| | 6/30/2015 | Korey Kuhlmann | Maple Valley-A-O | baseball |
| | 7/7/2015 | Logan Jurgensmeier | Hinton | baseball |
| 2015-2016 | | | | |
| | 9/1/2015 | Ko Kieft | Sioux Center | football |
| | 9/8/2015 | Myles Van Maanen | BHRV | football |
| | 9/15/2015 | Porter Hummel | West Sioux | football |
| | 9/22/2015 | Anna Kiel | Unity Christian | volleyball |
| | 9/29/2015 | Brad Steinhoff | Westwood | football |
| | 10/6/2015 | Kaira Moss | Western Christian | volleyball |
| | 10/13/2015 | Jacob Harvey | Kingsley-Pierson | football |
| | 10/20/2015 | Ali Verzani | Lawton-Bronson | volleyball |
| | 10/27/2015 | Carter Foughty | MOC-Floyd Valley | cross country |
| | 12/8/2015 | Regan Shockley | Hartley HMS | basketball |
| | 12/15/2015 | Jake Kluender | Spencer | basketball |
| | 12/22/2015 | Damon Struve | South O'Brien | basketball |
| | 1/12/2016 | Ryan Kriener | Spirit Lake | basketball |
| | 1/19/2016 | Cole Jensen | MVAO | wrestling |
| | 1/26/2016 | Josh Van Lingen | Western Christian | basketball |
| | 2/2/2016 | Kaely Hummel | Cherokee | basketball |
| | 2/9/2016 | Kailey Burke | Hinton | basketball |
| | 2/16/2016 | Danny Allaway | Le Mars | wrestling |
| | 2/23/2016 | Chanda Zomermaand | Unity Christian | basketball |
| | 4/11/2016 | Josie Heeren | Elk Point-Jefferson | track |
| | 4/18/2016 | Kenzie Keune | Sioux Central | track |
| | 4/25/2016 | William Parsley | Whiting | track |
| | 5/3/2016 | Blake Vande Hoef | Hinton | track |
| | 5/10/2016 | Emalee Fundermann | MVAO | track |
| | 5/17/2016 | Alyssa Fedders | Unity Christian | golf |
| | 5/24/2016 | Kiana Phelps | KP/WC | track |
| | 6/7/2016 | Justin Negaard | West Sioux | baseball |
| | 6/14/2016 | Katie Johnson | Akron-Westfield | softball |
| | 6/21/2016 | Ashley Ewoldt | Charter Oak-Ute | softball |
| | 6/28/2016 | Carley De Roin | Westwood | softball |
| | 7/5/2016 | Brady Harpenau | Remsen St. Mary's | baseball |
| | 7/12/2016 | Lexi Binder | Lawton-Bronson | softball |
| 2016-2017 | | | | |
| | 8/30/2016 | Daniel Bishop | Hinton | football |
| | 9/6/2016 | Drew Anderson | Westwood | football |
| | 9/13/2016 | Hailey Pullman | West Sioux | cross country |
| | 9/20/2016 | Autumn Fluent | Lawton-Bronson | volleyball |
| | 9/27/2016 | Tyson Kooima | Western Christian | football |
| | 10/4/2016 | Jacob Vander Plaats | Unity Christian | cross country |
| | 10/11/2016 | Karsyn Winterfeld | Western Christian | volleyball |
| | 10/18/2016 | Alec Still | Woodbury Central | football/xc |
| | 10/25/2016 | Allison Timmersmans | Unity Christian | volleyball |
| | 12/6/2016 | Matt Naig | Sibley-Ocheyedan | wrestling |
| | 12/13/2016 | Jay Small | Hinton | basketball |
| | 12/20/2016 | Sammy Blum | Rock Valley | basketball |
| | 1/10/2017 | Kody Berg | Westwood | wrestling |
| | 1/17/2017 | David Wingett | Winnebago | basketball |
| | 1/24/2017 | MaKenna Carver | Cherokee | basketball |
| | 1/31/2017 | Allison Bailey | Kingsley-Pierson | basketball |
| | 2/7/2017 | Skylar Solko | Atla/Aurelia | wrestling |
| | 2/14/2017 | Dylan Schuck | Sibley-Ocheyedan | wrestling |
| | 2/21/2017 | Cody Thomas | Wakefield | wrestling |
| | 04/11/2017 | Sam Knight | West Monona | golf |
| | 04/18/2017 | Cameron Cantrall | Spencer | track & field |
| | 4/25/2017 | AJ Lefler | Lawton-Bronson | track & field |
| | 05/02/2017 | Efrain Gonzalez | Storm Lake | soccer |
| | 05/09/2017 | Morgan Todd | Maple Valley-A-O | track & field |
| | 05/16/2017 | Erika Feenstra | Western Christian | track & field |
| | 05/23/2017 | Jadin Wagner | Lawton-Bronson | track & field |
| | 06/06/2017 | Bailey Davvis | Akron-Westfield | golf |
| | 06/13/2017 | Austin Allard | Akron-Westfield | baseball |
| | 06/20/2017 | Cassie Van Beek | Rock Valley (BHRV) | softball |
| | 06/27/2017 | Jacob Wesselmann | Remsen St. Mary's | baseball |
| | 07/04/2017 | Halle Gray | Woodbury Central | softball |
| 2017-18 | | | | |
| | 08/29/17 | Jaden Snyder | West Lyon | football |
| | 09/05/17 | Jake Lynott | West Sioux | football |
| | 09/12/17 | Suzanne Putze | Woodbury Central | cross country |
| | 09/19/17 | Ben Granstra | Western Christian | football |
| | 09/26/17 | Canaan Cox | Remsen St. Mary's | football |
| | 10/03/17 | Lexi Toering | Sioux Center | volleyball |
| | 10/10/17 | Austin Rozeboom | BHRV | football |
| | 10/17/17 | Maddie Lavin | Vermillion | cross country |
| | 10/24/17 | Jessi De Jager | Western Christian | volleyball |
| | 12/05/17 | Jordyn Van Maanen | Sioux Center | basketball |
| | 12/12/17 | Hunter DeJong | Sibley-Ocheyedan | wrestling |
| | 12/19/17 | Ashtyn Veerbeek | Western Christian | basketball |
| | 01/09/18 | D'Von LaPointe | Winnebago | basketball |
| | 01/16/18 | Nicholas Ruden | Remsen St. Mary's | basketball |
| | 01/23/18 | Paityn Hagberg | Cherokee | basketball |
| | 01/30/18 | A.J. Plitzuweit | Vermillion | basketball |
| | 02/06/2018 | Tyus Arends | Sioux Center | basketball |
| | 02/13/2018 | Addison Hirschman | Kingsley-Pierson | basketball |