CEDAR RAPIDS, Iowa | Ashtyn Veerbeek's day began when she signed a national letter of intent to play basketball at the University of Nebraska.
Basketball isn't Veerbeek's focus this week. Fully intent on leading Western Christian to its third consecutive Class 2A state volleyball championship, the 6-foot-2 middle hitter slammed 20 kills and added two blocks during a 25-10, 25-20, 25-12 first-round sweep over 11th-ranked Iowa City Regina Wednesday afternoon at the U.S. Cellular Center.
Fellow middle hitter Jessi De Jager added 15 kills, helping No. 2 Western Christian (38-6) advance to the 2A state semifinals for the 17th straight year. Setters Olivia Granstra and Tori Wynja dished 28 and eight assists, respectively, for a squad that will continue their 2A title chase in Thursday's 4 o'clock semifinals.
"We just did it in the hotel room, we weren't going to make a big scene or anything about it because we're here for state volleyball," said Veerbeek. "That's what's on my mind right now."
The daughter of 19th-year Western Christian volleyball coach Tammi Veerbeek posted the first kill in Wednesday's match. She showed her power from start to finish, posting her second straight 20-kill effort dating back to last Tuesday's sweep over Central Lyon in the Region 1 title match at Boyden-Hull High School.
Coach Veerbeek could tell that volleyball was on her daughter's mind and that she didn't want any attention from her signature earlier on Wednesday. She surpassed 1,000 kills following the win over the Regals.
"We just did it real privately, me and her dad, so she signed it in our hotel room and faxed it over because it wasn't about that, it was about our team," said Coach Veerbeek. "It was focus on volleyball. That's what she wanted it to be, not to be about her. It was a big day for her, a thousand kills and she committed to Nebraska for volleyball. I'm proud of her as her mom."
Iowa City Regina entered the match with a score to settle against Western Christian, though volleyball was not the sport. Eight months earlier, the Regals ended an outstanding 26-1 record that was blemished by a 71-49 loss to the eventual 2A basketball championship Wolfpack. Six-footer Alex Wiese had 22 points and 14 rebounds in the defeat.
Veerbeek muscled her way for 31 points, 10 rebounds and six blocked shots for the Western Christian squad that held Regina 21 points below their scoring average. Wiese, who had seven kills and eight digs for Regina (28-9), said the basketball semifinal defeat was a factor that motivated her squad in just their third state volleyball trip and first since 2013.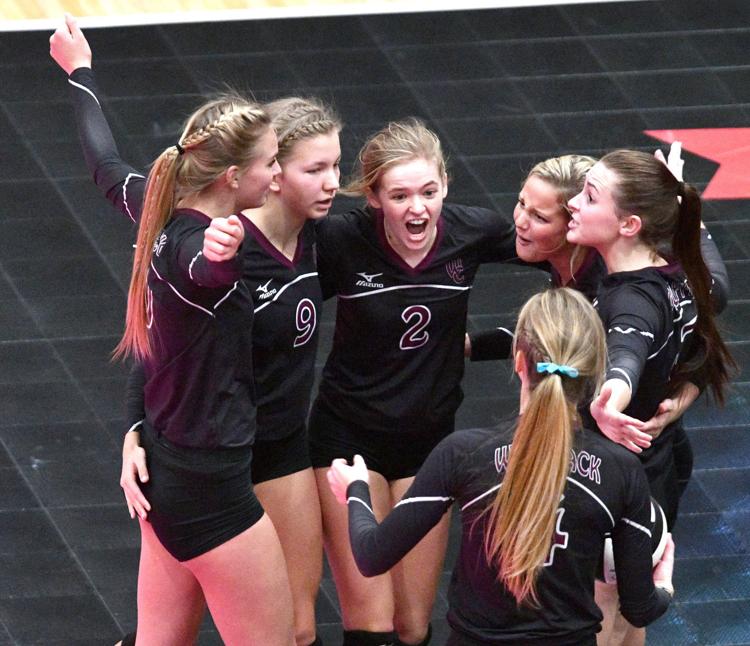 "We came out really wanting to win because we have some build-up from state basketball," said Wiese. "We really wanted to win, but it just didn't happen today. (Western Christian) is really big. We have never seen players like that, who are really big and who can hit and really block."
De Jager, a Dordt volleyball recruit, is one of them. When Veerbeek goes out, the 6-foot-1 De Jager takes her place in the middle.
There's no missing the beat when De Jager comes in. She limited herself to only two hitting errors and boasted .500 kill efficiency during a match that took just 57 minutes to complete.
"We know we have to play our role while we're in there and be confident, no matter what kind of set we get and we can do something with it," said De Jager. "When Ashtyn goes out, I have to fill in her role when I come in and we need to dominate in the middle. I feel like we each can play our game while we are in there. We can both handle it."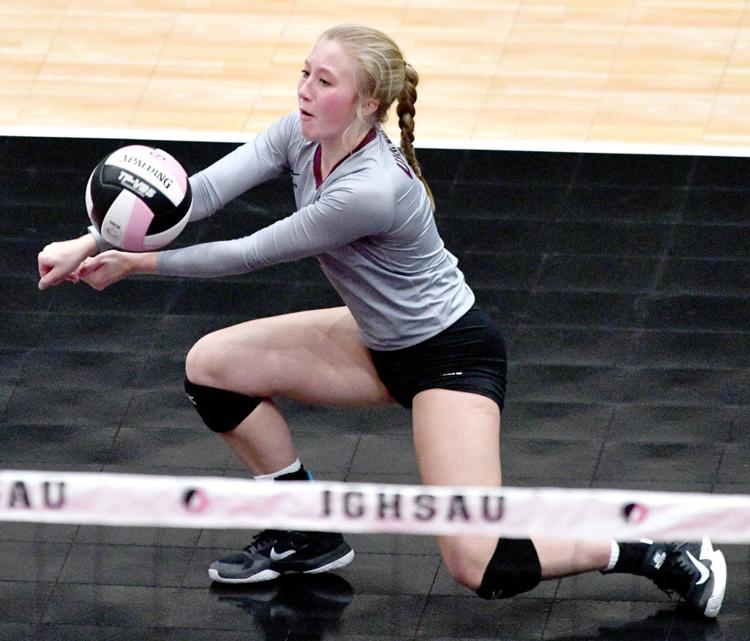 "Our middles have been our go-to girls the whole year," said Coach Veerbeek. "Typically, we'd like to spread the ball a little bit more, but today, they were hot. They're the two girls who have experience hitting for us. We have to go with what's working. When Ashtyn came out, Jessi came in and we got punches both ways. They're the captains of this year's team and they didn't want to be done."
Emma Bousema paced the Wolfpack with three ace serves. Madison Hofman had a team-best nine kills while De Jager and Cori De Jong each recorded one block.