BAND6k RECAP: Strong contenders all around, The Wood Notes continue forward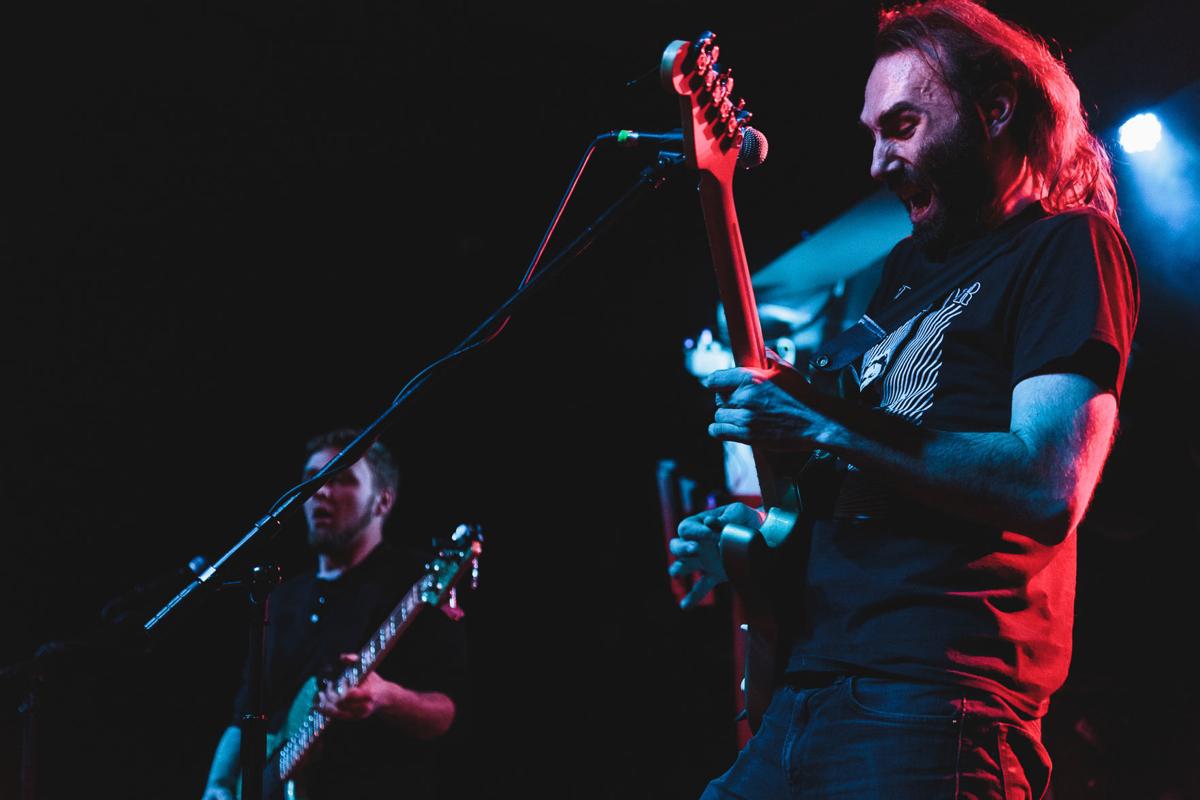 If only there was a way all three of last week's BAND6k competitors could move on to the next round of battles. The Ruralists, GhostCat and The Wood Notes were probably some of the best sounding groups in this competition thus far. Having them all in one round made for an extremely competitive night filled with numerous high points distinct to each band. Choosing a winner would be no easy feat. The way I see it, the outcome of this battle would come down to how devastating the flaws from each band stood out to the judges.
The Ruralists were chosen to perform first last week. This was a band that surprised many who attended Road To Vegas 2 last year. Not only did The Ruralists defy our expectations and produce one helluva live show, the band was awarded a preliminary round win and held its own in a loss to Mat D. and the Profane Saints. Returning to the competition in stride, The Ruralists looked significantly more polished and prepared than last year's appearance. They looked serious. They looked ready to win.
The band wasted no time and kicked off the set with its signature guitar-heavy sound, a sound that still hits you hard even when you're expecting it. But I guess that sort of thing is bound to happen when four of the five band members have guitars in their hands. Already, the band was full of energy. Bassist Jake Miller and guitarists Laremy De Vries and Benjamin Lappenga play to each other as much as they play for the audience, constantly interacting onstage and reacting to the music.
Paired with the always steady drum work of Titus Landegent, as well as the Mumford & Sons-esque vocals of Luke Hawley, this is typical play from The Ruralists. This is what we've come to expect from the band. However, the group had other plans in mind. They didn't want to show us another run-of-the-mill Ruralists show, so by the second song Hawley was strapping off his acoustic guitar and focused on his singing. Displaying new range, he began singing in higher registers, almost shouting at one point. Hawley also led three- and four-part harmonies with his bandmates, driving home the impact each song.
And yet The Ruralists still had more to come. Hawley and De Vries stepped away from their regular instruments to whip out the brass for a brief trumpet and trombone duet, a sound that added a refreshing dynamic to The Ruralists' live show. But probably the band's biggest high point came in the form of an off mic a cappella. The room went silent as Hawley stepped away from the microphone and sang aloud, his bandmates slowly joining in. It was a delightfully poignant moment that caught everyone by surprise. But just when you thought the band successfully captured those rare emotional moments, something would come along and stymie the intended effect.
Many of the band's songs are multilayered and share strikingly different dynamics. A more folk-oriented song can have just as hard a riff or instrumental breakdown as some of The Ruralists' more rock inspired tunes; likewise those rougher songs often have quieter moments or longer rests, leading to these oddly timed fake outs. Sometimes I couldn't tell if the band had actually finished a particular tune. This was the main flaw of The Ruralists's show, and it found its way in just about every song.
I also would have liked to see more of those newer elements. Bring out the brass instruments again, play them longer or just save them for the finale. Show us more sides to Hawley's voice. Savor those special moments and make sure their impact isn't cut down. In spite of these issues, I commend The Ruralists for its ambition and willingness to try something new. The band's cohesion and songwriting are also noteworthy, but what really sets The Ruralists apart from its contemporaries is its way of conveying and applying real emotion into songs.
Up next was GhostCat, a Sioux City indie rock band that has quite the trophy list. I've lost count as to how many local battles of the bands the group has won over the years. GhostCat was also a semifinalist in the very first Road To Vegas competition. The band has altered its lineup slightly since its last appearance at Hard Rock Hotel & Casino Sioux City. Taking over Justin Yap's guitar position is Josh Lee, while Josh Garwood helms the keyboard in place of the band's previous saxophone spot held by Matt Hackett. Luckily, the lineup change has done little to hinder the bouncy and atmospheric rock shows I've come to expect from GhostCat.
Apart from a handful of sound flubs and speaker screeches, GhostCat sounded as good as it always has. Much like The Ruralist's approach to songwriting, GhostCat tunes ebb and flow. Song structures are almost never the same and often infuse elements of punk and jazz and shoegazing. And this is all held together by vocalist and guitarist Alex Erwin, whose engaging voice is one of the band's biggest strengths -- the other being GhostCat's unique but accessible sound. It's just a shame the band didn't try to dress up that sound with an actual show.
Songs sounded great. Josh Garwood on the keys is a perfect match for GhostCat. Drummer Steve Skog and bassist Cody Garwood keep the band grounded in its original sound while newcomer Lee offers a much more blues-oriented guitar sound; although Lee lacks the spry and unhinged energy of Yap, he more than makes up for it with his play. However, all that work and talent means nothing if you can't sell it.
Aside from a few seconds of jamming and pedalboard fiddling, there was little in terms of a dynamic or interesting live show. Band members rarely interacted with each other or moved from their designated spots onstage. Although GhostCat had the biggest crowd that night, the band did little to interact with them despite a great deal of people knowing the words to the group's songs like "Singularity" and "Fee Fi Faux Fox." And these songs sounded great and the cover of Radiohead's "Paranoid Android" was a perfect match for GhostCat – but little was done to engage the audience or amp up these songs into something worth watching.
Last to perform was Omaha-based rock band The Wood Notes. With a noticeably smaller stage setup than its predecessors, the three-piece at first glance seemed like the underdog; in some cases, the band still was. After a brief delay in which the singer appeared late to the stage, The Wood Notes exploded into frantic action. And much of that is due to the standout performance of the band's lead singer and guitarist, Vince Swaney.
Talk about a character. Swaney was a crazed lunatic. His face grimaced and contorted into a devilish smile as he played. He appeared less like a human and more like a drugged up hyena driving full speed down the highway in an old Plymouth Fury with the top down and the headlights turned off. Yeah, try to imagine that. His movements were jittery and frenetic, but he was still in complete control of his instrument and played some of the best guitar we've seen in this competition thus far. It was like he couldn't contain all the energy bundled inside his body, so it was expelled in frequent bursts. And it wasn't like he was out of place. Swaney's movement matched the garage/punk band vibe The Wood Notes were giving off from its performance.
Of course, Swaney wasn't alone in his crazed performance. Aside from some pleasant shouts and harmonies, bassist Mike Laizure was playing out of his mind, so much in fact that he broke a string and asked the audience for a replacement. Kudos to the guy who helped him out -- as well as Laizure for adapting to the situation and not panicking. The Wood Notes drummer Mark Winkelbauer also matched the manic energy Laizure and Swaney were pumping out, especially when songs transitioned into long instrumentals. This is when The Wood Notes would really standout. Clearly, these guys like to jam and have fun with the music.
Sometimes The Wood Notes has too much fun. Especially toward the end of the show, The Wood Notes were carrying on for much too long. Those breakdowns, which were once fun and captivating, had devolved into overly drawn out moments of pure boredom. The band's last song completely lost my interest in the show. I commend The Wood Notes for barely allowing the audience to catch their breath since it kind of matches the band's style, but this was too much. Despite the band's high points, I wanted it to end.
Again, I had no idea who would be crowned the winner of this preliminary round. Despite the downsides from each band, there was no shortage of talent coming out of The Ruralists, GhostCat and The Wood Notes. Judges decided The Wood Notes would go on to the next round of battle. I'll admit I was fairly surprised by this outcome given the band's exhausting outro. Any one of these groups deserved the win last week.
Now that the preliminary rounds have finished, the competition is only going to get more difficult from here on out. No time to be complacent. This battle is just beginning.