In Hollywood, Betty White is considered to be a very spry 96-year-old. However, the former Golden Girl can't compare to Punxsutawney Phil, the world's only forecasting groundhog, who continues to prognosticate winter weather at the ripe old age of 130. 
Uh-huh, we know what you're thinking. The lifespan of a typical groundhog is around 6 to 8 years. How is Phil able to live at least 16 times longer than other such marmots? 
Hibernating in some hole in Pennsylvania probably has something to do with it. Being photographed wearing a teeny-tiny top hat can also be a consideration since clothes can make the man, we suppose.
The most obvious reason is probably also the simplest.
Punxsutawney Phil has weaseled his way into a once-a-year gig and the sneaky little rodent is being protective of this sweetheart deal.
When he comes out of his burrow on Gobbler's Knob on Friday (Feb. 2), Phil will either see his shadow, which will mean six more weeks of winter.
Or he won't see his shadow, meaning there will be an early spring.
And after that, back to sleep for good ol' Phil? Seems like a pretty easy way to get his mug in the newspaper. Sneaky, buck-toothed bastard!
Here are some interesting facts to improve your knowledge of Punxsutawney Phil as well as groundhogs in general.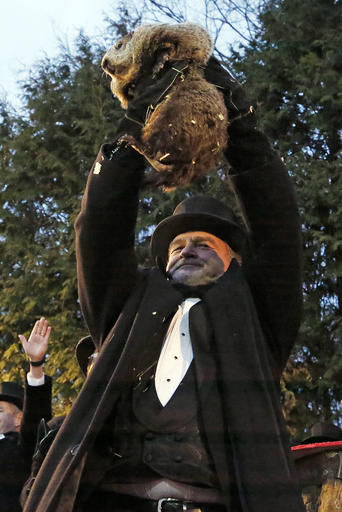 WHAT'S THE DEAL WITH GROUNDHOGS, ANYWAY?
The Dutch people of Pennsylvania created a popular myth surrounding the forever-sleepy groundhogs as dependable four-legged weather vanes. Apparently, the legend began in the middle of the 19th century. By the 1880s, the small, centrally-located town of Punxsutawney, Penn. (pop: 5,962 in 2010) decided to declare a holiday in honor of the furry forecaster.
DO GROUNDHOGS REALLY HIBERNATE?
Yes, they're one of the few animals who hibernate. But hibernation isn't just a deep sleep. Think of it as being a mini-coma that happens every year. A groundhog's body temperature drops to a few degrees above freezing, his heart barely beats, blood scarcely flows and breathing nearly stops. So, don't feel too sorry for the fella getting an unexpected wake-up call.
While they may have powerful jaws, groundhogs subsist on lotsa greens, fruits, veggies and very little water. Most of their liquid comes chewing on dewy leaves.
DO THOSE LITTLE BUGGERS MAKE A SOUND?
Actually, groundhogs elicit a whistling sound either when they're scared or when they're horny. Hey, just like humans.
According to the Punxsutawney Groundhog Club, it is Punxsutawney Phil, Seer of Seers, Sage of Sages, Prognosticator of Prognosticators, and Weather Prophet Extraordinary. 
ALRIGHTY THEN, AND HOW OFTEN IS PHIL RIGHT ABOUT THE WEATHER?
Um ... not too often. According to Stormfax Weather Almanac -- which has data going back to 1898  -- Phil is only correct about 39 percent of the time. About the same as TV meteorologist, we think.
Apparently, they are. "The simple fact is, groundhogs are eminently edible and delicious," Everett J. Castro wrote in Mother Earth News. "Like rabbits and squirrels, (groundhogs) are vegetarians. Thus, their meat, when properly prepared, is quite tasty and tender."
Hmm, that changes things for us. So, Phil, are we gonna see an early spring or are we gonna have an early dinner? No pressure, buddy, none whatsoever.