Whether they're adorned head-to-toe in authentic homemade armor or just covered in mud and grime, every character at the Kingdom of Riverssance has a backstory. For festival organizer Phil Claeys, the character he portrays at Sioux City's annual Renaissance festival is more a reflection of himself.
He dubbed thee Fallen Friar Phyl. As the friar, Claeys serves as the festival's announcer, leader and peacekeeper. He wanders about Riverside Park in his brown robe and staff, enjoying the two-day event as much as possible, and ensuring that there are indeed no problems in the Kingdom of Riverssance.
Why is he a "fallen friar?" Claeys explained that he didn't want to portray someone else or look into his ancestry for character inspiration. He wanted to be himself. Claeys remembered when he was in his youth pursuing a future in the priesthood.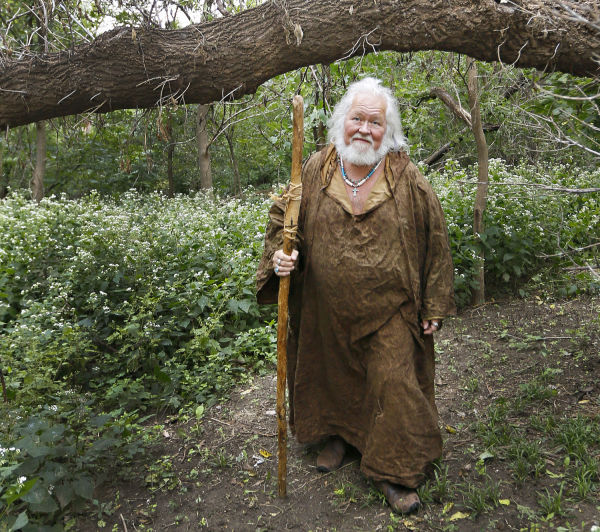 "There was no doubt in my mind until I was 14," said Claeys, who by then was beginning to seek relationships with girls. "Thus, the fallen friar. I feel that God put his hand on me one time and said, 'Hey! You're in the club' and I chose not to be. I fell from grace on that one, so to speak."
Claeys first adopted the newfound identity during River-Cade's Old West Expo some many, many years ago. When the western-themed event was no more, Claeys transferred his character to the Renaissance era and has been there ever since.
"I'm just being myself," he said. "I'm wearing a robe instead of shorts. I don't really see it as a character. It's like I'm stepping into a situation where that's the way I can dress, so I will."
Claeys' interest in religion remained through college, eventually earning degrees in theology and education at Briar Cliff University.
"I felt driven in my college years to study theology and religious education," he said. "My first adult employment after college was as a parish coordinator and religious education director in a few parishes in the Storm Lake area. I followed the calling to that extent."
For Claeys, constructing his character came easy -- if you can even call it a character, that is. Claeys admitted that apart from his outward appearance nothing really changes about him. He doesn't talk using a fancy accent or invent a narrative about the fallen friar. The only time he may get remotely fancy with his words is when he gathers his volunteers and fellow Riverssance participants for a brief speech one hour before opening.
"I take pride in introducing myself when we gather at 9 o'clock in the morning as the Fallen Friar Phyl of the Kingdom of Riverssance, from the Claeys clan of Belgium and Sweden," he said. "And that I was the first to have rested amidst the ancient oaks in the land of the Sioux and on the banks of the rivers in the area we so lovingly now call the Kingdom of Riverssance."
Well that seems like a pretty good start. Why not continue trying to build off that with a bit more flair and fun tales of the fallen friar? Truth be told, Claeys said he's not quite sure why he hasn't extended his back story.
"I thought of characterization over the years and the theatrics of that and really getting into a character," he said. "In grade school, high school and college I was involved in all kinds of theater – and this is street theater at its best – but I guess I'm so busy facilitating the thing that I don't have time to even think about my character or researching.
 "But I happen to be somebody who already is a character – everybody who knows me knows that."