In typical D.A.D. fashion, the hip-hop duo's present to fans this holiday season wasn't wrapped in decorative paper or nestled quietly beneath a tree or addressed to anyone in particular. Then again, how exactly is the group supposed to wrap a Christmas-themed music video?
Mark Koenigs and Jason Reinert, known by their rapper monikers Protige and Eboli, released the video for "Christmas Time" Dec. 7 on D.A.D.'s Facebook page, which has garnered more than 43,000 views thus far. The song was released in tandem with the fourth project by Christmas in the Sioux, an organization which raises money for charities by selling CDs of holiday tunes performed by local talents.
In the song, Koenigs and Reinert rap about prepping for a busy holiday, and in real life that's not far from the truth.
"Is there a word that's busier than 'busy'?" Koenigs asked.
"Stressful?" Reinert answered with a laugh.
Between planning multiple get-togethers, family vacations and usual holiday arrangements, on top of scrambling for last minute Christmas presents, both dads and their respected spouses have their hands full. But by this time, both Koenigs and Reinert are used to the hustle and bustle of dad life. Hence why coming up with yet another relatable song for familial hip-hoppers to enjoy comes easy for the hip-hop duo.
Work for the song began sometime in late July or early August, said Reinert. D.A.D. was contacted by Christmas in the Sioux organizer Steven Bankey to collaborate on the next project.
"We were literally trying to think of what goes on during Christmas… in August," said Koenigs. "I guess the whole idea came about when they asked us to be on [the Christmas in the Sioux CD]. We were like, 'Do we do a cover? Is there a hip-hop Christmas song?'"
The two decided it would be best to create an original song. With a trap beat remix of "In the Hall of the Mountain King" serving as the song's foundation, Koenigs and Reinert added D.A.D.'s signature tongue-in-cheek lyrics complete with a holiday hook and traditional hip-hop flows and rhythms.
After listening to the final product, both rappers agreed it needed a music video. Koenigs and Reinert got decked out for the video shoot, sporting Wu-Tang Clan and Run DMC Christmas sweaters. Even D.A.D.'s DJ, The Sound Insurgent, dressed in his holiday best – a red, green and white Grateful Dead sweater.
"We actually attempted to get D.A.D. logo sweaters that had snowflakes and reindeers and the D.A.D. logo woven in," said Reinert. "Ordered them, paid for them, and then the company got back to us and said they haven't gone into production yet. This was a week before December. We'd have them in about three weeks, in time for Christmas. We couldn't do that.
"We ended up searching and searching and searching online for sweaters. We went through probably a hundred sweaters, at least, to find the ones we wanted. What's the second best thing we can do besides our logo? It was to pay homage to the hip-hop that we love."
"Christmas Time" is the fourth music video released by D.A.D. this year. The first, "Go to Work," was introduced March 13 and went viral soon after its release. Music and hip-hop focused Facebook pages shared the video depicting the rappers spitting rhymes in the aisles and parking lot of a home improvement store, gaining millions of views in the process.
The follow up songs "Budget Ballin" and "Fire on the Grill" – released May 2 and June 18 – saw similar notoriety and were praised for their light-heartedness and for relating to an adult generation of hip-hop listeners.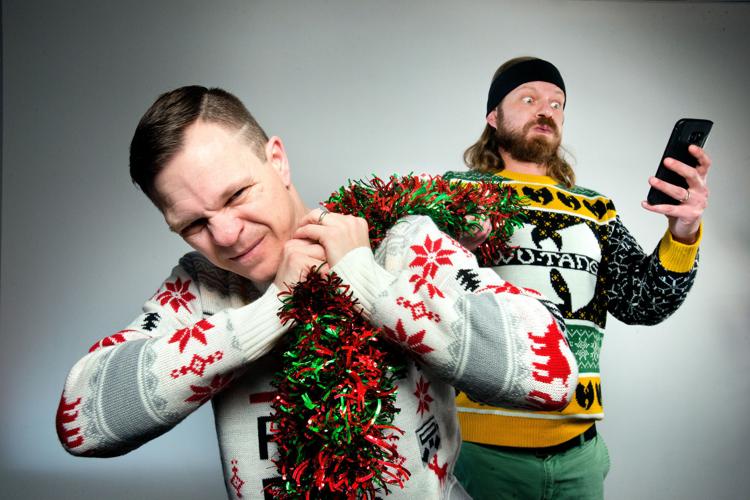 It's been a worthwhile year for Koenigs and Reinert. The group's social media pages grew substantially ever since going viral. The two performed to a large and responsive crowd at The Abe Stage during Saturday in the Park. A D.A.D. song saw circulation on local radio stations. And the duo won Hard Rock Hotel & Casino Sioux City's Road to Vegas 2 competition in May -- a battle of the bands that was predominantly filled with rock groups.
Taking it all in, Koenigs said, "is weird to think about." Especially when looking back at D.A.D.'s very first show, a "Night of the Living Dad" album release party at Marty's Tap in August 2016, complete with Party City silver D-A-D balloons. "It was a good stage setup," laughed Koenigs.
Then in October 2016, D.A.D. took a step up from its humble first show and opened for Nelly at the Orpheum Theatre.
"The craziness that happened in between that Nelly show in that period of one year was just off the charts," said Reinert. "I almost can't believe it. Like I've always said about this project… it drives itself. We put in work, obviously. But it's nothing that we don't want to do. It's all for fun and it has been fun. I hardly can believe what's happened in the past year."
Regular life, they said, hasn't changed much since D.A.D. went viral in the spring of 2017. As far as I could see, neither of the rappers rolled up to the interview driving a brand new luxury sports car or bragged about their fat stacks of cash. Koenigs and Reinert are still just two dudes trying to make a living in Sioux City to support their families. Rappers living the domesticated life.
"We're still doing it like we've always have," said Reinert. "It was probably just as much of a shock to us as it was to anyone else. To be honest, we've been doing it forever. To have what we kind of hoped to achieve for all that time for the most part come to fruition is crazy. It makes you want to push more."