As students flocked into Western Iowa Tech Community College's Overlook Cafe during the first full week of classes, food service co-manager Julie Nelsen is already hard at work, creating out-of-this-world entrees.
"The kids have always loved our Comet casserole," she said of the breakfast meal named after WIT's athletic teams. "With bacon, sausage, hash browns, scrambled eggs and cheddar cheese, it incorporates every morning staple into a single meal."
Across town, Briar Cliff University food service director Ron Ross is hoping students will get a charge out of two concession stand favorites.
"The Charger Dog is our traditional, all-beef, quarter-pound hot dog on a bun and the Bolt Dog is one that can be topped with taco meat, lettuce, tomatoes and jalapenos," he explained. "It is essentially a taco masquerading as a dog."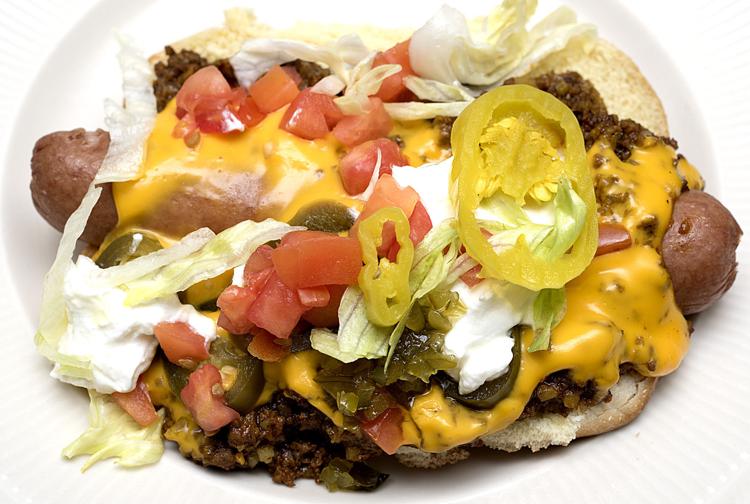 Well, we know Briar Cliff is the "Home of the Chargers." But where does "Bolt" come from?
"Believe it or not, Bolt is the official name of the Charger horse," Ross said with a smile. "I didn't know it until (former Briar Cliff vice president for finance) Beth Grigsby suggested the name for the dogs."
That wasn't the only surprise Ross experienced as the university's top "foodie" for the past four years.
"College food service gets a reputation it doesn't deserve," he said. "People think the food will be bland or unhealthy and that certainly isn't the case at Briar Cliff."
TAKING A BITE OUT OF OLD STEREOTYPES
A former restaurateur with more than 25 years of experience, Ross works closely with coaches in creating menus for athletes in and out of season.
"The vast majority of our students are involved in athletics," he explained. "They don't want diet food. They want nutritious foods that will help with their training."
Ross frequently turns to Briar Cliff executive chef Paul Seaman for culinary inspiration.
A graduate of the California Culinary Academy and a certified culinarian through the American Culinary Federation, Seaman is constantly amazed at the amount of spinach, broccoli and fresh veggies students go through over the course of a week.
"I consider students to be my customers but I also realize they're also something of a captive audience," he admitted. "When your audience is eating your food, three times a day, you've got to give them what they want but you also need to change things up a bit."
REINTERPRETING COMFORT FOOD FAVORITES
This is why Seaman is constantly adding new things to his menu, including a spicy Jambalaya.
"We had that earlier this week," he said. "It was a big hit." 
Nelsen said it will always be a challenge creating meals to satisfied WIT's broad demographics. She is constantly bouncing ideas off the college's co-food service manager Angela O'Dell.
"Julie and I have been sharing recipes ever since we were high school students at Heelan more than 30 years ago," O'Dell said. "I think what sets the two of us apart is the fact that we were both stay-at-home moms before entering the food service industry."
"There's a huge difference between what students think they want to eat and what they actually put on their plates," Nelsen added. "Our job is to notice those differences."
So, what do students really want to eat? Comforting classics like lasagna, tater tot casseroles and food you can eat at a mac and cheese bar.
But they also want healthy wraps, fresh veggies and gluten-free options.
And did we mention steaks, shrimp and the Fred Flintstone-sized ribs that the Overlook Cafe makes on Thursday night?
LET 'EM STEAK ... AND SHRIMP AND A RACK OF RIBS
"Our dinner normally goes for $6.50 but our Thursday meals cost $8.50 and they're worth every penny," Nelsen said. "That's when Angela can really show off her cooking skills."
"We have ladies who play mahjong on campus every Thursday afternoon," O'Dell said. "The ladies will stick around a little longer, ordering a take-home box of barbecue. They love it but we can barely close the box because it's full of ribs."
Like WIT's Nelsen and O'Dell, Briar Cliff's Ross is a big believer in giving people their money's worth.
After all, the Bolt Dog is a bargain at $3.50 each.
"The biggest question is how in the world do you eat a Bolt Dog," Ross said. "Some people use a knife and fork. Personally, I think the best way is to keep the dog in a paper container, shoveling the content into your mouth."
However, the biggest trend in college's cafeterias isn't in All-American burgers and dogs. Ross said food service departments are finding inspiration on an international level.
COLLEGE CAFETERIAS ARE GOING INTERNATIONAL
"Since we're cooking more south-of-the-border and Asian foods, our rice cooker is probably the kitchen appliance that gets the most use," he said.
A similar trend is hitting WIT.
"Perhaps, our most popular current food item is the 'Pho Bowl,'" O'Dell said. "That has rice at the bottom and your choice of Asian-style veggies and meats on top. The students love it because it's healthy and it also tastes amazing."
"Right now, I think the Overlook Cafe's Pho Bowl is also my personal favorite," Nelsen said. "Well, that and our deep-fried pickled French fries."
Um, pickled French fries?
"I know they don't sound healthy but they really are delicious," she said, laughing.