The late R&B singer Luther Vandross was known to music lovers for such velvety smooth songs as "Power of Love," "Your Secret Love" and, in scorching hot duet with Mariah Carey, "Endless Love."
Yet for junk food fanatics, the eight-time Grammy winner will also be known as the alleged inventor of the "Luther Burger."
According to popular legend, Vandross was jonesing for a burger but didn't have either a bun or a piece of bread inside his home. In an inspired fit of improvisation, he simply grabbed two halves of a glazed doughnut and shoved a seating beef patty in between.
Here's a simple recipe for success: Something sweet plus something savory almost always equals something awesome!
Apparently, news of the Luther Burger (or "Doughnut Burger") spread like hotcakes. It has been copied at restaurants, state fairs and baseball parks around the world.
Hell, the burger conceived by an R&Ber even inspired an episode of "The Boondocks" animated TV series. 
More importantly, the burger-slashed-dessert also inspired Weekender culinary taste testers to tackle the Luther Burger in time for Friday, which happens to be National Glazed Doughnut Day.
But first, here's the back story of our favorite deep-fried dough.
While food resembling doughnuts can be traced back to ancient times, the earliest origin of the modern doughnuts probably came from the Dutch settlers who made their way to New York early in the 19th century.
Such olykoek -- or "oily cakes" -- were frequently fried in hog fat to ensure a master level of porcine perfection.
Over time, two type of doughnuts caught on with the huddles masses. People liked their pastry inside a flattened sphere (i.e. the good ol' jelly doughnut) or something with a ring.
As is often the case, Beyonce proved prophetic by telling "Single Ladies" to put a ring on it. That bears out since food website, Delish.com, polled Americans in June 2017. Overwhelmingly, the public voted the glazed doughnut as their all-time favorite.
To be honest, that shouldn't be too surprising. After all, doughnuts are big business in America. How big? Well, more than 10 billion doughnuts are made every year in the U.S. Recent estimates say the American doughnut business is worth around $3.6 billion. 
While the Midwest has plenty of doughnut shops, we can't compare with Boston. According to AdWeek, the Massachusetts city has one doughnut shop for every 2,480 people.
But how many Bostonians would indulge in the Luther Burger challenge?
Dubbed a "cardiologist's worst nightmare," the typical Luther Burger is made an all-beef patty, several slices of bacon and plenty of melty cheese. 
When placed between two halves of a glazed doughnut, a Luther Burger will have anywhere between 800 -- 1,500 calories.
The Weekender's version of the Luther Burger, perhaps not too surprisingly, probably clocked closer to the 1,500 calorie spectrum. 
First, we seasoned our patties with several shakes of both Shichimi Togarashi (a Japanese powder containing red chili peppers, orange peel, sesame seeds and ginger) and commercial Montreal Steak Seasoning) prior to the grilling.
Putting the highly-seasoned meat in a hot pan ensure the double-dose of powder would provide for a good crust.
Once cooked to a perfect medium rare, we slapped on two slices of cheddar cheese and five slabs of precooked bacon on top.
Then, we stuck everything between two fresh, cut glazed doughnut halves.
And how did it taste? Like the ultimate guilty pleasure.
Sticky, greasy, decadent and, all together wrong, the Luther Burger perfectly encapsulated our yearnings for something sweet (the doughnut), something savory (the meat), something salty (the bacon and the cheese) with something spicy (the seasoning).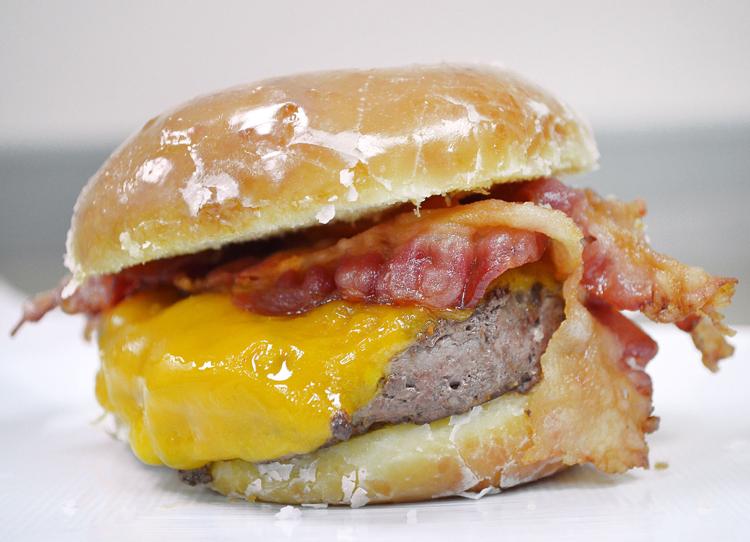 Would we ever eat it again? We'd do it again in a New York minute.
Come Friday, we will celebrate National Glazed Doughnut Day with a sticky, deep-fried burger in our hands. 
And when that happens, our hearts will be filled with admiration for Luther Vandross, originator of this wonderful meal.
At least we think our heart will be filled with admiration. Or maybe that's just cholesterol we're feeling in our tickers. 
Yay, Luther! And thank you for your 1,500 calorie culinary creation!