Do you know the pumpkin man? Chances are if you've lived in Sioux City for the past 20 years, you do.
His name is Ken Allen, and he's been selling truckloads of the robust orange squash to customers for decades. Siouxlanders might remember his Garden Market Pumpkin Patch on Gordon Drive, a segment of land that not only served as a market for farm-fresh produce, but as a local Halloween destination for families. Back then, Allen would sell close to "10 semi-loads, at least," of pumpkins in a year. Now, stationed in a temporary makeshift shop just off of US Highway 75, Allen hasn't seen much business.
I met Allen at his large kiosk settled in the parking lot between Navarrete's and Miller Brothers Furniture around 1 p.m. last Thursday. The place wasn't hard to find thanks to all the signs bearing colorful imagery of cartoonish pumpkins and jack-o-lanterns. The sign identified the shop as Pumpkin City, offering hay rack rides, train rides and corn mazes. But all I could see was pumpkins.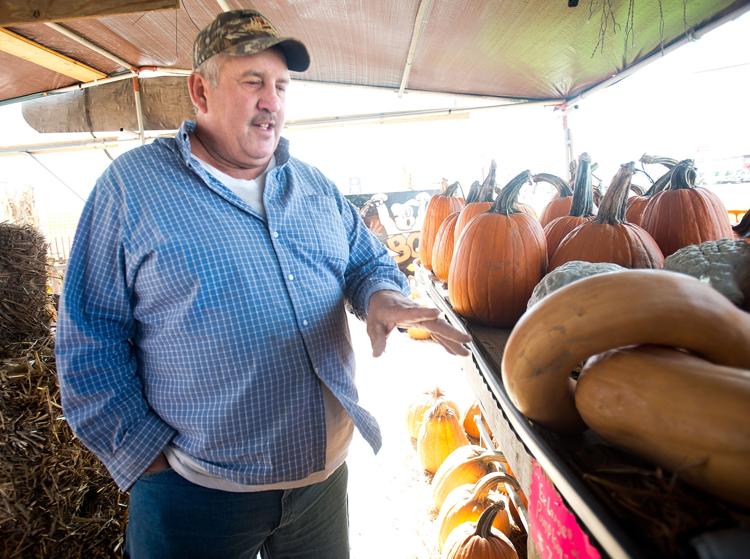 Allen was huddled in a chair in the corner of the makeshift shop, along with his mother Doris Osborn. They were surrounded by hundreds upon hundreds of squash. Classic orange pumpkins take up most of the inventory – no surprise – but Allen has made sure to include other colorful varieties available for purchase.
Deep dark green acorn squash share space with strikingly speckled carnival squash. Next to them are miniature white pumpkins, which look oddly similar to full bulbs of garlic, and an assortment of red-orange and turban squashes. Blue pumpkins share storage next to long butternut squash and hubbard squash, an oddly shaped and wrinkly textured gourd that Allen said he uses to decorate as witches heads.
Allen told me he went out of business for three years to focus on his health. This year was his first year back, and he hoped to see some kind of success. He had a high volume of pumpkins to choose from – good sized ones, too, with long stems for an easy grip, and there were about a hundred more in excess. But the days have been slow and uneventful. And cold. The wind was blowing so hard I sometimes could barely make out what Allen was saying to me.
The retired sheet metal worker set up shop September 15 just to keep busy and make a little money on the side. So far, it's accomplished neither. Allen hasn't been busy and he hasn't made much money – not like he used to anyway. "I don't do this for profit anymore, it's just something to keep me busy," Allen said. Nonetheless, he was frustrated, and he questioned why I hadn't come sooner, hoping some press might elevate customer interest.
In addition to the Sioux City Journal and The Weekender, Allen said he contacted radio and TV stations for coverage, but no one seemed interested. I expressed my condolences for not arriving weeks ahead of time. Truthfully, I didn't know about Allen's pumpkins or his past business. After speaking with him and learning about his experiences selling pumpkins and other produce, I can understand his frustrations. When I spoke with Allen that Thursday, he was optimistic – and perhaps even a little cynical – that business would pick up.
"I'm sure when it comes to crunch time, everybody will remember," he said. "Well… when everybody's out of pumpkins they'll say, 'Well, I remember driving by all them pumpkins on Highway 75.'"
A lot of thought and care went into Allen's shop setup near Highway 75. Halloween signs surround the encampment of pumpkins. Inside, Allen has adorned the shop with fall decorations and fastened dried stalks of corn to the gates. The pumpkins stand upright on tables and on the ground while the smaller squash stay corralled inside waist-high wooden crates. Overlooking everything are individual pumpkins that have been given faces and seasonal designs – all of which were hand-painted by Allen's mother, Doris Osborn.
The pumpkins in the shop, Allen said, were provided by Terry Small from Sloan, Iowa. Though the squash were not grown by Allen himself, he's certainly no stranger to the crop. "I've raised pumpkins all my life," he said. Ever since Allen was old enough to work a hoe, he was called upon by his family to help harvest and grow seasonal produce, including pumpkins.
"They grew up helping us," said Osborn of her children.
"It's a family thing," added Allen. "We've been doing it for 40 years. Me and my brother Randy, when we were teenagers we pretty much did everything in my dad's garden. He had 60 acres of truck farm."
Today, those acres are occupied by ball fields in Riverside Park. In the 1970s, Allen and his family harvested a variety of crops. In addition to pumpkins, Osborn said they had sold apples, Christmas trees and flowers during their respected season. The family made sure they were busy throughout the year. Osborn and her five boys helped in any way they could.
"When you grow up doing these things with your folks – I think that's what happened to these guys – it kind of gets in your blood," said Osborn. "They just liked to do that every year."
Allen and his brothers had a lot of training, and dad made sure to work those boys' asses off. Allen said half-jokingly, "He deprived us of our childhood." But he also taught them how to work. After years of helping out the family, selling pumpkins just stuck with Allen. He enjoyed seeing the overjoyed looks on children's faces as they traversed his Gordon Drive pumpkin patch or made their way through the corn mazes or pet the goats and chickens.
"That's what it's all about," he said. "We used to do so much on Gordon Drive. I would sell apples, too. I'd sell a couple hundred bushels a year over there. I'd have a table this big – 4-feet wide and 10-feet long – plum full of pecks and half pecks a half bushels."
Today, only one box of apples is available for customers to purchase. But there are plenty of pumpkins; before 2013, Allen wouldn't have any left.
"I used to sell about a half-million pounds a year at Gordon Drive," he said. "It's surprising how everything just gets forgotten and thrown away. It hasn't even been that long ago."
It goes without saying, but Allen misses his old Gordon Drive location. When leasing for the land switched hands, the asking price was too high. Forced to leave, Allen moved his business to Transit Avenue. Shortly after, he left the business. With less than a week until Halloween is over, Allen is already packing. The weather isn't letting up. His location is far from where he once was. And local media didn't seem to have strong enough interest to produce a story earlier in the month or in mid-September when Allen opened shop.
Even so, Allen is resilient. He's frustrated, yes, but this won't be his last Halloween. Perhaps Garden Market Pumpkin Patch/Pumpkin City can regain some of its old traction. Perhaps local media will take notice earlier. Perhaps Allen will find a different place to house his shop. Perhaps people will remember the pumpkin guy come next Halloween.
There's uncertainty. But next year there will be pumpkins to harvest, and then Allen is back to business. 
"It's a wicked business."