With a new name and a new prize up for grabs, Hard Rock Hotel & Casino Sioux City's annual battle of the bands is certainly going to keep us busy for the next few months.
Now that the list of competing bands and the official BAND6k bracket have been released, we are now allowed to freely discuss this year's competition.
Here are our first impressions: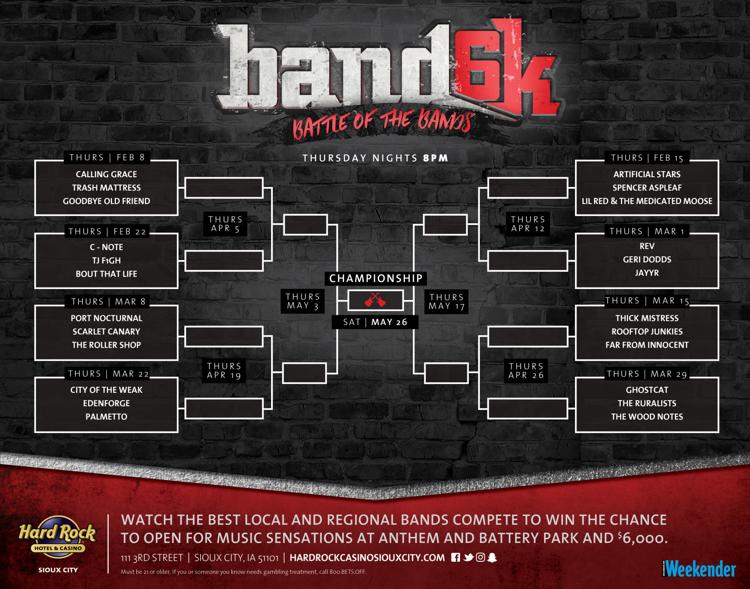 MORE HIP-HOP
Last year's battle of the bands (back then it was called Road to Vegas 2) was a monumental year for Sioux City's hip-hop scene. Rap veterans Jason "Eboli" Reinert and Mark "Protige" Koenigs formed D.A.D., a hip-hop group with a repertoire of fatherly tunes. Combine that tongue-in-cheek approach with genuine talent and you got yourself relatable rap act with killer tunes.
Backed up by multiple viral videos, D.A.D. was a favorite among Road to Vegas 2 audiences, so much so that the group -- along with its DJ, The Sound Insurgent -- won the championship battle.
Given that history and success, it should come as no surprise that the BAND6k roster features six hip-hop acts. C-Note, TJ F1gh, Bout That Life, Rev, Geri Dobbs, and Jayy R are the rappers slated to compete in this year's battle. Out of the six, Rev and TJ F1gh are the only two returning rappers from the previous competition. D.A.D. set the bar for what's to be expected of a hip-hop show in Sioux City, so the pressure is on.
OUT OF TOWNERS
In the past, online pundits have questioned the fairness of adding regional bands to the battle. While we certainly like to cheer for the home team at The Weekender, we think that complaint to be a tad invalid. Sure, it would be great to see an entire competition full of Sioux City bands; however, we think the inclusion of out-of-town groups is a worthy asset to the bracket and can really spice up a battle.
Some people might say these regional bands have lots of experience touring and therefore have an unfair advantage. We say those people severely underestimate Sioux City bands. Plus, if you want to be the best, you have to beat the best.
In any case, only about four regional bands are competing in the competition this year: Scarlet Canary from Denver, Colorado; The Roller Shop from Sioux Falls, South Dakota; City of the Weak from Minneapolis, Minnesota; The Wood Notes from Omaha, Nebraska. If anything, these regional bands have a slight disadvantage because they really have to work to impress the Sioux City crowd.
UNFAMILIAR FACES
This competition has its fair share of returning bands looking to improve upon a previous run. Last year, we saw just how much groups can change with the much improved Sioux City metal band Devour Once Dead.
The group made it all the way to the championship round in Road to Vegas 2 thanks to an improved stage show and a shift in roles. A huge improvement from the band's first introduction to Road to Vegas, in which Devour Once Dead didn't even make it through the preliminary round (to be fair, the winning band in their group -- Arson City -- went on to be champion).
But there are also a ton of new faces to look forward to, bands that haven't had the chance to improve upon past battle mistakes. The Wood Notes, Rooftop Junkies, Geri Dobbs, Jayy R, Edenforge, Palmetto, The Roller Shop, Bout That Life, C-Note, Calling Grace, Trash Mattress and Goodbye Old Friend are all newcomers to the battle of the bands competition. First impressions are important, so you know these groups want to make the most of their time onstage.