By the time Kansas arrives in Sioux City to play its October 7 show at the Orpheum Theatre, Ponca resident David Carstens will have seen the rock band perform 70 times, but only a fraction of those attendances were spent as a casual concertgoer.
Throughout the majority of those live performances Carstens is wandering about concert halls, arenas and outdoor stages, camera in hand, looking for the perfect photo of his favorite band. That's what one does when hired as a tour photographer.
His work has been included in the 2015 Kansas documentary "Miracle Out of Nowhere" and featured prominently in the band's current tour program, alongside images by fellow photographer Mark Schierholz. One of Carstens' most striking photographs takes up the entire back cover of the tour program – a vertical shot of drummer Phil Ehart, illuminated by harsh light, tossing his sticks in the air as vocalist Ronnie Platt marvels and points toward the action.
Carstens' relationship with Kansas dates back to when he first saw the band perform live July 9, 1979 in Omaha. His mother, a music teacher, took him to the show when he was about 13 years old.
"I was really impressed," Carstens recalled. "I grew up looking at album covers and album art. Back then you had your LPs. My mom bought me my first Kansas record in '78 or something. I saw them one more time in 1980."
Eleven years passed before Carstens saw Kansas perform live again. He still remembers the date.
"November 15, 1991, in Sioux City," he said. "I had a chance to kind of get reignited with them."
By that time, Carstens had growing a interest in journalism and photography. His interest in music, however, never faded. He was active in his high school band and was still a big fan of Kansas.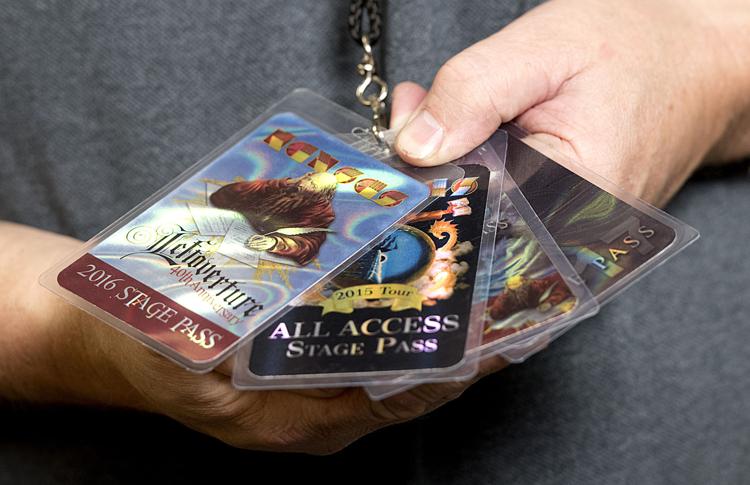 Carstens and the group's paths crossed once again in 1996. While he was working as a business editor and assistant regional editor at the Norfolk Daily News, Carstens had a chance to interview the band for an upcoming show.
"Our paper really didn't do entertainment stories; we just got stuff off the AP [Associated Press]," he said. "And this was at Sioux City, again. This was July 26, 1996, at Rivercade in Chautauqua Park."
As a fan, Carstens took it upon himself to include an article about the group in the Norfolk, Nebraska-paper. He interviewed Kansas' original violinist, Robby Steinhardt, who reunited with the group that year; the musician retired from the band in the early '80s and then again the mid-2000s.
To supplement his story even further, Carstens packed a camera to shoot some photos of Kansas' performance. He then was able to meet the rest of the band members after the show. After yet another interview with the band in 2001 for the Randolph Times, Carstens' relationship with the members of Kansas grew significantly. Since then Carstens has remained as one of the band's tour photographers.
Altogether, Carstens estimated he's spent 21 years photographing the band in some form or another. He kept in close communications with the band and crew and offered his images when needed.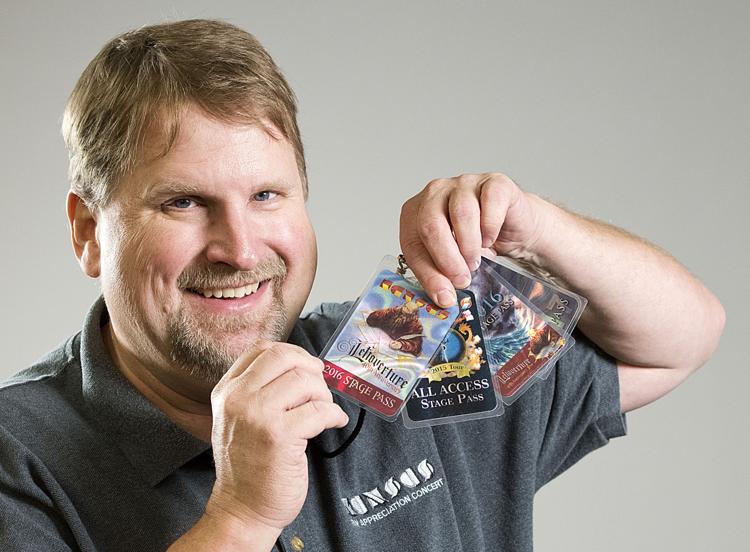 Today, Carstens, 51, has left the journalism field and currently works the Sioux City train yard for Union Pacific. Looking back at how he acquired his side gig with Kansas, Carstens believes his persistence and he being in the right place at the right time is what allows him to keeping taking photographs of the band.
"If they were within a 500-mile radius I would travel to see them and ask for a photo pass," he said. "I kept staying interested in [photography] and staying in contact with them. I would burn a CD of images every show."
Kansas is currently celebrating its 40th anniversary of its fourth studio album "Leftoverture" by playing it in its entirety during live shows, along with new songs from the upcoming album "The Prelude Implicit" and memorable hits like "Dust in the Wind." As part of the commemorative tour, the band assigned a new program to be made with photos by Carstens and Schierholz taken over four shows.
"It was kind of top secret," said Carstens. "We had a guy writing the copy for the [program] -- the three of us are close friends -- and we had no idea he had been working on it. I did not know until I saw the program. The drummer, Phil, told us he wanted a real, fresh look. He wanted images that hadn't really been seen before."
And now they're printed for all to see -- candid shots of the band members prepping before a show, live concert portraits of each musician and frames of Kansas in action mixed in with snapshots of the crew members involved in the behind-the-scenes setup.
In his spare time, Carstens has taken concert photos of other rock bands like Rush, Styx and REO Speedwagon. But Kansas is the group he returns to the most. After all, he remains a devoted fan ever since he was a teenager.
"There's a lot of musical complexity to their arrangements," he said. "It's almost orchestral in a way. Everyone has a part to play. There's a symphonic approach to it."
It certainly makes taking pictures easier when one can enjoy the music. The added bonus, Carstens continued, is getting to know the band members throughout the years. With the Kansas show happening in Sioux City in just a few weeks, Carstens is most excited for his friends to see the band he's worked with and been a fan of for most of his life.
And while his friends are busy watching the band from their seats in the Orpheum, Carstens will be watching the show through the viewfinder of his lens. With the help of his camera, Carstens will capture a frame here and a frame there for later viewing, defying the opening lines of "Dust in the Wind" and ensuring the moment is never truly gone.