After their first trip to the recording studio, the guys in Calling Grace set a goal for themselves: release a quality EP before the end of the year.
By Saturday, band members Shawn Fertig, Alex Newman, Logan Lansink, Billy Pelchat and Jake Rains can all pat themselves on the back knowing they have accomplished their goal.
The EP "Here's to the End" will be unveiled to the public at a CD release show featuring Cold Kingdom and Scarlet Canary. Fertig, the band's lead vocalist, spoke to The Weekender about the new EP: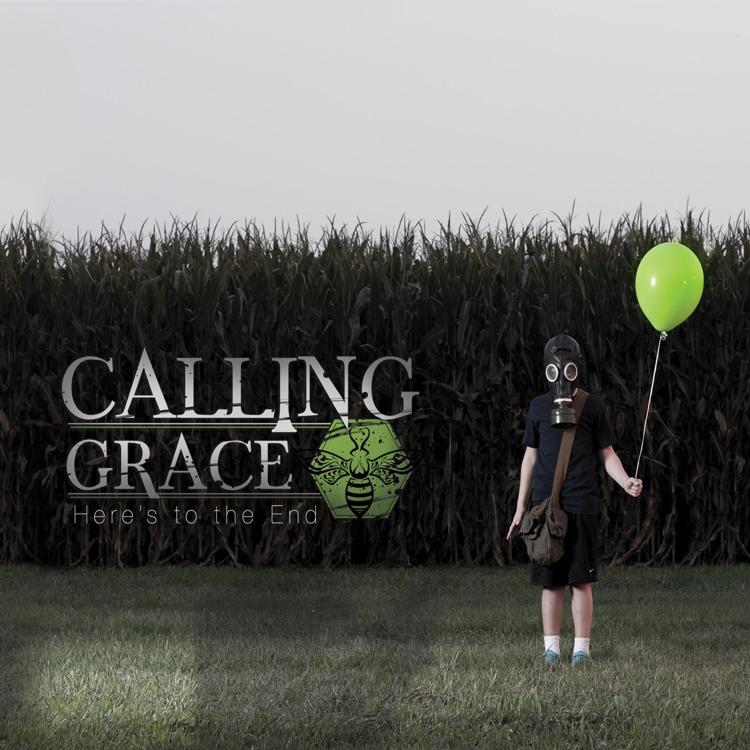 Lyrically, did you have any ideas or themes in mind going into the project?
No, not anything going into it. Just kind of all let it naturally happen. Basically, every song with the exception of the song "Malinda" is something that's happened within the last three or four years of my life. There have been a lot of changes.
I played my first show with Alex and it was an acoustic show in October of 2014. After that I started moving into the city and meeting more people and playing with more people and done more than I ever thought I would. A lot of changes. A lot of people come and gone. A lot of things that happened. The songs are a collection of stories and things that have happened to me personally within the last three or four years since I started writing music.
Let's talk a little more about that. The first song on the EP is "Leading To You." What experience inspired that song?
That song is basically about the new people that come into your life and the people that kind of leave it. Whether you want some of those people to leave or not, they did and it's just part of life. New friends come in, old friends leave.
The song really touches on the fear of letting new people in. These people that were really close to me I no longer talk to. I don't want that to happen with this group or this person or whatever. So it touches on that fear of letting new people in, because are they just going to leave like everyone else?
What other tracks stick out to you?
They all have their own personal flavor to them. A song that I think is one of the standout tracks on the album is the song "Give Into The Vice." That's the last song. I'm not going to go into detail of what that song's about, but it's kind of funny how that song came to be. We were literally just jamming… which is basically how each one of these songs came out. But we were jamming at practice and letting everything flow naturally. I was driving for work and it was like 5 o'clock in the morning and I was tired and was like, "OK, I can't fall asleep!" so I plugged the recording of that song in and just let my mind wander and wrote the lyrics on the road.
I'm not going to delve into what that song is about. I'll just leave it be. But my mind can just go to weird places when I'm tired and it's 5 o'clock and I'm driving.
Have you ever written a song like that before?
No! Usually I'll plug in headphones and shut myself off from everything else and let the song kind of pull something out of me. I very, very rarely write on the spot. I usually let the music get done and then I'll record it on my phone or whatever. It was the first song I ever wrote in that manner. I had to stay awake. And it turned out to be a really cool song. It's one of my favorites. Your mind can do weird things.
Are there any songs in particular that you're really proud about for one reason or another? I mean, I imagine you're proud of the whole project.
Yeah, I'm extremely proud of the entire project. "Leading to You," I think, is a really, really good opener. I really love that song and I'm really proud of how it came together. "No Superman" is a song that I really enjoy, too. Alex and I, we have the same kind of musical taste – that droning, metal rock sound. When I first heard him play that riff, I knew right away what I was going to do. I looked at him and said, "Yes! Keep writing on that, because I can hear it already." That song turned into something really cool.
Malinda is another song I'm really proud of. Alex was a little apprehensive on that. When we first started writing that he was like, "I don't know." But I kept telling him, "No, you have to keep going on this. Trust me. It's going to be good. I can hear it, man."
Listening to the EP, I liked hearing a different vocal range from you. Something that was different than your work on Stop Motion Skeletons/Trust. How was that for you going into that more aggressive vocal style?
It's something that I've always wanted to do. I'm very much a fan of hard rock and heavier music, but I always said I can't do it. When I first got together with this band, there was no expectation and no prerequisites or anything like that. It was just let's get together for the fun of it.
Everything that the guys were bringing to the table was all heavier stuff. I was like, "Alright. I don't want to do the same thing I've done in other projects. Let's go for something different. Let's just push it to see what I can do." It's definitely outside of my comfort zone, but at the same time it's bringing more out of me than I thought I had. I'm proud of that, too.
Calling Grace released a few recordings before this EP, right?
We started in March of this year. Once Logan joined we really started writing heavy. We had three songs: "Here's to the End," "Wingless Angels" and that cover of "Don't You (Forget About Me)." We started writing after we got back from [Cathouse Studios]. The studio fills you full of inspiration. You want to write music. That's all the studio makes you want to do. The end goal was by the end of the year we would come back and add more songs to the two originals we already have and make a full EP out of it. And we met it.
Were there any discussions amongst the band members about what direction you all wanted to take this EP?
It was pretty natural, honestly. We got together and wrote those first two songs that we recorded with Mike [Dresch of Cathouse Studios], but we had no plans. We got together and jammed for the fun of it. That's what naturally came out. Every song on this EP was written that way. We show up at practice once a week and just start jammin' to see what comes out of it. You might write one song one night, you might write half a song, you might write two. You never really know what's going to happen. We get together and let it flow naturally. I think that comes off, too, in the songs. There's nothing really forced about it.
What do you want people to take away from this EP?
I really hope they like the songs. That's all you can really ask for. You have a lot of fun writing the songs and all you can really hope for is to hand it to people and they dig what you did. Whether it's a riff that speaks to them or a lyric, there's just a lot going on in this record.
There are imprints of all five of us. There's a little things that Jake does at certain songs that really jump out to me. There are little bass fills and things like that that Bill does. There's something on the record for everybody. I just hope they dig the songs as a whole and crank 'em up in their car and really jam to 'em. I know we're doing that.