At its previous home on the corner of Fifth and Jackson in downtown Sioux City, Vangarde Arts served as a non-profit center organized by a dedicated group of volunteers who played host to both performing and visual arts. Galleries by local artists were regularly scheduled in the old facility whose large windows invited those with curious eyes to wander inside and see what was on display. By nightfall, crowds would gather around the stage in the northeast corner of the room to listen to the latest band booked by Vangarde Arts' promoter and director, Brent Stockton. The place had become a platform for creativity, especially for area artists and musicians.
However, that particular space is now gone. Vangarde Arts hosted its last show in its 420 Jackson St. location on April 4, 2017, before eventually packing up its equipment and belongings and leaving the rented area for good. Which means for more than a year, Vangarde Arts did not have a permanent home. But now all of that is about to change. On April 27, Stockton reopened Vangarde Arts at its new residence on 416 Pierce St. Bands have already begun to play the venue's new stage, and the regulars have also returned to show their support.
Vangarde Arts' refurbished location is split into two areas: the lobby and the music room. The lobby is quaint and equipped with a small bar area. Stockton said this section would most likely be the place where artists would display their works for galleries. The music room is essentially a long, rectangular tunnel filled with tables and chairs. The stage faces the entrance and is adorned with sound equipment and decorative carpets. While the venue has readily hosted a handful of musical acts since its opening (the venue kicked off its return with a performance by The Rusty Wright Band), Stockton said the reconstruction work is far from over.
"We originally thought by now we'd be up and running, but we sat for about a month -- which just delayed everything -- waiting on a building permit to get the city's approval," he said. "Once they said yeah, we hit it hard. We thought by the end of April we'd be ready, which we would have been had we not gotten the hang up that we had."
Stockton let out a sigh and laughed. "Oh well! We're getting there!" When I visited the long-time promoter last week, he assured me that Vangarde Arts will continue its mission to value multiple art forms and advocate those who regularly create in Siouxland. Stockton also believes visual and performing artists are "underserved" in the community.
"So we try to give them a space where they can show their work," Stockton said of the venue originally founded in 2012. "Vangarde Arts is really the continuation, I guess you could say, of which I've done for that last 20-some years of promoting music and promoting art. The combination of the two is really important to our patrons and the people that support us."
What sets Vangarde Arts apart from places that routinely showcase music and art like The Marquee and Sioux City Art Center, Stockton said, is its status as a non-profit and the fact that all the work is completed by volunteers. "When I say it's not about the money, it's not about the money," he said. "No one makes any money here. Seriously. I don't get paid to do this. It all goes back to Vangarde Arts. All our help -- anyone that you see bartending or see cleaning or working around here -- is volunteer-based."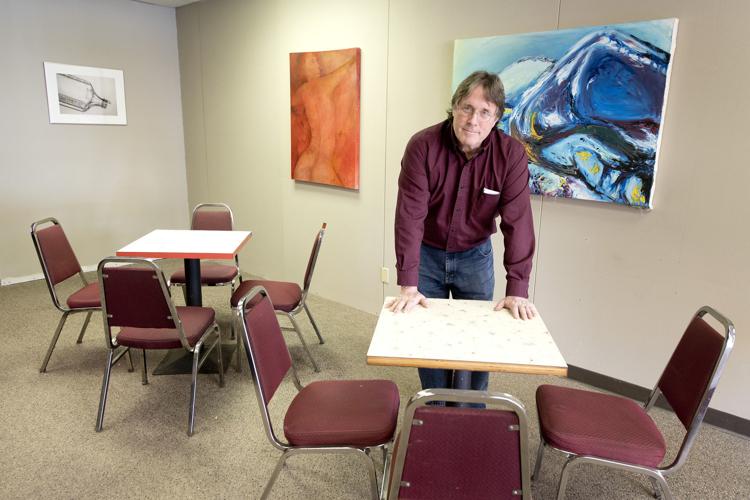 That includes a great deal of the remodeling work at Vangarde Art's new space, which is, interestingly enough, across the street from its first home (before it moved to Jackson Street) that has since become Sooland Jr. Boxing Club. Stockton very much enjoys the new spot, especially its smaller setting. There was too much space, he said, and the old Jackson Street site was not working out financially for Stockton. After four years, rent had become too high and it didn't make sense for Stockton to pay for so much unneeded space at Vangarde Arts.
"We were paying for a lot of space that we never used," said Stockton. "It was just too big. There were spaces in the back of the building that we never did anything with at all. Even the space you saw was big. Between the rent and the utilities in it – just everything about it was too much for us and too expensive."
Stockton confirmed the new location of Vangarde Arts in February. Before he could open on Pierce Street, Stockton said he had to take down several walls and complete a fair amount of demolition work. This was to be both a new journey for Vangarde Arts, as well as a continuation of where it left off. Was it difficult to leave the old place behind? For Stockton, not really.
"I never liked that space," he said. "It was just always too big [and] it was just not intimate. We would get crowds in there and people would walk in and go, 'It's too bad there's not anyone here.' But you'd be like, 'There's almost a hundred people in here. What do you mean it's too bad?' It looked OK at a hundred […] but 50 people in that space looked empty. So it was not hard at all."
However, Stockton added, there were many patrons who were sad to hear Vangarde Arts was moving. "A lot of them really, really liked that space," he said. "They liked that great big art gallery space we had." Despite Stockton not liking the old setting, he'd be remiss if he didn't say he had good memories of Vangarde Arts on Jackson Street.
"We had lots of great shows and lots of great times," he said. One that really sticks out to Stockton is the Johnny Winter show in June 2014, a gig that attracted a couple hundred people to Vangarde Arts and was sadly made all the more impactful following the artist's death less than a month later. Jazz pianist Patricia Barber was another standout moment, Stockton added, as well as the many CD release shows organized by local bands/musicians like Mat d. and the Profane Saints and Shawn Blomberg.
Once it has finally settled in its new location, one might be safe to assume new memories will be formed and treasured. Over the next year, Stockton said he's scheduled even more great music acts and community partnerships. With new board members attached to Vangarde Arts, Stockton expects new ideas will help strengthen the communities the venue strives to support and showcase.
Stockton said he and his associates keep referring to the move as a "relaunch" of Vangarde Arts, meaning it's keeping in line with its overall goals but still leaving some room to grow and evolve and try something different. Vangarde Arts intends to be a part of and support its arts community and its continued growth just like before.
"Our goal is to be part of all that," he said. "We want to support all live music venues and all art venues; likewise, I hope they all support us."