Ode has been around for how long?? Two years? Well happy 2nd birthday, Ode! Celebrate the local storytelling series, founded and organized by Ally Karsyn, at 7 p.m. Friday (Feb. 2) at ISU Design West. Seven speakers will share their stories centered on the themes of "risk" and exploring uncertainty when happiness, comfort and love are on the line. Shawn Blomberg of Ultra Violet will provide the live music at the two-year anniversary show.
Gee whiz, it sure is a pain in the tuchus to pay for cable sporting events. Luckily, there are places like WinnaVegas Casino Resort that have you covered. But this isn't some kind of "watch party" where everyone is huddled over a TV or two -- this is a real boxing event with names on the card like Drako Rodriguez, Joel Flores, Devon Haney, Thomas Mattice, Wellington Romero, Sam Teah, Rolando Chinea, Ronald Ellis and Junior Younan. ShoBox Living Boxing: The New Generation begins at 7 p.m. Friday (Feb. 2) inside the event center at WinnaVegas. All ages are welcome. Doors open at 6 p.m.
3. Backstreet's back (and others)
Back in the 1990s, boy bands were running rampant in the music industry. Groups like The Backstreet Boys, *NSYNC, New Kids On The Block and Boys II Men changed the framework of the pop world. These days boy bands are rather rare – shout out to One Direction, though – but one group of musicians is paying tribute to all the greats: The Boy Band Night. Watch all your favorite boy bands come to life, complete with the memorable dance choreography. See The Boy Band Night at 8 p.m. Friday (Feb. 2) at Hard Rock Hotel & Casino Sioux City.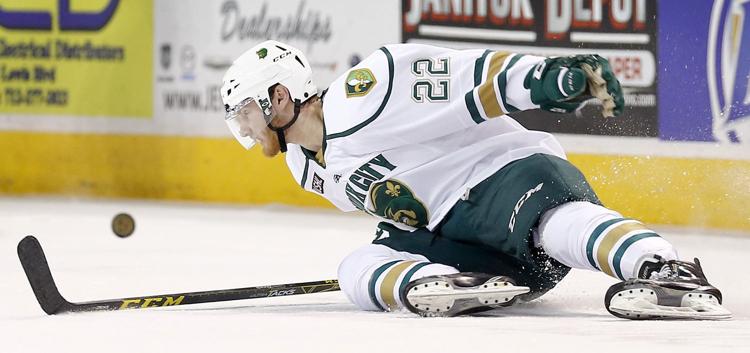 We're going all in and putting the money on green. Why? Because we're Muskies fans. Duh! Our Sioux City Musketeers will be taking on the Green Bay Gamblers on home ice two days in a row. See the games at 7:05 p.m. Friday and Saturday (Feb. 2 & 3) at the Tyson Events Center. Go Muskies!
5. Show us your jazz hands
Jazz isn't dead. That's crazy talk, people. To prove the genre is still kickin', The Marquee is hosting Monday Night Jazz featuring the Reggie Schive Big Band. Formed in 2010 and made up of area band directors and musicians, the group is named after the legendary former Sioux City West band director, Reggie Schive. Fill your night with top notch jazz at 7 p.m. Monday (Feb. 5) at The Marquee.
Surprise, surprise: the New England Patriots are playing another Super Bowl. This time, the team is taking on the Philadelphia Eagles. Even if you're not a fan of the teams, you have to admit that Super Bowl parties are the bomb. Whether these parties are organized privately or held at your favorite bars around town, it's always a fun time at a Super Bowl party. Join in on the fun in any way you see fit. Watch the game at 3:30 p.m. Sunday (Feb. 4) on NBC.