TIME BOMB: A phone interview with Prof goes haywire
Disclaimer: Most of the subject's claims in the following article cannot be fully verified, and as such The Weekender does not consider these assertions as whole truths. The writer merely wishes to present this very strange but very fun interview exactly as it occurred. 
Forget being the life of the party, Prof's life is a party.
At least, that's the impression I got after speaking to the Minneapolis rapper over the phone last week. What was supposed to be a routine interview soon devolved into a chaotic mess of debauchery. The 20-minute conversation produced very little in terms of journalistic substance, but it did give me a glimpse into the life of an eccentric hip-hop artist celebrating the release of his latest album, "Pookie Baby."
My interview with the rapper began with a warning from his manager, Mike Campbell: "He's had a few drinks, so it's been an exciting morning already," he said. "Just a heads up."
I laughed it off. So what if Prof decided he needed a couple breakfast shots a few minutes past noon on a Friday? The guy was touring the West Coast and had just finished playing in front of a sold out crowd at The Crocodile, one of Seattle's premiere music venues. Meanwhile, I was sitting in a rickety office chair in a Midwest newsroom, three hours away from starting my weekend. Hell, if I could, I would have had couple shots before our interview. Maybe then I would have felt more prepared for Prof's shenanigans.
Going into the interview, I felt pretty confident. I came prepared with a notebook lined with talking points, and I had listened to "Pookie Baby" a solid two or three times through. Plus, this wouldn't have been the first time I spoke with the rapper.
In early 2016, Prof -- whose real name is Jacob Anderson -- was scheduled to play a show at The Chesterfield in Sioux City. Hype had already generated online prior to that event, and I had been told by a handful of live music enthusiasts that Prof was a well-liked performer in town and could always draw a crowd. The rapper and I spoke extensively about his origins, his latest project at the time ("Liability"), his versatility as an artist and his thoughts on the rapidly changing genre of hip-hop. As far as I know, Prof had no breakfast shots prior to that phone interview. His story made the cover spread of The Weekender, and I distinctly remember seeing a picture on social media of the rapper posing with that particular issue outside The Chesterfield.
Now, a little more than two years later, the rapper is making his return to Siouxland, and this time he would be playing at Hard Rock Hotel & Casino Sioux City. Less than a year prior, Prof played The Abe Stage at Saturday in the Park with fellow Rhymesayers Entertainment rapper Brother Ali. Prof has moved his way up since his days performing at Red's Pierce St. Pub. Pair that alongside his release of "Pookie Baby" and that was more than enough reasoning to warrant a Weekender story.
It's been about a month since "Pookie Baby" dropped. Off-the-wall music videos reminiscent of early Eminem served its purpose of marketing Prof's latest project to the masses. Videos like "No" and "Andre The Giant" showcased the rapper's sarcastic and humorous qualities while "Criminal" revealed a more personal side to the MC whose own label recognizes  the public's perception of Prof as someone who might potentially be "out-of-control." What I wanted to know from the rapper was how "Pookie Baby" stood out from the rest of the projects in his discography. So I asked him. Prof handed the phone over to his DJ, Willie Wonka, to answer for him.
"This is the best album that Prof as ever made, to be honest," said Wonka. "And the weird thing is: all agree. Yeah. It's really good. On a scale of one to, like, awesome: it's tubular. Spectacular!"
I asked, "What makes it so great?"
In the background, I could just faintly hear Prof yell back, "'Cause I'm the sh**, dude!"
Wonka interjected, "No! No… I think it's because it's so cohesive, even with the promo before the album came out. I think everything was just in place. The excitement was there. Everyone just loves it and it's amazing."
Prof finally spoke up, "That… is a good answer. My answer would have been like, 'That question sucks. I don't care. I tried my best, and that's the album.' That's it."
I confessed that it was a crappy question and moved on to my next topic of whether "Pookie Baby" is a persona (in addition to being the title of the album). At first, Prof was joking around and said the name is actually the identity of his under-aged sister who has a tendency to do "some wild sh**." He revealed the Pookie Baby persona is a sexier version of Prof.
The rapper attempted to explain this idea further. "Here's the deal, man. Can I get grown? Can I have an orgy that's just well-planned out and thought out?" said Prof.
In the background, I could just faintly hear someone lazily answer back, "Yeahhhhh!"
Prof continued, "So let's do that. Just be grown and sexy and responsible and happy. And respectful. That's it. 'Pookie Baby' is a grown orgy with a bunch of willing participants. That's it. Let's be honest, I'm drunk."
I could tell, I told him. But I didn't hold it against him. At this point in the interview, I could tell there was some kind of commotion going on. Between questions, I could hear Prof telling his friends to get in the van and to be quiet. They were apparently getting kicked out of an Airbnb and that someone was cussing them out along the way.
"So what were you saying?" Prof asked me, trying to figure out where we left off. I asked him about the dynamic shifts in "Pookie Baby" and the thought process behind that decision.
"Yeah, yeah, yeah, yeah! Here's the deal, dude: I get bored and I think most sh** sucks, so let's try and go low, let's try and go high. Everything is boring. I want… I want more candy. I want more salt. I want more pepper. I want all that. More spices. I want to go low. I want to go high. You know? I get bored. I want to cry with your auntie. That's it."
Alright, cool. We're getting somewhere. This is a quote I can work with. It's a bit out there, but it's colorful. But he mentioned something I had to press him on. Prof said most music sucks (well, technically, he said sh**). So I asked him to clarify if he meant all music or just hip-hop.
"Umm… all music," he said. "And I'm not even just talkin' about music, I'm talkin' about my tour manager, I'm talkin' about magazines – everything sucks."
I told him I agreed with him. I could hear laughter from the receiver. Even I had a good chuckle at that answer. But I had clearly hit a brick wall with that subject at this moment. I changed topics. I wanted to know about his current touring life.
"So when did you begin touring for 'Pookie Baby' exactly?" I asked.
Prof answered, "I like you."
"I started touring a long time ago, but for 'Pookie Baby' in general I started touring sometime in April. That's when my wife left me."
He caught me off guard. "Oh sh**."
"Went on tour right away after that."
"That's uh… that's heavy."
"Just playing. I don't have a wife."
Dammit. He actually pranked me. He delivered that so well, too. And I fell for it. Hook, line and sinker. It was another dead end, too. Switch topics. His live shows! Fans of Prof have always told me how crazy his life shows can get. I asked him if his antics were just as crazy these days.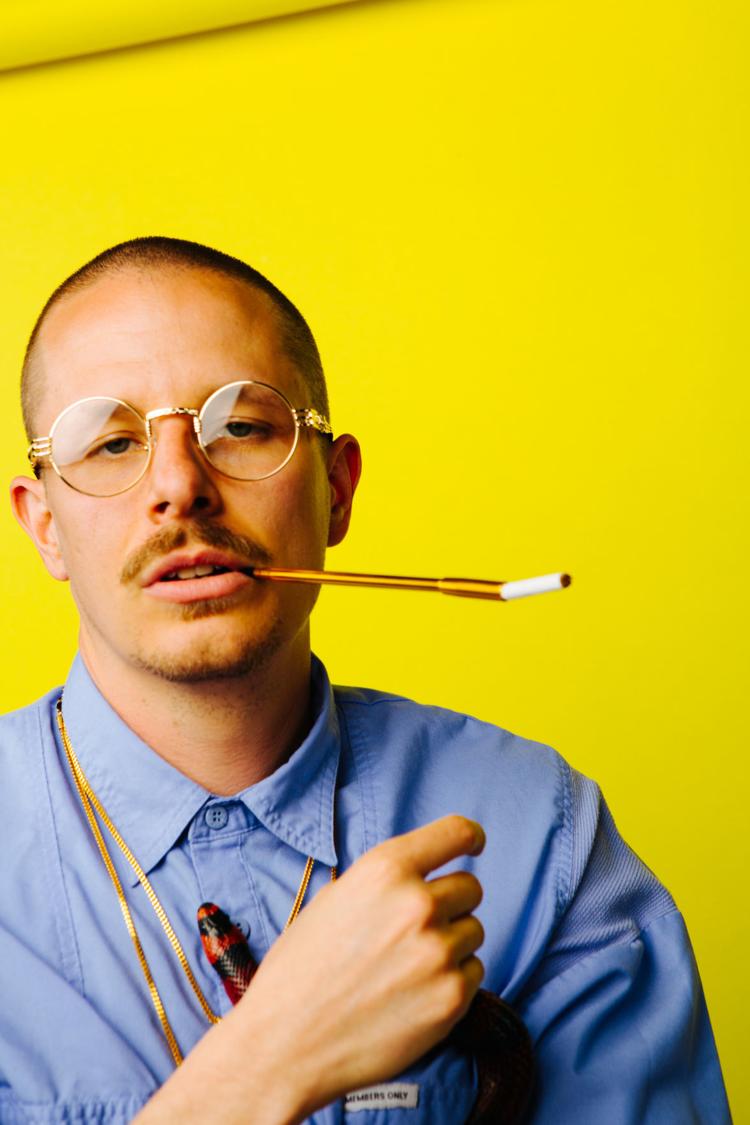 "In Seattle, I had two girls pee on me onstage," he said, matter-of-factly.
I was speechless. Up until this point, the most profane thing Prof had done was unleash a slew of cuss words upon discovering the phone interview was not live or for a radio station. I told him he could swear if he wanted. It is The Weekender after all. And so he did. He said words I likely can't repeat in print, even if I did use asterisks to help soften the blow. But then he goes ahead and says this. Clearly, I thought, he must be joking.
"Is this a normal occurrence?" I asked.
Prof answered, "I would like it to happen every day, but it only happens every other show or something like that. But honestly, it gets wild. I had two girls pee on me in Seattle, and, um, real talk… I don't know if you can put that in the magazine or not, but… everybody was happy. Everybody was happy about it."
I just roll with it. "Then there's no problem."
I can hear his friends laughing again. I feel like I'm a recipient of a Prof prank call, an activity the rapper used to do back in the day. For one particular prank, he called up a woman who reported a stolen moped and claimed he'd found it and used it in a drugged-fueled orgy. So it doesn't seem particularly unreasonable to think that Prof is pulling my leg. Either way, he's implanted that mental image in my brain. And I can't seem to shake it.
Before our phone call, I read a couple articles about Prof. One from The Source Weekly in Bend, Oregon, caught my eye. The headline read "Minnesota-based rapper Prof takes on a more sophisticated persona on new album, 'Pookie Baby'" and included informative quotes about the rapper's motivations in constructing his recent project and how he often contradicts himself as an artist and as a human -- "[…] and I'm more than OK with that."
My interview with the hip-hop artist certainly exemplified those contradictions. If The Source Weekly talked to a sophisticated Prof, then I was speaking to party Prof.
Still in the van with his tour buddies, I believe Prof sensed my discomfort and decided to keep upping the ante. What could he say that would shock me into submission? Prof broke the awkward pause as I fumbled through my notes for a new talking point.
"Sorry, there are a lot of people in the van talking about the orgy last night," he said.
Curious. "How was that?" I asked.
"Well… I don't want to talk about it."
"Alright. I can respect your privacy."
"By 'orgy' I mean 'a lot of dudes got together and played video games,'" Prof admitted.
OK things are toning down a bit. This is my chance to recover this situation. I scrambled through my notes regarding particular tracks, specifically those tied into music videos. I wanted to talk about the song, "No." Coincidentally, the featured rapper on that track, Cashinova, just happened to be hanging out in the van with Prof.
"What sort of message are you trying to get across in that song?" I asked.
Cashinova turned his attention to Prof, "What's the message, dawg?"
"You tell me!" said Prof.
Cashinova explained, "It's basically, like, when you don't want to mess with somebody… you say, 'No.'"
Initially, I had difficulty discerning which rapper was which over the phone. "I  have a hard time telling you two apart," I said.
"Visually, you couldn't," said Prof, sarcastically.
"He's a little bit more handsome and has a bigger d*** or whatever."
Cashinova chimed in after hearing the, uh, compliment. "Thank you, dude."
"Can you put that in there?" Prof asked. "Put that in your magazine, dude!"
I told him I could and that I'd save a copy just for him. He then suggested I put him on the cover of The Weekender. Apparently he forgot his appearance on the front page of the weekly two years ago because his buddies fired back at him. "He did! He did!" they said.
Prof, taken aback, said, "Oh. Damn. Alright then. I feel you. I f*** with you… You caught me after a couple breakfast shots. That's all."
Sure. Blame it on the shots. Suddenly, Prof's focus shifted back to our interview. He decided he would explain the meaning behind "No," the music video of which has garnered more than 620,000 views since its release April 13, 2018.
"'No' is like this, dude… 'No' is like f*** you. I don't care. No. I'm sick of trying to win over every single fan. And now I'm like, I don't need need to win over every single fan. I can tell a couple m*********ers no. I don't care about your after party. That's it.
"And, I'm also talking like, 'Dude, Dad, don't touch me anymore!"
"Just playing, dude! My dad's dead."
"Put that in your newspaper."
I moved on to the next track on my list, casually ignoring the second fake out the rapper hit me with. I told him the track "Andre The Giant" was a personal favorite of mine. I can see it fitting nicely into Prof's repertoire of party songs. I asked Prof if that's the track audiences are responding to the most on his tour.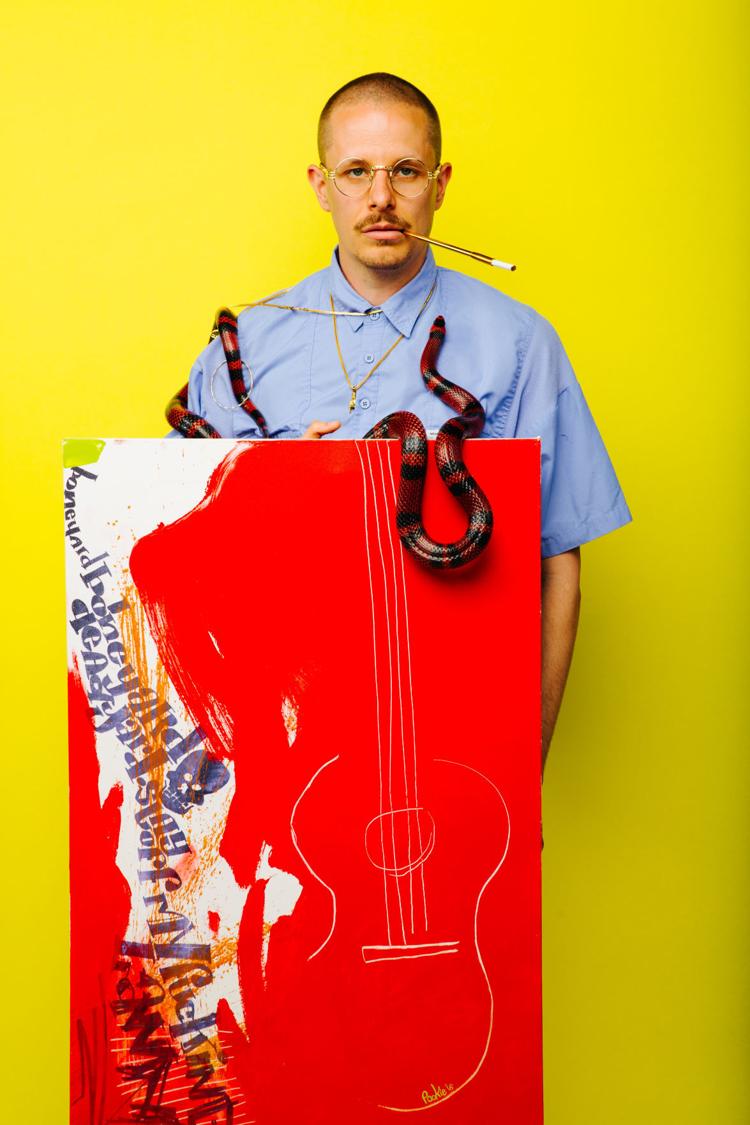 "Kind of, yeah," he said. "That and 'No' and some other sh**. 'Andre The Giant,' we play that live and it's a ruckus. It's wild. In Reno, a woman delivered a baby to that song."
"Yes! Her water broke and she had to leave. I thought she was pissing. And I was like, 'What are you doing pissing here on my stage?' We had her onstage and she was dancing. And then her water broke. 'What the f***?' I stopped the song. 'What the f*** are you doing?' And she's like, 'I think my water broke.' So she had to go to the delivery room or emergency room or whatever in Reno."
Again, I just roll with it. "She had better named that child Andre," I said. "Or Prof. Or Pookie."
"Andre! Yes! Definitely name it Andre."
"I guess that's another memory to take with you on this tour."
"Nope. No. Girl's waters break every other day. It's nothing special."
"Happened to your mom," Prof said, again, matter-of-factly.
On the recording of this interview, it sounds like I actually took offense to this. The tone of my voice changed a little bit. It most definitely caught me off guard.
Prof continued, "No, it did! Happened to my mom. Whatever."
I guess that's technically true. I had some trouble moving on to another topic after that. "Now, uh… Crap. I lost my train of thought. You've been throwing me off, man."
Prof said, "I threw you off when I said your mom's water broke."
I changed topics. Again. Prof's live shows. Did I talk about that already? Oh god. I probably did. Bah! Who cares? This interview has gone downhill. So what if I'm repeating myself? Or am I repeating myself? That's when you know you're mentally f***ed – when you can't remember if you had already talked about something a few minutes ago. I need breakfast shots.
I lost my composure. Soon I was forming questions that didn't make any sense or had a definite (and therefore boring) answer.
"Do you see yourself slowing down in the future?" I asked. "When people talk about you, they always bring up your crazy live shows. Are you getting tired yet?"
(Oof. That was rough to re-listen to on the recording. )
"Absolutely," said Prof. At this point, I couldn't tell if he was serious. "I'm going to stop doing live shows in the next year-and-a-half. Easy."
"My shins look like shark chum," he continued. "My legs look like a young adolescent girl's. I'm out here working as hard as I can. There's not too many years left of this, you know. Yeah. So maybe a year. I want to retire this year, basically, if I could."
What the hell is happening? Is that a quote I can work with? Ah, Jesus. This story is done for.
My last resort was a line of questioning regarding the current state of hip-hop. "You did say that all music kind of sucks," I said. "What do you bring to the hip-hop game right now that doesn't suck?"
Prof, however, relayed the question back to his DJ again.
"Wonka is going to answer this because I'm going to give you a really sarcastic, sh**hole answer," said Prof.
I pleaded, "But I like your answers!"
Look at me. I'm allowing this craziness. This is my fault, dammit!
Prof answered anyway. "What do I bring? I don't give a f*** what I bring. Here's what Wonka says."
Wonka grabbed the phone and I could hear him clear his throat. He said, "To be honest, it's a great question. I feel like Prof brings a different energy. You know? He actually performs very well. He puts his all in his performances. His lyrics mean something. And he has a good time. What more do you want?"
Pleased with his DJ's answer, Prof reiterated how he would have sarcastically answered my question by fake vomiting over the phone receiver. Wonka stood by his words. He added, "I'm being serious here. I think that Prof is what the game is missing. You hear that before? Probably your first time. But that was a great question."
Prof spoke up. "Here's the deal, man. I don't want to prove… I don't want to say how cool I am or what I think about hip-hop or whatever. The proof is in the pudding. I'll steal your dog. That's it."
"Listen to my record and then tell me what you think! Because I don't f***in' know, man. I'm just releasing music. I'm doing my best, dude. There's nothing else I can say. I will steal your dog though if you got one."
I said, "I do have a dog. Are you going to steal it?"
"Yes. For the weekend. And then I'll put him in a dump truck."
"Sh**, man. That's my dog."
Then Prof talked about his dog for a little bit. He's got a German Shorthaired Pointer. He loves him to death, he said. He'll cry when he dies and he thinks about him daily. He asked about my dog -- a Llewellin Setter -- and then said he would kick it if he got the chance. Now I know he was joking about that.
At this point, the interview is fizzling out. My brain has about all it can take. To end the interview, I asked if he thinks "Pookie Baby" will put him where he wants to be as an artist. I believe I threw in the term "above and beyond" somewhere in there as well. He's unsure if this album will be the project that propels his career to new heights.
"I don't know what my goals are," he said. "I don't f***ing know. Sure, I'd like to get famous. I've sold out a couple shows in a row, but am I a different person than I was a week ago when I wasn't selling out these shows in Las Vegas? I don't know. Honestly, when it comes to the record, I'm happy about it. And that's it. I try hard and I'm happy."
We've returned to some semblance of normalcy by this point. And so, I decide to end the interview.
"Well, Prof, I think that's all I had for you. I love how this kind of went off the rails. It was pretty great."
Prof said, "Well you called me after a couple breakfast shots, so…"
"Yeah! Well, Mike called me."
"I appreciate you taking the time to talk to me," I said.
"Here's the funny sh**, man," Prof continued. "I'm about to try and cross the border smelling like booze. So we'll see how this goes.  Put that in your newspaper."
I yield. "I'll put that in the newspaper."