Identifying Christmas carols is as easy as rolling off a yule log.
Apart from the festive lyrics about chestnuts roasting over an open fire, the triumphant story of a red-nosed reindeer and the infidelities of Mommy and Santa Claus, most traditional holiday songs carry with them a certain sound we've all come to recognize; whether it's the shrill wisps of a string section, the loud, staggered bursts of church bells or the faint whispers of a tambourine.
So where does the tuba fit into all of this?
"I don't know if it does," Tim Barrett said with a laugh. But that's not going to stop the internet and marketing manager at Ray's Midbell Music from participating in the TubaChristmas concerts held every year in numerous locations across the United Sates.
TubaChristmas is an annual music event organized every holiday season to celebrate those who play, teach and create music for instruments in the tuba family. TubaChristmas was first developed in 1974 by Harvey Phillips as a tribute to his teacher, mentor and premier tuba player William Bell, who was born in Creston, Iowa. The first TubaChristmas concert was conducted by Paul Lavalle on Dec. 22, 1974, in an ice skating rink inside New York City's Rockefeller Center.
The purpose of TubaChristmas, according to its website, is to honor the artists and teachers whose legacies have given tuba players worldwide "high performance standards, well-structured pedagogy, professional integrity, personal values and a camaraderie envied by all other instrumentalists."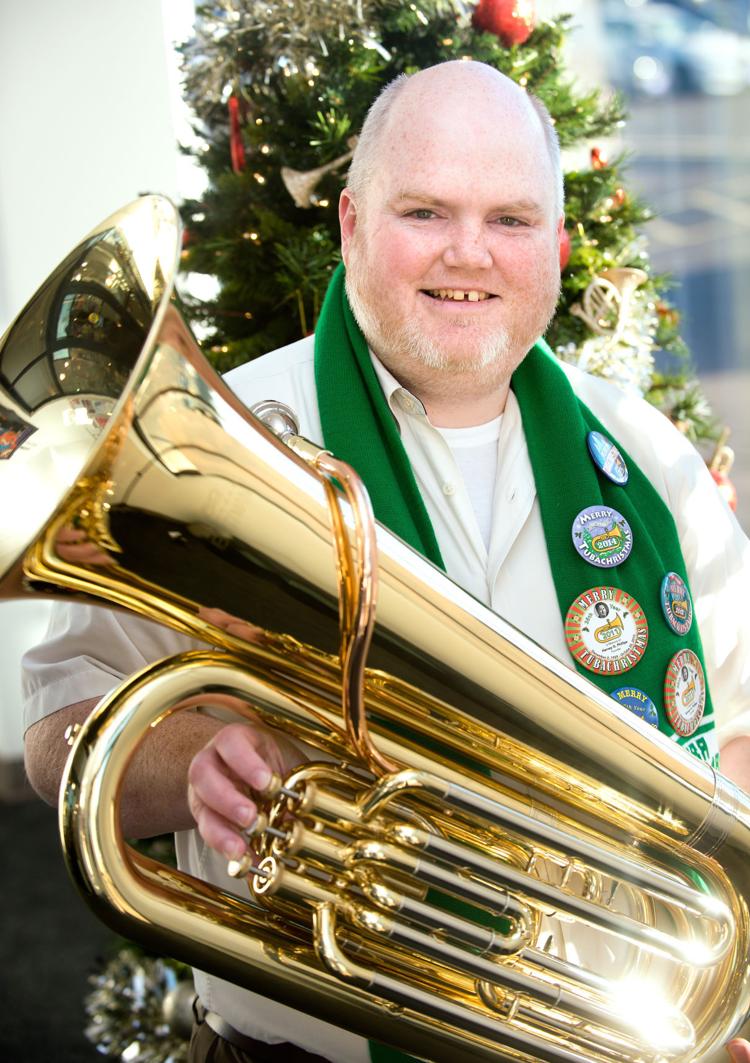 Sioux City's TubaChristmas begins with a brief rehearsal Saturday (Dec. 2) morning at Ray's Midbell Music.
"We register and then practice for about two hours or so," said Barrett, who is also coordinating Sioux City's TubaChristmas. "And then we play three different concerts."
Performances will be held at Brookdale Senior Living, Southern Hills Mall and the Lewis & Clark Interpretive Center that same day. Last year, Barrett said, about 30 tuba players -- some as old as 72 and as young 11 -- signed up to play holiday tunes for TubaChristmas.
"There are the classics like 'Silent Night and 'We Wish You a Merry Christmas,' and then there are ones like 'Go Tell It on the Mountain,'" said Barrett. "It kind of changes a little bit every year."
TubaChristmas is something Barrett looks forward to every year. He plays the signature instrument alongside his little brother and he hopes next year his daughter will join in, too. TubaChristmas also marks the one and only time Barrett gets to play the tuba.
"I'm not extremely good, so I don't have the opportunity to play with the [Sioux City] Symphony and that kind of thing, and most of the time you don't really get to pull your tuba out of your closet and start playing for yourself," he said. "This is basically my one-time-a-year thing."
And it's a chance for tuba players from all across Siouxland to band together and share the spotlight, right?
"Well, yeah," said Barrett. "That's kind of the whole point!"