Fans will see music director Ryan Haskins appear and perform from Toronto; concertmaster Bacco Liu and his wife, Zoe Wu, perform from Minneapolis; Sioux City native John Osborn appear from Spain and his wife, Lynette Tapia, work from California.
Sioux, Osceola, Crawford and Lyon counties ranked first through fourth in the state in positive test rates as of late Wednesday. Of the 13 Iowa counties at 15 percent or above, eight of them are in Northwest Iowa.
Brendan Cain had to make a tough decision in the summer, but the choice that the Sheldon High School senior made has paid off so far this fall.
Secretary of State Paul Pate has asked legislators to allow election workers to open mailed envelopes and separate the sealed ballots for coun…
There will be no shortage of wrestlers from Siouxland when Night of Conflict comes to The Arena this weekend: The boys card features four Nort…
"We are seeing extraordinary levels of sign sabotage even this early in the election season. Signs are disappearing and being defaced througho…
DAKOTA CITY -- One more person has died from COVID-19 in the metro area, as the death of a Dakota County resident was reported Thursday.
Get the latest on absentee ballot processing in Iowa, the Sioux City Symphony Orchestra's plan for a performance and more top stories in and a…
Read through the obituaries published today in Sioux City Journal.
Here's what people are uncovering in Sioux City Journal newspaper archives. Search our historical issues for obituaries, marriage and birth an…
Here are updated counts of COVID-19 cases, positivity rates, hospitalizations and deaths from Siouxland counties and states.
Browse through the latest employment postings on https://siouxcityjournal.com/jobs and find your next career.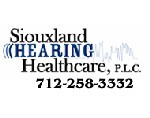 Siouxland Hearing Healthcare P.L.C.