But whether the hoppy style suits your palate or not, festival goers should be able to find a beer (or dozens, or hundreds) to revel in among the 340 or so beers, ciders, meads and kumbuchas expected to be poured at the festival in Des Moines. About 50 different beer styles will be represented.
Of the beers already announced to be poured at the festival, 45 -- or about 13 percent -- will be IPAs. If you include variants of the style such as black, double, NEIPA, or the so-called "milkshake IPA," that percentage jumps to 21.5 percent (73 beers total) of festival offerings.
"It's certainly in line with sales data and with IPAs being the big sellers," J. Wilson, Minister of Iowa Beer for the Iowa Brewers Guild, the industry group organizing the festival, said.
Fruit and vegetable beers are the second most popular style at the festival. Thirty-two fruited beers of various styles (and two chili beers) will be served and that represents about 10 percent of all beers. Of those, blueberry beers are the most popular with five scheduled to be served.
Pale ales rank third, with participating breweries reporting they will serve a total of 21 different (3.5 percent) beers of that style.
If "rare" beer styles are what you seek, head to the Pivo Brewery booth to find the festival's lone gruit and make tracks to the Peace Tree Brewing tent to try the festival's only sake-style beer brewed with rice and sake yeast.
"[Peace Tree's] Jizake is the only one [brewed] in the state for sure," Wilson said.
About nine additional styles will be represented Saturday by a single beer.
Keeping track of all those festival beers will be made easier by a new mobile web app that Wilson hopes will be more useful than previous apps.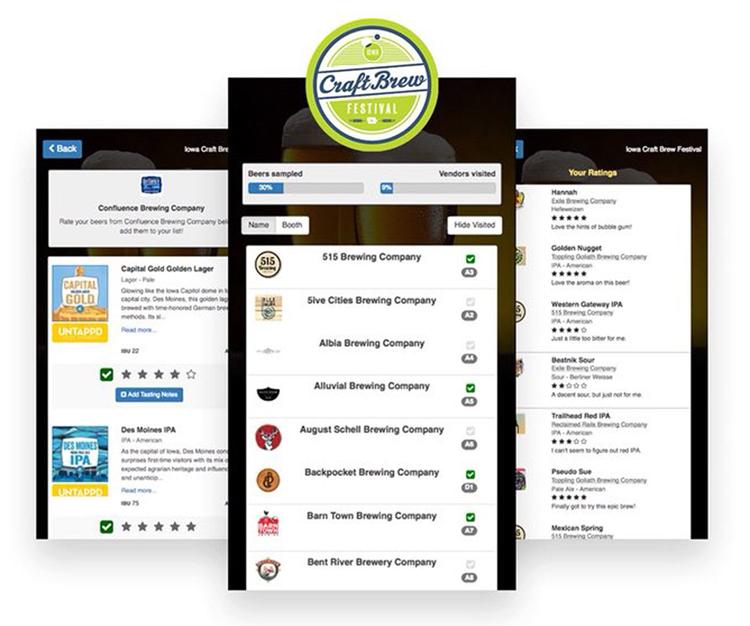 "The app will have a more up-to-date beer list [than previous festival apps]," he said. "You can use it to rate beers and to help you remember what you tried."
"Level 10 beer nerds can use it to check into a beer through Untappd," Wilson said, referencing a popular beer check-in and ratings app.
The 8th annual Iowa Craft Brew Festival will be Saturday, June 16, in the 200 block of East Fourth Street in Des Moines' East Village neighborhood. The festival is a fundraiser for the Iowa Brewers Guild and is one of the major events of Des Moines Beer Week.
General admission tickets that allow entry from 2 to 5 p.m. are $30 and designated driver tickets are $5. VIP tickets are sold out. Ticket sales are online only. No tickets will be sold at the gate.