It was a night of causes – a night when underdogs became frontrunners and got an audience of billions.
At Sunday's Academy Awards, the #MeToo movement was just one of the issue-related causes that emerged. Host Jimmy Kimmel encouraged the audience to speak out. "If you are a nominee tonight who isn't making history, shame on you," he said, tongue in cheek.
Clips celebrated veterans, moviegoers – you name it -- making this year's event about as inclusive as they get. As a result, the show ran very long.
It ended with a do-over of the Best Picture envelope presentation from last year, with Faye Dunaway and Warren Beatty coming back to announce the prize. To make sure there wasn't another envelope snafu, the font on the envelopes was so large you could see it in Iowa. The top award: It went to "The Shape of Water," which won four in all.
As Oscar's hat tip to #MeToo, several awards were presented by pairs of women. Instead of last year's Best Actor winner (Casey Affleck) presenting Best Actress, Jodie Foster and Jennifer Lawrence did it. The prize went to Frances McDormand ("Three Billboards"), who asked all of the female nominees to stand. The moment was a powerful one and a nice cap to the evening.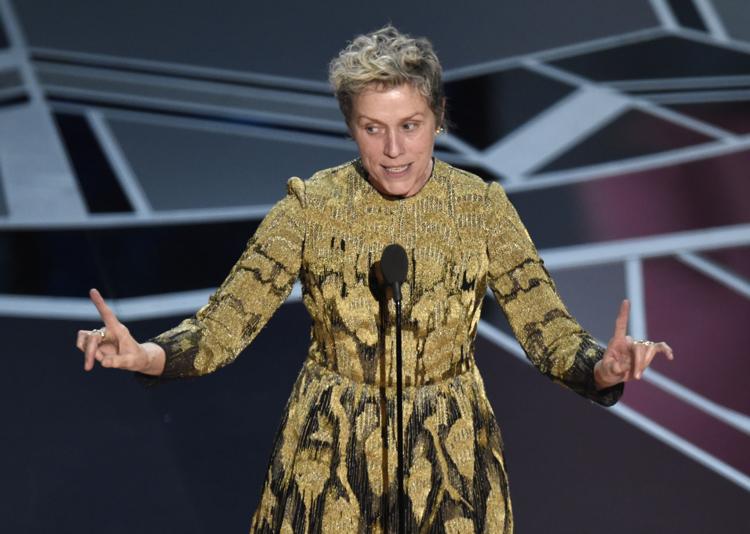 WINNERS:
Best Picture: "The Shape of Water."
Best Director: Guillermo del Toro, "The Shape of Water."
Best Actor: Gary Oldman, "Darkest Hour."
Best Actress: Frances McDormand, "Three Billboards Outside Ebbing, Missouri."
Best Supporting Actor: Sam Rockwell, "Three Billboards Outside Ebbing, Missouri."
Best Supporting Actress: Allison Janney, "I, Tonya."
BEST PERFORMANCE:
Keala Settle, who played the bearded lady in "The Greatest Showman," sang "This is Me" from the film and got Justin Timberlake-level buy-in from the audience. The song lost to "Remember Me" from "Coco," but it made an impact with the audience.
AT LONG LAST:
Roger Deakins ("Blade Runner 2049") and James Ivory ("Call Me By Your Name") won their first Oscars after oh-so-many nominations. Jordan Peele became the first black winner of the Best Original Screenplay award for "Get Out."
BEST SPEECH MOMENTS:
Sam Rockwell (Best Supporting Actor): As an 8-year-old he was called into the principal's office. His father was there and took him out of school. When he got in the car his dad said, "We're going to the movies."
Presenter Eva Marie Saint: "I'm older than the Academy," which celebrates its 90th this year.
Allison Janney (Best Supporting Actress): "I did it all by myself," she said jokingly, then launched into the list of people who helped her give the winning performance.
Guillermo del Toro (Best Director): He paraphrased Jimmy Cagney ("My mother thanks you…) and paid tribute to U.S. diversity. "I think the greatest thing that art does, and that our industry does, is erase the lines in the sand when the world tells us to make them deeper."
Gary Oldman (Best Actor): "I'm obviously not going to win the ski…put the kettle on I'm bringing Oscar home."
JIMMY KIMMEL'S MOMENTS:
On the envelope snafu: "This year, when you hear your name called, don't get up right away."
On the Oscar statuette: "He keeps his hands where you can see them and he has no penis."
If they made a movie of his life: "Best case scenario, I'd be played by Jim Belushi."
Best bit: Giving away a jet ski to the person who delivers the shortest speech. Added bonus: Helen Mirren as his prize model.
Surprise bit: He takes a bunch of actors into the Chinese Theatre across the street and passes out treats. (I bet Meryl Streep was upset he didn't offer snacks to the Oscar crowd.)
STANDING OVATIONS
Eva Marie Saint, Rita Moreno, James Ivory (screenplay winner), Jane Fonda, Helen Mirren, Roger Deakins (cinematography winner), Keala Settle and Common got standing ovations.
BEST DRESSED
Allison Janney (in red), Mary J. Blige (in white), Armie Hammer (in burgundy), Chadwick Boseman (in bling and black), Jane Fonda (in white), Helen Mirren (in turquoise), Daniel Kaluuya (in caramel velour).