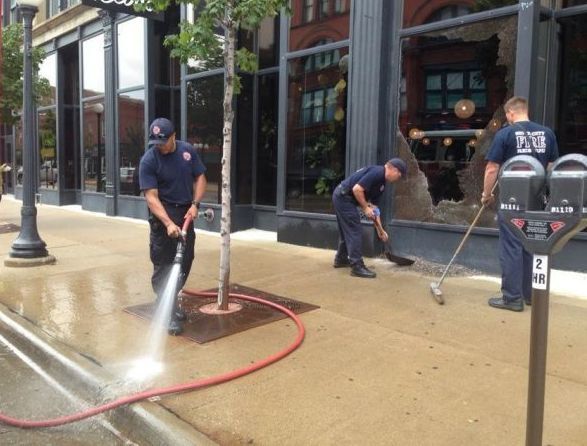 Selections from the Sioux City Police Department's call logs:
* 12:33 p.m., Aug. 19, West Fifth Street: Officers asked to check on a person who told a caller she was on the roof of her house. Police found the woman on a ladder in the back of the residence. She had locked herself out.
* 4:10 p.m., Aug. 19, 700 block of Douglas Street: Report of someone laying face down in an alley, asleep.
* 10:45 a.m., Aug. 20, 100 block of Sixth Street: Six or seven cars were keyed in a muffler shop parking lot. Caller's vehicle was keyed door to door.
* 10:15 a.m., Aug. 21, 1400 block of Rebecca Street: Small child was messing with a broken window.
* 2:10 p.m., Aug. 21, 500 block of 13th Street: Report of many laying in the street. He told police he had fallen off a bicycle.
* 7:33 a.m., Aug. 22, 5300 block of North Highway 75: Someone spray painted two tires and the right rear quarter panel of a vehicle.
* 7:57 a.m., Aug. 22, 4600 block of Polk Street: Burglary report. Woman woke up and saw the suspect standing in her bedroom doorway.
* 3:05 p.m., Aug. 22, 5300 North Highway 75: Someone cut the gas and brake lines of a vehicle parked in a driveway.
* 12:34 a.m. , Aug. 24, 5200 block of Seger Avenue: Someone asked officers check on a "white female just standing on a corner looking spaced out."
* 6:10 a.m., Aug. 24, 1300 block of Pierce Street: Counterfeit $5 bill report.
* 6:12 a.m., Aug. 25, 100 block of Pierce Street: Report of someone sleeping next to a building. The person was O.K., and moved along.
* 9:08 a.m., Aug. 25, 200 block of 19th Street: A person was laying in the hallway.
* 9:14 a.m., Aug. 25, 4200 block of South Lewis Boulevard: Initially called in as a report of a vehicle stalled over the railroad tracks. It was quickly towed from the tracks. It was a medical call.
* 8:01 a.m., 1000 block of West Highway 20: The engine compartment of a vehicle caught fire.
* 1:20 p.m., Aug. 27, 1100 block of Fourth Street: A deer smashed through the outer pane of glass at Rebos restaurant. An inner pane didn't break, so the deer didn't get all the way into the eatery. No one was hurt. The deer, a four-point buck, was severely wounded. It was euthanized.