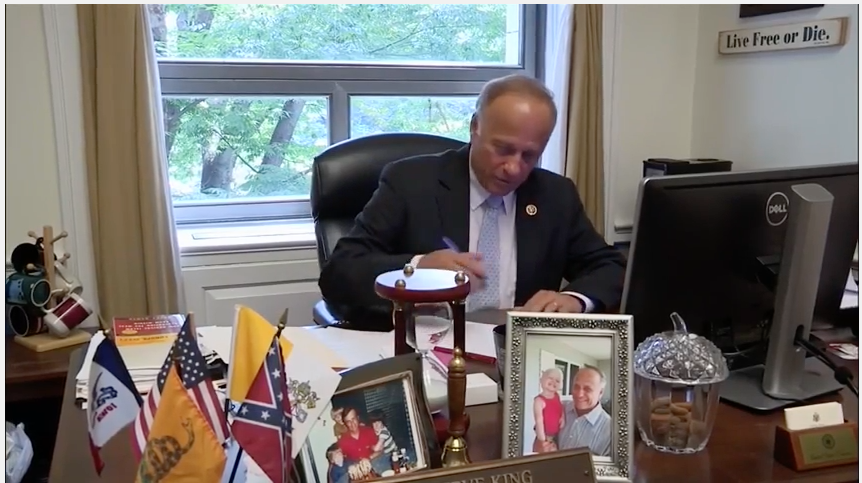 Iowa Republican Party Chairman Jeff Kaufmann does not know if U.S. Rep. Steve King still has a Confederate flag on his office desk and hasn't invited Republican-turned-independent state Sen. David Johnson back to the party's fold.
In a wide-ranging interview with the Journal, Kaufmann discussed the 2016 presidential race and said Donald Trump will continue to stump hard in battleground state Iowa. He also spoke about Johnson, who in June created a political ruckus after switching his voter registration to no party, citing stark differences with Trump.
Kaufman said he has cordially spoken with Johnson, but has not asked him to reconsider his decision. Kaufmann said Johnson "doesn't answer to me," and that the people he owes an explanation are the Northwest Iowa voters who elected him as a Republican.
Earlier in August, the Journal polled Northwest Iowa Republican legislative candidates who will appear on the November ballot with Trump. Seven of eight who responded said they are fully on board with the outspoken billionaire businessman being the party's standard bearer, while one said he had not made up his mind.
"(Johnson) is the only one that I know (statewide) who is saying that he is not supporting Trump," Kaufmann said. Kaufmann added that he would welcome Johnson back as a Republican if Johnson decides to take that step.
Additionally, Kaufmann spoke about the summer news that Congressman King, who has served 14 years in the U.S. House, has a Confederate flag on his congressional office desk. King's office has not answered extended requests from the Journal about why the flag was put on his desk and if it still remains there.
The flag has been a source of pride for some Southerners and others. However, increasingly such flags have been pulled out of Southern-state public displays as some contend the flags symbolize bigotry in the aftermath of the war that gave African-Americans freedom from slavery.
Iowa Gov. Terry Branstad, a Republican, in July said he doesn't like King's choice to show the flag among others on his desk. Kaufmann joins Branstad in that position, saying he "reveres the U.S. flag. and I intensely dislike the Confederate flag, in honor of those young boys (Civil War Northern soldiers who died)."
Kaufmann isn't sure if King removed the Confederate flag, and added that isn't asking King to remove it if the flag is still there. He said that isn't his role as the state part leader.
Kaufmann said it seems King is a lock to win re-election to the Iowa 4th Congressional seat, as he competes with Democrat Kim Weaver, of Sheldon. Kaufmann said he has concerns about the viability of some Republicans on the ballot, but he has no worries about King or the re-election bid by U.S. Sen. Charles Grassley, who is running against Democrat Patty Judge.