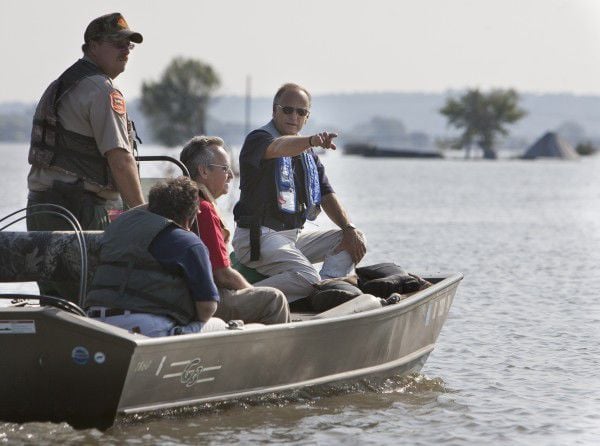 Lots of flooding has impacted the Midwest in the last decade, and some people cite it as a concerning derogatory impact of climate change, which scientists say is melting polar ice caps, making storms and hurricanes more powerful and causing rising waters to erode coastal areas.
King spoke about how substantial flooding impacted western Iowa beginning in March. The Republican congressman also mentioned he's seen Iowa experience some 100-year and 500-year floods in recent years.
He aired his view of climate change, when a question was posed by a Marcus, Iowa, woman about the topic of climate geo-engineering early in the meeting.
King said he would need to read up on geo-engineering before commenting, then he turned his reply to the more frequently discussed topic of global warming, which is often now termed climate change.
"You mentioned the global warming part of this, the weather patterns that are there," King said. "But I think that, I began, when I first looked at that, I thought, 'I'm hearing all these things that are bad, well, what could be good?' Surely there is something on the other side that could be good. So, let's just say that if the earth should warm by four degrees, or whatever that number might be, then I've had to measure the evaporation off of, in the summertime."
King, who represents Iowa's fourth congressional district, then discussed how higher temperatures means water will evaporate more quickly. He gave the example of being able to watch a barrel of water readily evaporate in July.
"Seventy percent of the earth is covered by water. If the earth warms, then there is evaporation that goes into the atmosphere. According to Newton's First Law of Physics, what goes up must come down," King said.
"That means it will rain more and more places. It might rain harder in some places, it might snow in some of those places. But it's surely gotta shrink the deserts and expand the green growth, there's surely got to be some good in that. So I just look at the other, good side."
Copyright 2019 The Sioux City Journal. All rights reserved. This material may not be published, broadcast, rewritten or redistributed.
Be the first to know
Get local news delivered to your inbox!