U.S. Rep. Steve King, R-Iowa, started a controversy Sunday when he tweeted that America "can't restore our civilization with somebody else's babies." The tweet was in reference to developments in Europe, a continent where King has been routinely touting the positions of fellow conservative politicians like himself.
A bevy of state and national Republicans and Democratic officials on Monday chastised the Iowa 4th District congressman, who made his social media post Sunday in support of a Dutch politician who opposes immigration and has spoken against Islam. King tweeted that Geert Wilders "understands that culture and demographics are our destiny. We can't restore our civilization with somebody else's babies."
King told the Journal last week that his Twitter use can vary, with some days off, then more of a heavy streak, depending upon which topics move him to type out observations.
King is amid a period of frequently using his Twitter account in recent months to weigh in on European officeholders and candidates. King is dialed in on elections and key political moves in that continent, and he continues to assert it is important that Western Civilization remains paramount. He has shared Twitter observations on such nations as Hungary, France, Sweden, Austria and Turkey over the last year.
By comparison, another Republican federal officeholder from Iowa, U.S. Sen. Joni Ernst, over the last 12 months has weighed in on national politics on her @joniernst Twitter account, but had no tweets about European lawmakers or politics. Republican U.S. Rep. David Young over the last six months shared hundreds of tweeted photos with Iowans from such places as Council Bluffs, Greenfield and Adair, but no tweets from the @RepDavidYoung account referenced European politics.
King often includes photos where he is pictured with the European leaders he is tweeting about.
On Feb. 13, King tweeted about France, after meeting with conservative National Front party presidential candidate Marine Le Pen, who a week before had launched her campaign with a speech attacking globalization.
He wrote, "US Congressmen King & Rohrabacher pay a visit to discuss Liberty & shared values w/(next president of France?) Marine Le Pen @MLP_officiel"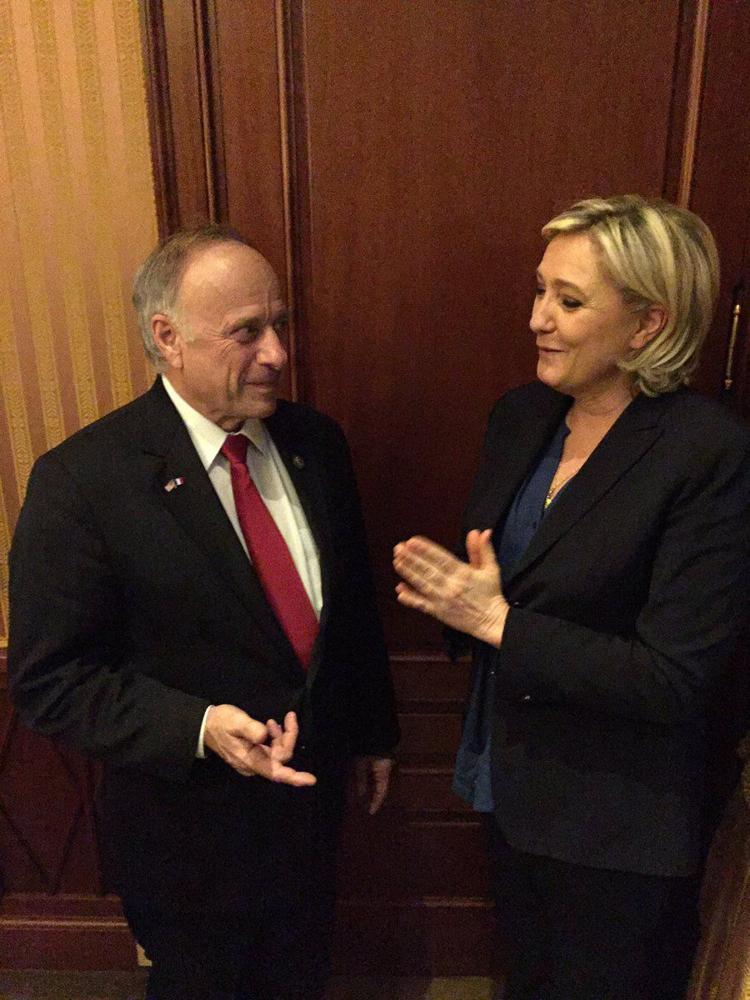 On Jan. 18, King sent out a tweet where he was anticipating the inauguration of Republican President Donald Trump two days later. King tweeted a list of people in the picture, "Austrian Freedom Party leadership MP's here to celebrate Trump inauguration. Hofer, Strache, Karlsboeck w/King, Blackburn, Bachmann, etc."
King on Dec. 5, 2016, referenced the Austrian presidential contest, where his preferred candidate, nationalist Norbert Hofer, lost to Alexander Van der Bellen. A CNN report said "a win for Hofer would have made Austria the first nation with a far-right head of state in Western Europe since the end of World War II."
King tweeted, "Regrets to @norbertghofer for 2nd place finish in race for President of Austria. The cause of freedom & our friendship remain. Onward!"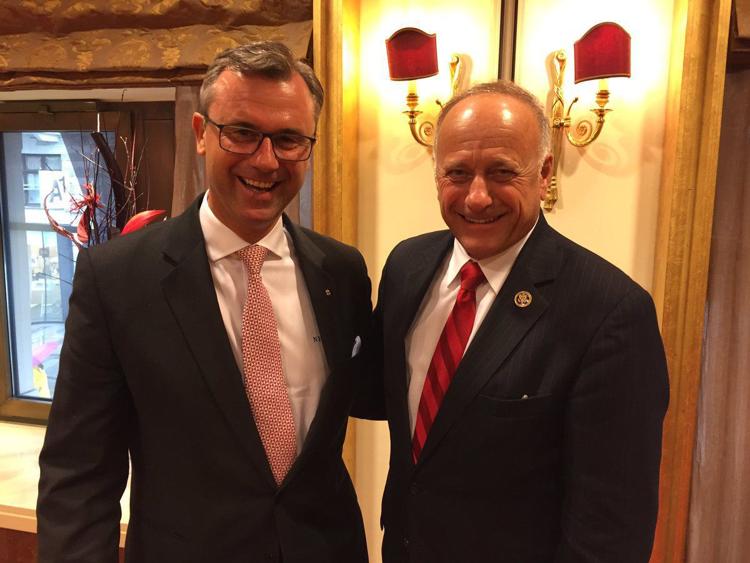 King tweeted, "#Hungary & PM Orban lead the way again-charting the right direction for Europe. Persecution of Christians must end!"
He tweeted on June 24, 2016, "Congratulations to UK, especially @Nigel_Farage & UKIP, for your noble & farsighted national decision to #BreExit. WesternCiv can be saved." Farage is a former Conservative Party member who for many years recently led the UK Independence Party in Britain.
Additionally, King continues to compare European culture to the fears he has for America. On Jan. 28, he retweeted the Voice of Sweden account, which shared a 60-second video, with the message, "Multicultural Sweden is an uncontrollable mess but this commercial says native Swedes have to integrate."
King then tweeted with that link, "This is where all Western Civilization is headed unless we reverse course."
Be the first to know
Get local news delivered to your inbox!