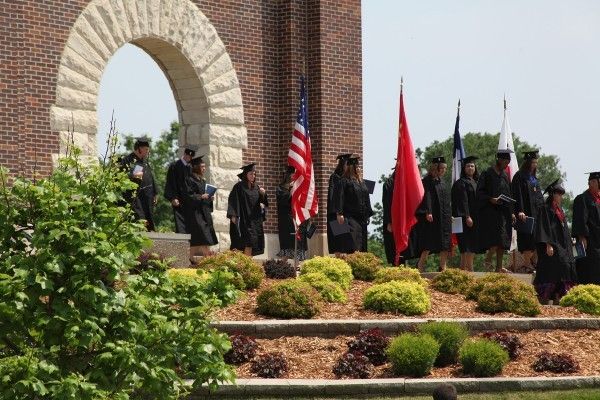 STORM LAKE, Iowa | The only part rescued from a famous 1956 fire at Buena Vista University still stands at the center of the campus on the north shores of Storm Lake.
It's the Victory Arch, the brick and structure salvaged after Old Main, one of the most visible and most used facilities on campus, burned to the ground in 1956.
The brick and stone were preserved and put to use in the Victory Arch, which now towers above the underground Harold Walter Siebens School of Business Forum, where much of the university's business and education takes place each day.
The Victory Arch is put to use on two formal occasions at BVU. The first takes place in early September, when Beaver freshmen and other new students at BVU follow faculty and student leaders in passing beneath the Arch, walking from west to east. The walk symbolizes each student's entry into college life.
That trek is reversed when BVU holds its annual commencement exercise in May. All graduates gather and process from nearby Schaller Memorial Chapel, passing under the Victory Arch on their way to the commencement ceremony at Siebens Fieldhouse.
This east-to-west pathway symbolizes the students' entry into the "real world" as it were.
The Victory Arch is a popular place for students and graduates to gather, posing for family photos at both the start and the culmination of the collegiate experience.
Be the first to know
Get local news delivered to your inbox!