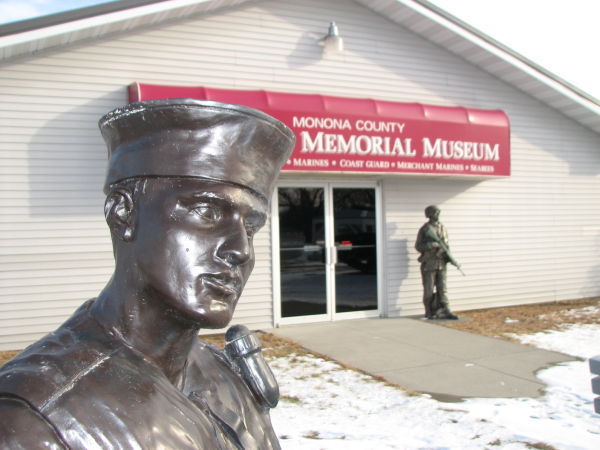 ONAWA, Iowa | William Wonder and Duane Miller began raising money for the Monona County Veterans Memorial Museum in July 1997.
On the eve of the museum's Memorial Day opening in 2000, the pair was still $7,400 short of their $100,000 goal. The museum, designed to honor and showcase the service and sacrifice of all Monona County veterans and their families, was largely complete and ready to be opened.
The night before the museum opened, an older man requested a private tour, as his health wouldn't allow him to move through the structure amid the crowd expected on opening day. Miller and Wonder let him in and gave him access to war displays covering a multitude of conflicts and generations, showcasing the sacrifice young people and their families made, starting back at the U.S.-Mexican War (1846-48).
The man must have appreciated the tour. He ended it by writing a check for $7,400 and gave it to Wonder and Miller and asked they keep it anonymous.
The giver, interestingly, was not a military veteran. Neither were Wonder and Miller.
"We felt it was important. We thought it would be good for families and children to see, to get a little more personal look at history," Wonder said.
At the center of the Monona County Veterans Memorial Museum is a Killed in Action monument, which includes the names of soldiers killed in war-time. Eight young men from Monona County died in World War I; 88 died in World War II; seven were killed in Korea and 10 during the Vietnam War.
The last one listed is U.S. Army Cpl. Llythaniel Fender, who was 21 when he was killed June 10, 2007, in Karbula, Iraq. Fender graduated from West Monona High School in Onawa in 2004.
Be the first to know
Get local news delivered to your inbox!