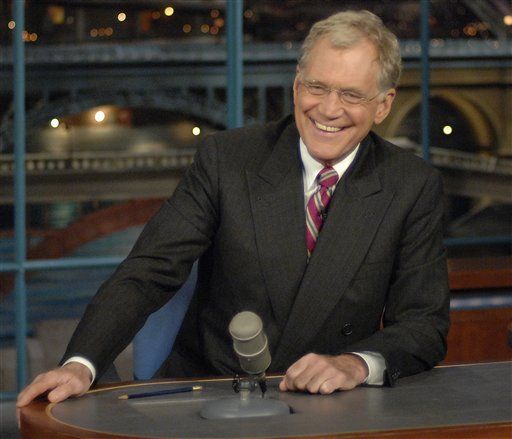 SIOUX CITY | When "The Late Show with David Letterman" premiered in 1993, Sioux City was the only city whose CBS affiliate wasn't going to air the late-night talk show.
Bruce Lewis, general manager of KMEG-TV, said he didn't want to bump reruns of "Cheers" and "Star Trek" to add the show. He offered to air it later in the evening but CBS resisted.
As a result, Letterman decided to name Sioux City "The Late Show's" first home office. When the show premiered, he proudly announced the Top 10 List from "the home office in Sioux City, Iowa."
The dubious honor prompted Letterman fans to petition KMEG to get the show on the air locally. Eventually, it did join the KMEG lineup, but first the Sioux City Convention Center held a Sept. 3 rally at City Hall, with city leaders naming the site as the official "home office." There, a life-sized photograph of David Letterman peeked out one of the doors.
Lewis and Bruce Miller, chairman of the Convention Center, Auditorium and Tourism Board, debated the merits of Letterman and stated their reasons for airing – or not airing – the show. The rally brought national attention and prompted T-shirt sales, an Explorers promotion and increased tourism. Hundreds of visitors flocked to City Hall (which had been vacated for safety reasons) to have their picture taken at the home office.
Throughout the fall of 1993, Sioux City capitalized on the designation, holding a party in October to thank Letterman and keep the attention going. Sioux City held the title longer than any city – 21 months. It was replaced by Grand Rapids, Mich. Letterman's reasoning? "We're getting a better tax break in Michigan," he told Larry King.
Officials said Letterman's boost resulted in more than a million dollars' worth of publicity.
While Letterman hasn't included a "home office" in recent months, he has set an end date for his run on "The Late Show." He'll retire sometime in May.
Be the first to know
Get local news delivered to your inbox!