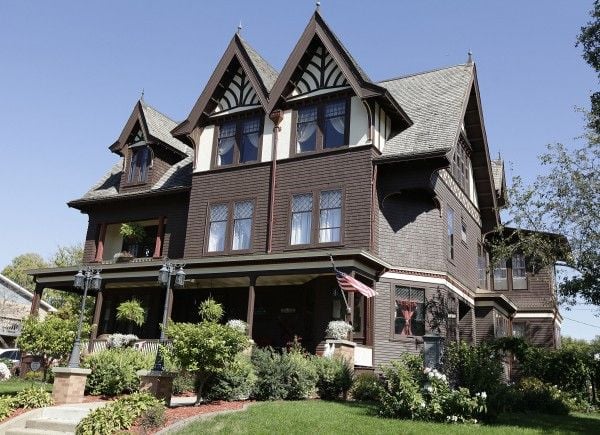 SIOUX CITY | The house at 2900 Jackson St. isn't really made out of candy. Known locally as the "Chocolate House," the three-story structure, built during Sioux City's most prosperous times, received its moniker because of its affiliation with a longtime business.
The house was designed by architect William D. McClaughlin for Charles Mylius, the secretary and treasurer of the Curtis Sash & Door Co. in Sioux City. The house was built in 1894, but Mylius never lived there, according to a booklet titled "Legacy of the Past," by the Sioux City Historical Preservation Commission.
The first residents, in 1899, were Franz and Matilda Shenkberg. After the home changed hands several times, it was purchased in 1906 by Fred and Lillian Eaton. Upon Fred's death in 1925, his daughter Dorothy lived in the house. She married Edward C. Palmer -- of Palmer Candy Co. fame -- and lived there until 1967.
In most recent times, the house – which also is known as the Palmer Mansion as well as the Chocolate House -- was restored by John and Deborah Wockenfuss, who purchased it in 2004. It is listed on the National Register of Historic Places.
The Shavian Queen Anne home features zinc bull's-eye glass windows, 8 1/2-foot-tall doors, and many different types of wood including quarter-sawn oak, bird's eye maple, mahogany and walnut. The house has five-plus bedrooms, six bathrooms, a library, a drawing room, a formal dining room, a breakfast room, a master bedroom wing and a ballroom.
"We feel we're preservationists," Deborah Wockenfuss said in a 2008 Journal interview. "We just feel like we're caretakers of 'The Chocolate House' until the next generation and it's our responsibility to share its rich history with the people of Sioux City."
All four levels have been refinished or renovated.  On the exterior, all new flower beds were planted, new custom iron fence was installed and the entire house was painted.