PHOTOS: 19th century Sioux City Corn Palaces
Photos of the corn palaces that made Sioux City a destination in the final years of the 19th century.
1887 Corn Palace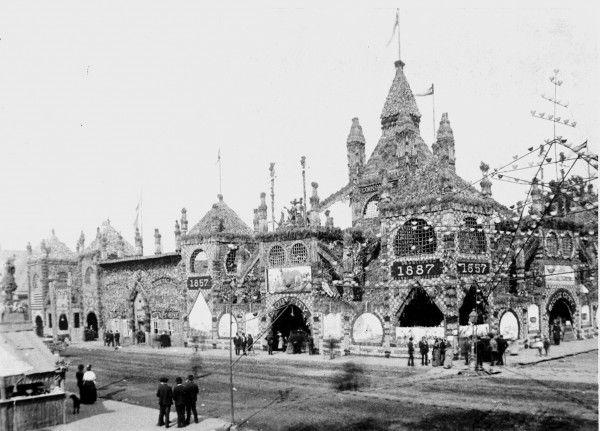 The Huskers, 1891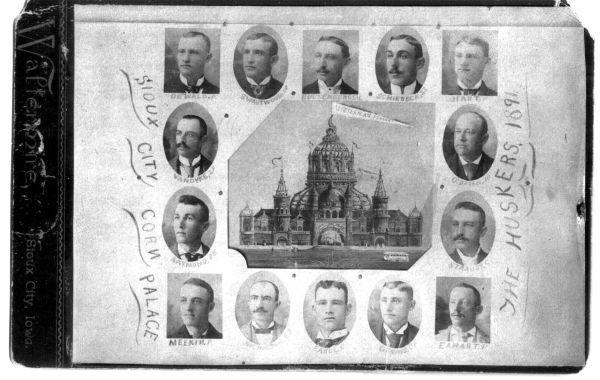 Sioux City Corn Palace 1891
1889 Corn Palace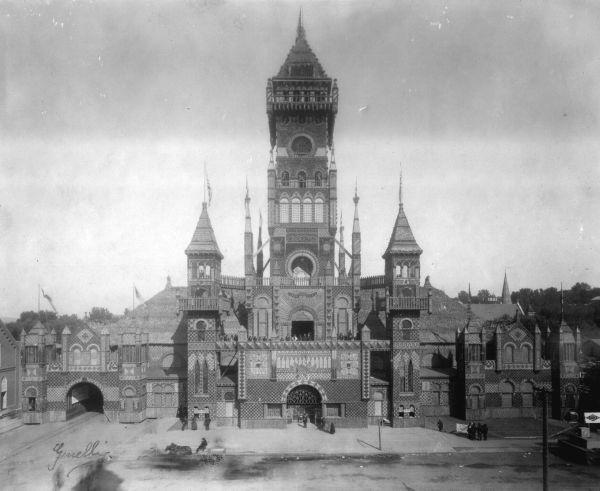 Electrical Supply Co. Exhibit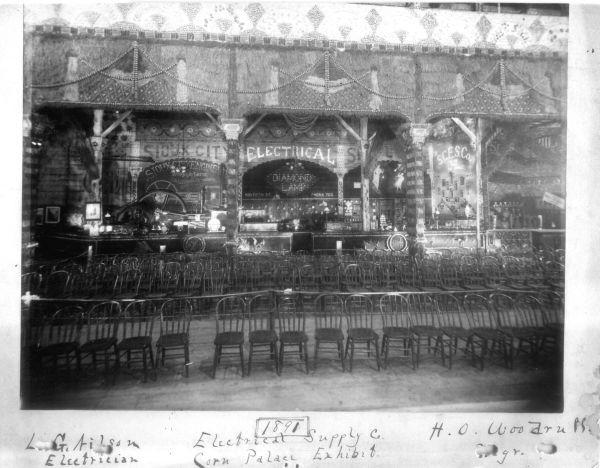 Electrical Supply Co. Exhibit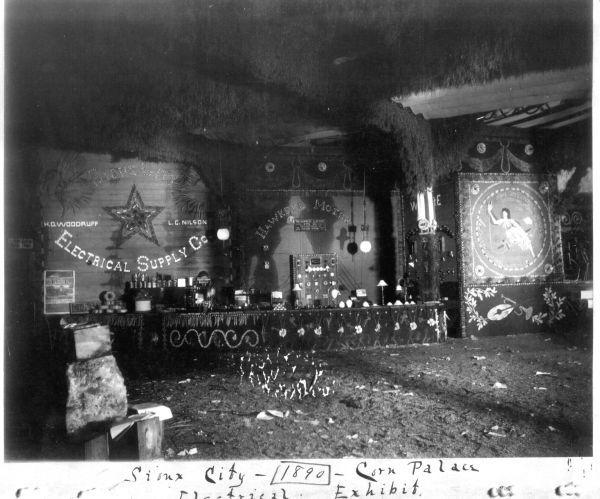 Corn Palace 1891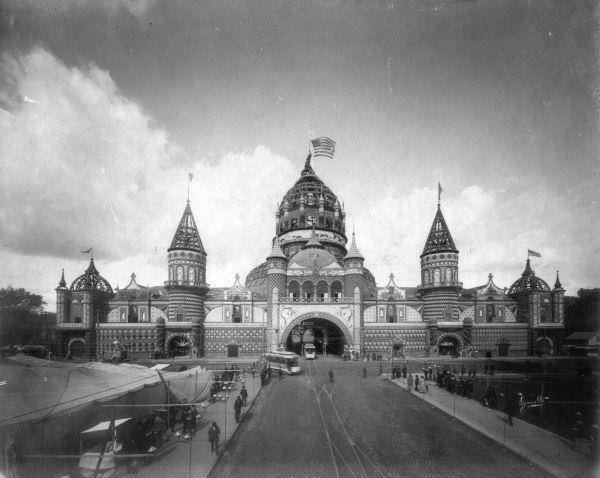 Goddess of Light 1890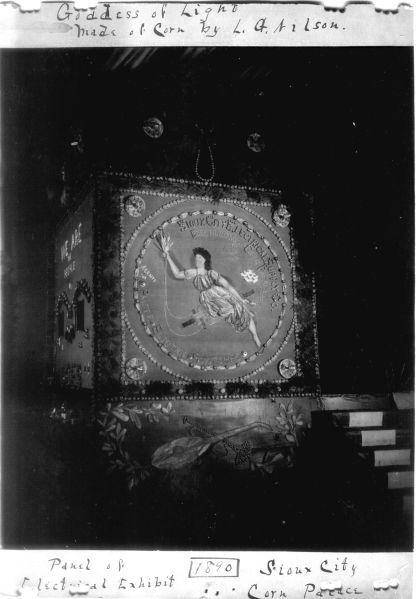 Corn Palace 1890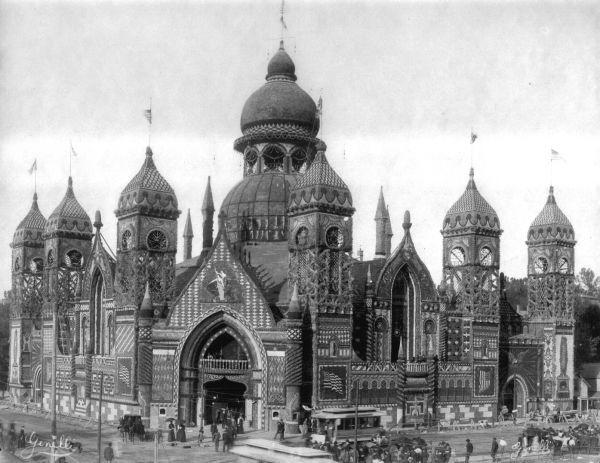 Electric Fountain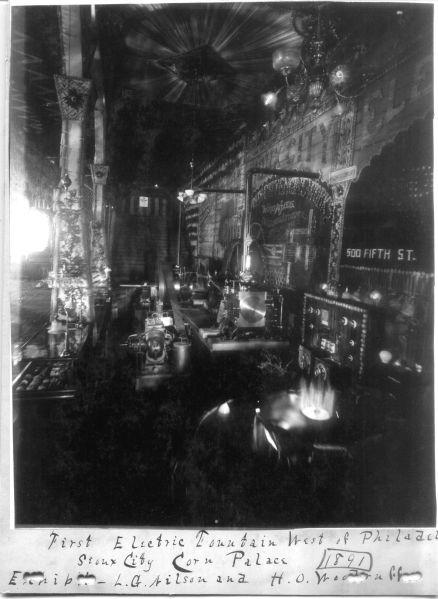 Corn Palace display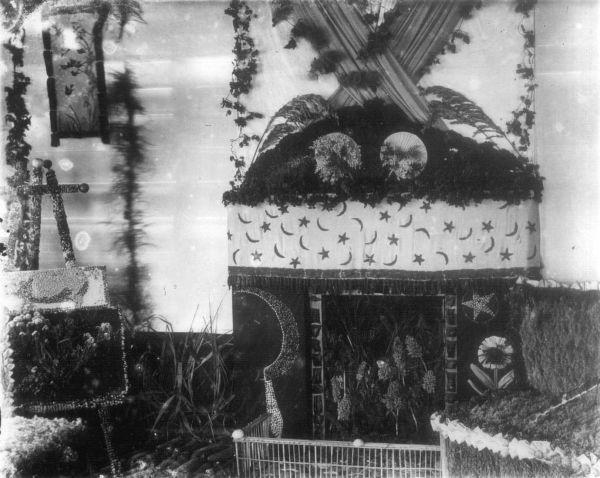 1890 exhibit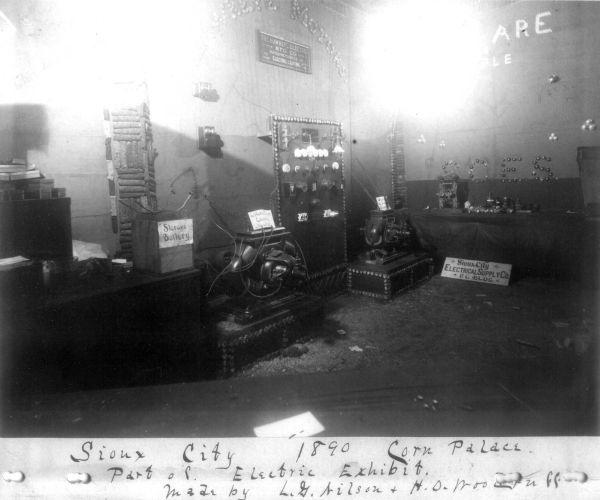 Corn palace display 1890
1890 Corn Palace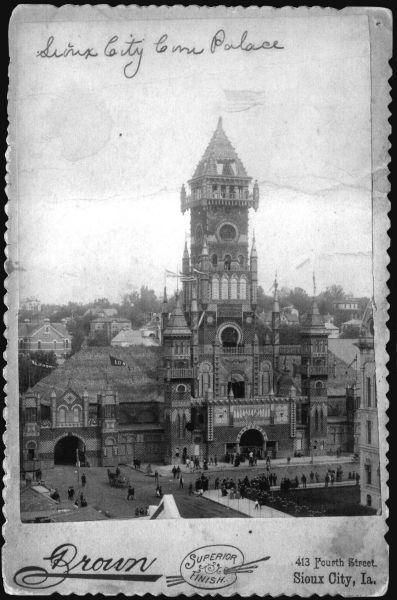 Corn Cutter 1890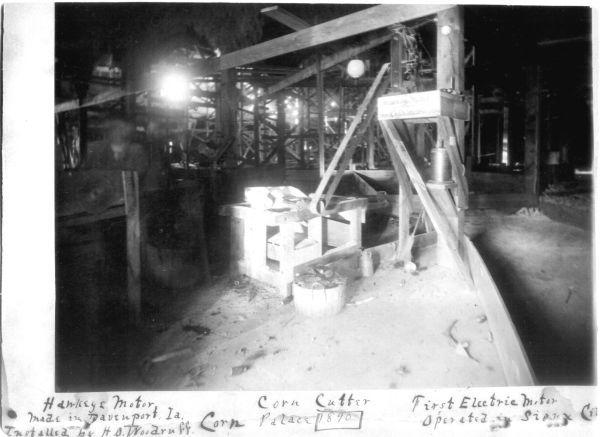 Sioux City Corn Palace 1891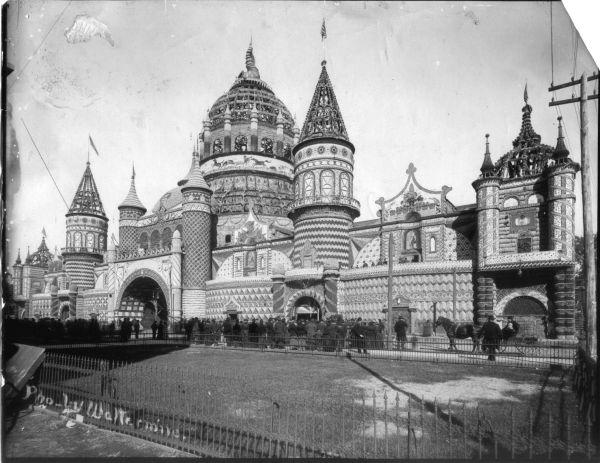 Corn palace visitors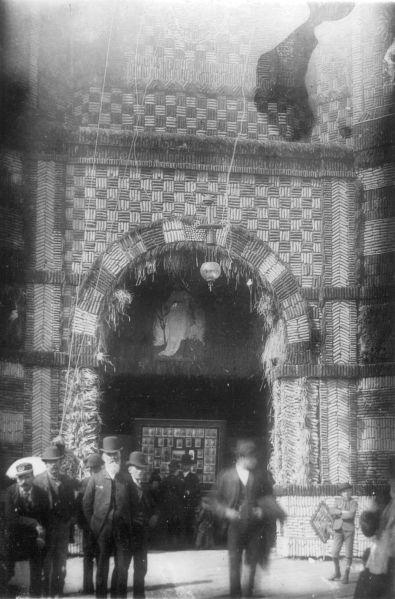 Corn palace 1891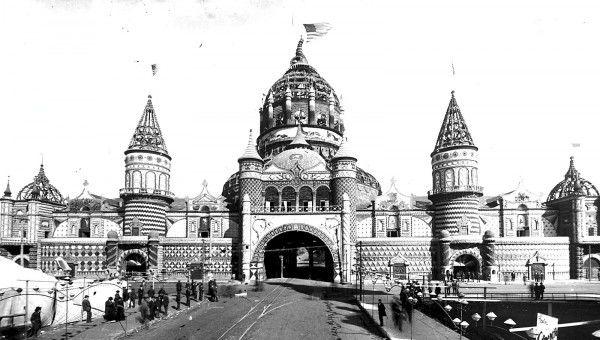 Related to this collection
Need some mealtime inspiration? Search our online database for reader-submitted recipes and submit your own.
Rainbow sherbet is the favorite flavor for folks in Iowa, South Dakota and 18 other states.
Sioux City loves their restaurants! From the hoopla surrounding Olive Garden's much anticipated 2006 Sioux City launch to this week's opening …
SIOUX CITY | Now this might be called Fake News by more than President Donald Trump.
You see them scattered around town. Sometimes alone, in clusters, or with corresponding paint marks on the ground. But what do those utility f…
With tensions high between the United States and North Korea, there has been much speculation in recent days about the effects of a nuclear we…
Wednesday marked the 40th anniversary of Elvis Presley's death. Test your Elvis knowledge by answering these questions:
Photos from the archives from the Sioux City Public Museum.
What did Sioux City look like 100 years ago? Click through these historic photos to take a look back.
See images of buildings on Historic Fourth Street from the Sioux City Public Museum archives compared with images from more recent years.
This Memorial Day, take a look back at how Sioux City has celebrated and remembered on the holiday in years past.
WALTHILL, Neb. -- A speech pathologist is suing administrators at Walthill Public Schools and the Educational Service Unit that supports it, a…
SHELDON, Iowa -- An explosion at a Sheldon, Iowa, dairy plant Tuesday afternoon blew a large hole in the facility but everyone inside was able…
ANKENY -- Vice President Mike Pence played cheerleader in Iowa on Tuesday, touting a new international trade deal with Canada and Mexico and u…
Reynolds told reporters she has heard from Iowans — some who are worried about negative health effects from wind turbines and others who back clean energy as a way to create jobs and attract businesses.
The winner told lottery officials he yelled out "Thank you!" when he saw that one of his tickets was a big winner. He says he intends to pay off his house and a couple of vehicles.
The court said the former superintendent of the Missouri State Highway Patrol overstepped her authority when she fired a trooper who was driving a boat when a handcuffed Iowa man fell out and drowned.
In September, St. Augustine's will go public with a campaign to raise $13 million for a 33,000-square-foot building that would bring all the school's programs under one roof and improve student security.
The man was found when a worker arrived at the Faltys Enterprise shop around 7 a.m. Monday.
88-year-old Clemens Kogl and his wife, 86-year-old Rose Marie Kogl died when the car she was driving failed to stop for the eastbound BNSF freight train Tuesday afternoon.
The funeral home has been keeping the cremated remains in a locked closet for years, some since the mid-1990s.
DirecTV and AT&T U-Verse stopped carrying KCAU in early July amid a wider retransmission consent dispute between AT&T and Nexstar Media Group, impacting viewers in some 97 markets across the U.S.
Like the summer camps depicted in the movies "Dirty Dancing" and "The Parent Trap," Blue Lake Resort has all the hallmarks of a summer hideaway. "We're no different than everyone else," said one resident. "We just like to have our clothes off."
Marriage licenses issued recently in Woodbury County:
The purchase is the second major acquisition in four months by the privately owned family business, which is striving to overtake Unilever as the largest U.S. ice cream maker. 
The sculpture is the brainchild of tourism group Visit Omaha and has been in the works for three years. The idea behind his creation is to keep visitors excited about the riverfront bridge.
Garden coordinator Dee McKenna said that the garden, which grows carrots, broccoli and cabbage in addition to potatoes, is beneficial for both agriculture-focused students and others. 
According to the Iowa State Patrol, the rollover occurred at about 6:25 p.m. Sunday when the 40-year-old was driving north on County Road A54B in a Honda minivan near Beloit.
He hauled the car on a trailer to a Gov. Pete Ricketts town hall. "Governor Please Grant This Car Clemency" read the big sign Lane Nelson affixed to the back of the car. A DMV official called, and didn't have good news.
The Rev. Tom Hartman's first call was as a father. His second was as a Catholic priest. After a divorce, Hartman continued to contemplate romantic love as he worked at his family's grocery store. But he realized he had a "priestly heart."
The sale is the latest in a series of acquisitions by the family-owned operation as it pursues its longtime goal of becoming the nation's leading ice cream maker. Wells' portfolio now includes five distinct brands and a large private label business.
The destination might have changed, but two Sioux Center couples decided that area families need a place to find a pumpkin, or several, for fall and Halloween decorations while also getting a chance to appreciate nature.
Taylor Goodvin, 27, is a Sioux City native who until recently worked as director of the Woodbury County Taxpayers Research Council. He currently works as a business operations analyst for Brad Cummings LLC. He is a former staffer for U.S. Sen. Chuck Grassley.
According to court documents, Guadalupe Jesus Perez picked up the girl at her house and drove her to his residence, where they had sex in the basement. Perez later admitted to authorities that he and the girl had had sexual intercourse nearly two dozen times.
Elmi Said said he was acting in self-defense last fall after Guled Nur grabbed a knife and threatened him because Said did not share his beer with him. Jurors are deciding whether Said is guilty or not guilty of second-degree murder or a lesser charge.
A police official identified the victims as 39-year-old Clint VanderWey and his 16-year-old son, Jed VanderWey. Both were killed when their Cessna 140 crashed in a pasture near the family's farm not far from the South Dakota-Nebraska border.
The 21-year-old's Honda Civic left the road and struck the east rail of the Discovery Bridge, which spans the Missouri River between Nebraska and South Dakota. He was pronounced dead at the scene.
"How come this whole thing, discussion with the White House and the EPA and everybody else, just seems to be an Iowa discussion when there's at least 14 states that are big corn-growing states and every one of those states, I'll bet, has ethanol in it," Grassley said.
You can't plant a lemon seed to grow a lemon tree. Sure, that seed will grow, but it probably won't produce fruit. Yet day after day I see the…
The credit is a slight increase over last year's amount. It doesn't guarantee property taxes won't go up, but it ensures property owners won't have to pay as much as they otherwise would.
Matt Anderson, curator of history for the Sioux City Public Museum, said the majority of the items featured in the exhibit were already in the museum's collection. The college loaned an oil-on-canvas portrait of a longtime dean as well as a few panoramic photographs.
SIOUX CITY -- "A Silhouette Says a Thousand Words," a kids' drop-in activity, will take place from 1 to 3 p.m. Saturday at the Lewis & Cla…
Juline Albert, WITCC's vice president of learning, said celebrating Chuseok allows South Korean students to hold onto traditions while sharing their culture with the entire school.
One student who constantly didn't turn in work told his teacher, "'I am just trying to save you some time. More time with your kids, less correcting,'" she recalled.
The accident occurred around 5 p.m. Sunday. The names of the boy and the SUV driver haven't been released. No arrest or citations have been announced. 
A family friend discovered the accident and the 78-year-old man underneath the ATV. The sheriff's office says the man lifted the ATV off him, called authorities for help and began CPR. Jackie Prickett was pronounced dead at the scene.
The Sioux Center plant is the second in Northwest Iowa to temporarily shut down due to decreased demand for ethanol in the aftermath of the Trump administration actions. Plymouth Energy, a producer-owned plant in Merrill, idled production last month.
ROCK VALLEY,  Iowa -- The Iowa Department of Natural Resources is monitoring cleanup activities following two reports of manure discharges nea…
The man claimed she accidentally fell on a corn rake, but prosecutors say medical evidence showed she'd been stabbed in the back with it. A prosecutor said Tuesday that he "had to find a way to keep that farm."
Congress could address the situation legislatively, but Iowa's senior senator warned there might be more to lose than to be gained from that approach. He said he was concerned about lawmakers' unfamiliarity of ethanol and the influence of the petroleum industry.
Researchers and educators at 38 Iowa colleges and universities indicate Iowa will see the annual number of days above 90 degrees increase from 23 to 67 by 2050, with a once-in-a-decade likelihood of temperatures reaching 105 degrees. "Time is running out," one researcher said.
SIOUX CITY -- Grab your boots and saddles for an afternoon of cowboy poetry and music at 2 p.m. Sept. 29, at the Betty Strong Encounter Center…
Pawsitive offers the gamut of services for four-legged friends, including training (for dogs), boarding (for dogs and cats), daycare (for dogs), transportation, grooming, photography and, when the time comes, cremation.
Prosecutors say Todd Mullis, 43 had wanted to kill his 39-year-old wife for years and was irate over her affair. Jurors reached their verdict after deliberating about 7½ hours over two days. The conviction carries a mandatory sentence of life in prison.
As of Monday afternoon, Carson King's campaign had raised nearly $1.1 million.  He has reached out to tax lawyers to iron out any logistics in collecting and distributing hundreds of thousands of dollars sent through the money-sharing app Venmo.
The $32 million, physician-owned and directed surgical center will a wide variety of medical care. The first surgeries are scheduled for the second week of October. "We want to be a destination. This state-of-the-art facility will help make us a destination," the mayor said.
The sheriff's office said the man was a passenger in a vehicle that struck a southbound tractor. The impact caused the vehicle to roll into the ditch. The deceased was not wearing a seat belt, a police official said.
Combining project-based learning with an emphasis on teamwork, the initiative will give students at both schools the chance to solve problems posed by community nonprofit partners, according to the program's executive director, Liz Sheka.
SOUTH SIOUX CITY -- Anthony Castor has previously helped with a major remodeling of his grandmother's house, handling tasks with flooring, cab…
The Storm Lake police chief has made it clear through continuous community outreach that he wants the police department to be trusted. He also takes his message to Twitter, where he often tweets to politicians and others he believes are spreading misinformation about immigrants and the law.
Schumacher had no idea when she started her career that the experience she was gaining would lead her to one of the highest courts in Iowa. "When you graduate from law school, you never really think about things like this, you put judges at another level," she said.
A sheriff's department says the driver lost control of the truck on the wet pavement, and the truck ran into a roadside ditch. The truck rolled and came to rest on its top, ejecting the driver.
Game and Parks Commission staffers set a cage trap and baited it with raw fish. The estimated 20-pound bobcat bit on the bait and was caught. It was freed in a rural area Wednesday.
There were meetings and classes going on inside the building while the confrontation was occurring, but none of the participants reported seeing what happened, police Capt. Ryan Gruenberg said Thursday.
SIOUX CITY -- Kids will be able to create a paper lantern inspired by those used by members of the Corps of Discovery from 1 to 3 p.m. Saturda…
Construction is expected to begin at the Mitchell House, named for the late Ray Mitchell Jr., next spring, with the doors open by next October. The house will have room for six hospice residents to live in a "home-like environment." 
With potential wet weather set to come across the Midwest to open October, flashes of 2018's harvest are fresh in the minds of operators as they look to pick the 2019 crop. "We need Mother Nature to work with us a little bit," one said.
SIOUX CENTER, Iowa -- A Dordt College political science professor is running for the state Senate District 2 seat now held by Republican Randy…
The 70-year-old driver, who lived in Maryland, ran into the median and rolled several times after the she overcorrected. The 75-year-old passenger was taken to a hospital.
PRIMGHAR, Iowa -- A Primghar man was killed and two young boys suffered serious injuries in a fiery two-vehicle collision Sunday near Primghar.
Many owners fear higher valuations will force them to pay a higher property tax bill next year, but they won't know for sure until local governmental bodies set their new tax levies. City Assessor John Lawson said Monday said he's appealing the order.
The 16-year-old girl had stolen the car in a neighboring county, authorities said. The vehicle landed on its side with its roof torn off after officials deployed stop sticks. 
In front of a crowd of investors at RED Steakhouse on Main Street in Vermillion, campaign co-chairs announced Tuesday the gifts totaled $2.01 million. "I'm proud of how far we have come and the direction we are moving in as a community," mayor Jack Powell said.
The judge granted Water Engineering Inc.'s request last week for a $506,015 default judgment, saying that Big Ox did not respond to Water Engineering's initial complaint. In August, a judge awarded a Le Mars company more than $30,000 stemming from nonpayment by Big Ox.
Lifting the ban was also proposed in 2010, when the council voted 3-2 to retain it. Dog owners have sued the city over the ban, but some lawsuits have been dismissed.
Aiming to get young people to read, Sheldon High School senior Sami Noteboom has been hiding nearly 200 books in plastic bags, hoping that kids who find them will flip through the books.
Organizing a local FFA chapter was a dream come true for Career Academy agriculture instructor Taylor Weidauer, since she was an FFA member when she was a teenager in her native Colorado.
Former Gov. Terry Branstad set a goal of connecting every Iowan, which was later modified to connecting every acre. But six years later, the state appears not close to achieving that standard.
"They keep asking me when I'm going to quit. I say 'I'm not dead yet,'" Harold Fischer says, chuckling heartily while sitting atop his quarter horse, Chic. If he actually retired, it would probably be bad for his health, he reasons.
The agency's proposal this week for rules for the RFS undermine a deal Iowa industry and political leaders reached earlier this month with the president, those Iowa industry leaders and farmers said.
"I walked out (from the zoo) and the first thing I thought was, 'I need to take at least two showers to feel comfortable,'" the judge said. "And it's making me shake right now. It's terrible." She said a "horrible stench" in an enclosed reptile room made her gag.
Taste-testing the healthy items was part of the culinary curriculum during a special farm-to-school event, presented by ISU Extension and Outreach's Pick a Better Snack program and the nonprofit Up From the Earth.
Reggie Torno, who lives in rural Sioux City, spends a lot of time observing trees and foliage, particularly this time of year. "The leaves should already be changing by now, and they're not," Torno said Wednesday. "Even the fruit on the trees was later (this year)."
WINNEBAGO, Neb. -- The Winnebago Tribe has received more than $1 million to address juvenile justice issues.
The warnings were pointed and the language forceful. As one corn growers official, relaying a farmer's words, said: "No more Iowa nice. Now it's Iowa pissed."
In some cases, idling a plant is the only option in a market where supply capacity outstrips demand, a situation ag officials blame largely on the Trump administration's loose interpretation of the Renewable Fuel Standard and on continued trade hostilities with other countries. 
This week's On Iowa Politics Podcast discusses the Environmental Protection Agency at odds with RFS, campaign fundraising and the latest Democ…
"This is a president who is listening to and working hard for farmers," Nebraska Gov. Pete Ricketts said, as Iowa Gov. Kim Reynolds and South Dakota Gov. Kristi Noem looked on at the longstanding Tri-State Governors' Conference.
Since Monda Kohles first sneaked into an abandoned building in the Devils Nest some 30 years ago, the area intrigued her.
The districts, including Sioux City and Akron-Westfield, will combine to pay $650,000. The woman claimed in the suit that each district knew Kyle Ewinger, who is serving a 55-85 year sentence in Nebraska, had inappropriate contact with students.
That means a thicker layer of gravel will likely be in place in five years on nearly 800 miles of Woodbury County gravel roads. An estimated 2 million tons of gravel will be bought.
The workers were arrested at a facility that makes wood products. Roughly one year ago, dozens of people were arrested following raids at several businesses in nearby O'Neill.
SIOUX CITY -- Sioux City Fire Rescue are battling a residential fire Monday morning at 1612 West 14th St.
Authorities say a Chevrolet Impala crossed the center line, went off the roadway and rolled around 5 p.m. Saturday.
Today, it's all recreation. Goat Island is a convenient stop for boaters and kayakers; some pitch a tent for the night. Local residents come out to spend the day hiking or enjoying the sandy beaches.
A proposal to raise the legal age on tobacco and electronic smoking and vaping products got some attention during the 2019 legislative session but was not approved. "I think that would be maybe something that might help, moving forward," she said.
"Plain and simple: EPA's abuse of small refinery exemptions under the RFS is crippling rural America," Siouxland Energy Cooperative President Kelly Nieuwenhuis of Primghar said to a House subcommittee.
A group of Sioux City paranormal investigators has been analyzing ghost activity at the old school, located in rural Cherokee County. "Nothing that we've heard here is out to get you. It's not here to scare you away," one investigator said. 
BERESFORD, S.D. -- One person was killed and two others injured Wednesday in a four-vehicle crash on Interstate 29 five miles north of Beresford.
Full-capacity production at Siouxland Energy, Kelly Nieuwenhuis said, is still at least a "few months" in the future: "We have to get this situation with the EPA straightened out, and have them quit destroying demand for our product." 
Firefighters found the semi engulfed in flames in the parking lot of a grocery store. The lone occupant of the truck was pronounced dead at the scene.
One adult and one child died in the Wednesday explosion on tribal land in southeast South Dakota, a tribal police chief said.
The Sioux County Conservatives group is backing mayoral hopeful Kurt Korver and some city council candidates, while blasting current Mayor Deb De Haan, who is running for re-election, for not publicly speaking against a rally in support of gay people.
The driver of a Toyota Tacoma lost control of his truck on the bridge and it collided with an oncoming Honda CRV. Both drivers, who were wearing seat belts, were pronounced dead.
This is the first time that school board elections have been held at the same time as municipal elections, following a change in state law. Backers hope moving school elections from September to November will increase voter turnout.
South Dakota Highway Patrol says the 72-year-old man driving the car missed a stop sign and collided with a pickup truck at an intersection. The driver was airlifted to a Sioux Falls hospital, and his two passengers were killed. 
The dealership will employ 30 to 50 people when it's up and running. It will be equipped with overhead cranes, a large area for combine/forage harvester storage, expanded parts inventory, wash bay and training areas.
HARTINGTON, Neb. -- An 86-year-old Hartington man died Tuesday of injuries sustained in a crash in rural Cedar County. 
"It's not an error. I think Andrew Wheeler, of course, did this on purpose," Ernst said of the EPA director's recent actions on renewable fuel standards waivers, which have been widely criticized by Iowa agricultural leaders.
"This is a symbol of Holstein," Burdette Conover, a Vietnam War veteran, said. Also, Holstein students in recent days made 16 triangle-shaped flag cases, with plexiglass on top to reveal the folded flags.
The collision occurred at 11:18 p.m. Thursday on Crawford County Road E-16, about four miles west of Schleswig, between a passenger vehicle and a semi.
Today is a far cry from 1993, when post commander Lee Fischer, fresh out of the Army, joined the VFW. Back then, the canteen drew crowds to listen to music, have a few drinks and socialize.
Dean Foods acquired the Le Mars milk plant in 2007 after Wells Enterprises divested its fresh milk and cultured dairy holdings to focus on ice cream and frozen novelties. "We just have to wait and see how everything works out," the city's mayor said.
The rancher had just bought the trailer through an online ad from a seller in Missouri, a sheriff's official said. The remains are believed to be those of one of two brothers killed in Missouri and dumped in a manure pile.
The driver says she didn't see the man until it was too late. Police say the man was wearing dark clothing without reflective gear. He was pronounced dead later at a Lincoln hospital. 
"Out of all of the seasons, fall is probably written about the most," Adrienne Dunn said, looking at stacks and stacks of material. "Who wouldn't want to curl up with a good book once the weather starts turning colder?"
The family was at an event in October 2018 when an estimated 60 mph wind gust tore the inflatable from its moorings. Officials say the 2-year-old boy and his sister were thrown about 120 feet. He died; she suffered a concussion and a broken arm.
Seven school foundations are set to benefit from the auctions, which the seller said could bring up to $2 million for the groups. The land comes from the estates of two Le Mars siblings who died in recent years.
A Facebook post by the Ipswich Public Schools says classes were delayed until mid-morning so students could take time to grieve the loss of "two beautiful young people taken far too soon."
Authorities at the time said one man received head injuries while another had broken ribs. The injuries were defined as non life-threatening.
The crash happened just before 1:30 p.m. Friday. Deputies say an eastbound pickup truck collided with a westbound vehicle on the same road, killing the two people inside the smaller vehicle.
Officials say the Mall of the Bluffs on the east side of Council Bluffs is being acquired so Menards can demolish it and build a new home improvement center.
Benjamin and Franklin were raised at the Tyson Ponderosa farm in Storm Lake. Eric Messenbrink, a farm manager for Tyson turkey operation, was chosen to raise and groom the toms as Reynolds pardoned them at Terrace Hill. 
The Siouxland Salvation Army has more than 15,000 hours of bell-ringing to cover this season. When there's no one to ring, money flows far less frequently. "When there's no one there ringing, no one puts money in the buckets," one officer said.
Once striping is completed, traffic will use the outside lanes in each direction with a turning lane in the center. Some work remains to be done and will be completed in the spring.
He was defeated in his first attempt to win an Iowa 6th congressional district seat in 1972, but was elected in 1974. He beat out incumbent Wiley Mayne, whose loss is sometimes attributed to the post-Watergate backlash against Republicans. 
Union members will receive a 2.5 percent raise effective July 1, then 2.25 percent raises over the next two years and a 2 percent raise in the fourth year. The annual safety clothing allowance will rise from the current $210 to $225 next year.
The westbound pickup swerved into the eastbound lanes and struck the semi despite the semi driver's efforts to avoid the collision. the pickup driver was pronounced dead at the scene.
The Cedar Rapids man died Thursday morning after the Jeep he was driving crossed a raised median and crashed into a truck.
The 52-year-old died after the minivan he was driving collided with a semi-trailer Monday morning south of Spencer.
The charges stem from a Nov. 9 crash that killed a 20-year-old woman, who was pregnant, and injured a 3-year-old child. The 69-year-old man is accused of being under the influence at the time of the crash.
Police say the shooting happened about 3:50 a.m. Wednesday and that it occurred after a dispute at some type of gathering. The boy was pronounced dead at the scene. 
A criminal probe identified approximately $18,000 in authorized checks written to the man, who was treasurer from 2014 until September. The investigation also found he took approximately $8,000 in cash donations from EMS fundraisers over four years.
No damage or injuries were reported after the tremor, which the U.S. Geological Survey said registered about 2.9 in magnitude.
Police say the man lost control of the vehicle he was driving on Highway 35 at about 5:30 a.m. Thursday. The vehicle entered the south ditch and rolled. The man was pronounced dead at the scene. 
Kurt Kaser shrugs as he talks matter-of-factly about life since losing his leg below the knee. If not for his quick action in April, the story could've ended tragically. Instead, he adjusts to a second prosthetic leg as he goes about daily chores.
The 47-year-old man was killed Saturday morning as he was trying to remove a vehicle from the ditch, police said.
"I don't know if you want to call it creative. Some people tell me I've got a warped brain," Joe Wachter said with a laugh. Either way: There's no debate the items are eye-catching.
South Dakota voters in November also will decide a measure to allow medical marijuana for patients with serious health conditions. The measure would allow certain patients to use and possess up to 3 ounces of marijuana.
Authorities in eastern Colorado and from federal agencies are also trying to pinpoint the origin of the drone flights. In central Nebraska, officials in three counties were investigating multiple reports of drones flying Sunday night.
The body of the 20-year-old was found on a road outside of city limits. Police called a teenage man a person of interest.
The district contends that the type of bonding the county chose to finance the project should have been subject to a public bond election.
The 39-year-old was working when she was injured. She was airlifted to an Omaha hospital.
On its Facebook page, the Omaha Tribe expressed its sadness, but did not reference a death. "Today, we (are) filled with grief as a community," the statement said.
Rochester agreed to annually ship at least three semi-truck loads of used or broken cathode ray tubes and/or containers of leaded glass to a federally approved disposal facility. He would face fines for failure to meet certain deadlines. 
The man had connected an air hose to inflate a large commercial tire and walked away in order to work on another tire, the sheriff's office said. When he returned, a piece of the steel wheel struck him as the tire exploded. 
The award totaled $376,732 through the Garrett Lee Smith (GLS)/Tribal Youth Suicide Prevention and Early intervention Grant Program.
Standing at a backwards-oriented podium, Drew cited tiredness, in part, as the reason he won't run again. Approaching his 60th birthday this year, Drew said he was "ecstatic" to announce he won't run. 
"It doesn't fit anything that seems to be normal," said Rich Crow, a Morningside College professor who teaches a class on drone rules and regulations and another in which students learn how to fly, maintain and fix drones.
Two murdered women were both victims of Robert Leroy Anderson, nicknamed the "Duct Tape Killer" due to his usage of the product that linked the two crimes. Phil and Sandra Hamman are co-authors with a former South Dakota attorney general.
About 100 piglets were found dead at the crash site. Crews had to euthanize another 17 that were injured.
Court documents say the man, then 45, communicated with the girl using Skout, an app used for dating and finding friends. He sent the girl explicit images of himself and asked her to do the same, the document says.
An officer who heard arguments concluded that the Wisconsin-based company numerous violations showed a continual failure to comply with state regulations.
The man was safely extricated and taken to the hospital for further evaluation. 
The facility, situated in Oak Grove Park at 4051 Cherry Ave., was 12 years in the making. Back then, just one educator was on staff. Four years ago, a second was added to keep up with demand for environmental education programs in the county.