PHOTOS: Woodbury County Courthouse past and present
The Woodbury County Courthouse, located at the southeast corner of Seventh and Douglas streets, opened in 1918. Take a look at the building through the years.
First courthouse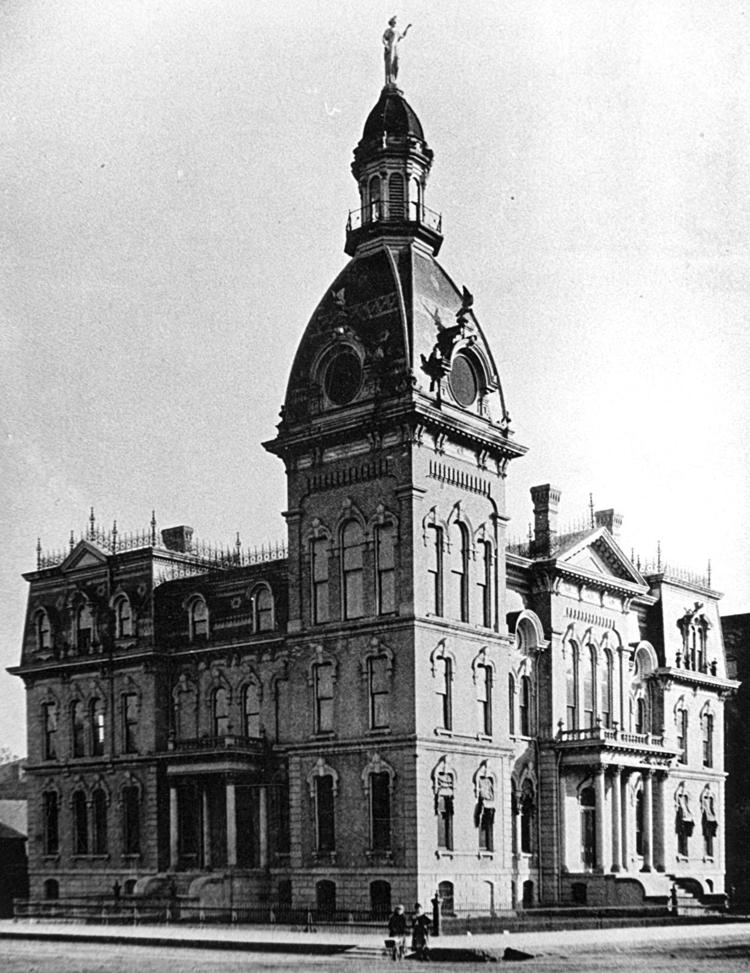 Courthouse construction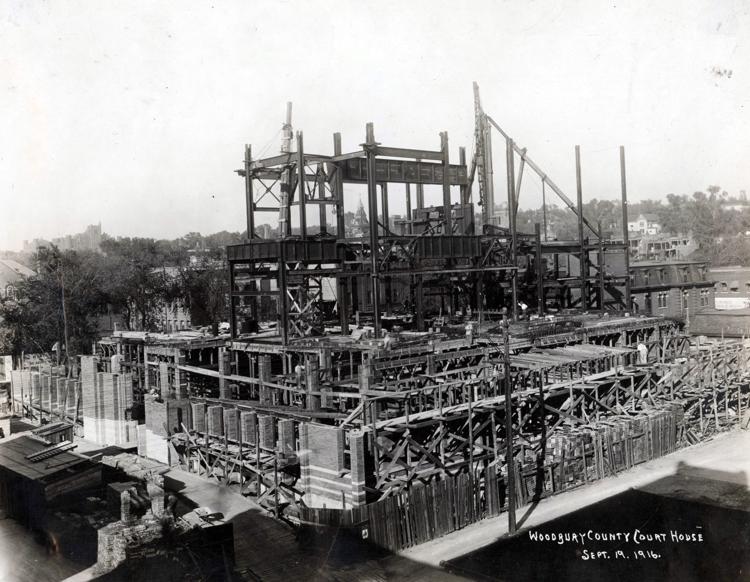 Courthouse construction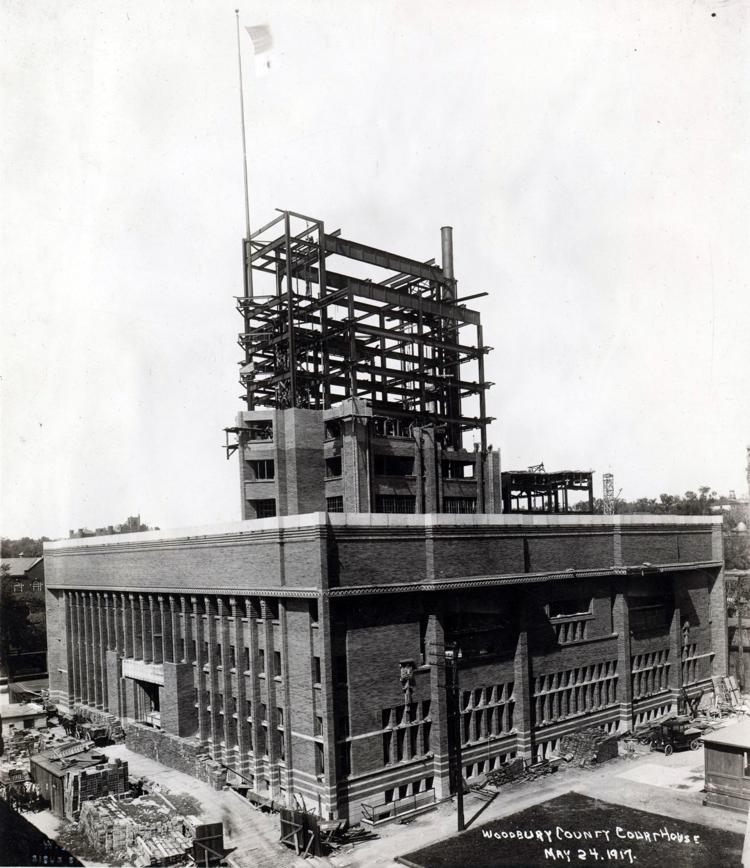 Courthouse drawing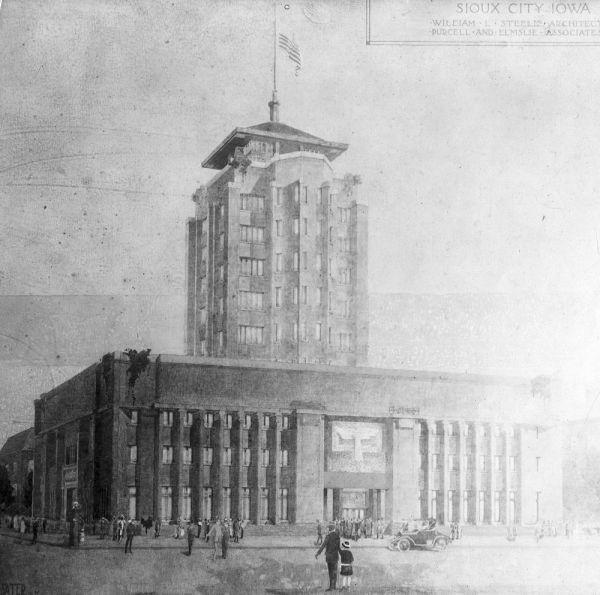 Courthouse dome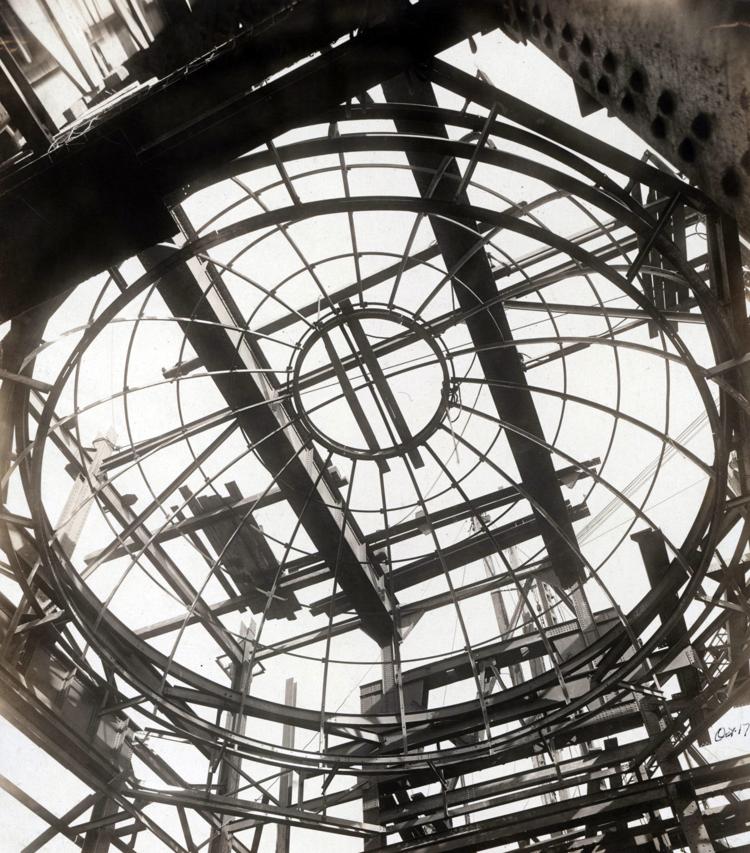 'Western Architect'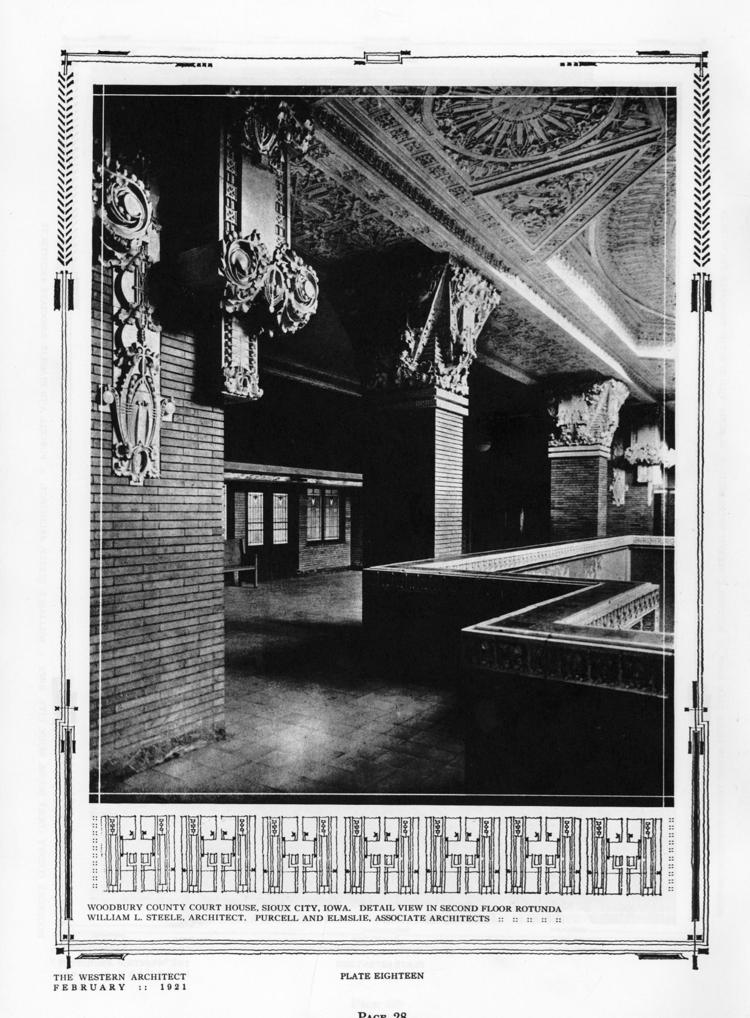 'Western Architect'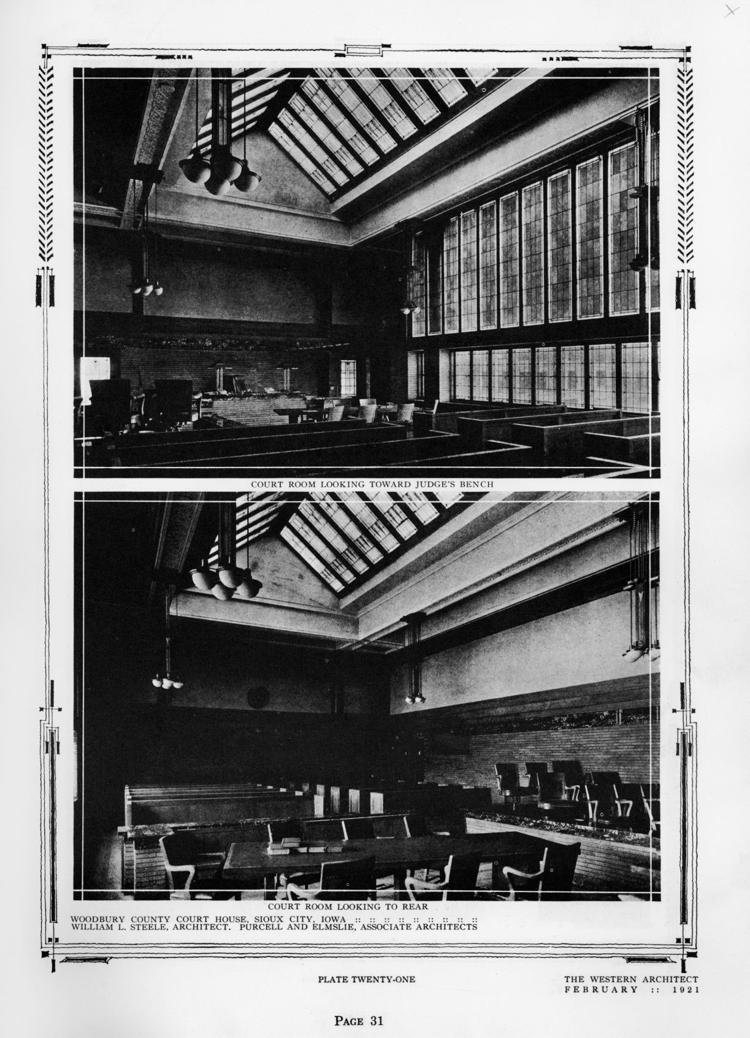 Courthouse and City Hall
Woodbury County Courthouse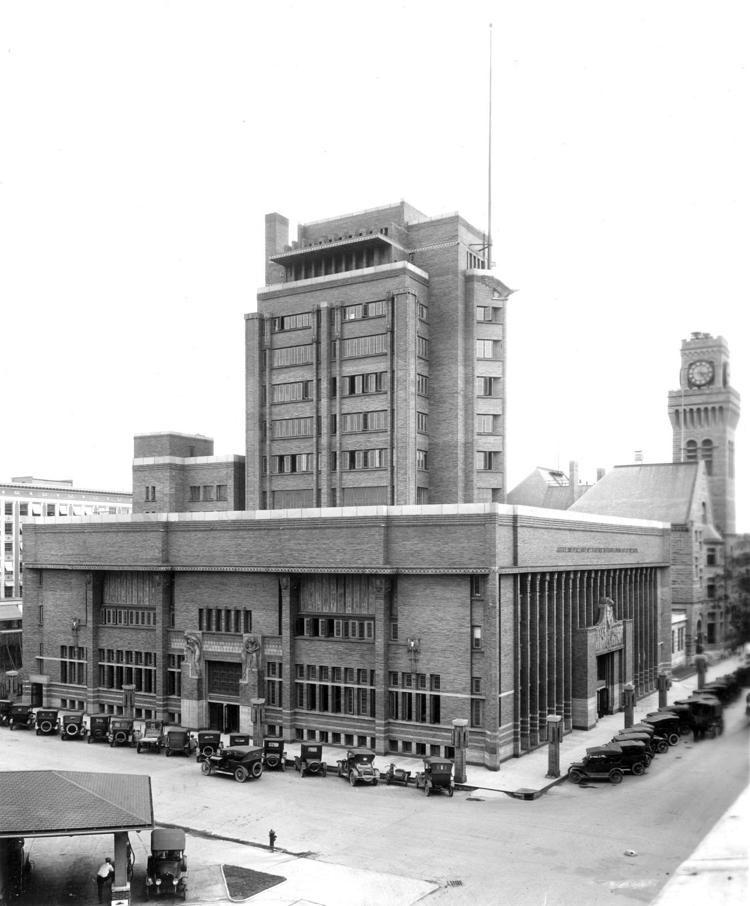 Courthouse interior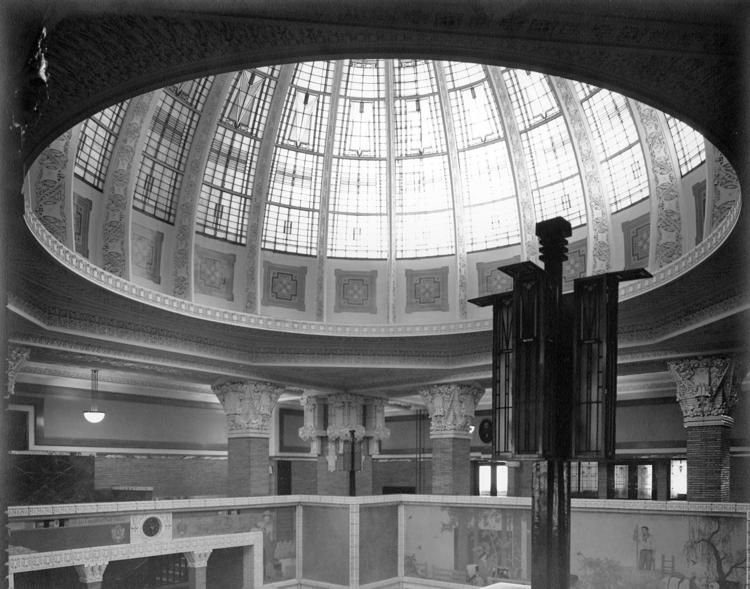 Light fixtures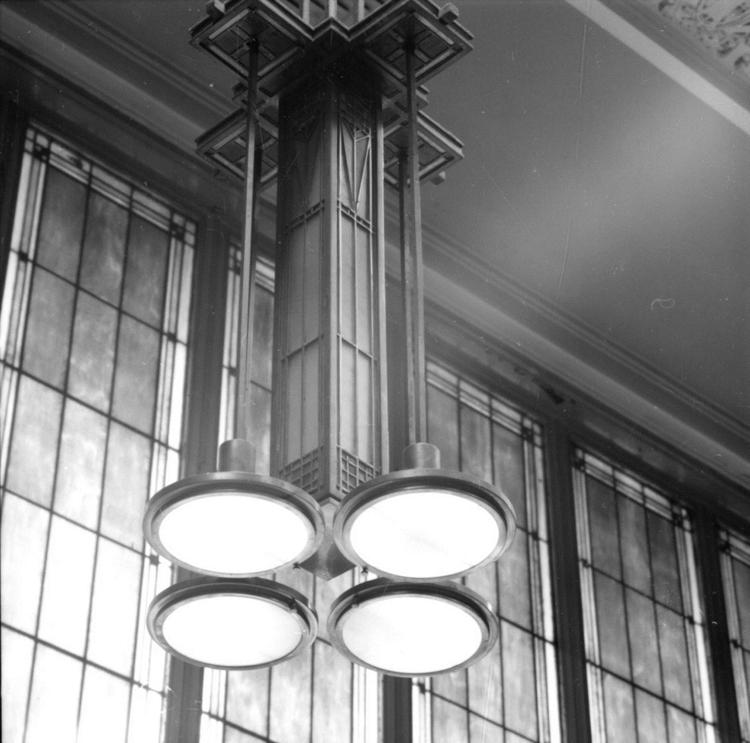 Courthouse mail chute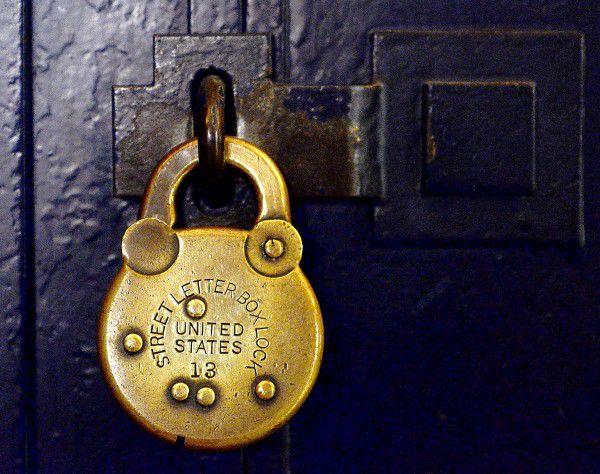 Courthouse security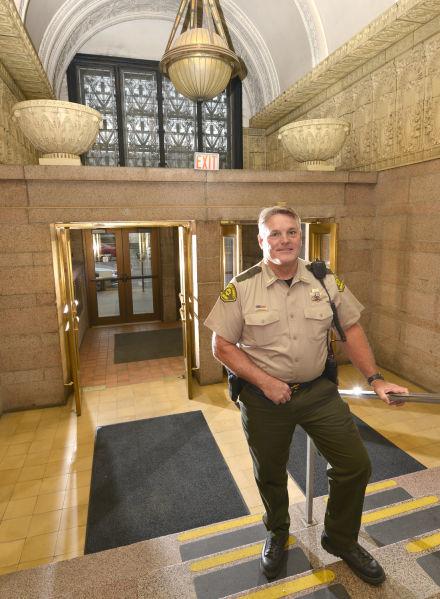 Courthouse elevators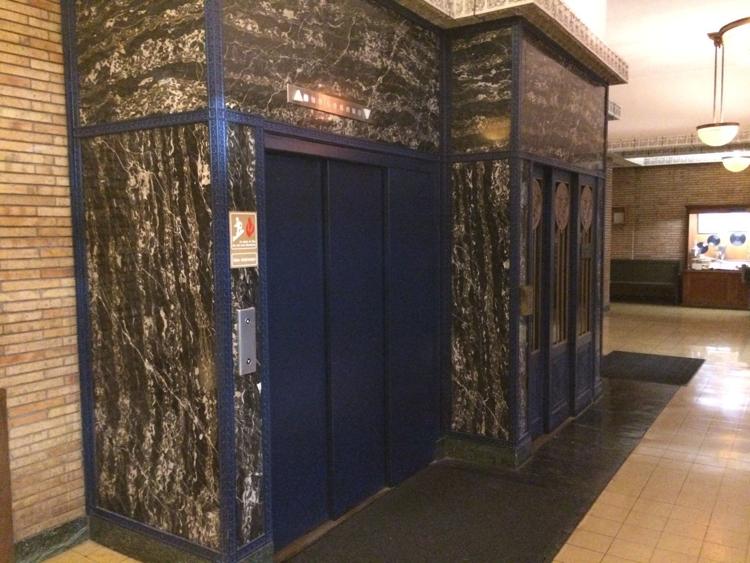 Courtroom repairs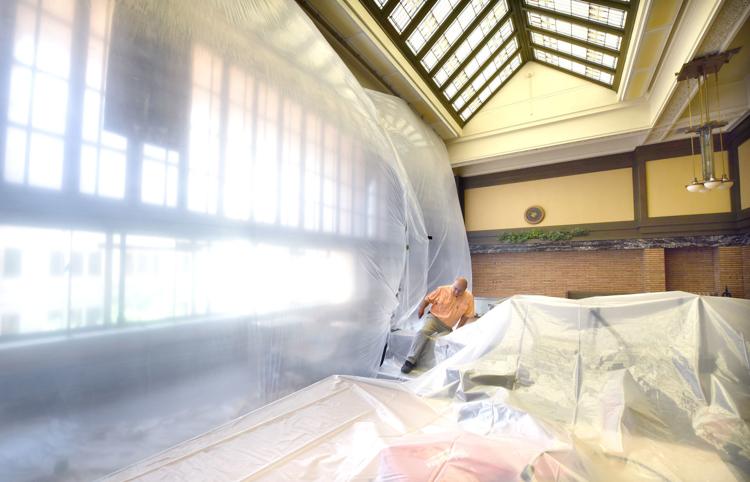 Courthouse terra cotta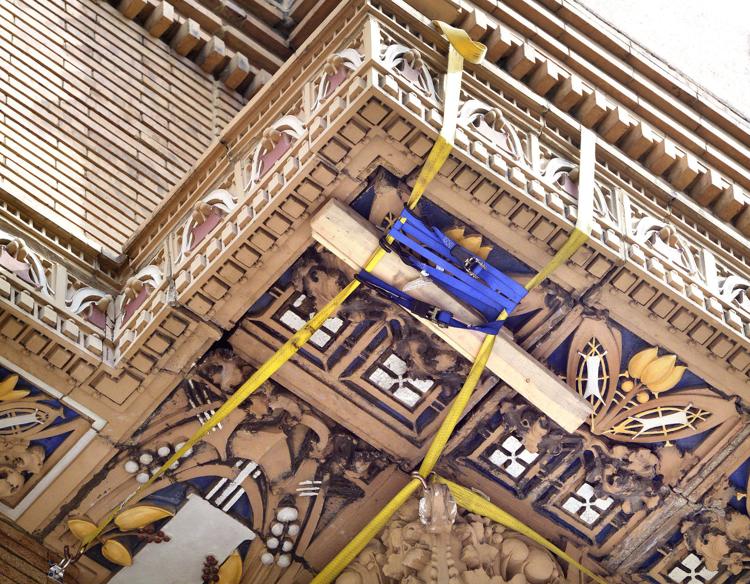 Courthouse terra cotta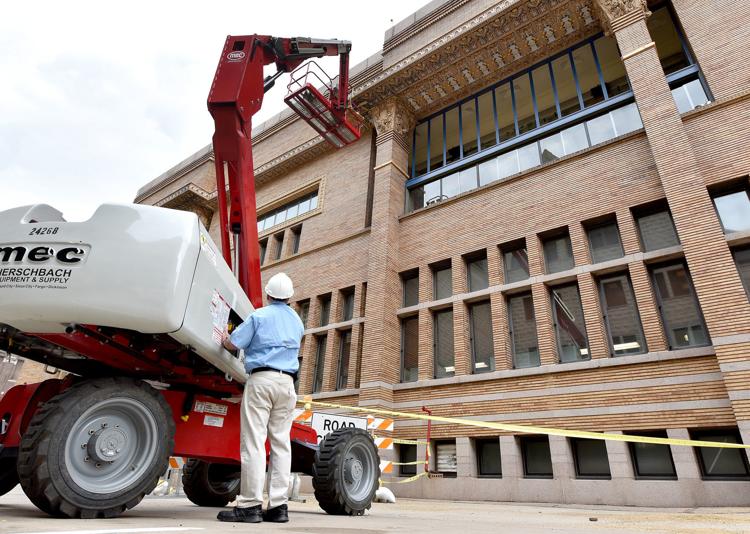 Election Watch Party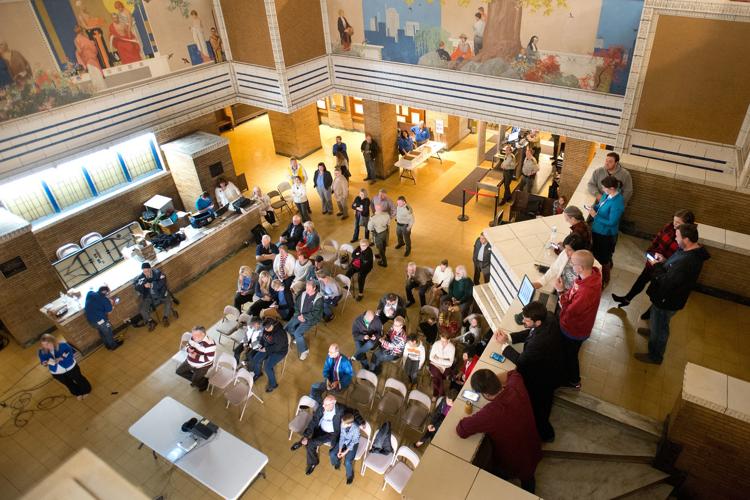 Courthouse repair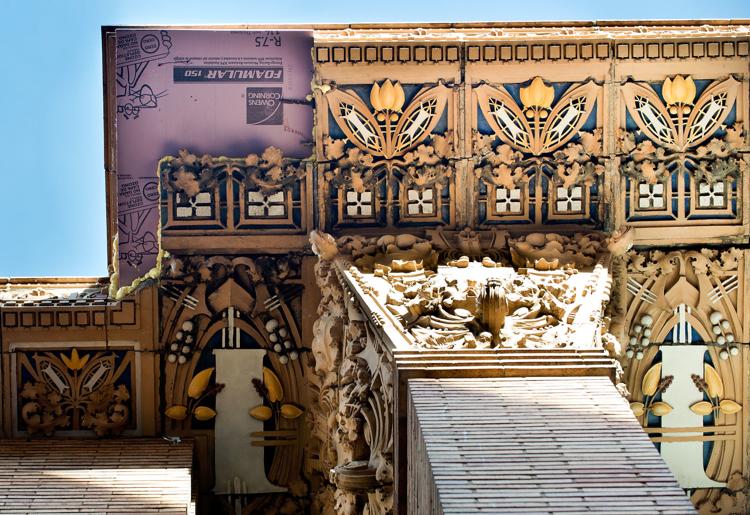 Courthouse architecture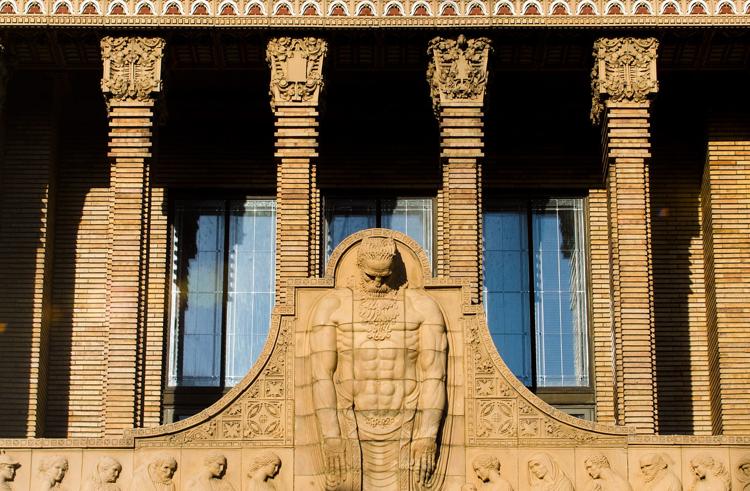 Courthouse architecture
Courthouse exterior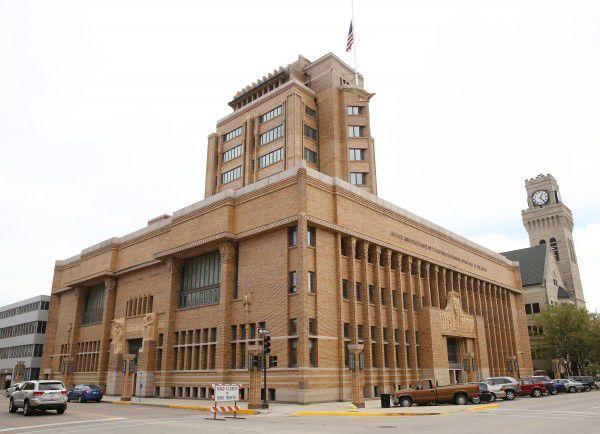 Related to this collection
SIOUX CITY -- The Betty Strong Encounter Center will present "An Expression of Pride: Creating the Woodbury County Courthouse Centennial Poste…
Cory Booker hopes this was a breakout moment for him, and he plans to return to Iowa to maximize any momentum.
The former Department of Human Services director — ousted by Gov. Kim Reynolds without public explanation last month — said he has discussed h…
SIOUX CITY -- The Woodbury County Board of Supervisors agreed Tuesday to advance discussions regarding the potential construction of a law enf…
DES MOINES, Iowa (AP) — Police say an officer used pepper spray on a 9-year-old and his 8-year-old brother who were carrying butcher knives on…
KINGSLEY, Iowa -- A truck driver was injured Wednesday after his semitrailer rolled on a county road two miles east of Kingsley.
DES MOINES -- A Sioux City plastic surgeon has been charged by a state board with professional incompetency. He is accused of providing inappr…
The former head of the Iowa Department of Human Services said he thought the department's funding of a health care policy adviser's salary for…
CEDAR RAPIDS, Iowa -- Iowa is earning kudos for its restrictions to prevent former state lawmakers from becoming lobbyists for two years after…
NORTH PLATTE, Neb. (AP) — The Nebraska State Patrol says troopers seized a cache of guns and drugs during a traffic stop on Interstate 80 near…
SIOUX CITY -- Before she began taking medical cannabis products from MedPharm Iowa in March, Lisa Severson said she would "completely black ou…
SIOUX CITY -- Sioux City Police have released the name of the man who was shot Wednesday near downtown Sioux City.
SIOUX CITY -- Among the five federal prison inmates the U.S. Department of Justice scheduled for execution on Thursday is an Iowa man who rece…
SAN DIEGO -- A judge in California on Thursday ordered a Sioux City husband and wife to be returned to Iowa to face charges of harboring a Gua…
DAKOTA DUNES -- A Dakota Dunes man is facing a class 1 misdemeanor charge of animal neglect after he allegedly left a young dog under his care…
SIOUX CITY -- Authorities in Sioux City and surrounding states are seizing more methamphetamine than they did a year ago.
SIOUX CITY -- A Sioux City man is facing a variety of felony charges after he allegedly threatened several people with a handgun and stole two…
SIOUX CITY -- A Sioux City woman was arrested Monday on suspicion of charging more than $39,000 to her employer's credit cards during a 15-mon…
DAKOTA CITY -- A judge has granted a state request to involuntarily administer medication to a Dakota County murder suspect who has been decla…
SPENCER, Iowa -- A Northwest Iowa man has been arrested on a felony drug charge after police said he sought to deliver marijuana.
SIOUX CITY -- Tran Walker will learn his fate on Thursday.
SIOUX CITY -- The Woodbury County Board of Supervisors voted unanimously Tuesday evening to approve an architectural contract for the proposed…
DES MOINES — Gov. Kim Reynolds said Tuesday the former Department of Human Services director served "at the pleasure of the governor" and she …
SIOUX CITY -- A termination hearing that could end the teaching career of an instructor, who has spoken out against the Sioux City School Dist…
CEDAR RAPIDS -- Sen. Chuck Grassley will support a bipartisan budget compromise to suspend the debt ceiling and raise spending caps by $324 bi…
UPDATE: Sioux City Police Chief Rex Mueller said the gunshot struck an interior seat of the suspect's vehicle.
SIOUX CITY -- An undercover Sioux City police officer was injured Wednesday during an incident in which a Winnebago, Nebraska, man with an out…
SIOUX CITY -- Tran Walker stabbed his ex-girlfriend Paiten Sullivan 43 times. He stabbed his friend Felipe Negron Jr. another 17 times.
STORM LAKE, Iowa -- The Storm Lake Police Department arrested two men Wednesday on felony charges of forgery and money laundering after they a…
WEST DES MOINES -- In announcing his intention to sue the state of Iowa over his forced resignation, the former Iowa Department of Human Servi…
Marriage licenses issued recently in Woodbury County:
At one time or another, all of us likely have either said to or heard this from someone: Money doesn't grow on trees.
SIOUX CITY -- Federal authorities in Michigan are conducting a criminal investigation into a Sioux City plastic surgeon who already is accused…
SIOUX CITY -- Michaelene Parker's son needed a certified copy of his Iowa birth certificate, but he lives out of state.
DENISON, Iowa -- At a firearms-themed fundraiser in Denison on Monday night, U.S. Sen. Chuck Grassley called on gun owners to back so-called "…
SIOUX CITY -- Tran Walker is scheduled to be sentenced next month for the murder of his ex-girfriend and a friend.
CEDAR RAPIDS, Iowa — Iowa Libertarians are challenging an Iowa law they claim puts them at a disadvantage because their candidates must file m…
SCHLESWIG, Iowa -- District Judge Julie Schumacher is one of three finalists to fill an Iowa Court of Appeals vacancy.
WAVERLY, Iowa (AP) — Authorities have released the name of a 4-year-old girl who was accidentally run over and killed in a driveway by her mat…
ORANGE CITY, Iowa -- Religious activist Paul Dorr was found guilty Tuesday of burning LGBTQ-themed books he had checked out from a public library.
A state panel Tuesday approved a $100,000 settlement to resolve allegations that an Iowa state trooper used a choke hold to forcibly restrained her juvenile son during a "chaotic" arrest situation — a contention the state disputes.
SIOUX FALLS, S.D. (AP) — A Sioux Falls man has been given a suspended sentence for accidentally shooting and killing his friend last September.
OCHEYEDAN, Iowa -- Authorities from Osceola and O'Brien counties have recovered several motorcycles, all-terrain vehicles and guns that were s…
LINCOLN, Neb. (AP) — A Lincoln company's former project manager has been accused of embezzling more than $130,000.
SIOUX CITY -- The Sioux City Police Department is investigating a "shots fired" incident that occurred on the west side Saturday night. 
A school librarian and art teacher in Storm Lake is facing a felony theft charge after she allegedly stole more than $2,000 in proceeds from two school fundraising events. 
The defense filed a joint motion to access Walker's records on Thursday after the public defender's office received an allegation that District Judge Tod Deck had represented Walker in juvenile court when Deck was a lawyer.
ANKENY, Iowa (AP) — Court records show a Des Moines newspaper carrier helped save a woman caught in a sex trafficking ring.
LINCOLN, Neb. (AP) — A prison staffer at the Nebraska State Penitentiary in Lincoln has been arrested on suspicion of unauthorized communicati…
All Iowans should sit up and take notice of an Aug. 4 story from The Journal's Des Moines bureau. The headline: "Iowa taxpayers spend millions…
Avila admitted in court that he punched Johnson, who suffered a ring fracture in the base of his skull from the impact with the sidewalk when he was knocked down.
RAPID CITY, S.D. (AP) — Prosecutors in Pennington County have declined to issue charges resulting from a police raid of a health food store an…
Joel Perea Duenas, 18, filed his written waiver of a preliminary hearing in Dakota County Court, and Judge Kurt Rager ordered him bound over for arraignment on Sept. 11.
According to court documents, Cheryl Stowe, 66, had told friends that her grandson's behavior was becoming more aggressive and their relationship was strained before he allegedly killed her in June 2018.
Auditor Pat Gill said the use of paper ballots ensures that election officials can conduct a hand count if there are concerns that vote totals may have been doctored or falsified because of a security breach.
In a letter, City Attorney Ross Den Herder says the commissioner's recent social media posts are "perceived as threatening to City staff and its elected officials."
A witness said she saw a woman in handcuffs sitting on the ground, crying and telling people to stop fighting. As the woman tried to get up, the officer "turned around and busted her in the face," the witness said.
ALLISON, Iowa (AP) — A northern Iowa sheriff says improper employee payments uncovered by a state audit were errors caused by a misunderstandi…
Bigamy is a felony in South Dakota, punishable by up to two years in prison and a $4,000 fine. Tim Bormann, chief of staff in the Attorney General's Office, says the last time there were bigamy charges filed in South Dakota was in 2012.
Marriage licenses issued recently in Woodbury County:
After retrieving a credit card from the vehicle, the suspect went to Hy-Vee on Gordon Drive, purchasing $70.47 in goods with the stolen card. 
ELDORA, Iowa (AP) — A man and woman who confined the man's son in a basement in central Iowa have each been sentenced to 30 years in prison.
WEST POINT, Neb. (AP) — Authorities say an Iowa man died after his vehicle collided with another on a northeast Nebraska highway.
According to court documents, Jeremiah Shortenhaus approached a person at a drive-up ATM in the 4600 block of Morningside Avenue on July 27, displayed a handgun, demanded cash, ordered the driver out of the vehicle and drove away in it.
The man used a fake name on a social media platform when he told her he had nude photos of her and threatened to release them to her family and friends if she didn't send him more photos and videos. Later he began to demand sex with her.
Two unoccupied vehicles were reported burglarized at the 1100 block of Lincoln Road at around 5:45 a.m. Tuesday. Four minutes later, reports came in of two more unoccupied vehicle break-ins at the 700 block of Walnut Street. 
Police said the woman had money sent from her retirement account to several places, including Georgia and Texas. Her account holder refused the woman's fraud claim because she voluntarily withdrew the money.
The records say Kelly Bentow paid herself unearned commissions of around $35,500 and misappropriated vendor payments and customer credits totaling $33,500 while working for the company.
Cristobal Francisco-Nicolas did not immediately request a detention hearing and will remain in custody for the time being. Amy Francisco did request a detention hearing, which is set for Tuesday.
Daniel Levering entered a plea agreement with prosecutors, who reduced the charge from first-degree murder in exchange for his guilty plea to the lesser charge.
LINCOLN, Neb. --  Eight people have applied for appointment as district judge in Nebraska's 6th Judicial District, which includes several nort…
Tarsila Ramirez of Sergeant Bluff had sued Smith in 2018. She said in her suit that without informing her, Smith inserted breast implants rather than gluteal implants during her December 2016 buttocks lift surgery.
Francis "Frank" Kistler is accused of attempting to persuade two girls to have sex between January and July, according to the U.S. Attorney's Office. Kistler, 60, used his cell phone and computer to send obscene material to the girls, prosecutors said.
"I enjoy serving," Scott told the Journal. "I just want to see some projects like the trails and the riverfront finished, as well as trying to get some of these streets improved."
STORM LAKE, Iowa -- A Storm Lake man has been accused of insurance fraud after authorities said he falsely reported his car had been stolen.
Chief U.S. Magistrate Judge Kelly Mahoney said it was a "close call," but found that Amy Francisco posed a flight risk and should be detained.
The woman's attorney says they believe the child ate a cookie made with marijuana. The toddler tested positive for THC when tested at the hospital.
Van Dyke came under the scrutiny of federal investigators in the late 1980s. In 1992, a federal jury convicted him of check kiting and lying on bank documents to obtain hundreds of thousands of dollars in personal loans to cover overdrafts at checking accounts at several banks.
"It's a war for public opinion, and it's a war, if you will, for minds rather than a physical one," Pate said, pointing to efforts by Russians, North Koreans, Chinese and others trying to disrupt the U.S. election process and weaken the American public's trust.
Julie Fischer said her appeal will proceed once a written decision is received. She said people have been overwhelmingly supportive of her. "It has been 99 percent positive, people supporting me. They know I'm a good teacher and a child advocate," Fischer said.
Scott ran unopposed in his last election, while Capron easily beat her challenger, Thomas Venesky, with 77 percent of the vote. An Oct. 8 primary will trim the field for the council seat.
DES MOINES -- Gov. Kim Reynolds on Thursday appointed Julie Schumacher of Schleswig to serve as a judge of the Iowa Court of Appeals.
Prosecutors say she took hydrocodone intended for two chronic pain patients at a nursing home in 2016, then faked medication logs to cover her tracks. Later, she took pain medication from another facility and replaced the pills with anti-psychotic and antidepressant drugs.
According to court documents, Elmi Said stabbed Guled Nur after they began fighting inside their apartment. Said is accused of chasing Nur into the hallway while swinging at him with a knife and striking him several times.
U.S. District Judge Charles Kornmann sentenced Kenneth Chase to 17-plus years in federal prison, to be followed by four years of supervised release. Chase was ordered to pay $100 to the federal crime victims fund.
SIOUX CITY -- A Le Mars, Iowa, man has pleaded not guilty to driving drunk and causing a vehicle rollover crash that resulted in his passenger…
A clerk told officers that the suspect -- a male wearing a hoodie -- produced a handgun and demanded money. After he got the undisclosed amount of money, he fled on foot from the store.
The minivan caught fire after crashing. The 40-year-old woman was pronounced dead at the scene. Her name has not been released.
Ronald Taylor is accused of taking $22,883 for home improvements, paying his MidAmerican Energy bills and cash, the complaint said. Taylor has "wiped out" the man's checking account, and the man had no idea his money was gone, according to the complaint.
According to the U.S. Attorney's Office, the man admitted that from Oct. 20, 2017, through Nov. 18, he knowingly failed to register or update his registration as required by the Sex Offender Registration and Notification Act. 
After a day spent drinking Bud Light and cinnamon-flavored whisky, Guled Nur wanted one more beer. Elmi Said wouldn't give him one, his former girlfriend testified, a denial that escalated into an altercation ending in Nur's death.
The driver refused to pull over and attempted to outrun the officer, driving as fast as 60 miles an hour in a 35-mile-per-hour zone. He later abandoned the Cadillac and fled into a house. 
In issuing his latest sentence, the judge noted that James Richards failed to take responsibility for his crime, minimized his actions and expressed his belief that he was the victim.
Tod Deck on Aug. 1 ruled that Walker, 19, of Sioux City, was guilty of two counts of first-degree murder for the Jan. 28, 2018, stabbing deaths of his ex-girlfriend Paiten Sullivan, 17, and mutual friend Felipe Negron Jr., 18.
Police say a search of the 28-year-old man's cellphone revealed several nude photos of the girl. He has been charged with third-degree kidnapping and lascivious acts with a child and is in jail on a $30,000 bond. 
A threat was called into the Buena Vista Communication Center stating that three masked and armed subjects had entered the Storm Lake High School Football Stadium during a Friday night game.
SIOUX CITY -- The Woodbury County Board of Supervisors are holding a rural town hall meeting Thursday in Pierson, Iowa.
County Building Services Director Kenny Schmitz said two major pieces are moving toward framing the scope of a project that has an estimated cost of $49 million. The financial consultant will soon be selected, plus, "we are in the process of doing more detailed drawings" of how the jail could look.
A vehicle chased from Worthington, Minnesota, drove into Iowa and the Otter Creek southwest of Sibley. The driver, 29-year-old Isaac Dane Plentyhorse of Sioux Falls, ran out on foot and was apprehended by an Osceola County Deputy. 
The records say Ashley Eckard used the cigarette Sept. 15 last year to burn her daughter three times on a hand. The records also say Eckard told the girl to say the wounds occurred while sliding down a slide at a bouncy house.
REDWOOD CITY, Calif. (AP) -- Autopsy photos of the fetus Laci Peterson had been carrying before her death brought her husband, Scott, to tears…
Jason Beghe knows his voice sounds gruff.
After obtaining a search warrant, officers opened a moving van and found it full of store merchandise. Also inside were a credit card embossing machine, 15 forged credit cards, three laptop computers and numerous cell phones and flash drives.
Karen Merrick waited in a U-Haul van for a man outside Iowa State Bank on Dec. 12 and drove him away from the scene. She led authorities on a pursuit out of Le Mars and onto county roads before she was stopped in rural Plymouth County.
Under Nebraska law, it is a felony to procure alcohol to a minor if it results in injury or death to any person and was caused by a minor's consumption of the alcohol or impaired condition that resulted from the alcohol.
The Division of Criminal Investigation says that initial reports indicate the driver got out, displayed a gun toward the officers and fled on foot. The agency says officers gave chase, and that both the suspect and law enforcement fired multiple rounds.
A judge placed Sandra Martinez on probation for two years and gave her a deferred judgment in which the charge will be expunged from her record if she successfully completes her probation. She also must pay $2,600 restitution to Sears Holdings.
SIOUX CITY -- A Sioux City man was arrested for robbing a northside convenience store Wednesday night.
The investigation began when students at the school reported seeing a cellphone held in an open doorway leading to the locker room. A search of the phone revealed more than 100 images taken in the locker room as women were fully or partially naked.
Before Judge Zachary Hindman
Marriage licenses issued recently in Woodbury County:
The hearing concerns a new law that changes the selection process and length of service of the chief justice: Mark Cady's term will now end three years sooner than earlier mandated, and his salary will be reduced by roughly $8,000. 
Dwayne Schutt had previously been charged with an additional four counts of third-degree sexual assault of a child. Those charges were not included in the new information filed Friday.
Police say Jesse Azbill had given his son permission to drive the vehicle, and Azbill was in it when the little boy was struck Aug. 6 while riding a bicycle in Waterloo.
The 28-year-old received a deferred judgment, was given credit for previous jail time served and was placed on probation for two years. She was fined $750 and ordered to pay $4,422 in restitution.
City officials said they have had many meetings with the owner and its representatives regarding the safety code violations at 809 and 909 E. Seventh St. "To date, the buildings remain out of compliance," they said.
Judge Jeffrey Viken told 19-year-old Emery Arapahoe in court Tuesday in Rapid City that in 42 years as a judge, defense lawyer and prosecutor he has rarely seen the type of violence the defendant displayed.
The field manager of an Iowa hog farm said that a woman with whom he was having an affair told him last year she was deathly afraid of her husband — a man now accused of using a corn rake to kill her.
Eliot Stowe was arrested Nov. 20 and charged with murder, months after Cheryl Stowe's body was found wrapped in a rug in a well-hidden area near her home on June 27, 2018, a day after co-workers had contacted authorities to check on her because she had not shown up for work.
They pleaded guilty to two counts of negligent child abuse causing serious injury. Prosecutors reduced the charges in return for their guilty pleas. The plea agreement says prosecutors and defense lawyers will recommend five years of probation for each parent.
Julie Fischer is asking for a reversal of the board's decision, reinstatement to her former job and an award of back pay and benefits. No hearings have been scheduled.
SIOUX CITY -- The Sioux City Police Department made three arrests Thursday and seized large amounts of marijuana, cash and guns in connection …
"I certainly hope that to whatever extent it's possible, Mr. Walker, you use your time in prison to better yourself," said Judge Tod Deck, who presided over the trial in May after Walker waived his right to a jury trial. Walker did not speak at sentencing.
Before Judge Jeffrey Neary
Marriage licenses issued recently in Woodbury County:
The bodies were found early Friday morning after sheriff's deputies were called to the scene. A construction company worker had reported that one of his co-workers was missing. The company was working on a residential site near the sandpit.
Police were dispatched to the area after emergency dispatchers received a 911 call in which a child was crying that they were all alone before hanging up. Officers searching the area heard a small child crying inside an apartment and gained entry. 
The Storm Lake man is accused of passing fake bills at The Brew Convenience Store and the Yesway store in July. When he was arrested, police found another fake bill in his pocket, court documents said.
A jury found William Thoman guilty of asking Ken Jones to help him obtain a gun to commit the murder, but not of soliciting a hit man to kill the doctor. He was sentenced to 15 years in prison, with nearly 10 years suspended and credit for time served.
Any firm hired as a consultant could pursue the best course of action in financing the project. According to Tuesday's discussion, the county would not pay any financial adviser unless the proposal ultimately moves to a public vote on financing.
The $32 million, physician-owned and directed surgical center will a wide variety of medical care. The first surgeries are scheduled for the second week of October. "We want to be a destination. This state-of-the-art facility will help make us a destination," the mayor said.
Iowa Republicans claimed the decision was as an attempt to overturn the 2016 election of the Republican president. At a news conference, GOP Gov. Kim Reynolds said, "My message to Congress is do your job."
A court document says a surveillance system showed Justin Heard loading brass into a vehicle at Magnolia Metal. Investigators say he sold the brass for nearly $14,000 to a recycler in Council Bluffs.
An inquiry found that some employees who were working long hours improperly targeted the employee out of anger about the impact of his leave. Multiple employees will face disciplinary action and training, but none are expected to be fired or demoted.
Like many new retirees, Dax has gone through an adjustment period. His days now are spent at home, getting out in the back yard each morning and going to a nearby hill to play ball later in the day. "It's got to be boring here for him," his longtime handler said.
The seven-term senator made the remarks when asked whether his party was "blinded by partisan worship" of Trump and "refuses to put country above politics." Based on media reports, "you draw the conclusion that the Democrats are blinded to do anything policy-wise," he said. 
An autopsy determined the man's death was related to an injection of an anesthetic, propofol. Investigators say he'd told family members he believed his wife was poisoning him. She faces life in prison without the possibility of parole.
Police say the man took his baby to the emergency room. Doctors there and others later at Omaha hospital found bleeding around the 7-month-old boy's swelling brain and bleeding behind both eyes. A court document also says doctors found a skull fracture and a spinal cord injury.
Prosecutors say the 30-year-old was at a halfway house following prison time for being a felon and domestic abuser in possession of a firearm. While out on a pass he met a 14-year-old girl. He persuaded her to become a prostitute and send him explicit images of herself.
The Storm Lake police chief has made it clear through continuous community outreach that he wants the police department to be trusted. He also takes his message to Twitter, where he often tweets to politicians and others he believes are spreading misinformation about immigrants and the law.
Marriage licenses issued recently in Woodbury County:
The request claims that FSM citizens have reported "serious and sustained abuse," including potential human trafficking, labor abuse and "what appear to be other violations of U.S. law." Representatives from Seaboard Triumph Foods couldn't immediately be reached for comment.
A court document says the 45-year-old injected her mother on Nov. 6 last year. The document says the insulin caused the woman to have low blood sugar. That could have resulted in her death if she were not treated.
The fight was between a 15-year-old boy and a 37-year-old man. A report said the teenager fled from the scene but surrendered to police later.
Editor's note: The Journal editorial board asked the five candidates for City Council in the Oct. 8 primary election to write no more than 500…
Editor's note: The Journal editorial board asked the five candidates for City Council in the Oct. 8 primary election to write no more than 500…
Schumacher had no idea when she started her career that the experience she was gaining would lead her to one of the highest courts in Iowa. "When you graduate from law school, you never really think about things like this, you put judges at another level," she said.
Sioux City Mayor Bob Scott said city officials have contacted STF and believe the company is "trying to do everything they can to treat the employees fairly." He added, "What we've been led to believe is they're working hard to solve any problems there."
The change was required because of a new Iowa law. County auditor Pat Gill provided a seal to supervisors Tuesday containing a graphic presentation of a bundle of wheat, with the words in a circle, "Seal of the County of Woodbury Iowa."
SIOUX CITY -- A Sioux City man was sentenced Monday to 15 years in federal prison for selling methamphetamine.
GAYVILLE, S.D. -- A lockdown at the Gayville-Volin School ended Wednesday morning a few hours after it began, according to a press release fro…
Investigators determined that a mid-sized SUV was traveling at a high rate of speed while driving westbound on Third Street across Wesley Parkway. The driver reportedly lost control of the vehicle while making a sharp turn at Kansas Street.
Editor's note: The Journal editorial board asked the five candidates for City Council in the Oct. 8 primary election to write no more than 500…
Editor's note: The Journal editorial board asked the five candidates for City Council in the Oct. 8 primary election to write no more than 500…
Editor's note: The Journal editorial board asked the five candidates for City Council in the Oct. 8 primary election to write no more than 500…
Police say the assaults occurred at Deb's Day Care, which was operated by the man's ex-wife while the two were married. State officials shut down the day care after the abuse was reported, and she no longer is allowed to provide care for any children other than her own.
STF acknowledged it works with a recruitment firm in Micronesia. The company said it launched an investigation immediately after the allegations became known, and has been working with its Micronesian staff, the Sioux City Human Rights Commission and a union to address any issues.
A sheriff's office says an eastbound sport utility driven by 79-year-old Francisco Alarcon crossed the center line and hit an oncoming SUV being driven by 75-year-old Janice Preister. A third vehicle soon struck the eastbound SUV.
The man was arrested in 2017 after a girl who had worked for him told police she found a video camera hidden on a shelf in the bathroom after the 50-year-old store owner had asked her to try on dresses.
The most dramatic drop was in the number of murders and non-negligent homicides, which dropped 56 percent from 2017 to 2018. Nationally, the estimated number of violent crimes as a whole decreased 3.3 percent in 2018 from the prior year.
The two are accused of using stolen credit card numbers to produce credit cards and make purchases totaling at least $24,198. They were arrested June 11 after employees at Sioux City's Scheels sporting goods store at Southern Hills Mall noticed suspicious behavior.
Marriage licenses issued recently in Woodbury County:
Investigators learned that the 37-year-old had traveled with the girl in Iowa, Nebraska and Illinois. They stayed at several motels along the way, with Brooklyn Pohl posting online ads offering the girl for sex acts.
Pat Grassley said he asked his influential Republican grandfather, Sen. Chuck Grassley, not get involved in the Iowa House leadership contest. "Everywhere I go there's this conspiracy theory that I've been groomed since the beginning of time to take" the Senate seat, Pat Grassley said.
Many owners fear higher valuations will force them to pay a higher property tax bill next year, but they won't know for sure until local governmental bodies set their new tax levies. City Assessor John Lawson said Monday said he's appealing the order.
Prosecutors say the man was armed when he approached the truck driver at a post office distribution center and forced him into the truck cab, covering his head and binding his hands. The man worked for the postal service at the time.
The people sold painkillers to a casino employee and encouraged others to do so, in a successful attempt to get the employee to manipulate their rewards earnings.
Results from the Woodbury County Auditor's office showed Capron got 49 percent, while Schoenherr received 28 percent of the vote. With 4,456 votes cast, turnout was just over 10 percent.
The man is suspected of approaching a person at a drive-up ATM in the 4600 block of Morningside Avenue in Sioux City on July 27, displaying a handgun, ordering the driver out of the vehicle, then driving away in the vehicle.
Responding to a counter-proposal from nurses, MercyOne management "claimed they are not making any money and cannot meet the Nurses demands," according to a union statement. A Mercy executive acknowledged the company's financial challenges.
According to court documents, the woman entered the store  Sept. 10 while wearing a mask and sunglasses. She is accused of pointing a BB gun at the clerk and demanding money. She left the store with approximately $1,200 in cash.
The city sued Andersen Farms Inc. and other parties seeking payment of a $120,034 invoice it sent for payment of emergency expenses the city incurred in response to the 2018 grain elevator explosion. One worker died in the explosion.
SIOUX CITY -- A 6-foot 3-inch man with a beard and a career in the mental health field, Carter Smith knows he doesn't fit into anyone's idea o…
Freddy Bernal had held a baby out of the window of a moving car in order to threaten the mother. He received 13 years in prison.
In recent years, everyone receiving their first Iowa driver's license should have gotten a REAL ID, marked by a star in the upper right-hand corner. That's not necessarily the case for those simply renewing licenses.
Marriage licenses issued recently in Woodbury County:
After throwing a hammer at a store worker, the suspect threw two 40-ounce liquor bottles at a police officer then pulled out a pocket knife and yelled, "You come any closer, I'll cut and kill you."
For four consecutive election cycles, from 2005 to 2011, voters ousted at least one incumbent. Capron avoided that dubious distinction in 2015 when she cruised to re-election, but she did not reach 50 percent of the primary vote last week.
Samuel Heinrich said in the lawsuit that The Rev. Dale Koster sexually and physically abused him, beginning in 1968 when he was about 9 or 10 years old. Koster was not among the 28 priests the Sioux City Diocese identified earlier this year as being credibly accused of sexual abuse.
Police arrested a 17-year-old Storm Lake girl for third-degree harassment, and identified Bowman as a second suspect. According to court documents, Bowman sent the 15-year-old a message that she was going to "pop a bullet" in her.
The shooting happened around 8 p.m. Friday, when police were called to the scene on the west side of the city. Police say they have arrested a 16-year-old boy and are looking for a 19-year-old man in connection to the shooting death.
Franken, 61, a retired three-star admiral who grew up on a rural northwest Iowa farm, said believes he has the pragmatism to "achieve the achievable" and is progressive enough to "aim for the heretofore unachievable."
"We are doing what she is already thinking that we are not," Councilwoman Rhonda Capron said of her challenger. "Bottom line is, we're on it."
He was accused of entering an apartment grabbing a woman, who was an ex-girlfriend, pulling her off the bed and hitting her before trying to rip her underwear off.
The IRS imposed the $87,000 penalty this month after examining the county's employment tax records from 2016 to 2018. Officials say the penalties are the result of how the county withholds payroll taxes from employee paychecks.
The pursuit began at 4:15 a.m. Tuesday south of Sioux City on Interstate 29 and continued on gravel roads. Both men had warrants for their arrest in South Dakota.
The six candidates asserted they would perform well as good stewards of taxpayer money and ensure district students get a quality education. Several took exception with the amount of state funding approved by legislators, calling it too low.
While employed as a police officer, Richard Zalabowski provided alcohol to a 19-year-old girl on Dec. 8 at a party at The Ritz in Arnolds Park, Iowa.
First and foremost, I would like to thank The Sioux City Journal for this opportunity to highlight the issues that I believe will allow our ci…
I stand for a better quality of life for all Iowans. I have a mission to serve the people as they deserve. I believe every public servant has …
Officials say the case began last year when a concerned parent reported to police an inappropriate conversation she found on her 11 year-old daughter's Facebook account with Brian Lee Rhodes. 
Police assisted animal control Wednesday afternoon as they confiscated a dog they believed bit a person in the arm and hand last week. The person was treated at a local hospital.  
According to court documents, the man admitted touching the girl, whom he considered his girlfriend, and leaving hickies on her on Sept. 25. He also told police he had touched the girl about a month earlier.
Melissa Camargo-Flores' trial had been scheduled to begin Tuesday. It was the fifth time the trial has been continued. If found guilty as charged, she would face a mandatory sentence of life in prison without parole.
On four separate occasions, Stephanie Holbrook and another person sold nearly 1 pound of meth to a person who was cooperating with law enforcement.
A man inside an apartment began shooting at Guthrie County deputies and a local police officer attempting to serve a warrant. The wounded suspect finally surrendered after a roughly 90-minute standoff.
Before Judge Steven Andreasen
Marriage licenses issued recently in Woodbury County:
BOYDEN, Iowa -- The death of a Boyden man who was found dead in his burning home is under investigation by state and local investigators. 
SIOUX CITY -- A driver was arrested Saturday night after a collision at the intersection of Fifth and Jackson streets that temporarily closed …
The jury found that Derek McIntosh shot a cat belonging to a North Sioux City man and his girlfriend on May 5 in the cemetery in North Sioux City. He faces a maximum sentence of one year in jail for killing an animal.
Brent Mack previously has been charged with intentionally setting a corn crib on fire in Sac County in August. He is now accused of setting a fire, to which 20 area agencies responded, that destroyed three vacant buildings in Newell in 2017.
The 56-year-old man is wanted by the Woodbury County Sheriff's Office for a parole violation. He is on parole for second-degree arson.
According to court documents, the 31-year-old was involved in a verbal argument outside an apartment complex in the 1000 block of East Milwaukee Avenue when he fired a handgun in the air. No one was struck.
The investigation began when college students reported seeing a cellphone held in an open doorway leading to the locker room. The man, a janitor, told police he had been texting, but a search of his phone revealed more than 100 images. 
Mayor Pro-Tem Dan Moore said "the threat of litigation" triggered the need to revisit the ban. He said exceptions will need to be made for pit bulls that are service and companion animals. 
LaDonna Kennedy was arrested after officers observed an "overwhelming odor of raw marijuana" coming from the home. Investigators say 18 marijuana plants, several bags of marijuana and drug paraphernalia were found. She later resigned.
The districts, including Sioux City and Akron-Westfield, will combine to pay $650,000. The woman claimed in the suit that each district knew Kyle Ewinger, who is serving a 55-85 year sentence in Nebraska, had inappropriate contact with students.