PHOTOS: Sioux City hospitals past and present
Vault through the history of healthcare in Sioux City, from its first hospital to modern-day, state-of-the-art medical facilities.
Samaritan Hospital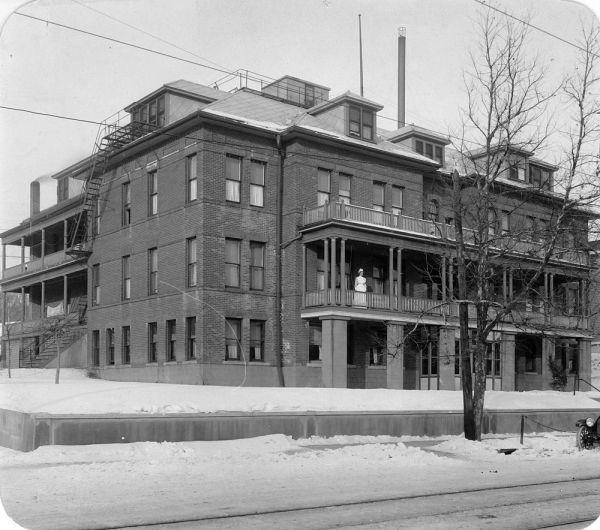 Hospital at 28th and Jennings streets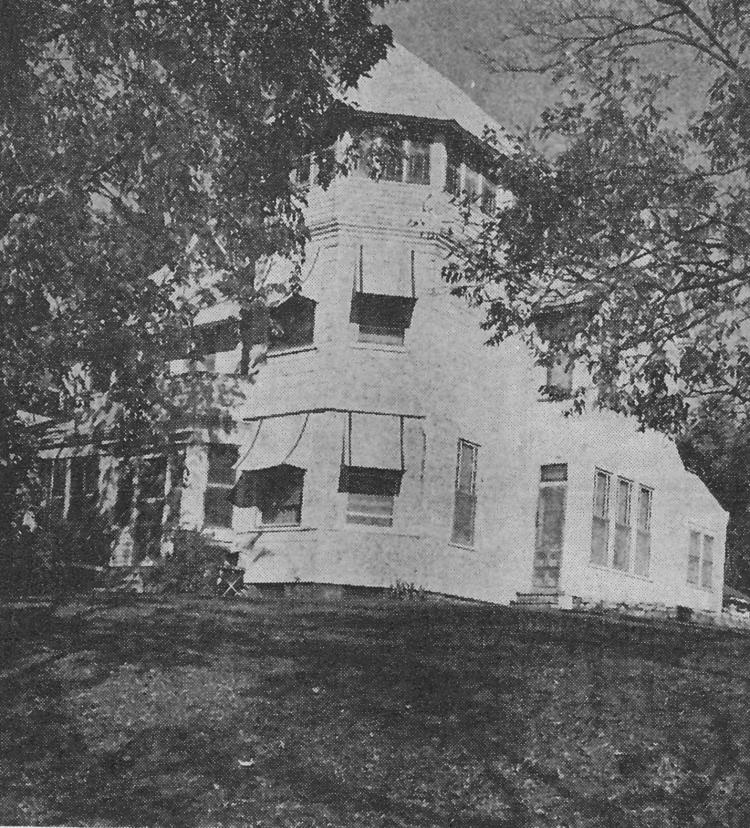 St. Joseph Hospital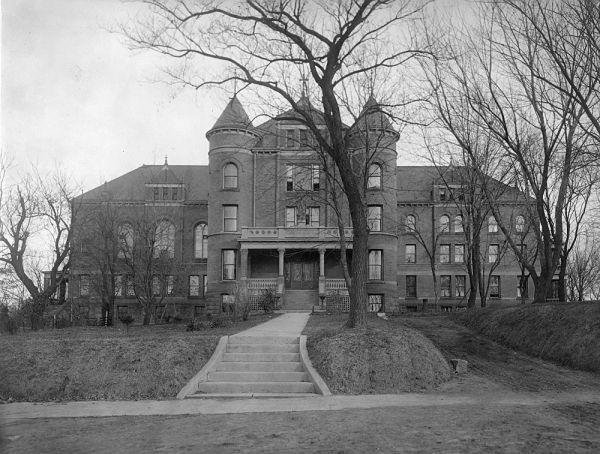 St. Joseph's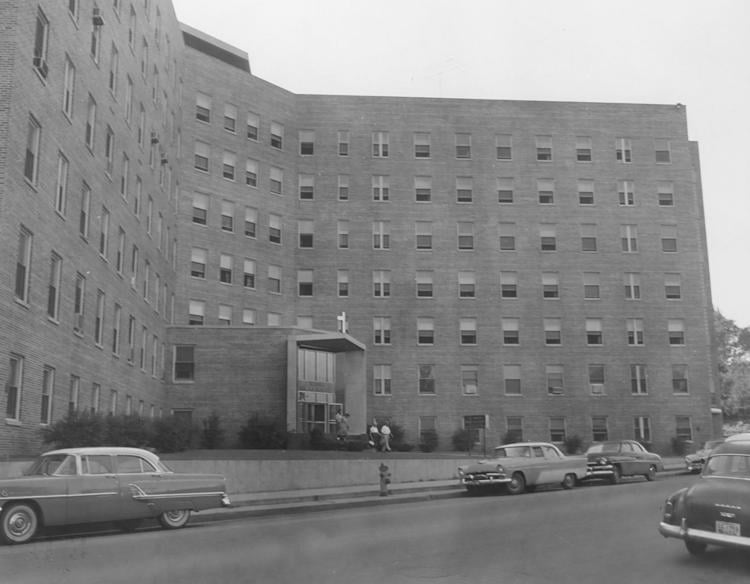 St. John's Hospital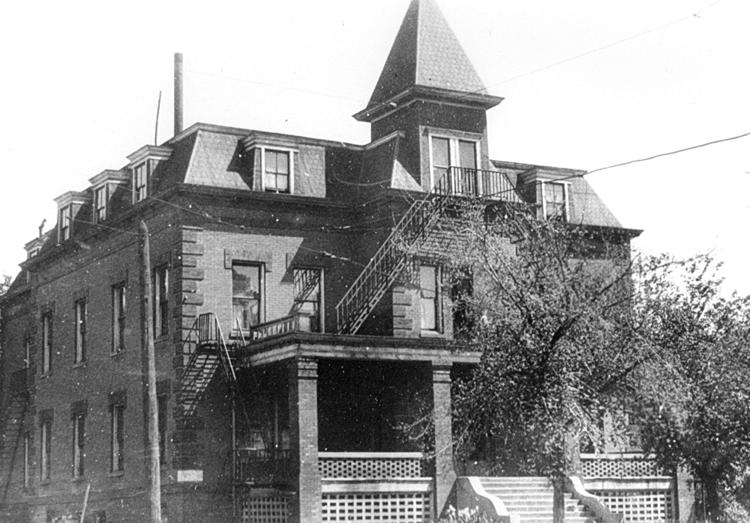 St. Vincent Hospital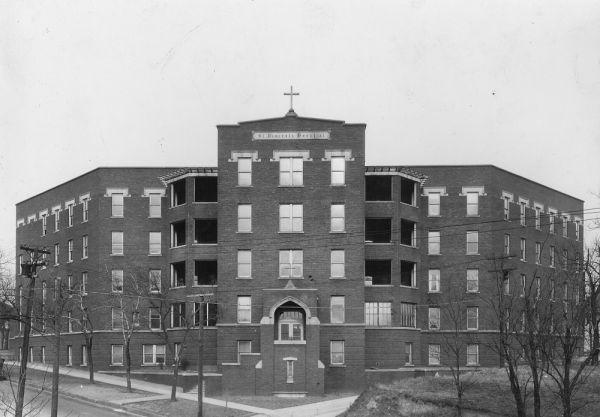 Methodist hospital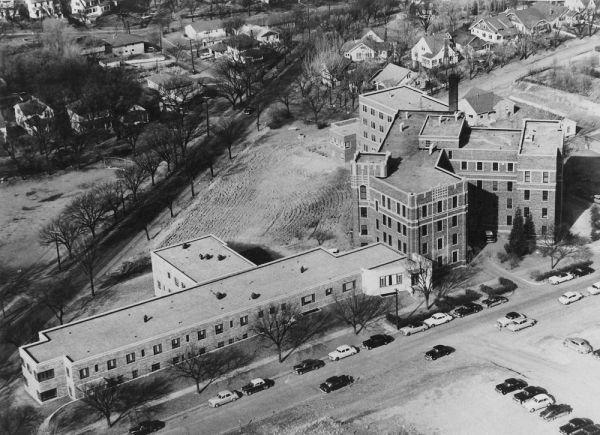 Lutheran hospital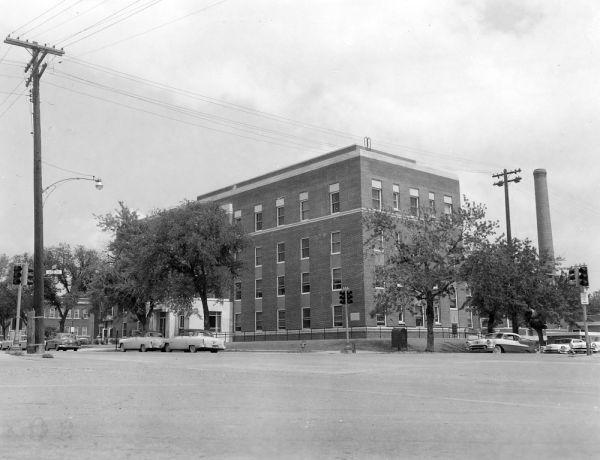 St. Joseph demolition, 1968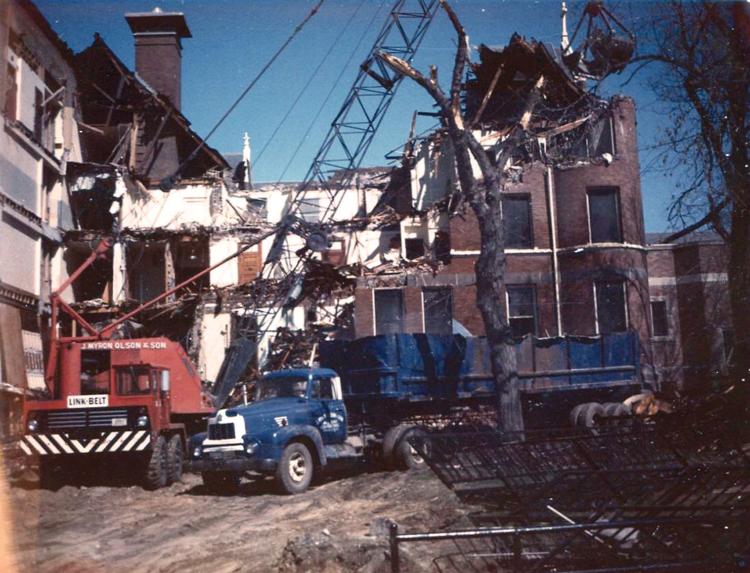 Health Mercy Air Care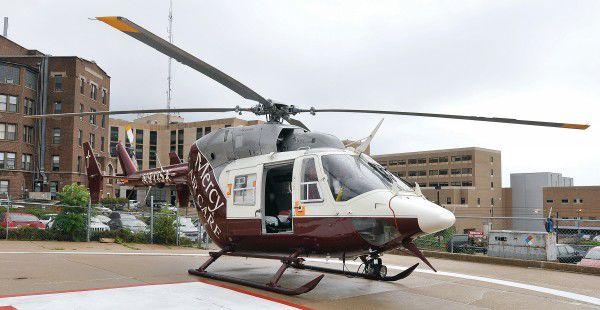 Crane moves MRI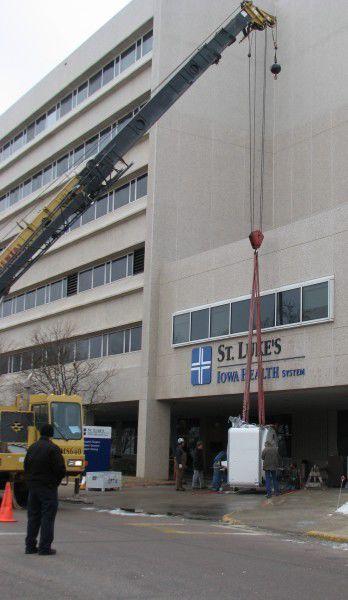 UnityPoint Health-St. Luke's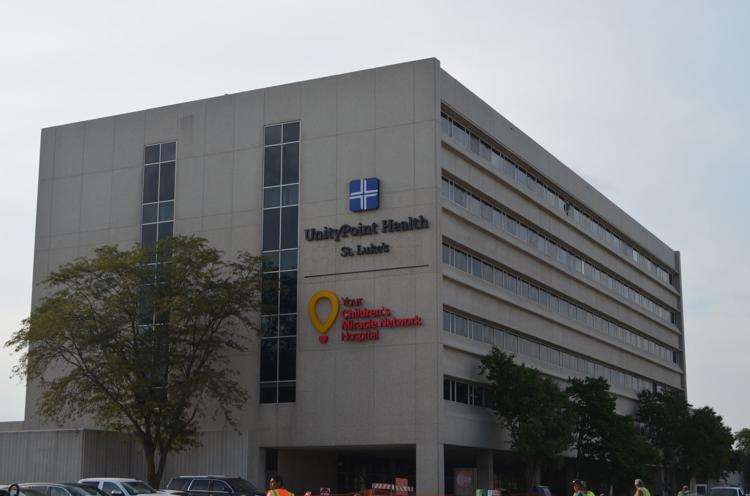 Mercy Medical Center - Sioux City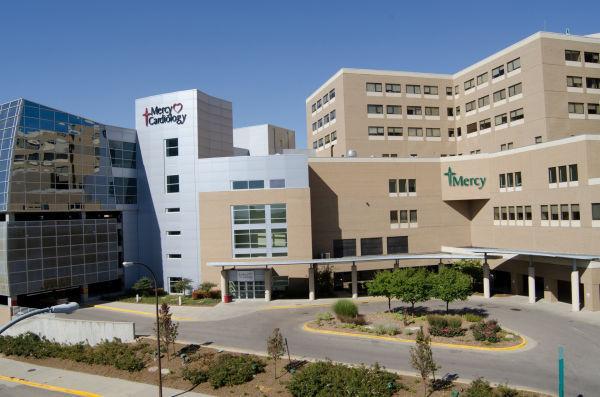 Related to this collection
Jump back in time to see what Sioux City looked like more than eight decades ago.
Historic images of blizzard conditions in and around Sioux City.
Photos of Sioux City fire stations and fire equipment from the archives.
Go back in time to the hot spots of Sioux City in the 1960s, from downtown to the stockyards.
DES MOINES -- At the request of Gov. Kim Reynolds, Iowa Department of Human Services Director Jerry Foxhoven has resigned.
SIOUX CITY -- Kate and Mick Connealy will chair the MercyOne Siouxland Medical Center Foundation fall gala on Nov. 2 at the Delta Hotels by Ma…
IDA GROVE, Iowa -- Not to sound too cliche, but the third time was the charm for the OABCIG school district and its effort to pass a bond issu…
SIOUX FALLS -- UnityPoint Health, the operator of Sioux City's UnityPoint Health-St. Luke's hospital, and Sanford Health have signed a letter …
SIOUX CITY -- During Wednesday night's Sioux City School Board work session, the board voted 5-1 against the consideration of an audit by the …
SIOUX CITY – The heat is hot, and Siouxland felt it this weekend. The streets of Sioux City remain scorched following a weekend of near-triple…
SIOUX CITY -- Madalyn Copcutt traveled more than 10,500 miles from her home in Perth, Australia, to Sioux City to have Dr. Giovanni Ciuffo rem…
The two companies that manage Iowa's Medicaid program will receive an 8.6 percent increase in state and federal dollars for next year, accordi…
NORFOLK, Neb. (AP) — What does it take to make a mind-meltingly cool guitar?
SIOUX CITY -- Contending there is a need for the top state taxpayers' watchdog to get involved, Sioux City school district watchdog Dan Greenw…
SIOUX CITY -- Veteran Sioux City school board members Mike McTaggart and Jackie Warnstadt both say they won't run for re-election this fall.
The former Department of Human Services director — ousted by Gov. Kim Reynolds without public explanation last month — said he has discussed h…
WALTHILL, Neb. -- A speech pathologist is suing administrators at Walthill Public Schools and the Educational Service Unit that supports it, a…
Iowa has seen a sharp reduction in opioid deaths, something state officials attribute to increased oversight and new legislation.
The former head of the Iowa Department of Human Services said he thought the department's funding of a health care policy adviser's salary for…
I fell asleep on my leather chair and when I awakened I had a rash on my arm. Is there a leather allergy? Or what could it be?
SIOUX CITY -- Something clicked in Javier Fuentes' mind the summer before his junior year at West High School.
DES MOINES — Gov. Kim Reynolds said Tuesday the former Department of Human Services director served "at the pleasure of the governor" and she …
SIOUX CITY -- A termination hearing that could end the teaching career of an instructor, who has spoken out against the Sioux City School Dist…
SIOUX CITY -- About four years ago, after enrolling her daughter, Amariana, in Project Austin, Reyna Anderson remembers sitting in the auditor…
SIOUX CITY -- Tran Walker stabbed his ex-girlfriend Paiten Sullivan 43 times. He stabbed his friend Felipe Negron Jr. another 17 times.
SIOUX CITY -- A former Briar Cliff University president has sued the private Sioux City college for breach of contract in a lawsuit that came …
SIOUX CITY -- The driver and passenger in an early Friday morning motorcycle crash were taken to the hospital with injuries. 
Before Judge Duane Hoffmeyer
SIOUX CITY -- Federal authorities in Michigan are conducting a criminal investigation into a Sioux City plastic surgeon who already is accused…
OMAHA -- A company that sells water treatment products has filed a federal lawsuit against Big Ox Energy seeking more than half a million doll…
"It's more than simply a safe place to be for a little while. It's more than a place to have a bed," said Marit Westrich, recently named the program's executive director.
HULL, Iowa -- Five people were transported to the hospital after two minivans collided Tuesday in an intersection on U.S. Highway 75 near Hull.
Less than two weeks remains until the Aug. 23 opening of a new Bryant Elementary School, which replaces a prior school with the same name that dated to the 19th century.
A private university in Nebraska, a state which bars recreational and medicinal marijuana, plans to offer an online program this fall that will cover the science, cultivation, processing and regulation of marijuana and hemp.
Police say the 38-year-old Waterloo woman was trying to adopt the little boy, who was a child of her former boyfriend.
SIOUX CITY -- Sioux City Community School students will likely return to the classroom Friday with all the back-to-school staples -- backpacks…
SIOUX CITY -- The second annual Big Give Day to Motivate Siouxland -- a major day of giving -- will encourage residents to support their favor…
Elected to the six-year term in May, she will succeed the Rev. Rodger Prois, who had served as bishop since 2013. Halaas' synods consists of 125 Lutheran congregations throughout western Iowa.
After enrolling the couple's 9-year-old twin boys and 7-year-old son in the school last year, Lauren Laurich was charmed by the school's sense of community and energized by its high academic standards.
BETTENDORF, Iowa (AP) — Police say a clerk died after being shot during a robbery at an eastern Iowa convenience store.
SIOUX CITY -- Muggy conditions will come to Siouxland on Tuesday as heat indices creep close to triple digits, according to Tim Masters, a tec…
That equates to about a $1 million loss of funds in Iowa for services that include contraceptives, cancer screening, and testing and treatment for sexually transmitted infections, officials said.
The sheriff's office says first responders were sent Sunday afternoon to a reported drowning at a home. Family members were already performing CPR on the boy when the medics arrived.
A resident who is suing the city said he was ordered by a police officer to leave the council chambers before the news conference began. He said the 'small, vocal group' of citizens the mayor criticized is People for a Better South Sioux City.
The twister touched down near Lacona a little before 6 a.m. Tuesday and ran for nearly 6 miles. It damaged the Iowa Operator and Engineers training facility. No deaths of injuries have been reported.
In September, St. Augustine's will go public with a campaign to raise $13 million for a 33,000-square-foot building that would bring all the school's programs under one roof and improve student security.
Schools in Nebraska and South Dakota can begin earlier than in Iowa, and the South Sioux City School District and Dakota Dunes started instruction on Aug. 15.
The one involved vehicle entered a ditch, hit an embankment and rolled several times. All five occupants were ejected.
Tarsila Ramirez of Sergeant Bluff had sued Smith in 2018. She said in her suit that without informing her, Smith inserted breast implants rather than gluteal implants during her December 2016 buttocks lift surgery.
OKOBOJI, Iowa -- The body of a man reported missing was found late Monday in East Lake Okoboji.
The Sioux County Sheriff's Office said the collision occurred three miles southwest of Orange City, at the intersection of 470th Street and Indian Avenue, just before 6 p.m. Wednesday.
Nicole Ann Trometer, 27, contacted Iowa law enforcement agencies at 12:30 p.m. Tuesday to tell them she was in Vermont. She later confirmed her identity at the Franklin County Sheriff's Office in Vermont, and the missing person investigation in Iowa was closed.
REDWOOD CITY, Calif. (AP) -- Autopsy photos of the fetus Laci Peterson had been carrying before her death brought her husband, Scott, to tears…
Police have offered to pay the man's medical bills. He was bitten after the dog, running off its leash, followed a scent into a backyard and bit him in the leg.
State health officials said Tuesday in a news release that the Aedes aegypti mosquito was recently found. The Nebraska Department of Health and Human Services says it's the first time that type of mosquito has been found in Nebraska.
What I want to be when I grow up…
A truck search uncovered 3,000 THC vape pens, 30 pounds of a THC concentrate drug, a pound of psychedelic mushrooms and 90 pound of marijuana. Officials say the street value of the drugs is estimated at $1.9 million.
When Hunt opened in 1906, Theodore Roosevelt was president and the nation was still five states short of reaching 50. Over the subsequent 113 years, roughly 20,000 days of instruction took place in the architecturally distinctive school at 615 20th St.
Under approved recommendations, participants in the single Iowa Choice plan would pay $45 of the $761 monthly premium compared with $39.26 a month now — which is the same 6 percent share they currently pay of the $699 overall cost.
Witnesses reported the man doused himself with a flammable liquid just before 2 p.m. and ignited it. Library staffers used a fire extinguisher to douse the flames. Police say no one else was injured.
The University of Nebraska-Lincoln says both students live off campus and are being isolated to try to prevent the disease from spreading. The university recommends in its statement that all students take pro-active measures.
SIOUX CITY -- MercyOne Siouxland Medical Center has announced four staff appointments. 
Police say no threats were made to staffers or students. Charges against the boy are pending.
A police official says the car was stolen in Omaha and says the damage to it suggests it had hit something in addition to the jail door. The door and track damage was estimated at $2,000.
Julie Fischer is asking for a reversal of the board's decision, reinstatement to her former job and an award of back pay and benefits. No hearings have been scheduled.
EMERSON, Neb. -- A new medical clinic set to open in Emerson will include onsite X-ray facilities and a drive-through pharmacy.
As of Monday afternoon, Carson King's campaign had raised nearly $1.1 million.  He has reached out to tax lawyers to iron out any logistics in collecting and distributing hundreds of thousands of dollars sent through the money-sharing app Venmo.
The 4-year-old girl was taken to a North Platte hospital for treatment and then released.
The $32 million, physician-owned and directed surgical center will a wide variety of medical care. The first surgeries are scheduled for the second week of October. "We want to be a destination. This state-of-the-art facility will help make us a destination," the mayor said.
HAWARDEN, Iowa -- The Iowa Department of Natural Resources investigated a manure spill that occurred Wednesday near Hawarden.
Four teachers in the statewide program are working in Irving's dual-language classes. "Irving is very unique in that I will teach my class in Spanish in the morning while another teacher will teach her classes in English in the afternoon," one teacher said.
A court document says the chase hit 115 mph in a 55 mph zone and 100 mph in residential areas. It also says the man drove on the wrong side of a highway, through grass, over sidewalks and ran red lights as his 8-year-old daughter was in the car.
The Nebraska Department of Health and Human Services said Monday that the unidentified person died in May, was older than 65 years old and lived in the Omaha area. No other details were given. Nebraska currently has 11 cases of vaping-related illness and two under investigation. 
The federal government is seeking more than $1.245 million from Sergeant Bluff Healthcare, which operated Embassy Healthcare Community, and $788,484 from Elk Point Healthcare #1, which operated Prairie Estates Healthcare Community.
A passing motorist called the Plymouth County Sheriff's Office to report a woman near an intersection approximately six miles west of Hinton. Deputies learned that the woman had been assaulted in Sioux City, then driven to the rural location and dropped off.
Construction is expected to begin at the Mitchell House, named for the late Ray Mitchell Jr., next spring, with the doors open by next October. The house will have room for six hospice residents to live in a "home-like environment." 
SIOUX CITY -- The MercyOne Siouxland Medical Center Foundation will present the 2019 Dr. George G. Spellman Annual Service Award to Dr. Dale H…
SIOUX CITY -- The League of Women Voters of Sioux City will hold a forum for school board candidates to discuss issues on Oct. 15.
SIOUX CITY -- Riley Ebner began playing hockey, his favorite sport, at age 8, but during his second year skating for the Sioux City Junior Mus…
At about 3:20 p.m., Woodbury County Sheriff's deputies and the Lawton Ambulance crew were dispatched to a rural residence at the 7600 block of Correctionville Road for a fatal ATV crash. The boy has not been identified.
Three Dakota City firefighters died within a roughly 18-month span in 2015 and 2016. "Firefighters in our community are ready to answer the call each, every day," the city's fire chief said Sunday.
The endorsements came after the chamber's Good Government Committee interviewed the candidates. Six candidates are running for four available spots.
Responding to a counter-proposal from nurses, MercyOne management "claimed they are not making any money and cannot meet the Nurses demands," according to a union statement. A Mercy executive acknowledged the company's financial challenges.
Over the last three years, Alyssa Sackett, the Sioux City hospital's pediatric injury prevention coordinator, said St. Luke's has recorded at least seven sleep-related infant deaths. "I just decided it's time we need to do something about it," she added.
The man was trying to light his furnace Thursday morning when something went wrong. The sheriff says the man was first taken to a local hospital in Webster and then transported to a burn center in Minnesota.
SIOUX CITY -- A Sioux City School District teachers union has endorsed four of the six people who are seeking seats on the Sioux City School B…
Samuel Heinrich said in the lawsuit that The Rev. Dale Koster sexually and physically abused him, beginning in 1968 when he was about 9 or 10 years old. Koster was not among the 28 priests the Sioux City Diocese identified earlier this year as being credibly accused of sexual abuse.
The superintendent, posting on Facebook, says a middle school staff member violated policy last week by denying the child breakfast because the student was misbehaving.
In a memo, B.J. Koch, Chris Koch and Al Pace wrote that it was time for the two state associations to take into account socioeconomic factors, asserting that children coming from more affluent suburbs have advantages.
The airman was found dead on Monday at an off-base residence. His name has not been released.
The allegations related to as many as 115 procedures the doctor performed on Iowa Medicaid beneficiaries. In addition to paying the settlement, the man must engage in enhanced compliance measures for the next three years.
Many people love scary movies. They even laugh with delight as they recount the scariest scenes.
"I'm not looking for the city to own the building, I'm looking at the city to do something along the lines of being the agent and help get the right parties involved and use this as a resource," CEO Art Silva said.
A judge on Wednesday entered a consent judgment of more than $1.245 million against the operator of Embassy Healthcare Community in Sergeant Bluff, and $788,484 against the operator of Prairie Estates Healthcare Community in Elk Point.
SIOUX CITY -- A driver was arrested Sunday afternoon after he drove a minivan into a utility guy wire and proceeded to run over a retaining wa…
MONONA COUNTY, Iowa -- A father and son whose boat was sinking in an oxbow lake adjacent to the Missouri River Sunday morning were rescued by …
The girl was taken to a hospital for treatment of what were described as minor burns. Her name hasn't been released. It's not clear whether the fire was still going when she fell.
Both vehicles came to rest in the ditch, and a passerby extinguished a fire that had started under the hood of one. The driver of one car was airlifted to a Sioux Falls hospital.
The man didn't stop when directed, and eventually spike strips were set out near West 21st Street and U.S. Highway 77. Officers found the man not coherent, but he was given some food and his condition improved shortly thereafter.
The five supervisors unanimously a financial adviser and law firm, both of Des Moines, that will serve as counsel if bonds are eventually sold to fund a jail that could cost $49 million.
Police say a driver was backing out of a parking spot and abruptly accelerated backward, hitting the 29-year-old victim and and pinning him between the vehicle and a work trailer.
Deputies arrived at the home to find a 56-year-old woman dead. Investigators determined that debris from the explosion killed her. 
A social worker said the boy would likely die within six months to a year without treatment, and that the cancer could become more resistant by missing appointments even after treatment resumes.
Authorities were alerted to the fire at approximately 8:15 a.m. Firefighters say they saw smoke coming from the roof when they arrived on the scene.
An indictment alleges that while Adam Smith worked in Michigan, he falsified patient medical records and miscategorized cosmetic procedures to make them appear eligible for Medicare and Medicaid reimbursement. He began practicing in Sioux City after leaving Michigan.
A proposal to raise the legal age on tobacco and electronic smoking and vaping products got some attention during the 2019 legislative session but was not approved. "I think that would be maybe something that might help, moving forward," she said.
Activists and relatives of the 13-year-old girl struck by a police officer trying to break up a fight said Monday the officer's actions were part of a pattern of using excessive force against Native Americans in South Dakota.
Barbara Kavars was found guilty on 14 counts of misdemeanor animal neglect in connection with the operation of a puppy mill near Manly, where she kept nearly 150 dogs. Many dogs were emaciated, some had skin inflammations and one had to be euthanized.
The man eventually left with the bill, but without a new account. Police say they want to check on his welfare and make sure he was not the victim of a crime.
ORANGE CITY, Iowa -- A school bus driver was cited after a collision Monday that injured two students and the driver of another vehicle. 
The plan won bipartisan support in the Finance Committee, but Senate Majority Leader Mitch McConnell hasn't said if he will call a floor vote. Grassley described his plan as "the only serious bipartisan effort in the Congress" to address drug costs.
Curently, Leo Marquez works 12-hour shifts at a cheese factory in Hull, Iowa, and as a dental assistant at Rock Valley Dental. "(In) August, I worked 27 days in a row," he said. "Dentistry is very expensive." 
A transit official says it's too early to speculate on the degree of damage the culvert bridge sustained after Wednesday's fire. But, he said, early findings have confirmed the bridge sustained more than the black soot marks visible to the eye. 
How long should you wait after hitting your head to see a doctor? Are there symptoms to watch out for?
The jury also found that Lee Hilka, now the CEO of Tri-State Specialists in Sioux City and the newly opened Riverside Surgical Center, conspired with Tri-State to intentionally interfere with doctors' contracts with Pierce Street Same Day Surgery.
Charles Rhines is scheduled to die by lethal injection next week in the 1992 stabbing of a 22-year-old doughnut shop worker. He lost two other appeals to delay his execution last week.
"Simply because you were on duty does not absolve you of criminal liability," Magistrate Judge Kasey Sorensen said. Derek McIntosh declined to make any comments to the court before he was sentenced.
SIOUX CITY -- For 105 years, The Journal has sponsored Mr. Goodfellow Charities during the holidays to raise money to purchase toys for needy …
Budgeting is, of course, as old as money. But student debt has skyrocketed in recent years, sparking more conversations and more angst about finances for students both while they're in school and after they graduate.
"Someday you're just going to have to do it," my dentist said. I took care of those babies like crazy. Sure, it felt like I had teeth near my ears, but they hung in there. And then? One chipped tooth reframed the whole discussion.
Miyuki Nelson was rebuffed for a four-year position, as voters instead choose Dan Greenwell, a persistent district critic, Monique Scarlett, Juline Albert and Taylor Goodvin to fill four spots on the seven-member board.
All 10 students on the bus and its driver were evaluated, and two students were taken to a hospital out of what school officials say was an abundance of caution. All the injuries were considered minor.
A Sanford executive laid blame with UnityPoint, saying in a statement, "we are disappointed that the UnityPoint Health board failed to embrace the vision." The merged company would have seen as much as $11 billion in operating revenue.
WINNEBAGO, Neb. -- Twelve Clans Unity Hospital is offering inpatient care for the first time since the Winnebago Tribe of Nebraska officially …
SIOUX CITY -- Dr. Craig Burhoop and the staff at Knopik Family Dentistry have announced a new addition to their team, Carmela Asinas, DDS. 
SIOUX CENTER, Iowa – Kris Gesink has been transitioning into the marketing and public relations coordinator role at Promise Community Health Center.
Neighbors said that the home was boarded up and that emergency crews responded to a fire there last week. One nearby resident says he heard a "single loud noise" and then saw a plume of smoke.
A police spokesman says emergency responders were called to the in-home about 2:30 p.m. Thursday and found the baby unresponsive. The child was taken to a Sioux Falls hospital where he was pronounced dead.
A Facebook post on the Denison Community School page does not specify when exactly the incident occurred, nor does it say which teacher used the slur or what slur was used. 
Some of the man's belongings were found on a bridge Thursday, and he was reported missing from class that morning. A police official said the Sheriff's Office is "trying to develop a game plan" in their search. 
The Iowa Department of Public Health says the deaths occurred in a woman between the ages of 61 and 80 in central Iowa and in a woman older than 81 in northwest Iowa.
An attorney for the doctor involved said the man signed two informed consents, and completed four consultations before undergoing the procedure. The man's lawyer says a doctor's referral documents showed Zaw was seeking a circumcision.
The sheriff's office on Monday said the man's backpack contained personal belongings and a note "which suggests that (he) wanted to end his life." The sheriff's office said no one saw him jump into the river, and there is no surveillance footage.
Federal agents say that between August and December 2017, the woman and her husband together made unauthorized withdrawals from a customer's account at the bank. She will serve a year and one day in prison.
The sheriff's department said a southbound pickup waiting for traffic to clear before making a left turn was struck from behind. That collision pushed the pickup into the northbound lane, where it was struck by a semi-tractor.
All three teens were thrown from the vehicle. The 18-year-old man who was driving and a 17-year-old male passenger died at the scene. An 18-year-old man who also was a passenger was flown to a hospital.
Dr. Stilianos Efstratiadis spends countless hours a week from before sunrise to way past sunset caring for patients. But he still manages to serve the Greek Orthodox Church, and last month was invested as an Archon of the Ecumenical Patriarchate.
After some 16 bargaining sessions, contract negotiations ended by Oct. 8 and have yet to resume. The nurses, represented by the United Food & Commercial Workers Local 222, rejected management's proposal by a 99 percent vote.
The woman was charged with stabbing the man with a steak knife in the back below his left shoulder blade during a domestic disturbance at a home in Boyden. He was taken to a hospital and later flown to Sioux Falls for further medical treatment.
Two titans of Black Friday shopping -- Sears at Southern Hills Mall and Shopko on Hamilton Boulevard -- were liquidated this year after their parent companies collapsed. These closures followed other major store closings in the years before.
A police official said the team was doing wind sprints when the student collapsed Monday evening. Life-saving measures were performed until emergency responders arrived, then continued at a medical facility.
An investigator said a female employee was "just walking into the bank" when she was shot Wednesday morning. She was found dead on the sidewalk in front of the building.
The man suffered head and other injuries in the 2018 collision between a car and a construction vehicle that killed two other people. He has severe brain trauma impairing his mobility, speech and memory. 
Even without an uptick, Morningside College registered nurse Carol Garvey won't stop reminding her students to be mindful of symptoms. "Sometimes I feel like a broken record, but I'm always asking have you gotten your flu shot yet?" she said. 
Siouxland Community Health Center's prenatal program is located in its main facility. Joni Roberts, a registered nurse and certified nurse midwife, will work with the Siouxland OBGYN physicians to provide prenatal care to patients.
The man walked into the city offices and made threats while looking for city officials. Deputies found him still carrying the weapons, then used a stun gun on him twice when he wouldn't follow commands, police said.