125 Years Ago
Booze flowing: On Sunday a large number of saloons in Sioux City were wide open and beer and whiskey were being dispensed to the thirsty all day long. About 20 places where liquor was being sold was visited by a reporter and no effort was made by the proprietors to conceal the fact that they were carrying on the illegitimate traffic. Five places were just a stone's throw from the police station.
Animal news: The Kennel Club people expect to add some fine Chesapeake dogs to their outfit within the next few days. ...Charles Palmer was arrested on a warrant sworn out by Herb Millard, charging him with stealing his chickens. A search failed to develop any evidence of the theft.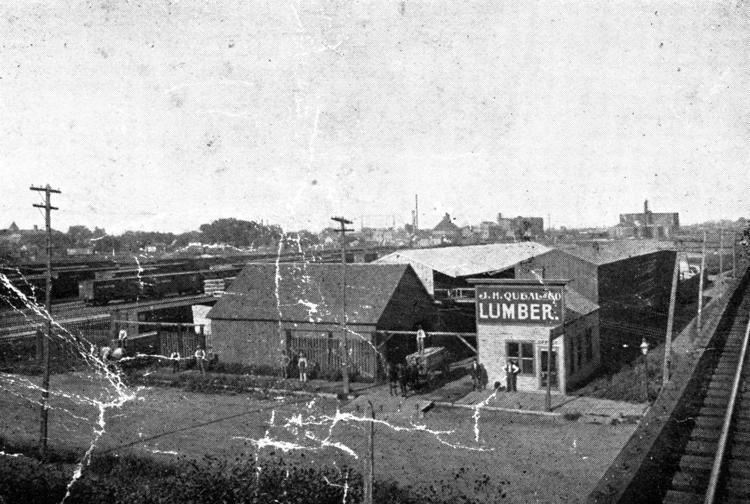 Lumber news: Sioux City now has what can be termed the lumber district, with the exception of one yard. All the other dealers have located along Third Street from Jones to Morgan streets. The area between Third Street and the railroad tracks is now one vast lumber yard.
100 Years Ago
Palmer activated: Edward C. Palmer, superintendent of the Palmer Candy Company and the only commissioned member of the naval reserve in the Eleventh Congressional district, was the first to receive orders Sunday to report for duty at once. Three other members of the naval reserve also were activated. Mr. Palmer was graduated from the Naval Academy at Annapolis in June 1914 and was transferred to the reserve without seeing sea duty. Reserve members are being called up across the nation in anticipation of going to war with Germany.
Davidson remodels: Work on extensive improvements to the Davidson Department Store will cost up to $100,000. The renovations include erection of an ornamental iron and glass front on the Pierce Street side with an artistic canopy. Most of the main floor will be remodeled with one large room 216 feet long. The new women's restroom will be 85 feet wide and 16 feet long and will contain every convenience offered.
Red Cross organizing: Women of Sioux City have organized a chapter of the National Red Cross Society to "do their bit" for the country in its coming war with Germany. Miss Margaret Gay Dolliver, chapter president, issued an appeal to 1,000 patriotic women to join the cause.
50 Years Ago
Opera company forming: A plan to organize a regional opera company to give free performances in the Grandview Park Bandshell was announced by George Cayley, founder and general manager of the Manhattan Opera Co. in New York. Cayley, a native of the Vermillion, S.D., area, will begin auditioning talent from the Sioux City area April 22. He will call it the Midwest Opera Co.
Jumbo tanks: The new multi-million dollar Terra nitrogen complex at Port Neal is producing and shipping nitrogen fertilizer products and has put Sioux City on the road with gigantic anhydrous ammonia tank cars. The cars are 67 feet, 4 inches long and more than nine feet in diameter. Each weighs 91,300 pounds when empty. The words "Sioux City" are emblazoned in green on both sides of the tank, with letters 15 feet long and two feet high.
Making news: Marvin Klass, Sioux City attorney, was approved by the City Council Monday to fill a vacancy on the three-man Civil Service Commission. ...Roy Clark, head football coach at Central High School, has resigned to accept a coaching position next fall in Placentia, Calif. ...The Dakota County Real Estate Association named Miss Ada Frum, district court reporter since 1941, as the county's Outstanding Citizen of the Year.
25 Years Ago
Student killed: Chad Mackey, an East High School senior, was gunned down in a parking lot on Morningside Avenue after a brief exchange of words with two young men he did not know. Sioux City Police later arrested a 20-year-old in the shooting. Mackey, 18, was the son of Police Sgt. Norm Mackey and Diane Mackey. He died shortly after being taken to Marian Trauma Center.
In the news: Capt. Al Haynes who piloted the crippled United Airlines Flight 232 to a crash landing at Sioux Gateway Airport on July 19, 1989, will be the featured speaker May 15 at the 101st anniversary dinner of Goodwill Industries/Wall Street mission. ...Sioux City attorney David O'Brien has been elected chairman of the Woodbury County Democratic Central Committee for a two-year term.
WIT cutbacks: Western Iowa Tech Community College board will reallocate $287,000 to other programs by cutting three college administrators and three instructors. The board eliminated three programs: truck driver training, emergency management of solar technology and electronic systems maintenance. Those three instructors will lose their jobs.
These items were published in The Journal April 9-15, 1892, 1917, 1967 and 1992.