Water woes: Judge Larimer said the great cry of Morningside is for water. He said Morningside residents have paid $250,000 in taxes to the city and have received nothing but a few street lamps and crossings. He suggested the city should do something now in the way of laying water pipes, which also would furnish work for unemployed men.
More arrests: Constable Johnson made another raid this week on houses of prostitution. The women were arraigned in Judge Morris' court, took continuance and posted bonds. Johnson said he found men in some of the places, but did not take them in. It is believed he has decided to confine himself to arresting the women.
Boat club news: A hardwood floor will be installed in the dance hall and the pillars removed, under a plan approved by the Sioux City Boat Club for changes in its clubhouse in Riverside. New floats and bathing cribs will be built in the Big Sioux River by the club.
Women's club: Forty women signed the constitution of the Business and Professional Women's Club of Sioux City Saturday at the Commercial Club. It is expected that between 200 and 300 women will join during the next six months when the charter will be closed. Membership is open to any business or professional woman who is in sympathy with the purposes of the organization.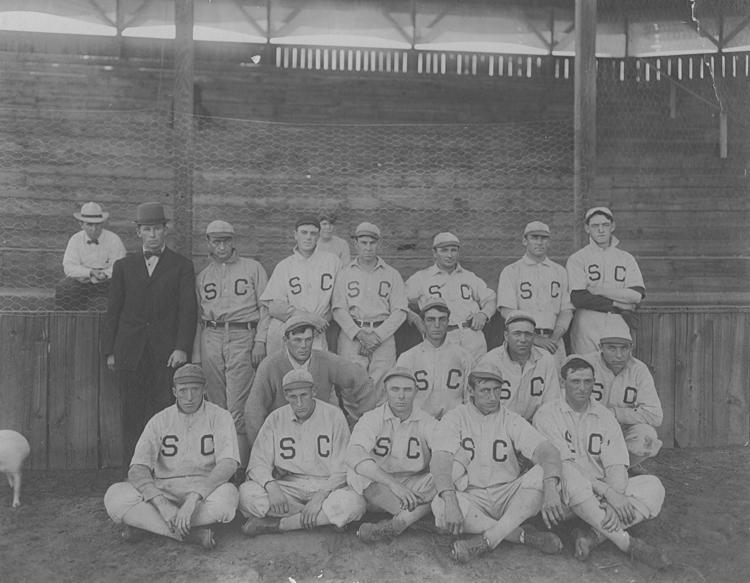 Around town: The Sioux City Packers defeated the Joslin Miners in the first home baseball came of the season at Mizzou park, by a score of 8 to 1. …A modern, five-story apartment house is planned for the northwest corner of 19th and Pierce streets and will be named The Ida in honor of Ida County where the four owners were raised. …James Kinney, night cashier and waiter at the Washington Dairy Lunch at Fourth and Virginia streets, disappeared with $32 in receipts Tuesday.
Mayoral candidate: About 100 persons who had signed recall petitions selected Hugh T. Carney as their candidate to oppose Mayor Wallace Short in a June 26 recall election. Carey has been a resident of Sioux City for 32 years and is a locomotive engineer for the Chicago, Milwaukee and St. Paul railway. Each person attending at the Martin Hotel contributed $1 toward his campaign fund.
Davidchik Hall opens: Rep. Wiley Mayne, city officials, family members, citizens and Sioux City police officers attended the dedication ceremonies for Davidchik Hall in the police station Saturday. Capt. Joseph Davidchik died Dec. 26 from gunshot wounds suffered in the line of duty eight days earlier. Rabbi Albert Gordon gave the invocation and Patrolman Jack Hunnel gave a memorial talk. Police officers remodeled a former gymnasium for the assembly and meeting hall.
In Vietnam news: Spec. 5 David A. Lefler, 23, of Sioux City, was the fourth member of the 2nd Mechanized Battalion, 133rd Infantry, Iowa National Guard, to lose his life in Vietnam. He was killed Monday (May 12) near Da Nang. Survivors include his wife, Cathy, and their son Robie, 4, and his parents. …Miss Karen Burgess of South Sioux City has departed for Vietnam where she will spend two years in military hospitals as an American Red Cross recreational supervisor.
In the news: Frank Margolin of Sioux City was elected president of the Iowa Academy of Trial Lawyers at the annual meeting in Iowa City. …Miss Lynn DeLashmutt, 20, a sophomore at Morningside College, was crowned Miss Sioux City 1970 Saturday. …The Siouxland Square and Round Dance Federation will hold a spring Jamboree Sunday afternoon at the Municipal Auditorium.
Gambling vote: Woodbury County voters approved lifting the betting limits on the floating casino by a 61 percent margin in the Tuesday referendum. Developers announced they will replace the 600-passenger boat "Sue" with the 1,500-passenger "Pair-A-Dice" casino now docked in Peoria, Ill. They will rename the boat "The Belle of Sioux City."
Making news: A ribbon cutting ceremony will be held Monday heralding the opening of Knoepfler Chevrolet's new used car facility at 100 Jackson St. … Veterinarians Steven Merritt and Patrick Saulsbury have opened Siouxland Animal Hospital at 2030 Indian Hills Drive. …Mark Hahn, radio personality and advertising representative, has been named program director of KGIL/KWSI Radio.
Air Guard awards: Sioux City's 185th Fighter Wing won two national awards. The unit was chosen Outstanding Air National Guard Flying Unit by the Air Force Association, winning over 90 other units. The National Guard Bureau at the Pentagon presented the unit with its Winston Wilson Trophy, given to the outstanding fighter/reconnaissance flying unit.
These items were published in The Journal May 12-18, 1894, 1919, 1969 and 1994.