Cycle club forms: The Y.M.C.A. cycle club was organized in the gymnasium. The new club starts out with flattering prospects of success. A bylaw requires that while members may use their wheels as individual riders on Sundays, they will not run as a club. The club is purely amateur in nature and its members will not become contestants in purse races.
In trouble: George Coffey, an incorrigible boy of about 10 years of age, was given five days in jail. He was found in a house on West Seventh Street, helping himself to some household goods stored there when he was caught.
Spring air: Now that warmer weather has begun, at least for the moment, the city is notifying property owners to remove the accumulation of ashes and refuse of the winter from their premises and from alleys where they have deposited the refuse.
T.S. Martins opens: The governors of Iowa and South Dakota, together with 200 newspaper editors and writers with the Press Club, attended the dedication ceremonies Tuesday evening in connection with the opening of the $1 million home of T. S. Martin company. The guests got the first peep at what is termed "America's Most Complete Department Store." They dined in the fifth floor banquet hall. Hosts were J. Earle, Jules T. and Howard V. Martin.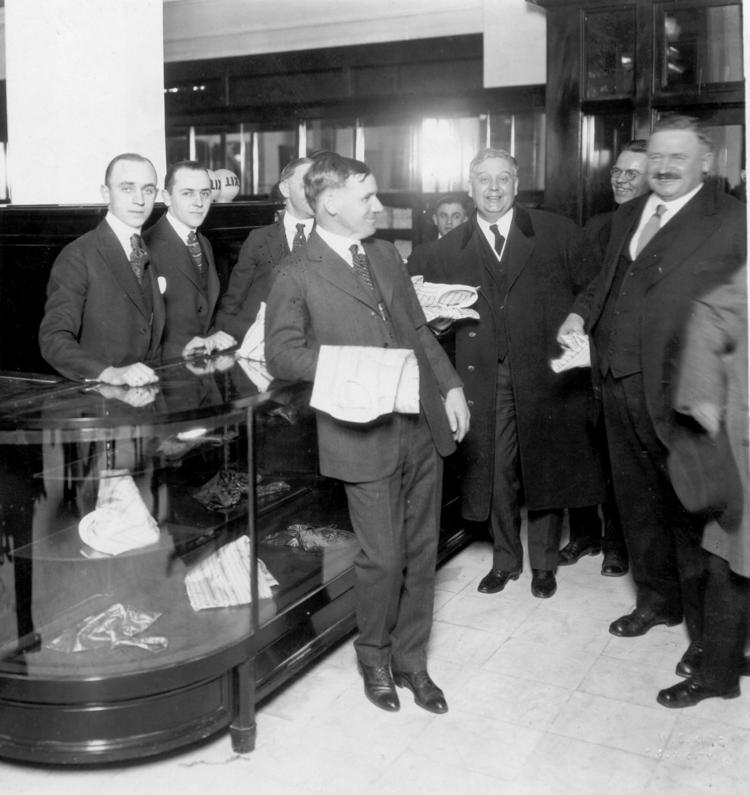 Thousands tour store: Police reserves were necessary Wednesday night to handle the 30,000 people who attended the formal opening of the T. S. Martin department store, at Fourth and Nebraska streets. Traffic around the store was brought to a standstill. Reed's band provided music, along with Dawson's Jazz orchestra. The three passenger elevators, freight elevator and the stairways were all pressed into service.
Bolshevik warning: The Rev. L. Zakrevsky pastor of the Russian Greek Orthodox Church, 1623 East Seventh St., said he discovered a Bolshevik band in the "bottoms." Unless government officials act quickly, he asserted, the "red radicals" will have gained a foothold in Sioux City, trying to form a society among the immigrants working in the packing plants and living on the east side. He claimed the Industrial Workers of the World is backing the movement.
Crystal Lake junkyard: Mrs. Harvey Schmadeke, who with her husband lives at Lik-U-Wanta Beach on Crystal Lake near Dakota City, is trying to get someone to clean-up the junked cars and trucks across the lake next to Wayside Park. She has contacted county and state officials, congressmen and even Lady Bird Johnson. They told her that because Dakota County has no zoning laws, there is nothing anyone can do. She said if nothing is done, in 10 to 15 years, the lake will dry up.
In the news: Popular soloists Robert Hansen, Mrs. Loren Wertz and Mrs. Richard Davis will appear with the Sioux City Women's Club Chorus for a benefit concert at 8 p.m. Sunday at Eppley Auditorium. …About 50 Riverside High School boys filled 6,500 sandbags to be placed along the Big Sioux River dike. …More than 175 American Legionnaires and guests attended the Golden Anniversary banquet for the Legion and Monahan Post 64 Friday at the Eagles Club.
Smut campaign: Citizens for Decent Literature held its first meeting at the Heelan High School Annex. The interfaith group was organized to formulate a plan to help provide an obscenity code for Sioux City. Selected to draw up a format for action were Mrs. George M. Paradise, William Berger, Rene Pearson and the Rev. James McLamb. The Rev. A. J. Elbert, superintendent of Heelan, was named moderator.
New eateries: Two new restaurants have opened in downtown Sioux City – BJ's Deli and Bakery Buddy II. Bob and Judy Brandt own and operate BJ's Deli, at 513 Sixth St. Sheila and Steve Olson operate Bakery Buddy II, located on the ground floor of the Commerce Building, on the corner of Sixth and Nebraska streets. They also own Bakery Buddy at 3210 Gordon Drive.
Steak Dinner: The annual Siouxland/Washington Conference and Steak Dinner will be held May 10 and 11 after all. The trip had been in danger of ending after 39 years because of changes in federal lobbying regulations. Previous lobbing trips have helped secure millions of dollars in funding for various projects. Registration will cost $700.
Making news: Castle on the Hill craft show will be held Saturday from 10 a.m. to 4 p.m. Admission will be 50 cents. …Dr. Oswald Hoffman, honorary Lutheran Hour speaker, will present the message at the Easter Sunrise Service at 6 a.m. April 3 at the Municipal Auditorium. ..Officers Robert VanderWell and Larry Rowenhorst have retired from the Sioux City Police Department after 26 and 25 years of service respectively.
These items were published in The Journal March 17-23, 1894, 1919, 1969 and 1994.