Quiet Fourth: While today is the 118th anniversary of the Declaration of Independence, the conditions are such in the city that no formal celebration will be held. Minor celebrations were held at: Riverside Park with an exhibition of wrestling by Farmer Burns, who will give $25 to any man that cannot throw him in 15 minutes. …There will be fireworks display in Leeds. …The Sioux Gun Club will have a shooting contest on its grounds near the Isabella Street pumping station.
Joints raided: Sheriff Kelly of Dakota County has raided the "snap joints" in Covington. As a result, it is said that confidence men and card sharks have been compelled to pack up and move on.
Railroad strike: The rail strike has spread from Chicago and Kansas City to Sioux City, with strikers stopping trains here. As a result, a train bearing the militia arrived with a flat car ahead of the engine carrying a Gatling gun from Ames. Behind the engine were four freight cars containing camp equipment and then a line of caboose coaches in which there were the militia. The six companies are from Toldeo, Algona, Webster City, Boone, Fort Dodge and Cherokee. They threw up picket lines.
Bass field: Improvements are being made to Morningside College's Bass Field this summer. The old cement bleachers on part of the east bank are to be torn out and new bleachers will be built that will extend the entire east side, which will be 450 feet long and constructed in eight tiers with room for 2,000 people. A grandstand will be built behind the bleachers and more bleachers will be built on the west side. The combined capacity will be 10,000. Cement tennis courts, a baseball diamond, a football gridiron and running track will be built. Estimated cost is $20,000.
Food market: Sioux City's public market on Iowa Street between Third and Fifth streets is open for business. This is the height of the vegetable season and many hucksters have expressed their intentions of disposing of their goods through the market. Housewives are encouraged to buy fresh vegetables there.
Fourth of July: Public parks and other resorts in the area attracted thousands of visitors since there was no community celebration in Sioux City. Streetcars operating to Riverside Park were filled to capacity. A number of families resorted to Stone Park. Crystal Lake attracted hundreds of young people where dancing and other forms of entertainment were furnished.
You have free articles remaining.
Bank robbed: The American State Bank at Homer, Neb., was robbed at gunpoint at 9:40 o'clock Tuesday morning. The Dakota County Sheriff's Office said one and possibly up to three men were responsible. Later, a federal complaint was filed in Omaha accusing James H. Henderson, 45, Dakota County, of robbing the bank and getting about $3,700.
Le Mars centennial: A 240-unit parade with 40,000 spectators and participants took place to begin the centennial, but was interrupted by a sudden rain and wind storm. In true pioneer spirit, festivities continued with an old-fashioned English tea and style show and square dancing. Among the dignitaries attending were Iowa Gov. Robert Ray and Consul General of the Great Briton A. K. Rothnie.
New exhibits: At the Sioux City Public Museum: A new exhibit on the Civil War opens Sunday and two films on the Civil War will be shown. …Sioux City Art Center: Remodeling in the sales and rental gallery include new display cases that greatly have improved the showing of many pieces of pottery and handcrafted items.
SITP: The fourth edition of the Saturday in the Park Blues Festival at Grandview Park came with usual fanfare – thousands of people, plenty of good food and drink, funny hats, sunscreen and a film crew. Two New York University graduates are making a documentary about the free event. Santana was the headliner, performing at 6:30 p.m. The concerts attracted 25,000 people.
Atokad starts: South Sioux City – Atokad kicks off is horse racing season Friday. The 17-day meet is run by the nonprofit Atokad Association at a cost of $500,000 and purses are expected to exceed $300,000. There will be eight races run each day. There will be a special Fourth of July card. The season will end July 31.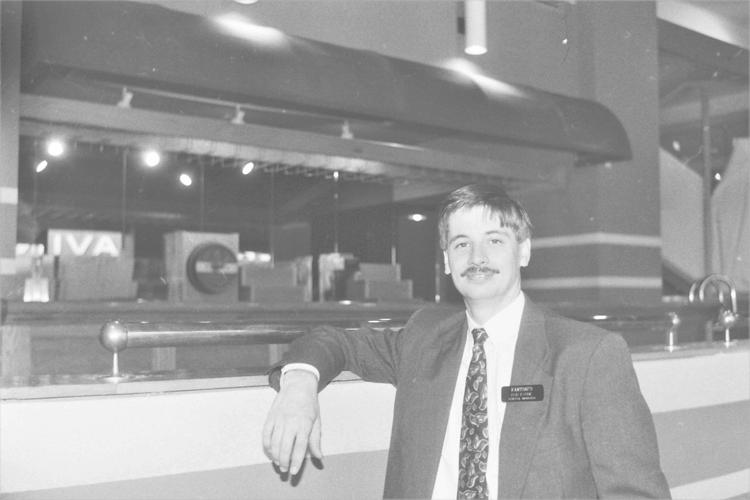 In the news: Vantini's is a new restaurant that has opened on the ground floor of the Badgerow Building. It is owned by the Camelot Corp., the firm that acquired the Badgerow a few years ago. …Plum's Restaurant at Mayfair Mall is closing July 9 to make room for new tenants there. …Former Sioux Cityans from around the country gathered back home in Sioux City this weekend to celebrate their African-American heritage. …Kelly Pry of Bronson, Iowa, bought a boysenberry pie at an auction at the Bronson Independence Day celebration for a record price of $1,100.
These items were published in The Journal June 30-July 6, 1894, 1919, 1969 and 1994.