Joining the circus: Pres Wakefield, son of E. C. Wakefield here, has contracted to perform with the Wallace Circus this season. The young Wakefield does a flying trapeze act and a friend of his plans to join as a contortionist.
Team drowns: Marion Weigle, a farmer living near Sloan, Iowa, endeavored to cross the Missouri River below Sioux City on the ice. The ice gave way and his team and wagon were swept under and lost. Weigle and his wife were thrown into the water and it was with the greatest difficulty that they managed to get to land.
Surprise party: The Rev. Marc Darling of the First Congregational Church in Sioux City was happily surprised when he came home early. It was his 50th birthday and Mrs. Darling had invited some 460 friends to be present. Before departing, the guests signed a "Shakespearean Birthday Book."
Banning coeds: Only men hereafter will compete in district and state oratorical contests of the Iowa colleges, according to an agreement reached at the state oratorical association in Cedar Rapids. The change limiting debating contests to male students was initiated by the Forensic League at Morningside College. It was felt that women and men cannot compete in the same contest on an equal basis.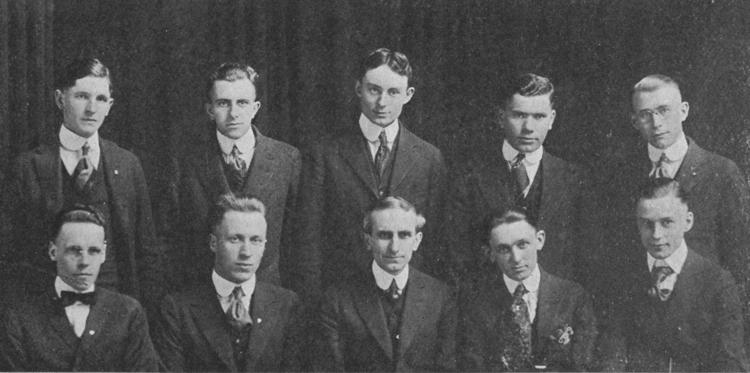 Spectacular fire: An eye-catching fire caused a $60,000 loss Saturday night as the warehouse of the National Refining Company, 1815 E. Third St., burned to the ground. Destroyed were 40,000 gallons of lubricating oil and 8,000 gallons of gasoline. Explosions of barrels of oil sent clouds of flames and smoke swirling into the air. The viaduct and all available roofs were crowded with curious spectators.
Celebrating Purim: Members of the Mt. Sinai congregation are planning to celebrate in a proper manner the Jewish festival of Purim, or "Feast of Lots," which falls on March 16. Rabbi Emmanuel Sternheim will speak on the festival preceding his sermon. The members will give a children's party at 3 o'clock Sunday afternoon at the temple.
Vietnam deaths: Air Force Capt. Robert Rex, son of Mr. and Mrs. Earl Rex of Odebolt, Iowa, died March 9 after his plane crashed in South Vietnam during a daytime mission. He was a 1963 graduate of the Air Force Academy in Colorado Springs. …Army Pfc. Phillip Baker, 20, son of Mr. and Mrs. Howard Baker of rural Correctionville, is the second member of the 2nd Mechanized Battalion, 133rd Infantry, Iowa Army National Guard, to die in Vietnam. He was reported missing March 3 and his death was just confirmed. He was serving as a medic.
In the news: Dr. J. Richard Palmer, president of Morningside College since 1956, announced he will resign effective Aug 31. He says he wants to spend his remaining years in "some other ministry." …Central High School's 70-voice concert choir will take a three-day concert tour to Minnesota and eastern Iowa. Robert Larson is the director. …The 36th annual Journal bowling tournament will be held at War Eagle Bowl on six weekends through April 27.
Protecting Riverside: Work has begun to add three feet in height to the Big Sioux River dike to protect the neighborhood from spring flooding. Twenty trucks deposited fill on top of the existing dike, starting at both ends, and the work is expected to be completed within a week.
Train rides: The Siouxland Historic Railroad Association won permission from the Federal Railroad Administration to offer short excursions originating at the KD Station, 2001 Leech Ave. Passengers will ride in cars pulled by a 1945 diesel engine on roughly a half mile of track, formerly operated by the Sioux City Terminal Railroad. Volunteers first must repair the engine and two cabooses, which had been vandalized, before the rides can begin.
Ice Cream Capital: The Iowa House approved a resolution proclaiming Le Mars the "Ice Cream Capital of the World." Wells Senior Vice President and Treasurer Dan Wells said the resolution will help the company expand into new markets. A reception was held at the Statehouse.
Making news: Barbara Orzechowski, a Sioux City attorney, has been elected chairman of the Sioux City Art Center Board of Trustees. …Dr. William Samuelson, formerly a partner in Northwest Iowa Orthopedics, has opened an independent practice in the Grandview Professional Building, 2800 Pierce St. …Kim Cleaver has been named station manager at KCAU-TV, according to Ray Cole, general manager,
These items were published in The Journal March 10-16, 1894, 1919, 1969 and 1994.