Great Escape: O. C. Hart of Hotel St. John fame was arrested on a charge of resorting to a house of assignation for purposes of prostitution and lewdness. On his way to the justice's office, he asked to stop at an attorney's office at 300 Fourth St. Instead, he burst into another room, went out a window to a roof of an adjoining building, went down to the street and disappeared.
Salary cuts: The school board finance committee, consisting of directors Conniff, John and Webb, will recommend to the entire board that it cut teachers' salaries by $15,000. Overall, the salaries amount to $90,000 and the reduction will be made by taking off one month from the school year.
Fantastic Fantasma: The second performance of "Fantasma" was given to a crowded house at the Peavey Grand Opera House. The scenic efforts were handled in a most pleasing manner and entirely devoid of the awkwardness and noise that spoils many spectacular plays.
In the news: The dining car service on Chicago and Northwestern trains will henceforth be "a la carte." There will be no more "table d'hote" service. …F. W. Warren, a cripple living in North Riverside, was arrested by Federal Agent Brandt on a charge of selling liquor to Indians near Fourth and Jones streets.
Dances planned: Fourth-Degree members of the Knights of Columbus Lodge will present a dinner dance Tuesday evening at the Martin Hotel. The tables will be decorated with flowers and favors. …Several hundred guests will attend the Elks' annual Purple Ball Tuesday evening at their clubhouse. The ballroom will be decorated with flags and purple wall hangings.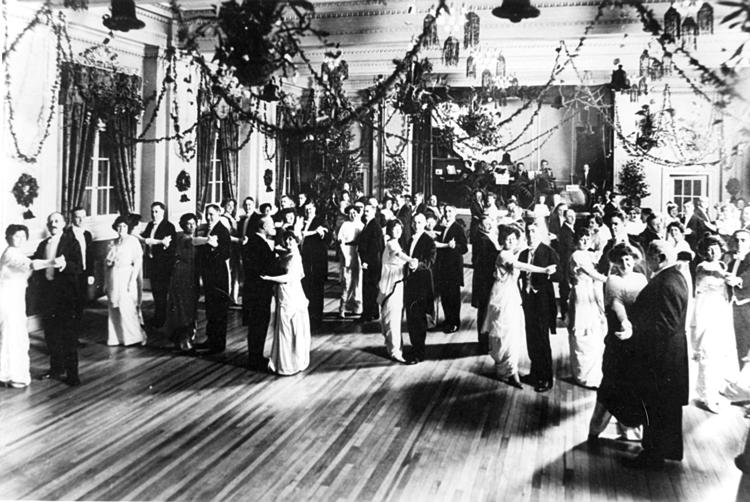 Distressed housewives: Sioux City housewives are in despair over their inability to get washerwomen, according to Mrs. Lillian Larrimore, manager of the U.S. employment services office here. The housewives are in danger of being forced to use soiled linen. Mrs. Larrimore said the cause of this shortage is not apparent.
New schools: Sioux City voters passed a $13.5 million bond issue to build three new high schools at the same time. Superintendent William Anderson said it was the largest bond issue ever passed in Iowa. The new schools will replace Central, East, Leeds and Riverside high schools and will include such amenities as air conditioning.
High-rise plan: The CM Corp., headquartered in Sioux City, proposes construction of a 17-story building that will contain housing for the elderly and a nursing care center. The building will located at an unspecified location on the near north side. The tower will include 150 apartments. The developers will ask the City Council to incorporate the project into its leased housing program for low-income people.
Making news: Patrolman Melvin Lafrenz was named "Policeman of the Year" by the Sioux City Exchange Club. …Robert Marx, former adventure editor for the Saturday Evening Post, will be the guest speaker at the Knife and Fork Club at the Martin Apartments. …Miss Susan Olmscheid, of 4511 Country Club Blvd. and a senior at William Woods College, Fulton, Mo., is a candidate for "Best Dressed" in a Glamour Magazine contest.
Churches move: Mount Olive Missionary Baptist Church will move into the Shaare Zion Synagogue building at 1522 Douglas St. when the synagogue combines with Mount Zion Temple. The Rev. H. C. McGruder will hold the first service in the new site the first Sunday in September, which also will mark the 75th anniversary of the congregation.
Around town: The White Horse Mounted Patrol had been invited to participate in the Cherry Blossom Festival Parade in Washington, D. C. April 9. …Baseball Hall of Fame catcher Johnny Bench will speak at the Sertoma Club's Sports Banquet April 12. …Mayor Bob Scott will meet with President Clinton Feb. 25 as part of a small group of Iowans invited to the White House.
New technology: With a flip of a switch, Emerson Grade School doubled the size of its library. The school, at 2410 W. Fourth St., received a CD-ROM workstation from Norwest Bank that will include information for pupils. "Technology is so much a part of our learning now," said Emerson Principal Rita Vannatta.
These items were published in The Journal Feb. 10-16, 1894, 1919, 1969 and 1994.