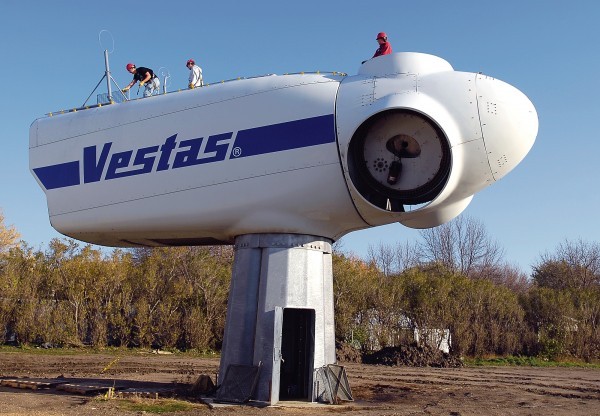 SIOUX CITY -- As the number of wind turbines scattered among the corn and soybean fields of Northwest Iowa keeps on growing, momentum builds to send some of the access clean energy to less gusty, more populated regions.
The state's largest utilities, as well as out-of-state investors are floating different plans to build high-voltage transmission lines that would move the region's wind-generated electricity to large power-hungry customers in Chicago and other points east.
Dean Crist, vice president of regulation for MidAmerican Energy, which is Iowa's largest utility and the largest investor-owned utility wind provider, said transmission lines would help make wind a more valuable commodity, much like the grain and livestock produced by the state's farmers.
"When we have a crop like wind, why not export that and bring those dollars back to the state?" Crist said.
Iowa has harnessed the wind better than any other state except Texas. In 2009, Iowa's 2,500 wind turbines accounted for nearly 20 percent cent of the state's overall electricity, far ahead of the national average of 1.8 percent.
Siouxland Chamber of Commerce president Debi Durham, who will become Iowa's economic development director when Gov.-elect Terry Branstad is inaugaurated in January, described the transmission issue as the "missing gap" in taking wind development to the next level.
"I'm so pleased to see that we have private companies willing to make that investment," Durham said.
With at least one of the proposed projects, the western terminus would originate in the Sioux City area. All the lines would run through parts of Northwest Iowa, which boasts some of the nation's most abundant wind resources.
Each transmission line carries a multi-billion dollar price tag, and would generate thousands of construction jobs for the tri-state region. Backers said the hefty investment also would promote development of additional wind farm and attract manufacturers and other companies that would supply turbines, blades and other components, creating hundreds more permanent jobs.
Local governments could collect millions of dollars in additional property taxes from the projects. Because the utilities would have the power to condemn property if necessary, the transmission lines could face opposition from local landowners. Environmental groups  also may object to building high-voltage lines through or near sensitive areas.
The interstate transmission projects would need to obtain a myriad of federal, state and local government permits and approvals. One of the stiffest challenges facing developers is who should pay the costs of building the lines.
A constorium of utilities, generators and transmission operators in the Midwest recommended last summer that all states using the wind power share in the transmission costs. Eastern states are pushing back against such an approach, and are increasingly developing their own wind turbine projects, potentially lessening the need for multi-state transmission systems.
Here's a look at three wind energy transmission lines proposed for parts of Siouxland.
Houston, Texas-based Clean Line Energy Energy Partners wants to construct a 500-mile line across Iowa, transferring wind energy from Siouxland to the Chicago area and beyond.
The partnership, which has announced three other multistate, multi-billion dollar wind energy transmission ventures around the country, is calling its Iowa project the Rock Island because the line could roughly follow the routes of the former Rock Island Railroad.
The $2 billion project, designed to spur development of additional wind turbines in northwest Iowa, northeast Nebraska and southeast South Dakota, would create an estimated 4,000 megawatts of power. That's more than the entire state of Minnesota uses in one year.
Because it would simply transport power across the state, rather than deliver it to homes and businesses along the way, the line would carry a direct current rather than the alternating current of most electric lines. Despite big upfront costs, developers believe the DC lines would lessen power loss over the border-to-border distance.
At each end, Clean Line plans to build $250 million stations to convert the power generated by the wind turbines from AC to DC. On the western edge, the converter station would be built within a 100-mile radius of Sioux City, said Hans Detweiler, the company's director of development. Woodbury County is a candidate for the facility.
The company estimates the transmission line would unlock $7 billion in wind energy investments that would not otherwise be built, creating more than 400 jobs in the region. During her annual address last month to investors of The Siouxland Initiative, Chamber's economic development arm, Durham highlighted the enormous potential of the Rock Island venture.
Earlier this month, Detweiler and other Rock Island officials detailed plans to local leaders at a series of meetings in Sioux City, Storm Lake, Fort Dodge and other cities along the projected route. While Clean Line holds options on the right-of-way of the former Rock Island Railroad in Iowa and Illinois, the line may not necessarily follow that corridor, Detweiler said.
"The downside is (the Rock Island route) hits a bunch of railroad towns," he said. "If you have to figure out how to go around towns, rather than go through towns, the line gets so curvy, and you spend so much time getting on and off, it might be better not to use that corridor."
The company plans to draw up several potential corridors, each 3 to 10 miles wide, by next summer. Public meetings would then follow. The next step would be acquire 150 to 255 foot wide right-of-way for the line itself.
Clean Line, which expects to complete the Rock Island in five to seven years, is submitting its plans with the Iowa Utilities Board. The board will be asked to classify Clean Line as a utility, which would provide the company with the power of emminent domain. Detweiler said condemnation would only be used as a "last resort."
MidAmerican Energy, Iowa's largest utility, and other utilities are partnering on a proposed 8,000-mile transmission line that would carry wind energy from the Dakotas to larger population centers in the east.
MidAmerican, which provides electric and gas service to Sioux City and other areas of northwest Iowa and southeast South Dakota, are joined in the SMARTransmission line by other large utilities, including American Electric Power, which serves parts of Exelon Corp. of Chicago, Excel Energy, which serves Minnesota, and North Western Energy, which serves parts of Nebraska, South Dakota and Montana.
The group worked with the Midwest Independent Transmission System Operation, which oversees the regional power grid on a recent study, which recommended building six new transmission corridors through the 11-state area.
The AC lines, stretching from central North Dakota to eastern Ohio, would cost between $20 billion and $25 billion to lines.
The network would enter northwest Iowa at two points -- one from South Dakota near Sioux City and the other near the Minnesota border in Osceola County. At the Sioux City area junction, the line would split, with one brand heading west into Nebraska and the other east to Pocahontas County, where it would meet the Osceola County line.
Jeff Gust, MidAmerican's vice president of compliance and standards, stressed that plans for SMARTransmission are still in the early stages. The corridors would be built over a number of years, with a projected completion date of 2025.
Exporting excess wind capacity could benefit MidAmerican's own customers by bringing more dollars back to the state, helping to stabilize rates, Gust said.
Since 2004, MidAmerican Energy has added 1,284 megawatts of renewable generation, installing more than 830 wind turbines, including several farms in northwest Iowa counties.
A Michigan-based utility, ITC Holdings Co., is developing a transmission network similar to SMARTransmission. In February 2009, ITC, which owns and operates Alliant Energy's transmission network in Iowa, which also would link the windiest parts of the upper Midwest with its largest cities, including Chicago, Milwaukee and Minneapolis.
The superhighway would stretch from the Dakotas, Minnesota, Iowa, Wisconsin, Illinois and Indiana.
According to an ITC conceptual map, two different transmission lines would travel through northwest Iowa. From a substation at Lakefield in southern Minnesota, one line would head south along the U.S. Highway 71 corridor. The other, a diagonal line, would extend southeast from a substation station at Fort Thompson in central South Dakota, entering Iowa just north of Sioux City.
Both the western Iowa lines would converge at a proposed substation near Storm Lake. Alliant Energy operates a large wind turbine farm in that area, along the southern boundary of a wind-abundant multi-state area known as Buffalo Ridge.
ITC Holdings filed its rate and incentives application in February. The Federal Energy Regulatory Commission recently approved a 12.38 percent return on investment for the project, which is expected to cost $10 billion to $12 billion.
The Green Power Express would deliver wind-generated electricity to 3.6 million homes.
The business news you need
With a weekly newsletter looking back at local history.