SIOUX CITY -- As recently as last fall, there were no public establishments in Sioux City where people could gather to huck an axe at a wooden target. 
Now there are two such places. 
Woody's Axe Throwing, 1227 Fourth St., opened June 1, two months later than planned because of the COVID-19 pandemic, while Axe to Grind, 2101 Hamilton Blvd., opened in mid-December but had to shut down from mid-March to mid-May because of the pandemic. 
For Terry Nelson, the proprietor of Woody's, it all began in June of last year. He and a friend were at Okoboji in a boat when a cloudburst forced them to dock. They went into town and visited a newly opened axe-throwing establishment. They liked it.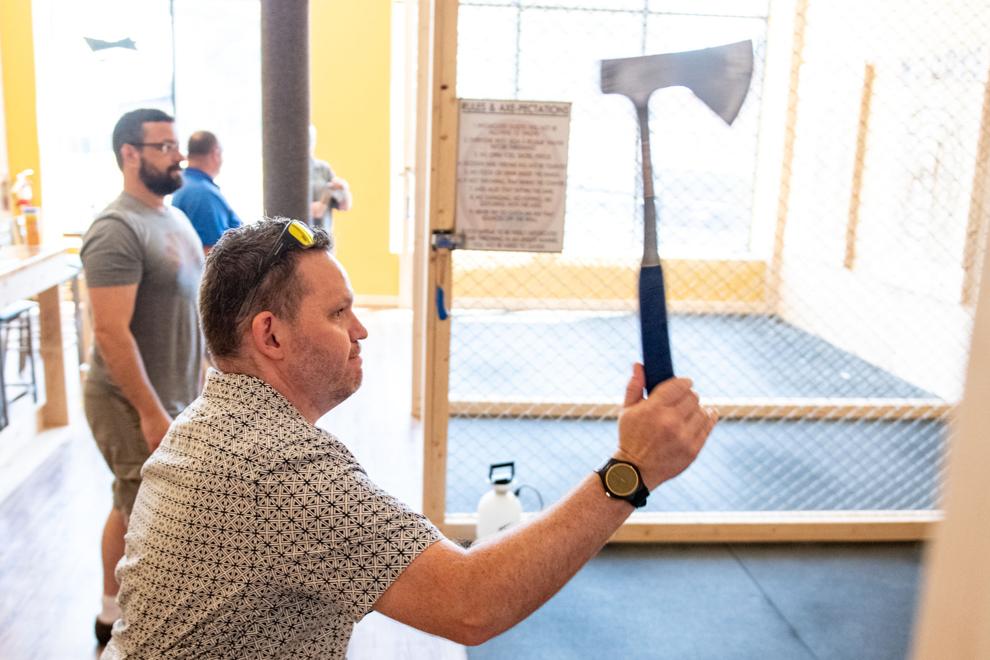 "Within a couple days, my best friend was with me, and he says, 'Hey, you need to open one of these up!'" Nelson said. "I've always been kind of entrepreneurial." 
He opened his first Woody's location in Brookings, South Dakota, in January, and he'd like to open a third in Mankato, Minnesota. 
Axe to Grind, meanwhile, traces its history a little further back -- the chain was founded in 2019 in Manhattan, Kansas, and now has locations in Sioux City, Wichita and Loveland, Colorado, plus the location in Manhattan.
This year the company plans to open locations in Des Moines, Omaha, Kansas City, Lubbock, Texas, and Centennial, Fort Collins and Greeley, Colorado.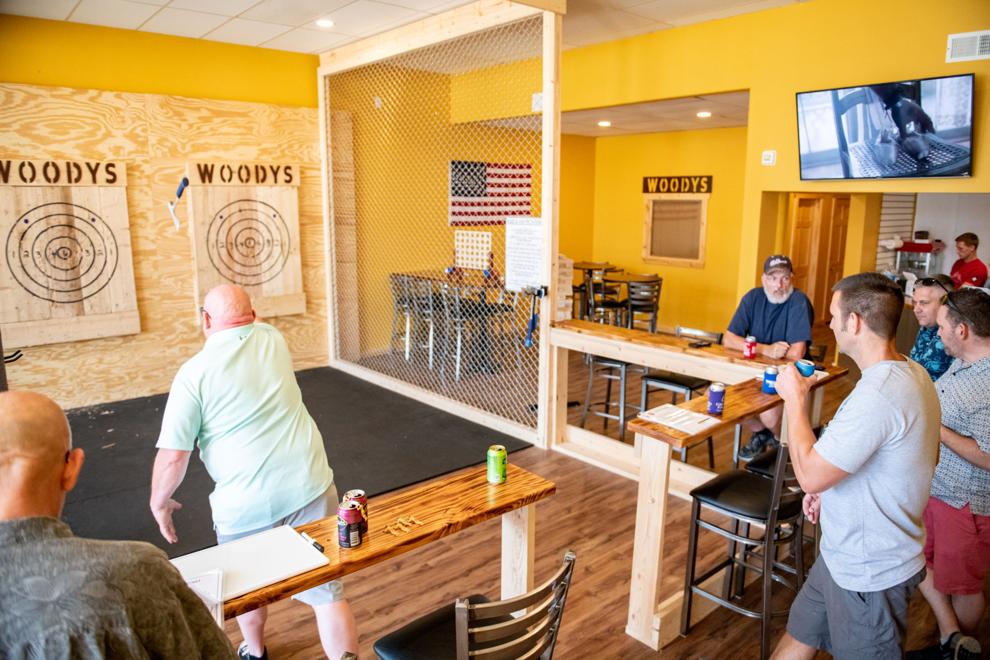 Ashley Mondor, a store lead (similar to a manager) at Sioux City's Axe to Grind, said the business is technically considered a "social house." Although canned beer is available, the place is not a bar. It's also not a bowling alley, but it has more in common with bowling alleys. 
"You can come and get together with your friends, but the alcohol we serve is in cans, we don't serve anything draught, so we're not a bar," Mondor said. 
Nelson, meanwhile, said he considers Woody's to be a "venue," more like a golf course. Beer is available, but patrons are expected to practice some degree of temperance. "We're not about having people park there for eight hours and drink until they can't walk out the door." 
Axe throwing, a sport thought to originate in North America (probably Canada), was a relatively unknown thing just a few years ago. The sport has seen phenomenal growth in recent years. Mobile payment-processing company Square has forecast that axe throwing business would grow 317 percent this year.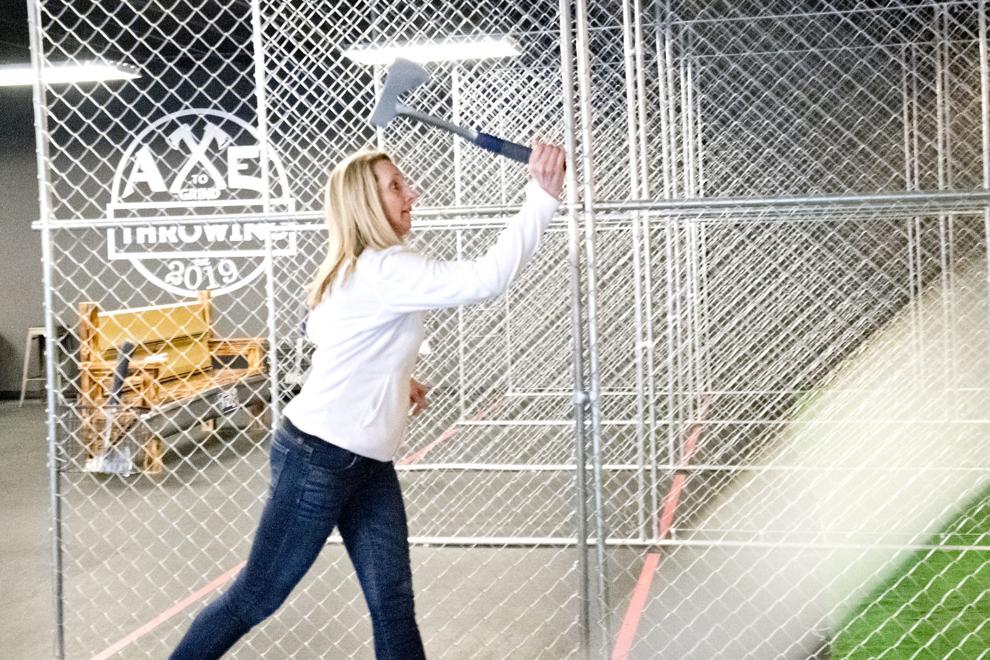 "Basically, within three years, the United States went from one to over 400 facilities. It's one of the fastest-growing sports in the United States," Nelson said. 
Apparently axe-throwing is popular with all demographics -- it's not just for young men, or older men, or older women or young women. 
"We get everything from, like, families, to work and business," Mondor said. In the span of a week earlier this month, Axe to Grind hosted two kids' birthday parties.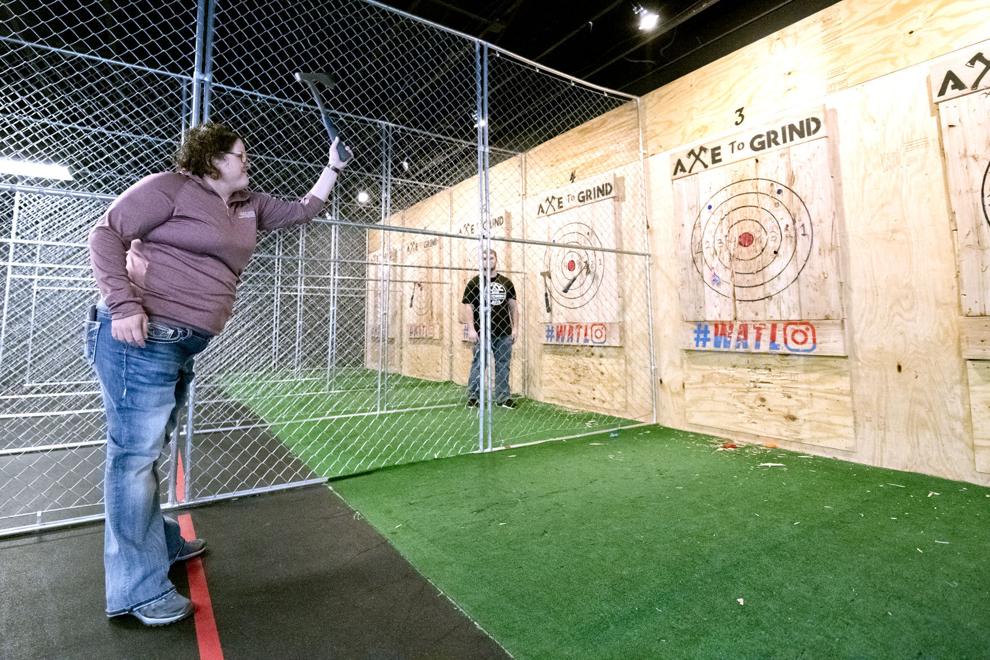 At both Axe to Grind and Woody's Axe Throwing, patrons pay for a certain amount of time to throw axes at wooden targets. The targets have somewhat the appearance of a large wooden dartboard, with concentric circles and corresponding scores, and a sort of bull's eye in the middle. 
Like darts, a variety of games are possible in axe throwing -- the sport has its own versions of Yahtzee and Cricket, as well as other games like Landmines, Odd Man Out, Called Shots, Tug of War, as well as something called Cornhole Axe Style. Instructions are provided for these games. 
"Honestly, I thought it'd get boring after a while, but we got like 12 to 14 different games that we play," Nelson said of axe throwing. "No matter where you're at or who you're with, it's something that's equal for everybody. It's not like someone's been playing basketball for 20 years, picking up a guy that's never played before and having an unfair advantage. Because of the newness of (axe throwing), it's kind of equal for everybody."