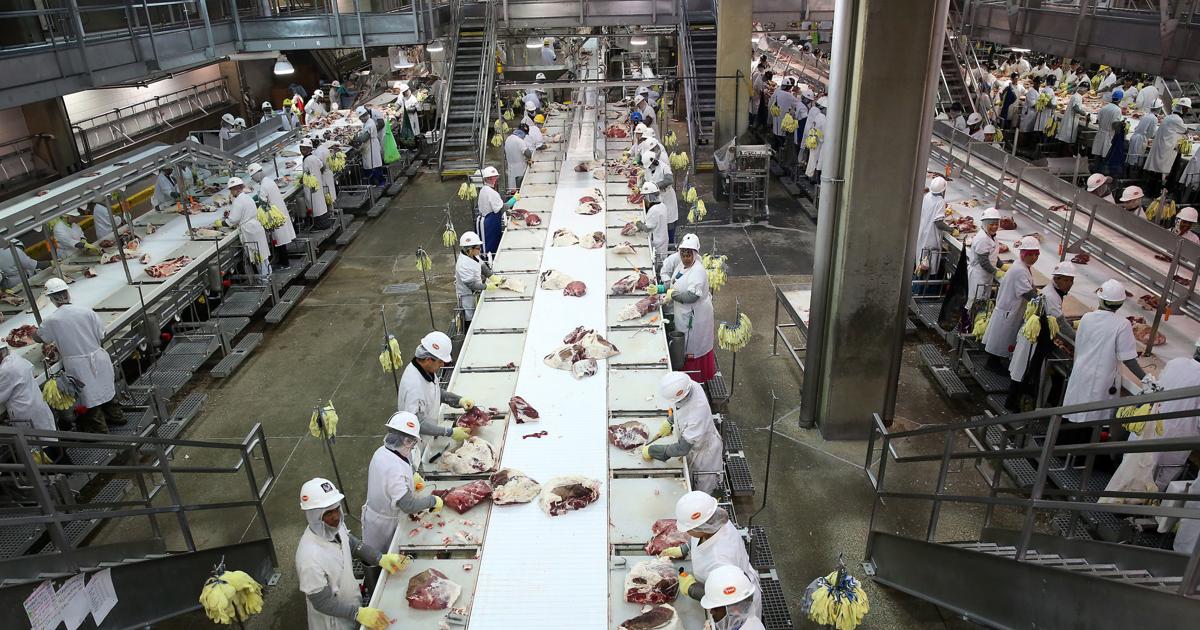 DAKOTA DUNES -- Tyson Foods Inc. reported record first-quarter profits Monday, fueled by big gains in its beef and pork units.
The Springdale, Arkansas-based company posted a first-quarter profit of $593 million, or $1.59 per share, a 38-percent improvement on year-ago results.
"The year is off to the best start in company history with record earnings, record operating income and record cash flows," Tom Hayes, Tyson president and chief executive, said in a statement. "Return on sales for each operating segment was in or above the normalized range."
Tyson's Fresh Meats division is based in Dakota Dunes. The company, which also operates a beef plant in Dakota City and pork and turkey plants in Storm Lake, is metro Sioux City's largest employer with more than 4,000 workers.
Beef and pork contributed operating income of $299 million and $247 million, respectively, in the first quarter, up from $71 million and $158 million, respectively, in the year-ago period.
You have free articles remaining.
For the major beef gains, Tyson cited improved availability of cattle supply and stronger domestic and export demand. The pork segment climb was attributed to stronger hog export demand and better operational and mix performance.
"Due to our outstanding performance in beef and pork and strong market conditions in the first quarter, we are raising our annual earnings guidance to $4.90-5.05 per share," Hayes said.
"We're on a path toward what we expect to be our fifth straight year of record results."
Tyson said the company gain led retail food manufacturers in both sales volume and sales dollars for the 13-week period corresponding with the fiscal first quarter ending Dec. 31. Not only did Tyson lead in sales volume, according to the market research firm IRI, it was the only company to show volume growth among the top 10 branded food companies, according to the news release.
Tyson's results topped Wall Street expectations. The average estimate of four analysts surveyed by Zacks Investment Research was for earnings of $1.27 per share.
Tyson's shares were down Monday after the company disclosed it has received a subpoena from the Securities and Exchange Commission as part of an antitrust investigation. The company said it was cooperating with the SEC and had limited information on the probe, which likely stemmed from previous allegations that the company conspired with competitors to fix chicken prices.